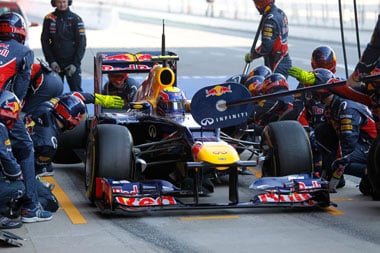 "Everyone is more or less mad on one point".
These words of Rudyard Kipling come to mind when I see the sport of Grand Prix racing fumbling over the rights and wrongs of traveling to Bahrain.
As I write, we are all quite naturally focused on pre-season testing and what, if anything, we can learn from the few days at Jerez, and this week in Barcelona. This is all as it should be. We are, for the most part, more interested in what is happening on the track rather than what may be happening off the track.
Last week, at our Hall of Fame event, I spoke to Adrian Newey about what we may read into the tests at Jerez and the Circuit de Catalunya. He reminded me that, unless you know the detail of everyone's fuel load at a given time, the answer is pretty much nothing at all. We know the cars are ugly, we know the Red Bull will be quick, and we know Ferrari has some aerodynamic problems. An F1 car, these days, is in a continual state of development and we likely won't have a true guide to form until May at the earliest. The only certainty is that the 2012 World Champion will be the man with the most points.
But back to Bahrain. The teams are due in Manama on April 18, ahead of the Grand Prix on the following Sunday, so there isn't a huge amount of time left for the sport to make up its mind about a return to Sakhir. The organisers were due to launch the event to the world's media last weekend despite continued pressure from, among others, British politicians. And despite the Bahrain Centre for Human Rights calling on the teams to boycott the race. So what is the right thing to do?
Bernie Ecclestone, speaking after the most recent violent uprising on February 14, the anniversary of last year's 'day of rage' in the capital city, said he supports a return to Bahrain. "I don't think it's anything serious at all and it doesn't change our position in any shape or form," he said, "but if the people in Bahrain said it wouldn't be good for us to go, then I would think again. That's what they said last year." So we know where Mr E stands on this. What we do not know is how the sport's influential blue chip sponsors and partners, like Vodafone, feel about the situation. It is always possible that global corporations will not want to be associated with a race in a country that has struggled to implement a genuine programme of social reforms that somehow satisfies both Sunnis and Shias.
I have spent time in Bahrain on two separate occasions and have seen first hand the differing lifestyles of the two sides in this desert kingdom that, outwardly at least, exists in comfort and opulence for some and in strife for many. Tension between Sunni and Shia is as old as Islam itself and Formula One has no place in this latest struggle of the two religious factions. Of course international politics, centred around the Arab Spring, are not the day-to-day business of F1 motor racing and some may say that the two are in no way connected. But this is not an answer, not a solution to what I believe is a potential trap for the sport and its image.
Why walk into the crossfire? Why take the risk? Formula One does not need the Bahrain Grand Prix and Bahrain certainly does not need to stir up unnecessary tensions. As sporting entertainment, F1 faces environmental pressures. As a global business, it faces financial pressures in an unstable and depressed economy. So which is more, or less mad? Go ahead or cancel? If the race is cancelled, so is the risk of violent backlash. If the race is cancelled, the world at large will say F1 did the right thing at a difficult time. The decision to postpone, or cancel, should be made now so that we can return to what F1 does best. Great motor racing for the best cars and best drivers in the world, and preferably in places that are not in the headlines for all the wrong reasons.