Ferrari's sporting directors
by Paul Fearnley on 17th April 2014
First Martin Whitmarsh. Now Stefano Domenicali. No more Mister Nice Guys.
Perhaps McLaren and Ferrari really do need to be on a collision course in order to perform.
Ron Dennis and Luca di Montezemolo clearly think so and have grabbed their respective helms. Both have nothing to prove and plenty to lose yet clearly feel compelled to put it back on the block.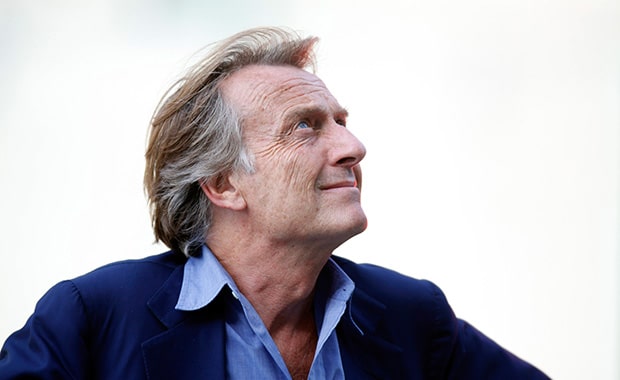 But what if they come up short: who goes then?
Should Eric Boullier and Marco Mattiacci feel secure?
The latter is the more vulnerable given that he has no connection with the sport beyond the fact that Luigi Chinetti was also once Ferrari's main man in America. A whiff of panic surrounds his appointment.
Past discontent
It's 1962 all over again.
When Enzo's top brass marched out en masse in the last weeks of 1961, he appointed the magnificently named Eugenio Dragoni as his new Direttore Sportivo.
"Ah, the perfume manufacturer," said John Surtees, with distinctly acidic top notes. "He had some connections. I never quite got to the bottom of it."
Surtees was not the only Ferrari world champion incensed by Dragoni's haughty demeanour. When Phil Hill overheard the post-race phone call to Enzo – the most important duty of any Direttore prior to 1988 – and the dismissive description within of his hard-won third place in an uncompetitive car at Spa in 1962, he knew that he'd soon be done with the Scuderia.
Four years later at Spa, Surtees got wind of Dragoni's complaint to Enzo that Il Grande John had allowed a rival team to lead for 20 laps. There was no praise for his pole position, fastest lap or consummately professional victory in terrible conditions.
Having already rowed over the allocation of cars at the Monaco Grand Prix, their final straw came at Le Mans, where Dragoni informed Surtees that co-driver Lodovico Scarfiotti was to undertake the first stint to please his spectating uncle Gianni. New Fiat boss Agnelli, that is.
That Enzo sided with Dragoni, only to replace him with respected journalist Franco Lini at the season's end, must have been doubly galling for the suddenly departed Surtees. There seemed neither rhyme nor reason to it. Certainly, it was far removed from Jean Todt's clinically logical Scuderia.
Which ones got it right?
Direttori Sportivi are like US Presidents: only a few are memorable (for the right reasons). Todt, in office from 1993 to 2007, was one. Montezemolo, as he was known then, was another, bringing order to a team in chaos, from 1974-75.
Nello Ugolini had two spells in charge either side of WWII. Between times he made a name for himself in football, not least by guiding Modena FC to its highest position in Serie A. Nicknamed 'Maestro', he was charming and methodical – and the first to realise the importance of that call as, more and more, Enzo stayed away from the circuits.
Ugolini was present when Tazio Nuvolari's Scuderia Ferrari-run Alfa Romeo blunted the Silver Arrows at the Nürburgring in 1935, and when Alberto Ascari ran amok in 1952-53, but he blotted his copybook for all eternity in 1956 by crossing Via Emilia to work for Maserati.
Marco Piccinini held the position for 10 years from 1978. That he was admired and befriended by Bernie Ecclestone and Max Mosley, despite sitting opposite them throughout the FISA/FOCA War, was a powerful indicator of his strengths. It's little wonder that the naïve Gilles Villeneuve would end up not trusting him.
What of the others?
Renzo Saracco Ferrari was the first. After two years he was slid sideways to run the Scuderia's short-lived bike-racing outfit – Nortons and Rudges – from 1932.
Mario Lolli was next. And that is all I know of him.
Federico Giberti was another who spanned WWII: 1934 and 1947-51. It was he who made the dramatic call from Silverstone to tell Enzo that Alfa had, at last, been beaten. A loyal Scuderia lieutenant, he helped build the first Alfetta in 1937-38, was in charge of Purchasing immediately after the war (not easy), and was involved in the walkout of 1961.
He was back within days – and stayed for another 23 years.
Ex-journalist Eraldo Sculati was 'best known' for allegedly refusing to ask Peter Collins to hand his car to team leader Juan Fangio at Monza in 1956. After a shouting match with the latter's handler Marcello Giambertone, it is said that he rushed to the press box to explain his action. Though that account does not tally with his apparently calm and introverted manner, he didn't last long in the job.

Monza '56: Fangio leads Moss and Collins
Nor did his replacement 'Mino' Amorotti. Rich and able to speak with Enzo without fear, his greatest claim to Ferrari fame was his locating land suitable for a factory near Maranello.
Romolo Tavoni, another journalist, lasted four seasons despite tragedies that would have tested hardier souls. He was not blessed with the best luck: Eugenio Castellotti was killed in a testing accident not long after his appointment (he shared the role with Amorotti in 1957) and 'Fon' de Portago crashed into the crowd during the Mille Miglia; Luigi Musso and Peter Collins were killed in 1958; and Wolfgang von Trips crashed into the crowd at Monza in 1961.
Tavoni had asked for his old job back – as press secretary – only to be persuaded to continue with his new one. His 'rewards' were to be assaulted by Jean Behra, at Reims in 1959, and to be told that he could not attend his friend von Trips' funeral. Eventually, he walked out.
He didn't return.
Lini only stayed a year – The Summer of Love – but repaired several bridges burned down by the fiery Dragoni, whereupon trusted adviser Franco Gozzi, who would have laid down his life for Enzo, filled the gap for three seasons.

Daytona '70: Gozzi (left) with Merzario and Forghieri
Smooth Swiss Peter Schetty had the right attributes: degrees in Economics and Political Science, plus a clear appreciation of a racing driver's mindset having won the 1969 Mountain Championship for Ferrari. But he returned (probably astutely) to the family firm after a dominant campaign in the 1972 World Sportscar Championship.
Alessandro Colombo, in contrast, was an innocent from Innocenti. An engineer, he tried hard – had a Formula 1 monocoque built in Britain – but he was never likely to win the war for control of the technical side against the mercurial genius of Mauro Forghieri.
Daniele Audetto looked the part, with his sunglasses and cheesecloth shirt open to reveal a medallion, but he failed to flourish in the long shadow cast by Montezemolo. Lauda felt him too keen to ingratiate and was not sorry to see him go at the end of 1976.
Had Niki known how badly things would pan out in 1977 with Roberto Nosetto, he of the green suits, he might not have been so harsh and hasty in his judgment of Audetto.
Fiat man Pier Giorgio Capelli (1988) – Enzo's final appointment – Claudio Lombardi (a renowned engineer thrust into the role in 1991) and Sante Ghedini (a Gozzi PR man who followed Lauda to Brabham before returning, along with consultant Lauda, in 1992-93) smacked of being stopgaps at the time.
The same cannot be said of high-profile Cesare Fiorio. With a strong family connection to Lancia, a degree in Political Science and a long history of success in top-level rallying, he seemed well suited. Yet he fell out with Alain Prost and was kicked to the kerb after Monaco in 1991.
It's a demanding job that has chewed up and spat out many good people.
Given that Domenicali stepped into Todt's shoes – they're bigger on the inside than on the outside! – and that his boss had the perfect right to think, 'Hey, 'I could do better', perhaps he did well to last as long as he did.
OK, so he wasn't a Lincoln or JFK, but neither was he a James Buchanan nor Andrew Johnson.
Nor a Ross Brawn.
Hail to the (new) Chief?
More from Paul Fearnley
How will Mercedes manage its drivers?
Mercedes once again setting the standards
Schumacher at his sporting best