Mercedes... like Ligier
by Paul Fearnley on 7th April 2016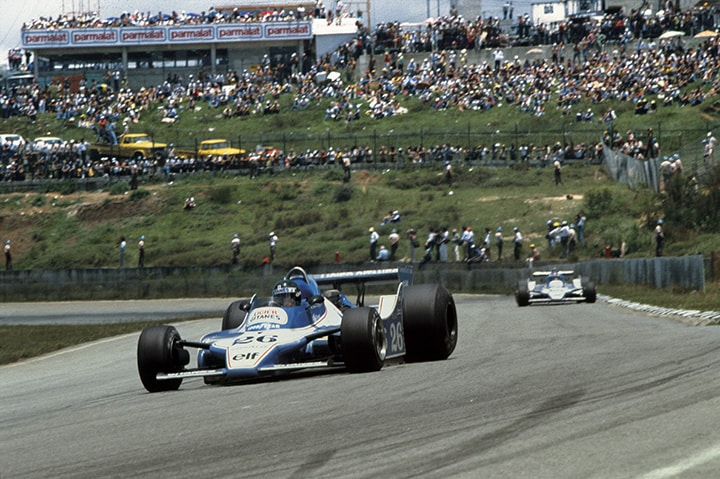 Click here to buy the lead image.
A wild gypsy spirit surrounded the Ligier team. Father figure Guy could charm or shake the birds from the trees, while driver Jacques Laffite's travel list – though I rather doubt he ever compiled one – likely read: clubs, racquet, rods, crash helmet.
A glug of wine in a fug of fag smoke. Vive la difference!
At its steely core, however, lay a group of 'rocket men' who had made Jackie Stewart's favourite Formula 1 car and restored French pride at Le Mans.
Gérard Ducarouge, effortlessly cool in Aviators, was its charismatic leader and public face. In private he was the bulwark against all but Guy's most volcanic eruptions and provided fellow Matra engineering émigrés Michel Beaujon and Paul Carillo with the environment necessary to hone and to implement.
Their F1 designs since 1975 had been sturdier than most and possessed better braking and traction than many as a result. A fact drowned by the sound, extra weight and larger fuel load of its Matra V12.
That changed in 1979.
An enforced switch to Cosworth's DFV proved timely as ground effect tightened its grip. A superb package wrapped exquisitely by Ligier – a smaller fuel cell benefited rigidity – Laffite received his Christmas present in January: pole by almost a second, victory and fastest lap in Buenos Aires.
He'd won in Sweden two years before but only because Mario Andretti suffered late fuelling issues. This time he lapped the American and his game-changing Lotus.
Set and match. Or so it seemed.
Only Ducarouge's men had built a structure capable of withstanding g loads that continued to soar. Assisted by influential aerodynamicist Robert Choulet at SERA's wind tunnel in Paris, they shifted JS11's cockpit forward to generate a centre of pressure compatible with running less rear wing, and its venturi profile also was more extreme than that of the Lotus 79 of 1978.
Laffite dominated February's Brazilian GP at Interlagos, too.
Yet he wouldn't win again that season.
The proverbial is that Ligier lost crucial settings supposedly written on the back of a Gitanes packet. Let's stub that one out.
Replacing the aluminium underbody with a fibreglass version unsettled the car's balance. Lighter, it was too flexible at speed but popped back into position when stationary.
This mystery might have been solved sooner than August had le patron not been at loggerheads with SERA.
Guy was desperate to make the most of this unexpected opportunity to become France's team. Had he benefited from the Michelin radials that were camouflaging the shortcomings in the architecture of Ferrari's T4 and the twin-turbo V6 that would take Renault to its maiden GP win in July…
… instead he lacked the manpower and budget – 30 staff running on £1.5 million – required to press home the advantage.
The logistical and personnel headaches caused by running two cars, plus a spare, instead of the usual one stretched beyond mechanics occasionally having to kip in the pits.
Laffite and newcomer Patrick Depailler, another free French spirit, were not only firm friends of long standing – they went cycling and on holidays together – but also fierce rivals. Their 1-2 at Interlagos should have been a comfortable romp. Instead it was a tense affair.
Depailler got the measure of Laffite at Kyalami and Long Beach but scored just two points as the team's performance, reliability and luck dipped.
New fibreglass underwings – they deformed less when new – put them back at the front in Spain. Fed up waiting for team orders at what he felt to be a crossroads race, pole-sitter Laffite buzzed his engine attempting to take the lead from eventual winner Depailler.
They fought tooth and nail again a fortnight later in Belgium: Depailler crashed from the lead of the race – and the championship – and Laffite's tyres, cooked during their dice, left him powerless to resist Ferrari's Jody Scheckter.
But much worse was to come.
Depailler's idea of 'relaxing' after finishing fifth and setting fastest lap at Monaco was to fly a hang-glider. He crashed it and broke his legs. Replacement Jacky Ickx failed to adapt and more momentum was lost.
Even its flap – a movable aerodynamic aid, secreted beneath a radiator, that bled unsettling excess downforce – couldn't prevent the Ligier from being upstaged by Williams.
Frustrated, Guy demanded a revision of JS11's aero package and smashed sidepods during a blistering argument that caused none other than 'Duca' to take a pace backwards.
Laffite finished third behind the victorious FW07 of Alan Jones in Germany, Austria and Holland before concluding his campaign with three tame retirements: two engine failures and a spin.
Fourth in the final points standings was a disappointment given the circumstances.
Using reworked chassis' Ligier showed glimpses of brilliance in 1980, too – Didier Pironi won in Belgium and Laffite, again on his way to fourth in the final points standings, prevailed in Germany – but the moment had passed.
There's no chance that Mercedes-Benz, with plenty of staff, budget and data, will stumble in the same fashion. It embodies current F1: easy to admire, difficult to love. Haas F1, meanwhile, has proved that romance isn't quite dead and so some hope remains that F1 can 'revive the difference'.
It's a long shot, however. Longer than Laffite's 1979 Argentine GP win.
Gallic shrug.