The unwanted statistic
by Paul Fearnley on 21st April 2016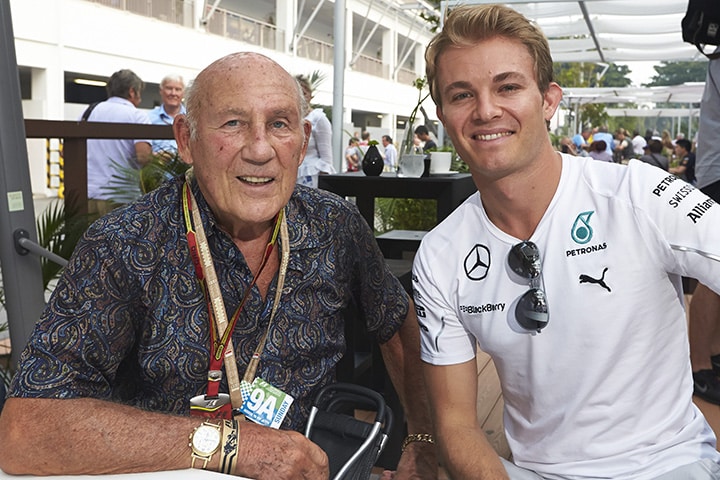 There is someone who might now consider the longest – the uncharitable will say most interminable – Formula 1 World Championship to be rather too short.
Nico Rosberg is in a place that racing drivers dream of: best car, an edge over his team-mate and brim-full of confidence – all buffed to a sheen by the rub of the green.
Last weekend he scored arguably the easiest victory – in the best-balanced car – of his 188-GP career and in doing so swept blithely past Sir Stirling Moss as the man with the most wins but, as yet, no world title.
Although 18 rounds remain – the 1965 season actually crossed 44 more days than will 2016's – my guess is that the odds on that record returning to Stirling before this year's end will shorten.
For Rosberg's 36-point lead is a poor reflection of the momentum in his favour.
In 2014, after their pivotal clash at Spa, Hamilton reeled off five consecutive wins – six from seven – to shrink a 29-point deficit to a silver dot in his mirrors.
But it's a different Nico facing him now and any recovery on Hamilton's part will have to be patient.
His is the 'sort' of situation in which Moss revelled and excelled – although after missing out by a single point in 1958 Stirling no longer felt the need to be world champion to be considered the best.
What he really wanted was a good old tear-up.
That would be Hamilton's preferred option, too, but sadly he's too often denied it by Pirelli's to-order tyres. And if he doesn't begin to turn the tables soon, team orders – reportedly freer for 2016 – are likely to seep back in.
Mercedes-Benz held a similar performance advantage 61 years ago when Moss willingly followed Juan Manuel Fangio in 'The Train'. Then, its pecking order was clear.
Just as it was after Austin last year.
And just as it was after last weekend.
Ah, Moss gave up on team politics in 1958, too, and instead raced mainly on a handshake with arch-privateer Rob Walker of whisky fame and fortune.
He began 1961 with 14 GP wins to his name and ended it with 16. As good as Rosberg has been so far this season, his will never be as revered as Moss's sensational Monaco – Stirling's personal favourite – and German GP victories.
On rock hard Dunlops, he lapped 2.8 seconds faster than his pole time to stave off the Ferraris in Monaco and, his Lotus now on softer rain tyres, fitted contrary to their supplier's advice, he managed to again outfumble his more powerful rivals at the Nürburgring.
These were the highlights of a remarkable season that stretched from 7 January to 26 December and included 56 races, 27 of which he won.
His other world championship GPs were a bust, to be honest – the circling Ferraris were too fast and too numerous, and Lotus refused to give him an up-to-date model because of clashing petrochemical commitments: Colin Chapman was tied to Esso and Moss to BP.
But as well as for Walker, he drove for BMC, Camoradi, Essex Racing, Porsche, Rootes Group and his father's UDT-Laystall team.
That diversity placed him behind the wheel of Intercontinental – a short-lived rival to F1 – sportscars and GTs, as well as F1 cars. And he won in all of them.
His victory roll:
The first heat of the Formule Libre New Zealand GP at Ardmore and Sydney's Warwick Farm 100 in a Walker-run Lotus 18 fitted with a 2.5-litre Coventry Climax 'four'.
Goodwood's Lavant Cup, run to Intercontinental regs, and Sussex Trophy in Walker's 2.5-litre Cooper and UDT's Lotus 19 'Monte Carlo' sports-racer respectively.
Intercepting his F1 Lotus 18 en route to Sicily's Syracuse Grand Prix, he won the Preis von Wien at Aspern, and then jumped back into the Monte Carlo – another personal favourite – to win a support race to the Aintree 200.
Silverstone's International Trophy provided him with perhaps the best of his lesser-known victories – by a lap in the wet in the Intercontinental Cooper. He scored another in the 19 that same day.
After a dice with the works Lotus 21 of Jim Clark, he won Brands Hatch's Silver City Trophy in UDT's modified Lotus 18/21.
Both heats of Mosport's Player's 200 fell to his 19, and he also won twice at Silverstone's second Intercontinental meeting: the Empire Trophy in the Cooper and its GT support race in Walker's Ferrari 250GT SWB.
He used the latter to also win the Peco Trophy at Brands and the RAC Tourist Trophy – his fifth successive and seventh in total – at Goodwood.
On consecutive weekends he won the Kannonloppet in Sweden and all three heats of the Copenhagen GP in UDT's 18/21, plus the Modena GP in Walker's version.
He won the Oulton Park Gold Cup in Ferguson's remarkable P99 – still the only F1 victory for a 4WD car – and both heats of the Pacific GP for sportscars at Laguna Seca.
Finally, in December, he won both heats of the Nassau Tourist Trophy in the 250GT – but was roundly beaten twice by Clark, aboard superior F1 equipment admittedly, in South Africa.
Moss had clocked the Scot's potential already but felt sure that his deal with Ferrari – his Sharknose was to be Walker blue – would redress the balance in 1962.
There had been disappointments, of course: he was five miles from victory at the Targa Florio when the 2-litre Porsche RS60 he was sharing with Graham Hill broke its differential; the same pair was leading the GT category at Le Mans by miles when the Ferrari's cooling fan shed blades that sliced a radiator hose; and he was leading the lucrative LA Times GP at Riverside when his Lotus 19, in the hands of a new owner, popped a brake seal.
But the fun far outweighed the frustrations.
Rosberg also began this season with 14 GP wins to his name – and on the back of three in a row that had tipped his mood.
It's encouraging to know that remembering that it should be fun still has its place, still brings its reward, in F1.
So, remember, folks, there are just 18 GPs until Christmas!
To buy the lead image, click here.