Great racing cars: Porsche 956 & 962
3rd November 2015
A series taken from the 164-page Motor Sport special Great Racing Cars, which is available to buy here
Click here to buy the above image
From the editor Damien Smith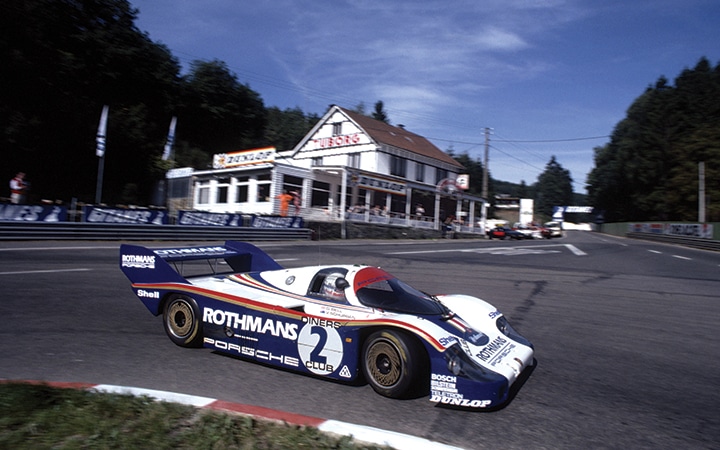 How would you define a 'great' racing car? Race wins and championship titles are an obvious place to start – and admittedly, when we began the process of rounding up the 'voices' to fill this special magazine, published by the team behind Motor Sport, we had in mind the likes of the Lotus 72, Ferrari F2004, Porsche 917, Audi R10 and so on.
But as the interviews of familiar racing figures began, we realised greatness is often a very personal thing. Naturally, most – but not all – would pick cars they had experienced first-hand, as a driver, designer, engineer or team boss. And on occasion the cars that stood out in their minds as 'great' weren't necessarily so in the grand scheme of history. That's why you'll find a Minardi here among Formula 1 cars from Lotus, Williams and McLaren.
Unexpected? Certainly. Wrong? Not to the man who chose it.
As the interviews accumulated, our magazine took on a life of its own, full of personal anecdotes about the myriad cars that made careers. Some of those we spoke to, such as Mario Andretti and Dan Gurney, couldn't be tied to a single choice from multi-faceted lives at the wheel. Such heroes have earned the right to choose an F1, sports and Indycar, so we allowed them more than one bite.
Others refused to be confined by category. Hence the short 'Odd 'n Sods' chapter on cars that, by and large, are mere footnotes in lower divisions of racing lore.
Thus there is nothing definitive about the selection listed herein. Then again, there's no claim that this compilation offers the 'Greatest Racing Cars' of history. It's much more personal than that, much more quirky – and all the better for it.
Porsche 956
Derek Bell
Five-time Le Mans 24 Hours winner
It's a tough choice, with so many good cars, but I'm going for the Porsche 956. In December 1981 I had lunch with Professor Bott, the man in charge of Weissach, and he invited me to race the Group C 956, which later became the 962.
Porsche had never built an aluminium monocoque chassis before, never built a ground-effects car, and never put a flat-six engine in a monocoque chassis, so I wasn't sure I wanted to do it. But Professor Bott said, 'We have never been wrong before' so I signed up. And yes, it was a great car.
The most memorable drive in the 956 was Le Mans 1983. Jacky Ickx and I were chasing a hat trick of wins but Jacky got taken out under braking for Mulsanne Corner and we lost a lap. We fought back from last place without abusing the fuel strategy and took the lead at dawn on the Sunday. I passed Vern Schuppan on the Mulsanne Straight and then the engine stopped as I got to the corner. Not being mechanically minded, I had paid close attention to the briefing on what to do if the motor stopped, and so I changed the coil, the flywheel sensor and the electronic box, turned the key and she started! Jacky took over and we were back up to second and closing on the lead by noon. Then we had to change the oil cooler. By now I was tired and losing interest, but we were still second. With 90 minutes to go it looked like the brake discs were cracked and needed changing. Norbert Singer told me it would take at least four minutes to change them, and the only other option, he said, was 'just drive slowly', so that's what I did, using the gears to slow down – not easy from 350kph on the Mulsanne.
I set a new lap record in my final stint but we couldn't catch the Schuppan/Haywood/Holbert 956 and finished just 17 seconds adrift at the end. The other car, we discovered, could not have done another lap as they'd had overheating problems. That was a special Porsche 956 memory.
Porsche 962
Hans-Joachim Stuck
Two-time Le Mans winner, 74 GP starts
Throughout my entire career, the Porsche 962 was the ultimate racing car. The combination of power, downforce and grip from those wide tyres made it something special.
It was a car that required bravery. You had to turn off your brain in the high-speed corners and you really needed big balls at places like Eau Rouge. But you always felt safe in this car. It wasn't tricky in any way, so that encouraged you to drive it fast.
My favourite 962 was the car I raced with the factory in the German Supercup races during the mid-1980s.
Everything was on the limit and we had a lot of power because they were shorter races.
Eje Elgh
F3 & F2 race winner, long-time endurance racer
Why the Porsche 962? I raced them in Europe, Japan and the States – all over the place. It had so much grip, particularly at the rear. That made it a bit of an understeering pig, but once you learned to cope with the understeer you had all that rear grip to give you confidence and it made you feel like the best driver in the world. It had lots of torque and was actually a bit of a beast, but I rather liked that.
Sometimes I drove other Group C cars – a Toyota, for instance – with light power steering and a very sensitive rear end, but I never really enjoyed that. I wanted a car you really had to take by the scruff of the neck just to get it to turn in.
The rise and fall
How Group C flourished... but then fizzled out
It had been great while it lasted. The 1992 FIA Sportscar World Championship was proof of that old adage that you only need two cars to make a motor race, although strictly speaking there were as many as four or five front-running cars per meeting; those rounds that weren't cancelled, you understand. Political machinations had served to neuter the series before the season had even begun. It was a sad end for anyone who witnessed Group C in its pomp, a wonderful era of sports car racing that left an indelible impression.
Arriving in 1982, this was a category that breathed new life into an arena of motor sport that, like a dead horse, had been flogged once too often during the previous half-a-decade. Grids during the Group 6 period waned as manufacturers departed in droves, and the few that lingered racked up hollow victories over a ragtag bunch of privateers.
FISA responded with a series based, if only initially, on fuel efficiency. This acted as a stabilising force and attracted former Grand Prix stars, young hotshots looking to forge a reputation, competent journeymen and local heroes. Oh, and manufacturers. In North America the movement gained similar momentum, although typically they did things their own way. FISA's hopes of fashioning a link with the International Motor Sports Association failed to reach fruition after IMSA's committee rejected the fuel-based regulations. Instead it introduced an equivalency formula – Grand Touring Prototypes – based on engine size and weight. It too flourished, with Indycar and even NASCAR stars racing on free weekends against established sports car aces.
It was fantastic. Then F1-style engines arrived in 1991, leading many to surmise that this was merely a smokescreen to entice manufacturers into jumping ship to F1. Costs rocketed, factory teams made for the door, and in '92 Group C died a pitiful death, IMSA GTP lasting one further season. Game over.