Roger Penske's team dominated IndyCar's third-last race of the year at Sonoma in California on Sunday.
Will Power and Ryan Briscoe swept the front row with championship leader Power starting from the pole and running away on his own for most of the race. But Briscoe was able to take the lead during the last round of pitstops which occurred amid a full-course yellow for a hefty collision involving Sebastien Bourdais and Josef Newgarden. Briscoe went on to score his first win in two years with Power and third-placed Dario Franchitti chasing him closely to the chequered flag.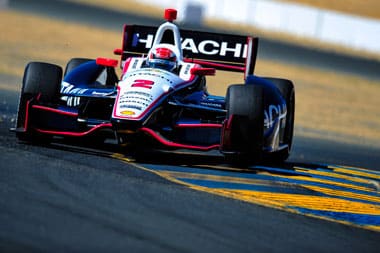 Meanwhile Power's primary championship rival Ryan Hunter-Reay had a bad day, losing a likely third place when he was hit and spun by Alex Tagliani on a restart with just 11 laps to go. Hunter-Reay drove a strong race, moving up from seventh on the grid and turning the race's fastest lap, but Tagliani's wild outbraking move may have cost Hunter-Reay the championship. After spinning, Hunter-Reay stalled when he tried to restart, thus losing a lap and finishing a disgusted 18th.
With two races to go Hunter-Reay has fallen 36 points behind Power and faces a tough task based on Power and Team Penske's form at Sears Point. Despite a series of adventures Helio Castroneves in Penske's third car was able to finish sixth at Sears Point and still has a mathematical shot at the championship.
"It was just a terrific day for both Will and Ryan and certainly Ryan had an outstanding day," said team owner Penske. "I think the guys in the pits made the difference between the two cars. They were both good all weekend and to finish one-two and Helio finish sixth – it's great for the championship, obviously."
Briscoe was able to take the lead thanks to a perfect final stop while Power's crew had trouble with the right rear tyre. Power then found himself caught in traffic when he rejoined under the yellow losing further time to his team-mate.
"I wanted to win the race but I wanted to do it cleanly," said Briscoe about the restart. "I knew that with Will starting on the outside it's almost impossible to stay out there and get the lead. I just wanted to make sure I didn't get too much wheelspin and get a clean lap and then the car was really good at the end on the red tyres."
At the end of the race Power had some trouble with IndyCar's contentious push-to-pass system which caused his engine to cut out when he tried to use it in the closing laps.
"It's tough to lead so many laps and have the quickest car, but it was still a good day," Power said. "I'm just disappointed to lead so many laps. I should've won. But excellent for Ryan. He deserved to win. He's a bloody good driver, one of the quickest drivers in the series, and he's had a bit of rough shot the last few years. I would have loved to win but we still got some points and made the points situation better for us."
Sebastien Bourdais enjoyed his best race so far with Jay Penske's team until crashing near the end of the race while running in traffic on his first lap out on cold tyres. Bourdais qualified and ran an impressive third but found himself racing with Josef Newgarden's lapped car only to get into the dirt and slew into Newgarden's path. The collision caused Newgarden to cartwheel into a tyre barrier and both drivers were lucky to escape unscathed.
"It was a big crash," Bourdais groaned. "The tub is broken in two and the gearbox hit my shoulder. I feel very bad. The car refused to turn. It's my mistake for sure. Everything was working out great and we had a new set of tyres to finish the race but the problem was we were in middle of a battle with lapped cars and they were racing us pretty hard. I guess I should have given up and let them go."
Bourdais's crash with Newgarden and the subsequent full-course yellow helped Briscoe pass Power for the lead and also allowed Franchitti to finish third. Dario's teammate Scott Dixon was the innocent victim in a couple of minor collisions, damaging his nose on one occasion and half-spinning on another. Dixon eventually made it home in 13th place falling 54 points behind Power.
Simon Pagenaud's seventh place finish at Sears Point clinched IndyCar's rookie of the year award for the 28-year-old Frenchman while Rubens Barrichello enjoyed his best race of the year, finishing a strong fourth ahead of Graham Rahal and Castroneves. And Briscoe and Power's one-two sweep wrapped-up IndyCar's
manufacturers championship for Chevrolet.