2001: the year Richard Burns took centre stage
It's 20 years since a British driver last won the World Rally Championship. Anthony Peacock recounts Richard Burns' to-the-wire 2001 title fight and the team's turmoil behind the scenes
Twenty years after the event, all that's left is a sentimental blue and yellow kaleidoscope of memories: a vertiginous rush of details made all the more poignant by the fact that England's first world rally champion is no longer with us.
Richard Burns won his title on the Rally of Great Britain in 2001 after an intense battle with Colin McRae, who himself became champion six years earlier. That set up a rivalry as complex as that of their disparate characters, but while their duel served to light up public awareness of the sport (thanks to tub-thumping headlines such as Battle of Britain!), it told nothing of the real story of what happened on November 25, when Richard achieved his lifelong ambition.
It would be a short life. Just four years later – to the day – Richard died following an unprecedentedly long two-year fight against an astrocytoma, a type of brain tumour. It feels unfair that this date and achievement will always be tinged by sorrow or remembrance.
One of Richard's closest friends and his former housemate, the photographer Colin McMaster – who took some of the images seen on these pages – says: "The week of November 25 is always a tough one. It's also my birthday on November 24, so you're aware of time passing. Every year in November I see so many of my photos of Richard plastered all over social media. And overwhelmingly they are in remembrance, rather than celebration."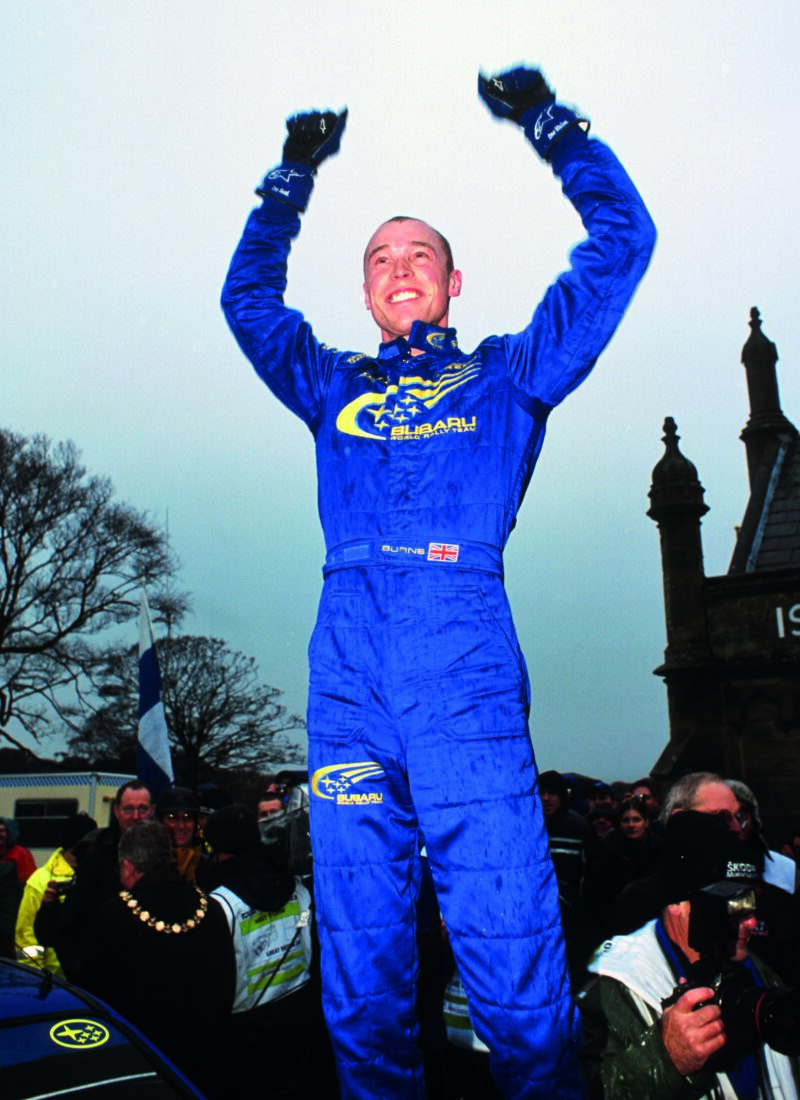 At the time of Richard's finest hour though, nobody knew what was coming. Looking back at those images, stripped of burdensome hindsight, they are joyous: the culmination of a dream. As Richard sped through the last sequence of corners at the end of the decisive Margam Park stage, he famously shouted to co-driver Robert Reid: "You're the best in the world!" The emotion was overwhelming: predominantly a feeling of relief. But look behind the scenes, and Robert describes it as one of the most troubling rallies they had ever contested.
McRae went out on the first day in one of those high-speed accidents that epitomised his all-or-nothing approach. Far from taking the pressure off, the flying Scot's dramatic exit ratcheted it onto Richard and Robert.
The event was fraught with a succession of small but nagging difficulties: from Richard's own minor excursion into a bank on the stage where McRae went off, to a map light failing in two of the darkest Welsh forests, which meant that Robert had to read his pace notes by the light of a mini Maglite torch that had been cabletied to his thumb. Had it slipped off, that could have been championship over.
"I always measured how smoothly an event had gone by the amount of time I spent walking to the out-control after service," says Robert. "On an easy event, myself and Richard normally drove from service to the out-control together in plenty of time, then we'd pass through the control on the correct minute. If things were trickier, I'd normally walk to the control in advance so that they could spend as much time servicing the car as possible, then hope it would be there on time for us to check out as planned. On that rally, I don't remember driving to the out-control once."
The other factor which would lead to an extraordinarily tense atmosphere was Richard's contractual situation. Back in August, three months before Rally GB, Richard had met Prodrive's technical director David Lapworth in Oxford to tell him that he was "probably" going to Peugeot the following year. Subaru subsequently informed Richard that if he won the championship with them in 2001, he was legally obliged to stay, a right they would be exercising.
Over the summer, when Burns was lagging behind in the championship – with just a couple of second places to his name – that seemed unlikely to become an issue. But from the end of August onwards, Richard was only off the podium twice in six rallies, which set him up for a showdown on home territory.
"We had a plan and it was a masterclass of how to win a rally championship, just taking points throughout the year wherever you stood the best chance of getting them," says Lapworth. When McRae went off on Friday of Rally GB and the die was cast, Lapworth remembers thinking: "Oh s*** – this has just gone up another level…"
Richard himself said afterwards: "That's a big one." And got on with the job.
For many people at Subaru, Rally GB was a deeply conflicted event, with celebrations tempered by the fact that within days both parties would end up in court. Richard and his management team were even staying in a different hotel, helping to keep a distance. Robert remembers: "Operationally, our situation didn't really effect anything at all. We had the best possible car and all the help from the team we could get. But it was definitely the elephant in the room."
"The 2001 Impreza wasn't really a car we wanted to build"
Richard had his reasons for moving though. It's only now that Lapworth can admit: "The 2001 Impreza wasn't really a car we wanted to build. Our preferred option was an evolution of the 2000 car, but in Japan they wanted us to go with the new bodyshell, which was heavier with a higher roofline. What we ended up with was essentially a repackaged version of that 2000 car, which meant that it took us a bit of time just to get back to where we were. And maybe that was one of the factors behind Richard's move. There was an odd atmosphere, but it was probably more stressful for him than for us. Our position was clear: if he won the championship, he was staying. Whereas he knew that if he didn't, he could walk away. So it was all in his hands."
But from the beginning of the title-decider in Wales, Richard was at another level of focus. He refused to do interviews at the shakedown, but inside the car he was a model of studious calm. At least from what Robert can recall.
"I'd like to think that I'm a fairly politically and socially aware person," the Scot points out. "But I'm surprised by how much of what was going on at the time I can't clearly remember. I think it's because you're so narrowly focused that you're much less aware of what's happening around you. It's like you're trapped in your own bubble."
That was the case during their title-winning Rally GB – and immediately after it. "I'm not sure what we did to celebrate exactly, but I do remember this overriding sense of relief," says Robert. "Dario and Marino Franchitti came to our hotel and we got a limo with them and went into town. More than a celebration, it was a pressure valve going off. Then in London the following day we did a photoshoot with the rally car at Marble Arch. And later that week, we went to court."
After he returned home from Marble Arch, having been champion for just 24 hours, Richard called McMaster. The next day, he was due to secretly drive one of the Peugeot 206 WRCs that had just completed Rally GB at the Higgins Rally School near Carno in Mid Wales.
"Richard asked me to photograph him driving the Peugeot, just in case he never got to drive it again," remembers McMaster, who took the unpublished photographs. They went up by helicopter from Oddington – Richard's village near Bicester in Oxfordshire – and were back the same evening. That small village was a place that Pirelli's motor sport chief at the time, Paul Hembery, remembers well. Hembery was with Richard from the start of his rallying journey with Subaru and would later go on to become one of the trustees of the Richard Burns Foundation.
"I only managed to catch up with Richard properly a few days later for a celebration lunch in The Fox at Oddington," says Hembery. "He paid for lunch too, which was very decent of him! I think what made Richard really stand out was the fact that he was an Englishman who won the World Rally Championship after so many years of domination from Finns, so it was an incredible achievement. I was back in Oddington a year later when I was househunting – after Richard had moved to Andorra – and the estate agent actually showed me Richard's old house…"
Some epic shenanigans took place in that home once the reality of the championship had sunk in and the situation with Peugeot was finally resolved in Richard's favour.
But Richard was never really a party animal, although he was partial to a game of 'cop the wok', which involved being attacked with various kitchen utensils while wearing a wok. Alcohol was often a contributory factor.
Autosport's rallies editor of the time, David Evans, recalls: "You had to give Richard his time and his space. He took quite a while to get to know, but once he trusted you, he'd open up."
Reporting on a rally back then was different to now. In 2001, people used to cluster around timing screens and fuzzy radio scanners to find out what had happened.
That's how Evans, working in the media centre at Cardiff City Hall, found out that Richard had become champion: the same young man he met for the first time in 1989 on the Panaround Rally, leading the Peugeot Challenge. "What was impressive back then was how he treated it as seriously as a works team," says Evans. "And this was exactly the approach that took him to the world championship. It was just a matter of time."
When it happened, Richard was up against McRae – the most famous rally driver of all. Early on Friday morning, Evans went to spectate on the first proper forest stage, St Gwynno, where he remembers two things: a left-hand kink that McRae took absolutely flat out, laying down a breathtaking marker of his intentions that weekend. Richard was more hesitant. The second thing was a stone from McRae's car being thrown up and hitting legendary rally spectator Roy Aylett square in the forehead, laying him out cold. For Aylett, that must have been an immense honour. For Robert Reid, it was much less of a surprise.
"That was Colin's usual tactic, to go as quickly as he could in the first few stages of a rally and build up a cushion that he could defend with," points out Robert. "We knew that would happen, but we couldn't let him get too far ahead. And this was the balance we were always trying to find during those first stages on Friday."
Nicky Grist, sitting alongside McRae in the Ford Focus, remembers only too well how that day ended. "Colin was upset when Marcus Grönholm in the Peugeot took three seconds out of us on the next stage after St Gwynno. He was saying, 'S***, s***, we're going to have to push now,' but I said just to let Marcus go. It was Richard we needed to worry about.
"The following stage was Rhondda, which started off in fog. Richard was really good in fog, as he had quite complex pace notes, whereas Colin tended to drive more according to what he could see. So when we came out of the fog Colin was getting faster and faster, and so were the pace notes. He heard the word 'cut', but that actually related to the following corner. Game over. If anyone was going to beat us to the title, I'm glad it was Richard and Robert. A lot's been said about the rivalry between us but the reality is that we were all good friends. And it's tragic that both Colin and Richard are no longer with us."
"Colin's usual tactic was to go as quickly as he could and build a cushion he could defend"
Everything seemed to happen on that first day of the rally: Mäkinen and Carlos Sainz hit trouble as well, having also been in contention for the championship. With three down, Richard only had to keep it on the road – but crucially he still needed to finish fourth or higher. Otherwise McRae would become champion, back home in Scotland.
As Robert points out, it would have been far easier to focus had McRae stayed in the fight. Those watching counted down the drizzly stages over the next two days, like high-speed Welsh water torture. "To be honest, it was almost a bit dull," is how Evans remembers it.
The first person to shake Richard's hand as world champion – before he had even got out of the car – was rally winner Grönholm, who nonetheless harboured a fair degree of resentment, finishing the season fourth.
"I knew Richard was coming as my teammate the next year on a contract that was nearly double what I was getting," recalls the Finn. "So for a long time I was quite unhappy and not so kind to him. But then I spoke with Peugeot and they actually renegotiated my contract, so in the end Richard did me a favour! We were never good friends though, and now I regret that. I think Richard was quite a hard man to get to know and I should have tried harder. I don't remember congratulating him, but at the time I was just happy to win the rally so I didn't care who won the title."
One of the biggest differences between then and now is that social media and the internet was still in its infancy. Those reporting the news had the chance to absorb it and taste the moment. And it was a profound feeling for all of us who were there when Richard won his title in the depths of Wales, which somehow feels like yesterday and at the same time much longer than 20 years ago.
As always, Lapworth finds exactly the right words to sum it up. "If you're involved in motor sport, your journey is like being in a speeding car," he says. "Because the time passes so quickly, it feels like you've only just set off. But when you look back, you see how much distance you've travelled."
It's a similarly surreal sensation for Robert, which almost feels like looking at a movie of someone else's life. "That time has shaped who I am now, but I wouldn't say it defines me," he says. "I'm a forward-looking person, but you can't forget everything that has gone before, especially as it enthused so many people."
Robert isn't in the business of soaking up former glories: he's got an election to win, running as FIA vice-president for Mohammed Ben Sulayem. It would have come as no surprise if Richard himself had taken on an FIA role after his driving career was over: a perfect conduit for his cerebral approach. So, if Robert succeeds, Richard will always come with him. Ask Robert how often he thinks of Richard and the answer comes simply and sincerely. "Every day."
The same is true for McMaster. "Richard was the first person who I could properly confide in and talk to," he says. "He was a brilliant listener, a decent adviser, but not such a great cook or DIY handyman."
Richard is buried in the churchyard at Checkendon, only minutes from where he grew up. On his gravestone is written: 'Always and forever, a gentle man and a brave champion'. But McMaster's epitaph would be just as appropriate and moving.
McMaster was perhaps the fourth or fifth person to give Richard a hug at the end of that final Margam Park stage. The very first was his mentor David Williams, an amateur rally driver who helped to mastermind Richard's early career from a converted barn in rural Oxfordshire. For Williams, it was an unbelievable moment.
"Richard's journey has only become more heroic with the passage of time"
"I couldn't stop crying," he recalls. "As soon as Richard's car stopped. I was straight over the fence and I just gave him this enormous snog! It was most unlike me, so I'm still surprised by how affected I was. To see Richard come from where he was – we used to go diving into skips behind Prodrive to see if we could fish out any spare parts for rally cars – and then go on to win the title is one of the biggest satisfactions you could ever hope for."
It was Williams who first took Richard to the Craven Motor Club, which met regularly in Reading, and that helped mould the youngster's automotive education. So on Wednesday evening after he won the title, following the Marble Arch photoshoot and the Peugeot drive in Wales, there was another appointment that was even more important to Richard.
"At every [Craven MC] meeting, there would be a bit where people would say what they had done since last time," remembers Williams. "Things like, 'I won a 12-car rally,' or 'I organised this event.' Just normal, lovely people. That evening Richard came with me. Then it was his turn, and he stepped forward and said, 'I won the world championship.' That moment will always stay with me."
Richard's journey has only become more heroic with the passage of time. It's the stuff that movies are made of, and maybe one day that will happen. But there should have been a sequel written into the script. Richard was leading the championship for much of 2003 despite his illness, but a lack of confidence in his longed-for Peugeot meant that he agreed a return to Subaru for 2004, as team-mate to Petter Solberg.
By the end of that season, while Richard was in and out of hospital, Solberg had finished second in the WRC standings with five wins: three of them taken consecutively.
"It's obviously impossible to know what would have happened," says Lapworth. "But I think Petter would have benefited from having Richard's experience, and Richard would also have benefited from having Petter to push him. We had a good car that year, which I think would have suited Richard. So in the end…"
He doesn't finish, but you can see where he is going. The 2001 season should have been just one of many celebrations. And Richard, who had blossomed from gawky ginger teenager to cosmopolitan man of the world (and burgeoning wine connoisseur), would have been the first to raise his glass. To the best in the world.