Nothing like a ghost town: Coventry's specialist car crafters
Coventry suffered badly as manufacturing declined, but high-level skills persisted. Gordon Cruickshank visits a firm which can recreate the past and create the future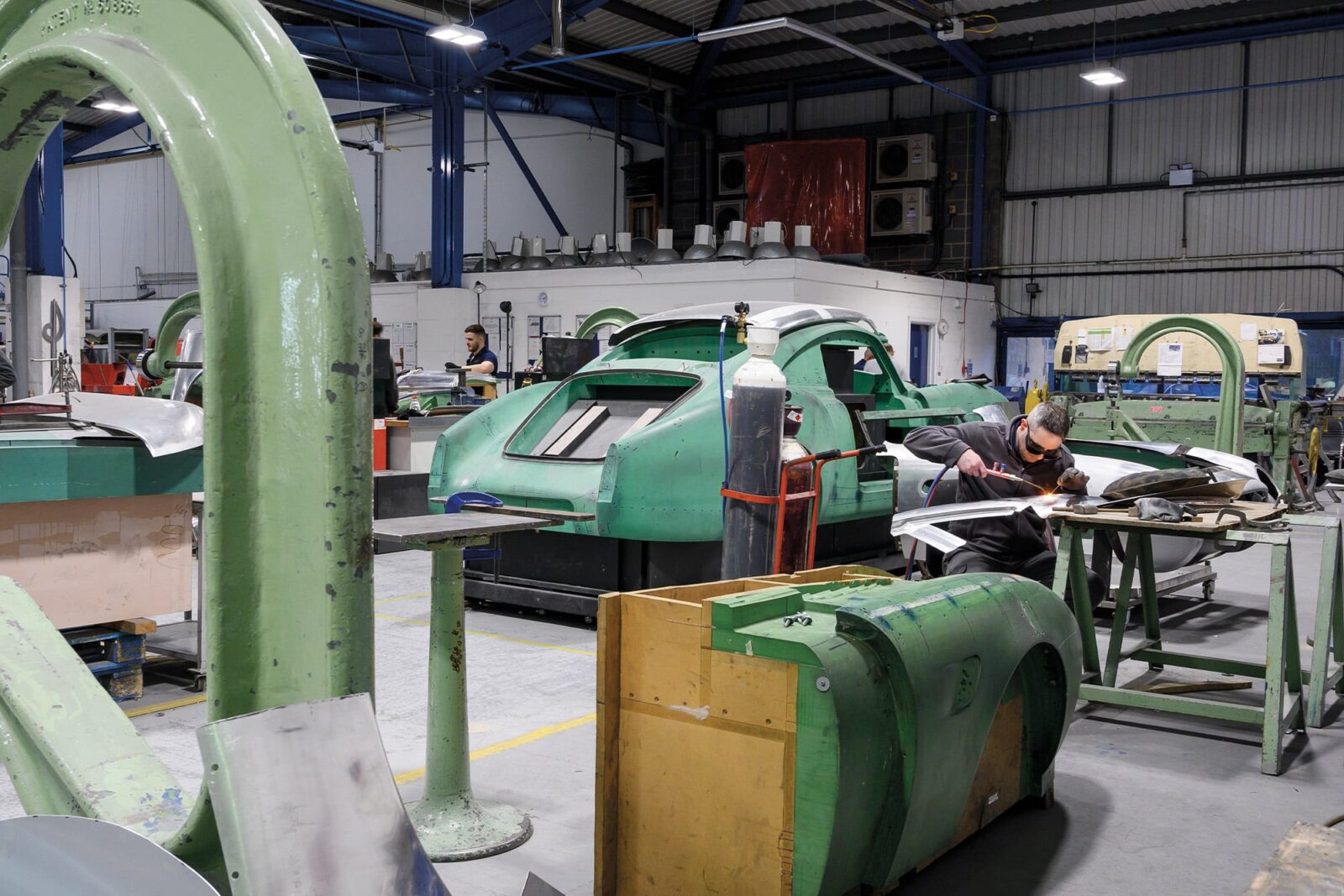 Once it was Britain's Motor City. Coventry, in the bustling industrial Midlands, was the hub where from 1896 onward such firms as Daimler, Triumph, Alvis and Hillman, Jaguar and a hundred others flourished when this country was a manufacturing force, and in the 1960s the world's biggest car exporter. Supporting that industry were countless smaller firms providing coachbuilding, engineering, trimming, electrical know-how, prototyping and a dozen other services, their skills growing out of the bicycle, sewing machine and watch-making industries that burgeoned across the Midlands.
Not so today. Jaguar Land Rover at Whitley is the only manufacturer of scale left. But that doesn't mean the pool of skills has vanished. Even in the dark times of unemployment in the 1980s – remember this is the city about which The Specials wrote Ghost Town – craftsmanship persisted in a plethora of small outfits unknown outside the business. There's always been a firm who could build you parts, a body, or a complete prototype. Those Daimler 420 limousines which ferried so many brides to church were manufactured by Motor Panels and Park Sheet Metal; Jaguar's XJ220s were made by Abbey Panels, all based around the town. Now one organisation has pooled those disparate but little recognised talents into a nexus of car creation capabilities. The name is Envisage Group and, despite an international reach, its home is Coventry.
Of the five company sites in the city, I went to visit Classic & Bespoke, the section dealing with restoration and bodyshell manufacture. I expected to find a conventional bodyshop, and I did. I also discovered that this is just one arm of a complex organisation with very wide- reaching abilities: whether you are a major car company or a wealthy car lover with a dream, it can progress it from a sketch idea through to a running prototype and beyond to production engineering.
Envisage CEO Tim Strafford ran me through the story, which grew from a technical recruitment business. Noting how much of its custom involved the automotive sector, the firm set out to offer not just the people, but all the facilities its customers were after, starting by acquiring concept design and engineering firm Visioneering Ltd.
"In a workshop next door, Birkin's works Blower is being disassembled"
Soon after, it added CGI, now Envisage Classic & Bespoke Technologies, responsible for many of the glossy dream cars you've seen at motor shows. Now the five sites work on a hugely diverse spread of projects. Most of them are completely under the radar. To be more precise, you've seen the results; you just didn't know it was Envisage who made it happen. Aston Martin's One-77? Envisage built the bodies. Jaguar's continuation D-types? Shells made here. Ditto those new XKSSs. David Brown Speedback GT? Engineered by Envisage and bodies built here. London's TX5 electric black cab? Prototypes developed here too. And that's just the ones I'm allowed to mention. Much of the work that Envisage handles is prototyping, or viability studies, productionising, or even sorting out a problem on an existing model. Naturally, that is all confidential.
It's a frustrating position for an ambitious company, and it's why it has invited Motor Sport here, as long as I promise not to mention certain things – and there was quite a list. Not surprising, as the facilities are so diverse. As an example, it can offer no fewer than 25 separate design studios around Coventry, where a mainstream firm can base a small team for a special project. That might be a concept car for a motor show, which is an extraordinarily complex thing to produce, requiring a custom subframe and unique switchgear, glass and brightwork. And nowadays, says Strafford, concept cars are expected to be functional, with opening panels, working lights and impressive dash screen displays. That process might begin with a digital model, turned into a fifth-scale 3D model by the firm's CNC machines.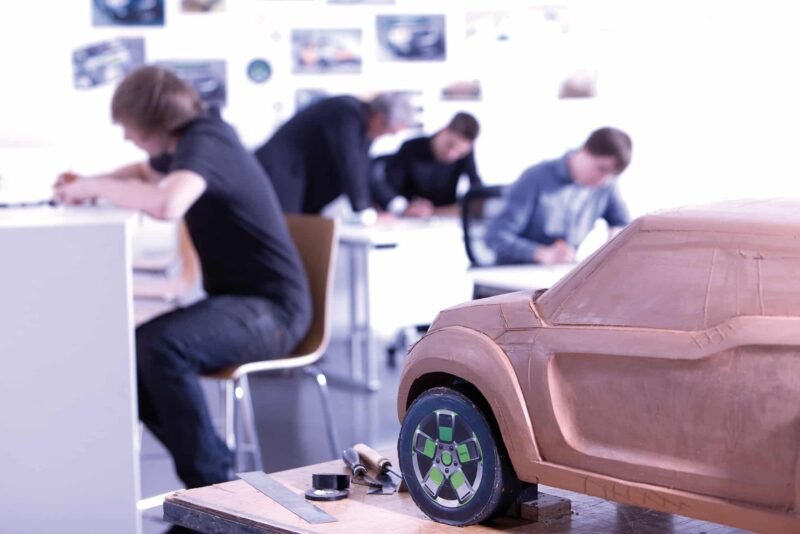 From there, clay-sculpting facilities finalise the design and every option for producing a complete vehicle. Show cars for most of the major brands have emerged from the company's workshops. For a new Chinese marque, Strafford tells me, it even took a radical route to get a show concept ready in a hurry – it CNC-milled an entire set of 2mm-thick body panels out of solid aluminium blocks. It was simply faster to go straight from the digital information.
There's a hint in there of the firm's international reach. It has a Chinese presence and facilities in California and India, with clients from around the world too. But let's get back to Coventry and Classic & Bespoke, where director Andy Hunter is guiding me around. Here are the conventional bodyshop sights: men with hammers delicately shaping panels, English wheels, presses, jigs, formers and part-complete cars. I see D-type noses, a Healey 3000 tail, a shell for a DB4 Zagato, and Envisage has worked on a run of Ferrari 250SWBs. But there are things you wouldn't see in a classic workshop: a current sports car – I can't say which – being bulked out to wide- body spec for well-known vehicle modifiers, as well as design revisions on a Speedback GT nose, and a levelling plate with crab-like digital measuring arms used for accurately squaring up and measuring entire cars.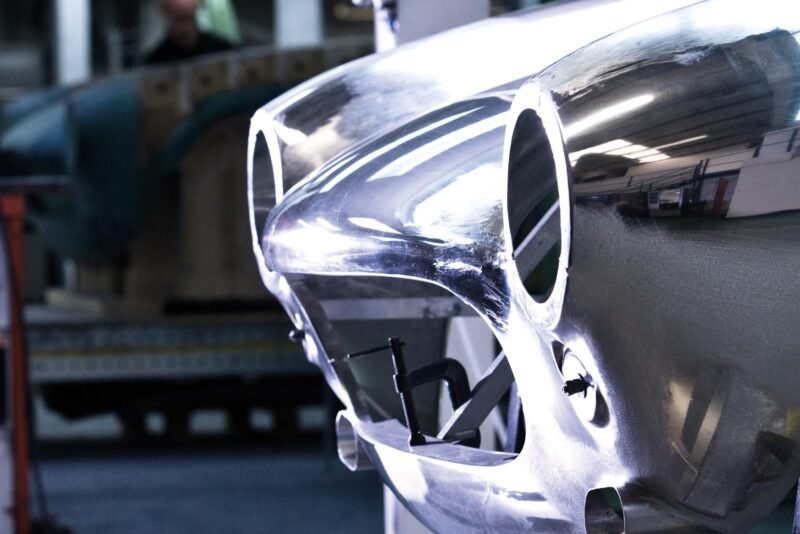 As we pass a dusty wooden lattice buck for an Aston 2/4, Andy says, "That's the old way. This is today," pointing to a full-scale shape I recognise as the La Sarthe Bentley special. "It's CNC-milled from a dense material called tooling board foam, which is hard enough to hammer over."
All along the walls are racks of these green formers for classic car noses and wings, scanned from originals and ready to produce new panels. "We even do Lancia Integrale wings because no-one else does," says Andy.
Hunter tells me that in a closed shop next door is Tim Birkin's famed works Blower Bentley, being disassembled and scanned to create the marque's 12 forthcoming continuation cars, a process Envisage is closely involved in. But we're not allowed to see that… One more visible Bentley cooperation was the nine Zagato Continental GTZs, designed in Italy, but realised in Coventry. It's clear that the traditional skills all around are the 'hands-on' end of the operation. To show a wider extent, Tim takes us to the boardroom and a screen presentation.
Further up the line, for instance, are CMF – Colour, Materials and Finish – studios where clients can investigate new interior and exterior materials and finishes for their concept or a production car, plus the craftspeople to trim and paint a show vehicle. There are virtual reality and demonstration suites for models and concepts, which can be remotely driven if required to illustrate the vehicle's aesthetics in motion. Vehicle electronics are central, and the firm can develop anything from simple demo instrument screens for a show car, to full production systems control.
Then there's engineering; but that simple term is hardly adequate to explain the differing elements: FEA structural analysis, productionising, dimensional verification. And if you don't know what an e-cube is, here goes: it's a milled alloy and steel skeleton, accurate to within 0.1mm, representing the full master set of body engineering dimensions in physical form with all fixing points for exterior panels and trim inside and out. It's used to validate suppliers' components and check that fit and finish are correct. Any errors found can be reported and corrected. You could compare it to that reference kilogramme in Paris that your weekly shop depends on, except finding out that 10,000 parts do not fit your new bodyshells would be more of a disaster than being short-changed on jam.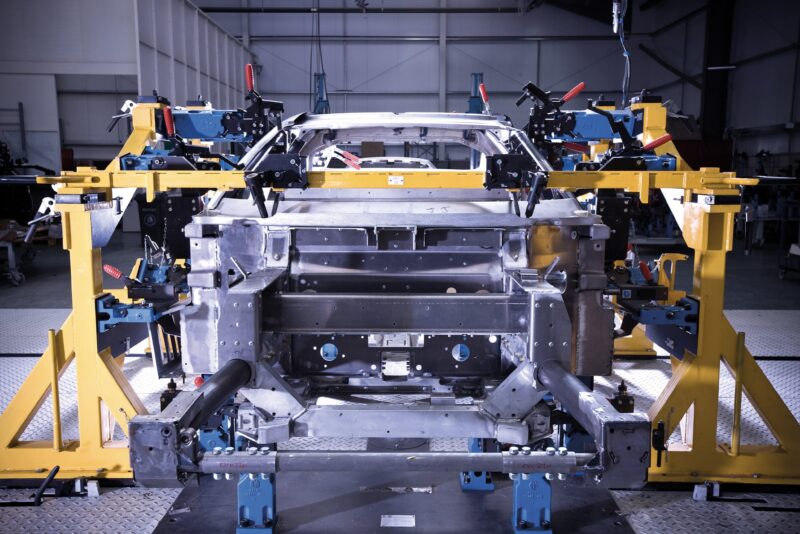 From that engineering sign-off point, there's still a maze of productionising: tooling, jigs and fixtures to design; assembly protocols, testing programmes, quality control. Envisage has a whole section devoted not just to measurable quality such as panel fit, but also perceived quality. Customer clinics report on the click of the switchgear, the clunk of a door closing, or the feel appeal of upholstery.
I'm aware I'm in danger of sounding as though I'm writing its PR, but it was an education. I never imagined developing a new car was simple, but I'm now realising just how many elements run in parallel. Of course, all of this happens in every major car company, but an independent hub of expertise like this is valuable to a start-up, or for those secret special projects that suddenly burst upon us with a fanfare of PR, apparently from a major marque's HQ. It's one of its strengths, says Strafford, that between its 250 full-timers and hundreds of contract experts it can form specialist teams to tackle any such programme.
Origination, too, is on tap, with several design and build studios available. When French battery firm Nawa Technologies planned a new electric motorbike, Envisage helped turn the company's sketches into reality with a concept e-motorbike that clients could 'ride'. "It was much more engaging for visitors to the stand," Tim explains, "and it brought huge press exposure." Other non-automotive tasks include furniture for the Science Museum, bronze panels for Harrods' escalators and unique furnishings for a yacht. There's nothing you can't get done with deep enough pockets; I'm asked not to broadcast details of the extravagant Ferrari reworking for one enthusiast, or the limited run of another Maranello re-imagining. But I have permission to mention the five James Bond DB5s on the way – and yes, they will have working gadgets. I wonder if you linked the ejector seats to radar crash detection, could the occupants be fired skywards and parachute to safety? Must suggest that.
The Bespoke element is as important as the Classic in this place, though it can equally handle short production runs. Parts for David Brown Speedback number 12 are on hand, while 29 Proteus C-types were born here, while the numbers for Jaguar's own continuations run to nine XKSS bodies (replacing those lost in the 1957 Brown's Lane fire) and 25 Ds. There's a circular suitability about this, as C and D bodyshells were originally built by Abbey Panels, another Coventry firm now part of Envisage.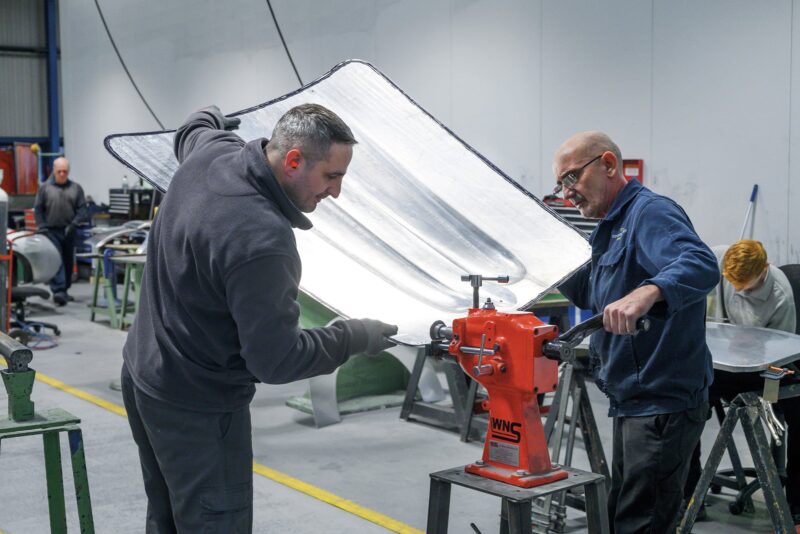 There's racing involvement too: Hunter recalls going to Le Mans with the Spyker team and their C&B-built bodies, only to see three of his carefully crafted noses destroyed even before the race, while Envisage's carbon fibre facilities are especially busy for the heavily disrupted F1 season producing elements for upcoming machines. And it was Visioneering, yet another wing of the group, which designed and built the JCB Dieselmax that broke the land speed record for diesel cars.
So, there we are – from furniture to F1 via your dream car. I came away from Coventry knowing rather more about car production, and more than that, pleased to know that the town continues a long heritage of automotive expertise. Should I decide to give up writing and start a car company, I'll be heading up the M40.
---
Under the radar