So what of Zborowski, from England, in his first works drive for Mercedes?
He had been delayed at the start because of a sticking clutch, necessitating a push. The eight-cylinder Mercedes engines had proved to be reluctant to fire up, to the extent that ether had to be fed from a small tank under the scuttle to the carburettors to induce them to start. Werner had also been delayed on the line when the flag fell at 10 am.
After Zborowski had started, he had to stop to change tyres but got away again, only to crash fatally on lap 44. News of this did not reach the Mercedes pits until Antonio Ascari was being flagged home as the winner, his Alfa Romeo having averaged 98.79 mph. Ascari's team-mates Wagner and Campari/Presenti were second and third, with Minoia fourth.
Zborowski's accident happened at the fast Lesmo curve. Early reports suggested that the Mercedes had run wide and collided with a tree (no Armco then, of course) and that the car had then skidded back across the road and struck another one head on. Len Martin, the Count's riding mechanic, was not too badly injured but Zborowski died soon afterwards. On hearing of the accident, Max Sailer had Werner and Metz flagged in.
Sammy Davis told how he heard of the death of his friend after " . . the loudspeaker of my set was switched on and . . . confirmed my worst fears."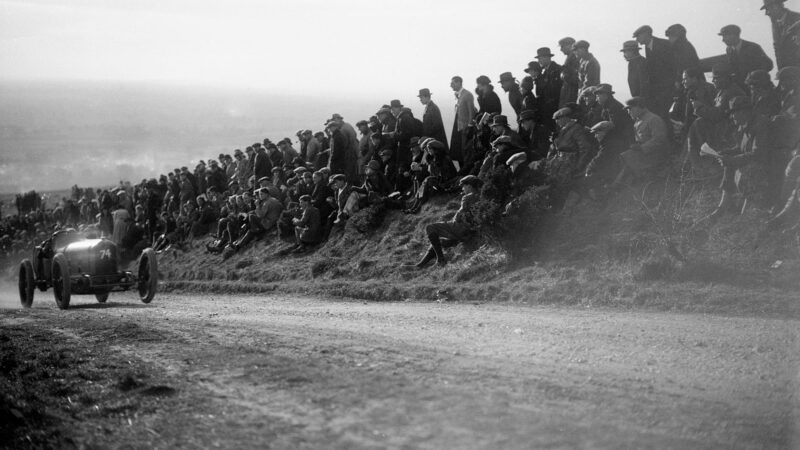 This is interesting as well as sad, because it suggests that at this still experimental stage in wireless broadcasts, Davis must have had a pretty powerful set if he received the transmission direct from Italy. But maybe he heard the announcement on 2LO, which, if lt was in Sunday evening action as early as 1924, could have had the news from Reuters and transmitted it, as Zborowski was so well known and liked in this country.
Perhaps a radio buff can tell me?
Lt-Col Clive Gallop, with whom I travelled to see Fred Ellis's restoration of a twin-cam Aston-Martin similar to that the Count raced when Gallop was Zborowski's engineer, told me, 23 years after the accident, that not only did the Monza Autodrome authorities hold a three-day inquiry into the crash, but that he was ordered to attend a similar investigation by Daimler Motoren Gesellschaft. Gallop had the dismal task of conveying the Count's body to his home at Higham, in Kent, the coffin being carried from Dover to the house on Zborowski's aged Mercedes truck, on which his racing cars had been transported to European circuits. In sympathy with the occasion, I have heard that it expired on the house drive with a seized-up steering column, the bushes thereof being made of poor wartime material . .
First accounts of the accident suggested that a seized cable on one of the Mercedes' front brakes had prevented the driver from releasing the brake after sliding on oil on the corner (as early disc brakes did when used on the sports/racing Jaguars). This theory was given some credence because Masetti's four-cylinder Mercedes, with similar brakes, had crashed three weeks earlier at San Sebastian for this very reason. In practice Neubauer had lost his Mercedes at the same Lesmo corner, causing the car to spin round on the wet road and hit a bank; Neubauer and his mechanic Hemmingway were uninjured. But the Mercedes investigation found nothing wrong with either car. Caracciola's biography, however, suggests that immediately after Zborowski's pit stop a tyre deflated, causing the crash. It is true that in a photograph of the wrecked car one front tyre is clearly flat, but this could have been caused by the impact. As the axle appears to have been torn from the chassis it is difficult to decide whether it was the near or offside tyre that punctured.