Lunch with Danny Sullivan
He cut his teeth in the UK and didn't race seriously in his homeland until he was 30, yet his CV includes an Indianapolis 500 win
There are plenty of American racers who build up a reputation in their own country before they venture to Europe to set their sights on Formula 1. It is rare to find an American who has done it the other way around. But Danny Sullivan, born and raised in Louisville, Kentucky, had his first race in a Formula Ford at Silverstone, and worked his way through F3 and F2 without ever racing in the US.
When the drives in Europe dried up he returned home, thinking his motor racing days were done. Then success in Can-Am and a distinguished rookie year in Indycar paved the way to a place in Formula 1, driving alongside Michele Alboreto at Tyrrell.
But Danny's fortunes in F1 were mixed, and after just one season he was back in Indycar. He went on to establish himself as a front-runner for the next decade, scoring a dramatic Indianapolis 500 win, and being crowned champion in 1988.
Always entertaining and personable, Danny still seems to be on friendly terms with just about everyone in the sport. He has been an FIA steward at several Grands Prix, and he's also involved in driver management, TV commentary and of course historic racing: he's a huge fan of Lord March and of the Goodwood Revival, where he has been a winner and a perennial front-runner. He's also involved in an investment company and an aviation business.
After some years in the south of France Danny lives now in northern California, in the beautiful, rich setting of Pebble Beach. For our lunch he chooses the Stillwater Grill, overlooking the Pacific Ocean and that lush golf course which each August is thronged with priceless cars for the concours d'élégance. An excellent lobster salad is followed by a properly American dessert, key lime pie. But no whipped cream, and just green tea to drink, with a little honey on the side.
First we have to talk about a remarkable man who is still fondly remembered by F1 people with long memories. Frank Falkner was an Englishman who moved to the US and became recognised around the world as an eminent leader in the fields of paediatrics and child health. But he was also a dyed-in-the-wool motor racing man, a close friend of John Cooper and Ken Tyrrell, and a regular member of Ken's team at most Grands Prix. For a while Frank was living and working in Kentucky, and his son Mike and Danny became school friends.
"As a boy I didn't even know what car racing was, it didn't interest me. Then Mike introduced me to his dad, who drove around in a Triumph TR3 with a little half-moon aero screen, which was kind of different in Louisville – it was probably the only car in the state with a stick-shift. And through Frank I became aware of racing, started to buy all the magazines and read it up.
"When I was 19 I told my father I didn't know what I wanted to do, but whatever it was I didn't want to go into his construction business, and I didn't want to stay at university. We had a big row about it and I said, 'I'm outa here.' After that I didn't talk to my family for a long time. I went to New York for the weekend, and stayed for two years. I was a janitor, a waiter, a cab driver and, out of the city, a chicken farm worker and a lumberjack. When Frank came to New York to address a medical conference he looked me up, and we talked a lot. He became a kind of father figure to me: there was a bond between us.
"Frank always encouraged people, wanted everybody to maximise their potential. He told me that if I wanted to make my way in motor racing I should go to England, and as a 21st birthday present he bought me a Jim Russell course at Snetterton. He said, 'If that shows you have talent, you can try to pursue a career in racing. If not, you've got to come back to university.'
"First he thought it was time I actually saw a motor race, so he took me to the Questor Grand Prix, a non-championship F1 race to inaugurate the new Ontario Motor Speedway in California. Tyrrell had entered a car for Jackie Stewart – he finished second in the race to Mario Andretti's Ferrari – and Frank introduced me to Ken and Jackie. Ken said, 'When you come to England, look us up.'
"So I arrived in the UK, an unsophisticated long-haired kid from Kentucky, and spent my first days staying with Ken and Norah. I went to the International Trophy at Silverstone with the Tyrrell team and, because the next day was my first day at the Russell school, after the race Ken persuaded Colin Chapman to give me a lift in his plane to Norfolk. So I had a high-level introduction to motor racing.
"Next day at Snetterton, as soon as I sat in one of the school Formula Ford cars, I knew this was what I wanted to do with my life. I got a job sweeping floors and pumping gas at Bell & Colville, Bobby Bell's garage just up the road from the Tyrrells. And Ken said I could tag along to the Grands Prix with the team, polishing wheels, running errands, ferrying Jackie and François [Cevert] to and from airports.
"I found digs by East Horsley railway station, and in my lunch break at Bell & Colvill I'd go the pub for a pie and a pint with Roger Hill and Roly Law and the other Tyrrell mechanics – when they had the time to take a lunch break. Then, coming back from the pub on my motorbike I missed a corner, landed up in a field with a broken vertebra in my neck. I'd done five races by this time to get the signatures for my licence, and was due to do the sixth at Mallory Park that weekend. That was out the window because I was in Guildford Hospital. When I got out I bought an old Lotus-Cortina from Bobby for £400, taped up the headlights, tied the battery down, and did a saloon race at Brands Hatch. That got me my final signature.
"I did some non-school FF races that first year, and in 1972 I set about it properly. I built up an Elden on the floor of Mike Catlow's garage, got a tow car, and moved into a flat up the road from Brands with Tom Pryce and Tony Trimmer. That season I did 43 races. And who paid for it all? Frank Falkner. The Elden, trailer, Escort van to tow with, getting to all those races: we did it on a budget of £15,000.
"Plus I got a sponsor. At one of my first races, at Silverstone, a couple of young people were looking around the paddock and wanted to chat. One of the things I'd already learned talking to Jackie Stewart was: always be courteous and friendly to everybody, whether you think they are important or not, because they may turn out to be important. So I showed them the car and told them about it. The following week those two kids got in touch, and said they'd sponsor me. They were called Catherine and Nicholas, and they were Catnic Steel Lintels. Still going: it's a big company now.
"In 1973 I made my F3 debut for Dr Ehrlich in his EMC – he was as strange as could be – and then I bought the ex-Bob Evans March. I persuaded a girlfriend to pay for it and promised I'd pay her back when I sold it. I had to integrate myself into the European system: lots of Americans came over to race in England, but people thought they were just playing. I had to show that I was serious. The racing journos of the day, great guys like Ian Phillips, Chris Witty and Jeff Hutchinson, helped by writing me into their reports.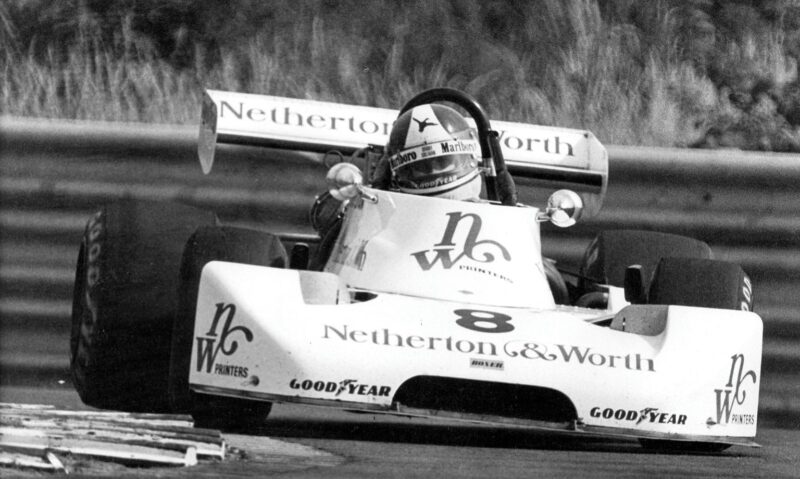 "I had no money, so I was knocking on every door I could find. Somehow I hung onto the March into the 1974 season, and in 12 races I never finished lower than third. In 1975 I got a ride with Modus, and in the British F3 Championship Gunnar Nilsson in the works March won eight races, I won three and had lots of podiums. In the end Gunnar took the F3 title, I was runner-up. I was now living in a flat in Lansdowne Road, Notting Hill. At different times Gunnar lived there, Jochen Mass lived there, Jean-Pierre Jarier and others. It cost me £85 a month. [A house in Lansdowne Road sold recently for £16.5 million.] Gunnar and I drove to the races together, over the weekend we'd barely see each other except on the track, then we'd drive home again, maybe stop off for dinner with Phillips and Witty. F3 was friendly then.
"Formula 2 was tougher to get into. Ted Moore of Rapid Movements tested me at Goodwood in a very nice Chevron and offered me a ride. Then in February he said business was bad and he wasn't going to do it. All the other seats were filled, so I went to New Zealand and raced in Formula Atlantic there.
"I came back to try to get into F2 for 1977. Brian Lewis had his previous year's Boxer-Hart but needed money to run it, so I got him to paint the car white and put stickers on it from any little sponsors I could find, a hotel chain, a jeans manufacturer. Before each race I had to pay Brian £1200, otherwise the truck wouldn't leave. I managed to afford Mugello, Nogaro, Misano, Estoril and Donington, where I was fifth, beating René Arnoux who ended up F2 champion.
"After that I had no drive, no prospects, and various people who'd promised me sponsorship had stiffed me. I decided it was time, after seven hard years, to give up on Europe. In fact, I was about done with motor racing altogether. I wanted nothing more to do with chasing sponsorship, endlessly trying to raise funds.
"So I went back to Kentucky, and got two jobs: construction site worker by day, waiter by night. As a waiter you could make good money with tips, and the hours were flexible. Then a guy offered me a job on a crab boat in Alaska: a dangerous deal, but you could make $30,000 in a couple of months, cash. I was about to go off and do that when I met Garvin Brown, heir to the Jack Daniels whisky fortune. He was seven years older than me, had never got involved in racing, but he felt it was time he did.
"I told him I was out of it now. He said, 'You can't give up. I've got a ride fixed for you in the Can-Am race this weekend at Riverside.' I said, 'I don't even have the money for the plane ticket.' He said, 'I'll buy that.' So I flew to Riverside to drive somebody's old shit-box of a Lola. And for 1980 Garvin set up a proper Can-Am team. He paid me $25,000 and my expenses, and I was over the moon."
To provide and prepare the car, Garvin hired the Smith brothers. Lance Smith had designed and built a car called the Intrepid, based on a Lola T332 F5000 chassis but with a boxy high-tailed body incorporating his own ideas about aerodynamics. It was not a success, and Sullivan was generally written off as a second-rater. But after four races the Smiths were fired and the Intrepid replaced with a new Lola T530. At once he was on the pace. He qualified on the front row for his first race with the Lola, and set a new lap record after a pitstop. In 1981 he had podiums with the Lola before he switched to a Frisbee and won the final round at Las Vegas. Then he moved to Paul Newman's team with the works March 827. He won Las Vegas again, after a wheel-to-wheel battle with Al Unser, and finished third in the series.
"That season I also did a couple of Indycar races for Jerry Forsythe. My first was at Atlanta, which is a megafast oval. And I had no oval experience whatever. They were all there, Andretti, Johncock, Mears, all the big boys. I get out there to practise and I'm way off the pace. I say to Al Unser, 'I've no idea what I'm doing wrong here.' He says, 'You're driving it like a road racer. When you come into Turn One you're lifting off and dabbing the brakes. You've got to roll around the corner, just keep turning left.' I got that, went out and qualified 10th. And in the race I finished third. That was a record for an Indycar rookie's first race until Mansell won Surfers Paradise in 1993 – and that, remember, was on a road course. At Nigel's first oval, he crashed.
"Then came my first Indy 500. I qualified 13th out of the 33 at 196mph, and in the race it was going well, running in the top six, and then I crashed. Lack of experience, the wind caught me. As Rick Mears told me later, there's a place where the wind can gust through a gap between two grandstands. That's where the nose stepped out.
"Next thing that happens, I get a call from Ken Tyrrell. In F1 you never get told the whole story, but Benetton, the team sponsor, was going into the American market and they liked the idea of an American driver. Also I think Ken had his eye on Garvin as a possible source of money. Anyway, I'm summoned to Paul Ricard for a test in December, and Garvin comes along to watch. It's freezing cold, and they're also testing Stefan Johansson, Beppe Gabbiani, Bruno Giacomelli. Of course I knew all the Tyrrell mechanics from 12 years before.
"Then Ken walks up, puts a contract under my nose and says, 'Before you get in the car, you have to sign this.' It says if I get the drive I'll be paid £10,000, and 40 per cent of any prize money I earn – but I have to pay all my expenses, which of course would be way more than I'd be paid. I just didn't have that sort of money. So I go back to the transporter and I take my overalls off. But Garvin says, 'If it comes to it, I'll pay your expenses.' So I put my overalls on again, I sign the piece of paper, I get in the car, and Roger Hill leans into the cockpit and says, 'Danny, just drive the car.'
"I've never driven an F1 car but I've done Can-Am, I've done Indy, and I play myself in, settle down and do a progression. And I end up faster than the others. I get out of the car and, typical Ken, he doesn't say anything. He just says, 'Be in Rio next month for the tyre tests.'
"It was an eight-day tyre test, and I got there three days early, because I wanted to be fit and ready. I was running on the beach, all that stuff, and it was hot as hell. I still hadn't been told if I had the drive. Well, I sat around at the track for eight days while Michele Alboreto, who was in his third season with Tyrrell and was the No1, did all the testing. I just watched. Finally on the afternoon of the last day they sent me out for 12 laps on a set of Alboreto's used qualifiers. And I was 0.8sec slower than Michele. I come back in, and all Ken says is, 'Well, you've selected yourself.'
"I did the first two Grands Prix, Brazil and Long Beach, finished both. Round three in April was the French Grand Prix, but the week before that was the Race of Champions at Brands Hatch. Most of the F1 teams agreed to send one car, and Ken entered one for Alboreto. But Michele said he was doing the Monza 1000kms for Lancia that weekend – he and Ken had quite a row about it – and on the Tuesday evening I'm in California and I get a summons from Ken.
"I fly Wednesday, with the time difference that gets me to Heathrow on Thursday morning, and practice at Brands starts Friday. I've fixed to stay with my old F3 mate Russell Wood in Greenwich. I qualify sixth – Keke Rosberg, the reigning world champion, he's on pole in the Williams, with Arnoux in the Ferrari alongside. Saturday night Russell says we've got to go out for our traditional pre-race curry, and at the restaurant we have to wait for a table. Russell says, 'Let's have some wine while we're waiting. Hell, a glass won't hurt you.' It was a long wait, and in the end I left the restaurant a bit pie-eyed.
"Next day I make a really good start. Going into Paddock I get hit up the back by Roberto Guerrero, and to avoid hitting John Watson's McLaren I have to go around him. So I've passed Wattie round the outside of Paddock, and up to Druids I'm third behind Rosberg and Arnoux. Arnoux stopped for fresh tyres, and I found I could hang on to Keke. I stayed on his gearbox, and late in the race his tyres started to go off. He was doing everything to keep me behind, but on the last lap I got alongside him at Druids. Of course he clung to the inside, we brushed tyres and I had to let him go. We took the flag half a second apart."
It was a great performance, and certainly cemented Danny's place in the Tyrrell team. The following month at Monaco the grid lined up on a wet track. "Ken says to me before the start, 'Which tyres do you want?' 'Wets, of course.' 'Well, I'm putting you on slicks, because it's going to stop raining.' Wise old Ken: the rain stopped, the cars on slicks had to stop to change tyres, and I finished fifth."
But that was Danny's only points finish of the season. "The turbos were doing most of the winning by then, but on the tight street circuits the Tyrrell worked well. At Long Beach I qualified ninth and was well up until I was hit by a bad tyre vibration. In Detroit I worked up from 16th on the grid to eighth before half distance, three places behind Michele, and then the electrics packed up. The guys in front of Michele all ran into trouble, and Michele won the race." That was Tyrrell's last Grand Prix win.
"There were two Grands Prix in England that year, because there was the European Grand Prix at Brands Hatch in September. I out-qualified Michele by 0.8sec. We both had exactly the same equipment, same spec engine. When I got to the circuit on Sunday morning I found out that my car had been given to Michele, without telling me. I went to Ken and we had a real knock-down drag-out row. Ken wouldn't budge, but he said to me afterwards, 'I wasn't going to change my mind, but I would have been disappointed if you hadn't stood up for yourself.'" In the race the two Tyrrells circulated together, with Danny ahead for most of the time, until a loose fuel line set Danny's car on fire. He calmly drove it, burning merrily, to the back of the pits for the fire marshals to deal with.
"Ken was a tough son of a bitch, but he was always straight. He never told you everything, but he never lied to you. He loved to argue: he called it debating, but he would get really angry. The mechanics would say, 'Ken's having one of his froth jobs.'
"It was a tiny organisation, just 30 people in a timber yard. It had a unique ambience, but by the 1980s that was no longer the way to run an F1 team. Ken didn't need to go to Ron Dennis lengths, but he could have tidied it up, put up some modern buildings, paved the yard which was just earth. The year I was there his budget was $3.3 million to run two cars – probably less than anyone else on the grid."
For 1984 Ken was hunting for sponsors and drivers who could bring money, and Danny realised that he had to find something else. "I went to the end-of-season Indycar race at Phoenix, just to take a look. Doug Shierson, who'd been running in CART for two seasons with sponsorship from Domino's Pizza, had decided to get rid of his driver Howdy Holmes. It was looking like I was out of Tyrrell, so I ended up signing a one-year contract with Shierson – that way he could see how I did, and I could see how he did.
"We started with a car built for the team called the DSR-1, designed by ex-March man Ian Reed. You know how some cars feel really nice, but they aren't fast enough. The DSR-1 would run fine up to 199mph and then it was just a stone-cold brick. So Doug bought a Lola, and then we were away. Tom Monaghan, the founder of Domino's Pizza, came to watch Cleveland, and we won that. We won Sanair. Domino's sponsored the Pocono 500, and we won that: Rick Mears and I were battling going into the last lap. In Turn Three there was a slower car, I went high, Rick went low, and I beat him by a nose.
"I ended up fourth in the Indycar series, and then Roger Penske called me. He took me to dinner in New York, and made me an offer for 1985. I was in a dilemma: Shierson had a great team, a great group of guys, but I knew things were changing, getting bigger, getting more expensive. Roger hadn't won a lot in a while, but he's a very astute guy. When the music stops, Roger will always be sitting in a chair. So when we'd finished dinner we went over to his office in New Jersey and we signed a contract that night. It was less than I was going to get from Shierson: but it was Roger Penske. I stayed with him for six seasons.
"Right away Penske laid on days and days of testing for me, ovals, road circuits, getting me integrated with the team. First race, Long Beach, I'm leading. Last lap, I come out of the hairpin, I run out of fuel. Rolled home to finish third. Second race was the Indy 500.
"My March 85C wasn't sensational, but I qualified eighth, 210.5mph, so we were there or thereabouts. But come the race it wasn't handling that good. My engineer Derrick Walker made a call to stop me early to try to fix it. In those days there was no speed limit in the pitlane, and you were coming off Turn Four at about 210mph. Roger always had his pit at the far end, so coming down the pitlane bouncing on the concrete surface I was still going pretty quick. They adjusted the front wing, nothing major, and when I came out I wasn't that far off being lapped by Mario Andretti. But the car was now good and I got myself all the way back and I caught Mario.
"You have no concept of time when you're out there. Because I'm right behind Mario and getting turbulence I'm trying to pay attention, and I couldn't see the lap score on the big pylon, I didn't know how many laps to go. The radios weren't that great back then: I shouted, 'How many laps to go?' I thought Derrick said 20, but in fact he said 80. I'm thinking, 'F**k, I'm going to have to get past Mario.' He's a tough sumbitch to pass any time, and with 20 laps to go I knew he'd be really hard.
"You peel away from the wall a little bit because if you're too close it creates extra drag, plus there's always some crap up there on the edge. So Mario comes down to take his line just as I pull inside him, I have to go down with him, and I run onto the painted line on the apron. They repaint it every night so it'll look good on TV.
"You run hardly any wing at Indy, with stiffer right side springs, and stagger is crucial. Stagger is when you run the right rear tyres a bigger circumference than the left. With 26 thou stagger it might understeer, 32 thou stagger it might be loose. My car was pretty loose, oversteering as you guys call it. When I hit that painted line it wriggled. I was still doing 210mph. I corrected, it bit, and then I lost it.
"By now I was already in front of Mario, and he knew to aim at me, because by the time he got there I wouldn't be there any more. I'd jumped on the brakes as soon as I started to spin, and fortunately I was low enough that when I went back up I didn't hit the wall, I just went on spinning down the straight. As I came round to point in the right direction, with a stalled engine, I found a gear, bam, and off I went. I radioed Derrick: 'I need tyres!' because of course I'd flat-spotted the ones I was on.
"Back out on my new tyres, I'm moving back up again. Just in front of me Tom Sneva tries to avoid Rich Vogler who's going into the wall, and loses it. If I'd jumped on the brakes I'd have hit the wall, so I just aimed at his spinning car, I think I missed him by four inches. I said to myself, 'Man, you're having a good day.'
"With 60 laps to go I caught Mario again, got it right this time, passed him in Turn One, and was able to pull away and win the Indy 500. My best lap in the race was my penultimate lap, at a 204mph average. Because it was a spin-and-win, everybody talked about it. But I'd have been just as happy if I'd had a boring race and won from the front.
"After that it seemed everybody wanted a piece of me. I said yes to it all. I didn't much want to be famous, but I reckoned it was all part of making myself more valuable to the sponsors. My face was on kids' cereal packs, I was in an episode of Miami Vice, and I was even in a cowboy movie, The Long Kill, with country singers Willie Nelson and Kris Kristofferson. They shot it in Spain, where so many of the spaghetti westerns are shot, and I was a wagon train master trying to save our asses from the bad guys. They were all great to work with. Willie was always stoned, but he was never late on set, and he never missed a line."
Danny stayed with Penske for five more seasons. He was third in the series in 1986, but his great year was 1988. "The Indy 500 that year was the one that got away. I qualified second, led from the start and by half distance I had a lap lead on the whole field. Then the front wing mount broke and put me in the wall." But, with nine poles out of 15 races and four wins, he took the Indycar Championship ahead of Al Unser Jr, Bobby Rahal and Rick Mears.
"You had short ovals, super speedways, street courses and road circuits, and in my Indycar career I won on 'em all. Four different disciplines with completely different car set-ups, in a turbo single-seater with 950 horsepower on alcohol and steel brakes. My background was on road circuits, but the real thing was, if your car was good, it was good everywhere.
"On a super oval, if your car is set up right, it's spectacular. You're always in traffic, going high, going low, and you're doing a mile every 19 seconds. Michigan is super-fast. When I won there in 1988 Derrick radioed me and said, 'How's the car?' I said, 'It's got a bit too much push [understeer].' Derrick said, 'Your last 27 laps averaged 228mph. It can't be pushing that bad.' But if your car isn't quite right, doing your four qualifying laps at Indy is the hardest thing you'll ever do in racing. It's like you hold your breath for three and a half minutes.
"Roger didn't spend as much money as you might think. You'd expect he'd have a truck full of engines, especially when he owned Ilmor, but he'd just have five. Rick Mears and Emerson Fittipaldi were great to work with: I've never seen anybody as good as Rick on an oval. We shared information, we could all see the others' set-up sheets. Emerson and Rick both liked my road-course set-up, but I couldn't drive Rick's oval set-up, it was too loose for my liking.
"I had a bad crash in practice at Indy in 1989. At around 220mph, just lining up for Turn Three, the bodywork fixings failed and the engine cover blew off. With a massive loss of downforce, the car turned straight up into the wall. The right front wheel came back into the cockpit and smashed my arm. The Indy doctor, Terry Trammel, inserted a plate and seven screws, and I wore a plastic brace over the arm. Six days later I did second qualifying. I did a 215mph lap, which was 15th fastest overall. Clutch went after 41 laps.
"For 1991 I was still contracted to Roger. Then Pennzoil pulled out, and he decided to come down to two cars. Marlboro was tied to Emerson, and Rick wasn't going anywhere, so I drew the short straw. But Roger still paid me the balance of my contract: it shows the class of the man.
"I went to Pat Patrick. It was a fabulous team to be with, but he was running the Alfa Romeo engine in his Lolas and we had a big power disadvantage. So I signed a three-year contract with Galles Racing. In 1992 they ran their own chassis, the Galmer, and I won Long Beach with it, but they were back with Lolas for 1993, and I won Detroit. I was locked in for 1994, but in February Rick Galles sent me a letter saying he was firing me for breach of contract, which was bullshit: he was running out of money, and Adrian Fernandez had arrived with a pile of gold. It got nasty. I had to get the police to show up at Long Beach and seal his trucks before I got what he owed me.
"It was too late for me to find another ride for '94, so I went back to Europe, did some DTM for Alfa Romeo, and finished third at Le Mans in a Dauer Porsche with Hans Stuck and Thierry Boutsen. I did Le Mans four times, and it was the most fun I ever had in racing. I was lucky to do it before the Mulsanne Straight chicanes went in. I was with Tom Walkinshaw in the Silk Cut Jaguar team in '88, and our top speed down there must have been around 240mph. In '96 I came back to drive a McLaren F1 with Nelson Piquet and Johnny Cecotto. Nelson was so much fun to be with, professional in the car, but out of it down to earth, never played the great ex-world champion. And he always had some 22-year-old babe with him.
"Back in Indycar for 1995, I signed a three-year contract with PacWest. In my 13th race for them, Michigan, Lyn St James hit the wall, and I hit the wall trying to avoid her. I was unconscious for 11 minutes, and they airlifted me to hospital with a broken pelvis. I was out for the rest of the season, and lying in my hospital bed I thought about it all. I was 45 years old, I was racing against a bunch of young guys and I wasn't as competitive as I had been. Then ABC TV came to see me, offered me a lucrative commentary contract. That helped me make up my mind to stop Indycar. But I still did some sports cars. In the '98 Daytona 24 Hours Allan McNish and I were second overall and won the GT class in a Porsche 911 GT1.
"I've still got some toys – a Lancia Aurelia B20, a '32 Ford hot rod, a Porsche 356A, plus a Vincent Black Shadow and a replica works Harley Davidson my wife gave me for my 60th birthday. She's done seven national rallies in our '73 Porsche 911RS, came 13th out of 144 in her first big one."
Does Danny regret now that F1 didn't work out for him? "Look, there are always things in life you'd like to change. But I could have floundered in F1 for six seasons and never had a result, as so many good drivers have done. I've raced in different disciplines, I've had success, and I've never had a manager. I guess having a manager wasn't in my personality: like Frank Sinatra, I did it my way."