On the road: another month, another feast of paddock café breakfasts
- Last updated: December 5th 2019
Simon Arron visits two traditional venues and relishes a competitive secret that is no longer well kept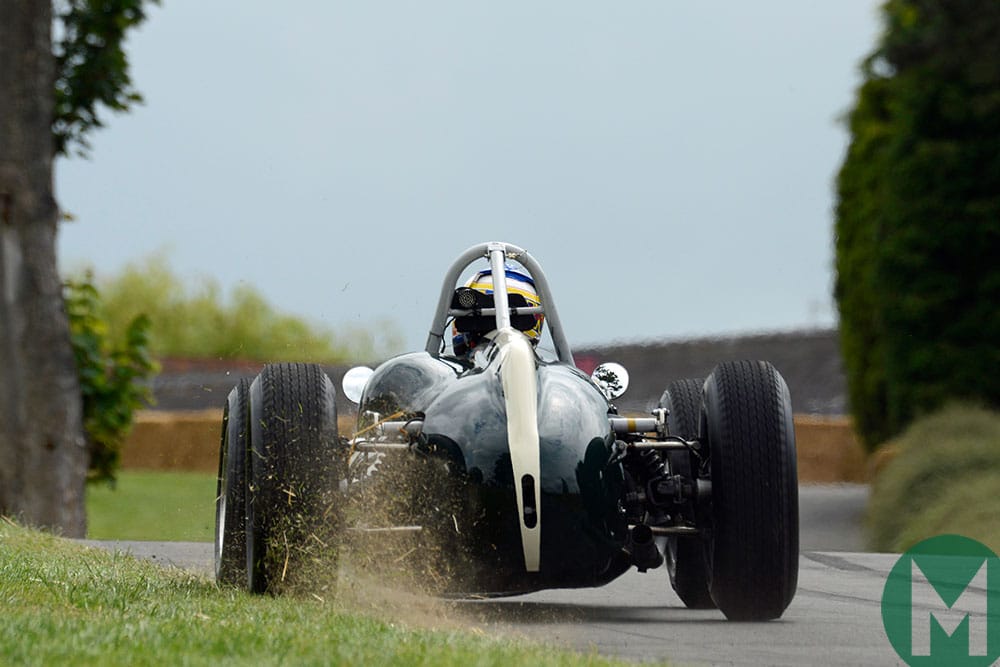 William Nuthall kicks up some grass in the Cooper T53 at Chateau Impney All Images: Simon Arron
If you asked a non-enthusiast audience to name two UK racing circuits, chances are that Silverstone and Brands Hatch would spring most readily to mind – a throwback to the days when they served as alternate hosts to the British Grand Prix.
It's hard to believe that you'd need to be about 40 to retain any kind of memory of the last such event in Kent, but that's the reality.
The two venues have evolved somewhat in the interim, though hardly in parallel: Brands benefits from hugely improved facilities but is otherwise defiantly traditional (when photographed from certain angles it appears barely to have changed), while Silverstone has been stripped of a little soul in its quest to keep pace with the demands of modern race promotion.
A nice balance has been struck between the commercial and the competitive, something one hopes can be maintained in years to come
Essentially, though, its asphalt core remains one of our sport's great challenges.
If you asked a non-enthusiast audience to name a traditional British hillclimb venue, they might struggle to identify any (unless they live within a few miles of Shelsley Walsh or Prescott).
Dormant between 1967 and 2015, however, the reborn Chateau Impney is fast gaining an appreciative following – a pleasant social occasion with more than just a whiff of Castrol R.
BRANDS HATCH: June 30 & July 21
To label an event the Legends of Brands Hatch Superprix is to court a certain sense of expectation, but the Historic Sports Car Club's annual GP circuit showpiece has over time lost some lustre.
What is now the FIA Historic F1 Championship used to take centre stage – and the HSCC's own F2 series provided a glorious backing vocal – but neither presently features. HGPCA races for pre '61 and pre '66 grand prix cars are always delightful, but the cars don't quite have the presence of their more boisterous descendants.
XL Aurora (the artist formerly known as the Derek Bell Trophy) and Thundersports (an old name revived in a good cause) provided a welcome sonic boom – and the latter also showcased the unfading speed of John Burton, a sports car star of the '70s who remains ultra-competitive in his seventies (he's 77, to be precise, and won both races from pole in his Chevron B26).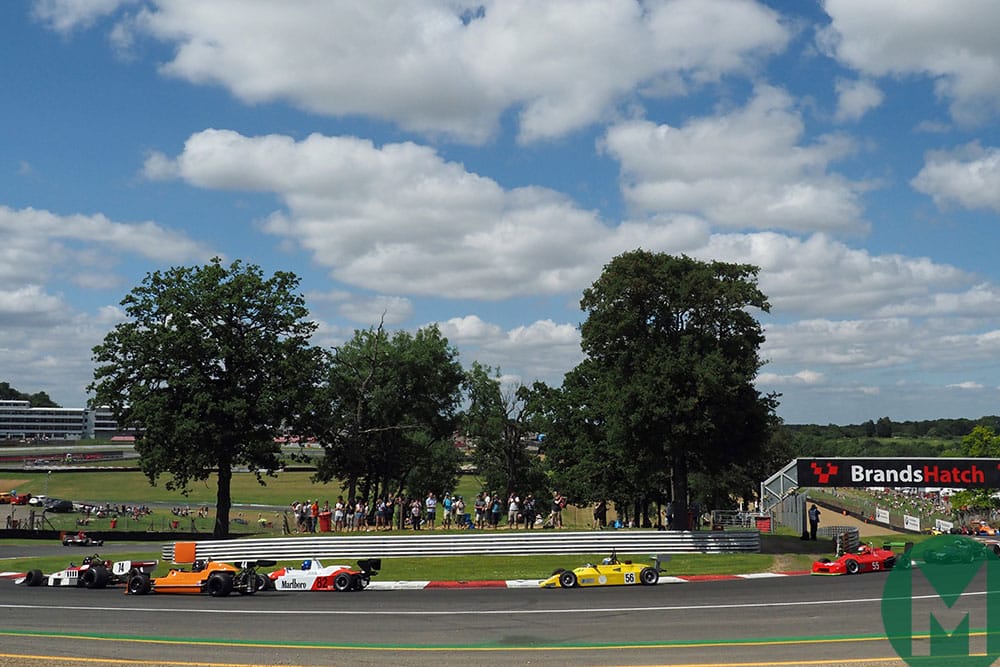 The XL Aurora machines round Druids at Brands Hatch
The mere presence of older cars on the Brands GP loop is ever something to savour, of course, and Historic Formula Ford would be entertaining no matter where the cars were set loose – give them free rein around Monaco and they'd find ways to pass each other cleanly – but entries were a touch thin in some categories.
The Dunlop Saloon Car Cup was established in a bid to restore impetus to what was the struggling Super Touring movement, but despite this being one of the UK's finest competitive stages only nine cars appeared.
It was nice to see distinguished Australian racer Carey McMahon on the grid in his ex-Tony Longhurst Ford Sierra RS500, but if he was able to make the 10,000-mile trip, where on earth was everyone else?
Three weeks on, it was a cocktail of short circuit and even shorter wheelbases for the latest Mini Festival, examples of which have been staged at several MSV venues – and on the evidence of this they ought to consider arranging more.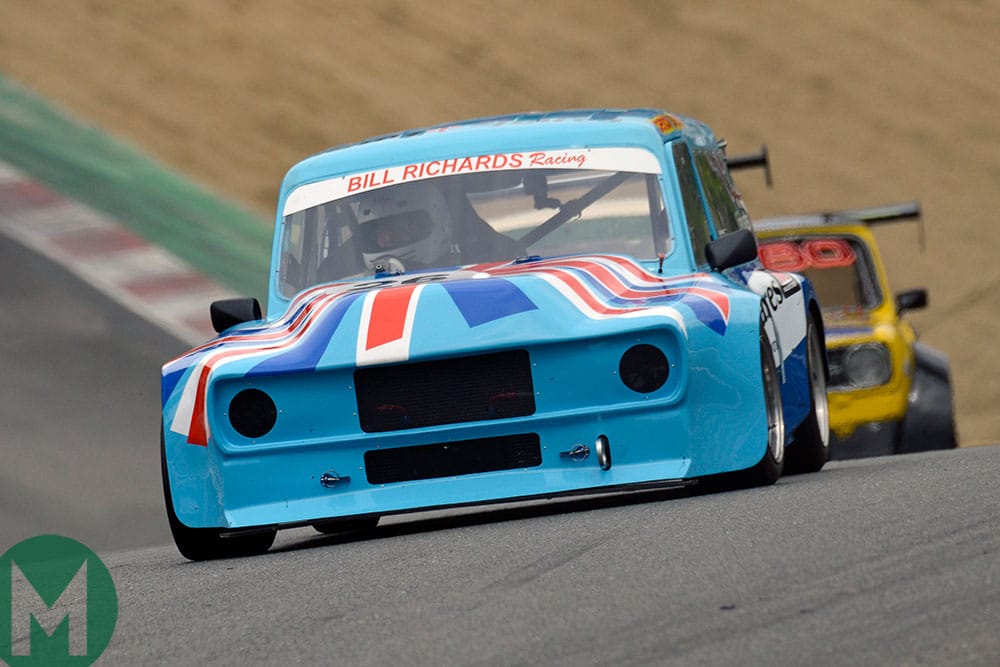 Local man Bill Richards these days races with a Mini Traveller body
The curiously-titled Fastest Mini in the World races attracted a modest grid of (mostly) modified cars, a throwback to the days when extravagant sculptural flourishes were a feature of all racing paddocks.
Local man Bill Richards triggered a few grumbles in 2016, when he won both heats at the wheel of what was ostensibly a Metro. This year he triumphed in the first race using the same chassis, but it is now cloaked beneath a Mini Traveller body and so nobody minds.
Harvey Death (pronounced 'Deeth') won the second, abetted by possibly one of the largest rear wings that has ever been attached to a small car (plus the poke of a 2.8-litre Powertec V8).
A blown engine precluded Maltese racer Joe Anastasi's intended participation, but he and his brother Dave turned up anyway to watch. An enthusiast of the old school, Anastasi used to make a 10-hour boat pilgrimage to Sicily ("It's five times faster nowadays, much easier") to watch the Targa Florio – and his command of Italian made him a useful ally for visiting British drivers.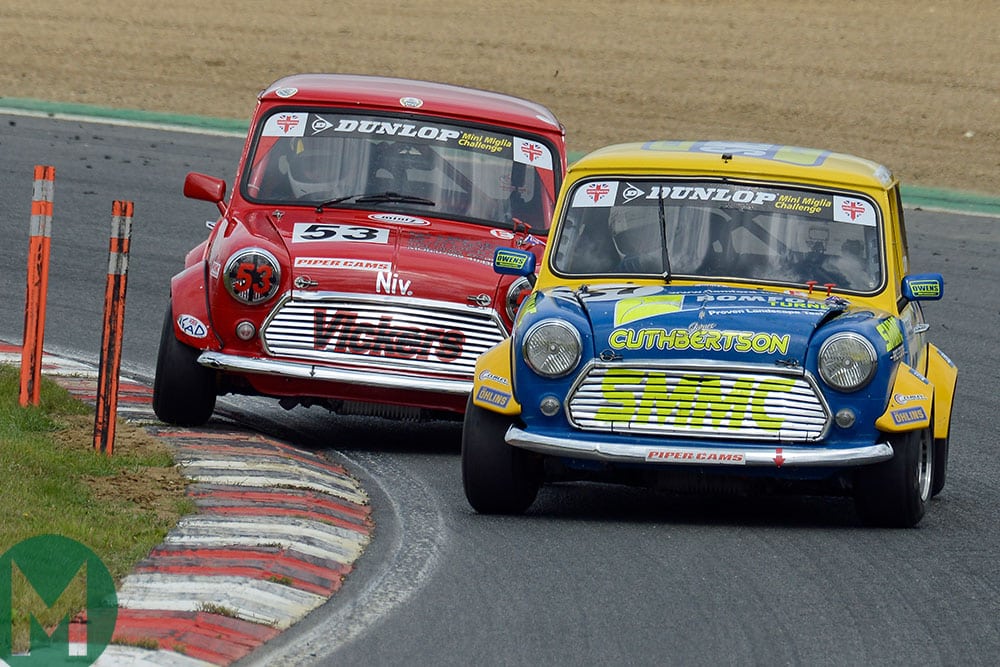 James Cuthbertson and Niven Burge battle at Brands in the Mini Miglia Championship
"In 1970," he says, "John Chatham seemed to be having trouble with the scrutineers, who insisted his MG should have four cylinders rather than eight.
"I intervened to explain that this was an MGC, not a B, and they eventually allowed him to take part – though they placed him in the three-litre prototype class, against Porsche 908s and stuff. I don't think he was too bothered; he just wanted to compete…"
Back in the modern world, contemporary MINIs provide close racing but don't share the eloquent body language of their lower-case counterparts.
Se7ens and Miglias have been UK racing staples since 1966 and 1970 respectively, but antiquity cannot dilute their infinite appeal – nor their capacity for eight-car lead battles.
There is presently much bluster about the technical direction Formula 1 should take beyond 2021. If Liberty Media covets close racing, the Mini Se7en Racing Club can probably assist.
CHATEAU IMPNEY: JULY 13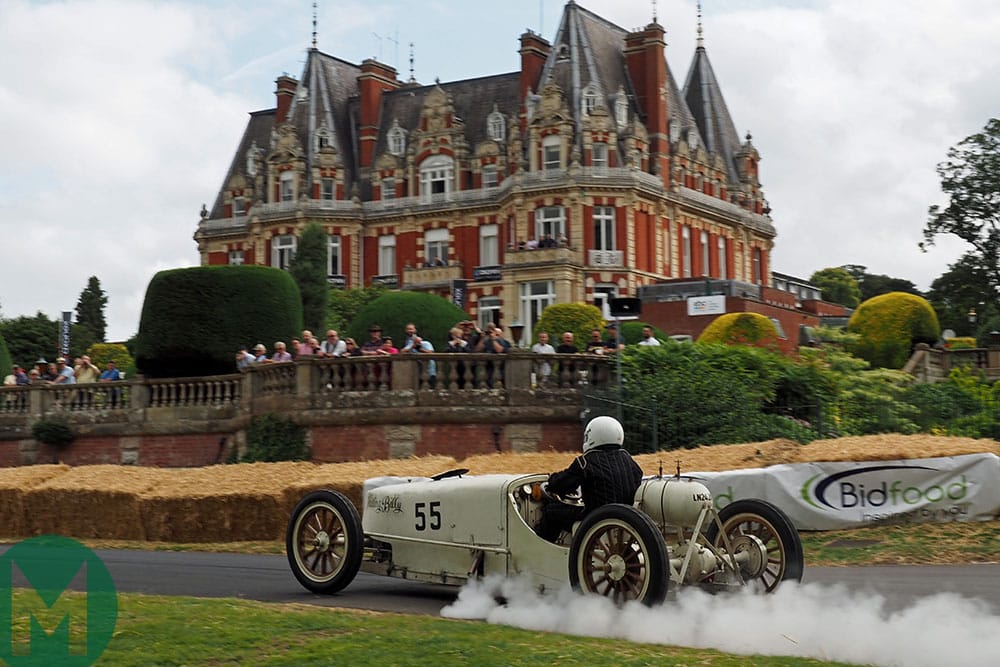 "The quiet, quirky magnificence of Dr Robert Dyke's White Whistling Billy steam car"
Looking back at photographs from the opening day at the first Chateau Impney revival in 2015, it's striking to observe the thinly populated spectator areas – quite a contrast to the way things have evolved.
This is now a fixture with the essence of early Goodwood Festivals of Speed, before the days of corporate overkill, or the sadly now-defunct Cholmondeley Pageant of Power in its pomp: some great cars, an engaging atmosphere and immense variety – from the quiet, quirky magnificence of Dr Robert Dyke's White Whistling Billy steam car to the flame-spitting menace of Duncan Pittaway's Fiat S76, on this occasion in the capable hands of Ben Collings.
This is presently one of the most charismatic of all racing cars in the UK… even when standing still and/or switched off.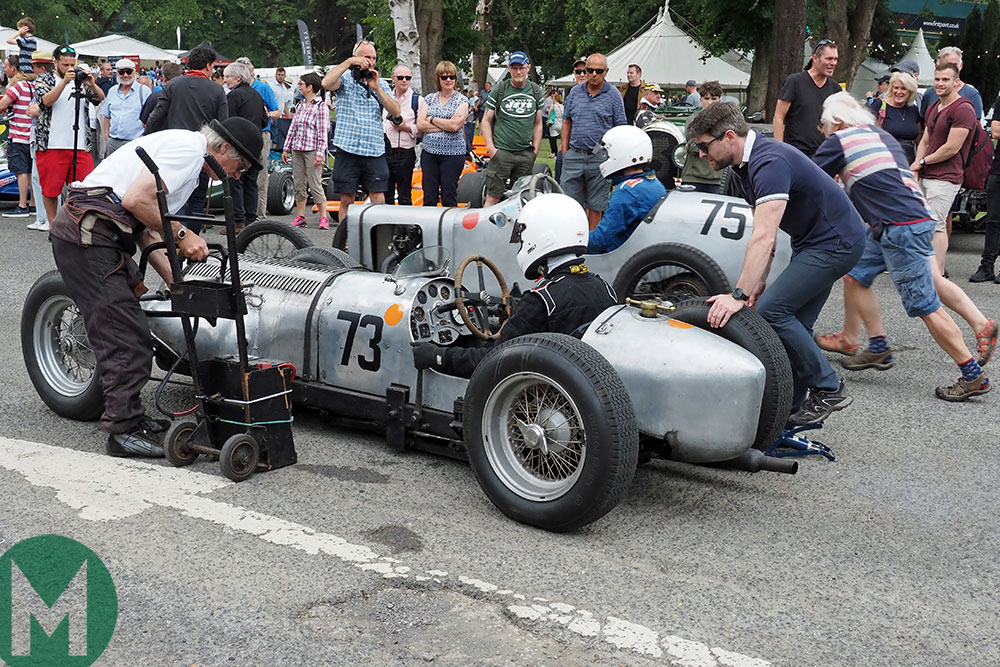 Ben Enticknap in a GN Phoenix and Rachael Williams in a Hardy Special Mk III prepare for action
As ever at hillclimbs, it's sometimes best not to consult the entry list beforehand so as not to spoil the element of surprise. I can't recall ever having seen two Unipower GTs on the same bill before – and was that really David Brabham in one of his family's eponymous BT8s? Of course it was…
Not for the first time, the event clashed with the British Grand Prix (not to mention Wimbledon or, more relevantly from my perspective, cricket's World Cup Final), but such trifles appeared not to have a deleterious effect on its appeal.
A nice balance has been struck between the commercial and the competitive, something one hopes can be maintained in years to come.
There was even a queue to leave at the day's conclusion – a mild irritation to some, perhaps, but a good sign in the overall scheme of things.
SILVERSTONE: JULY 26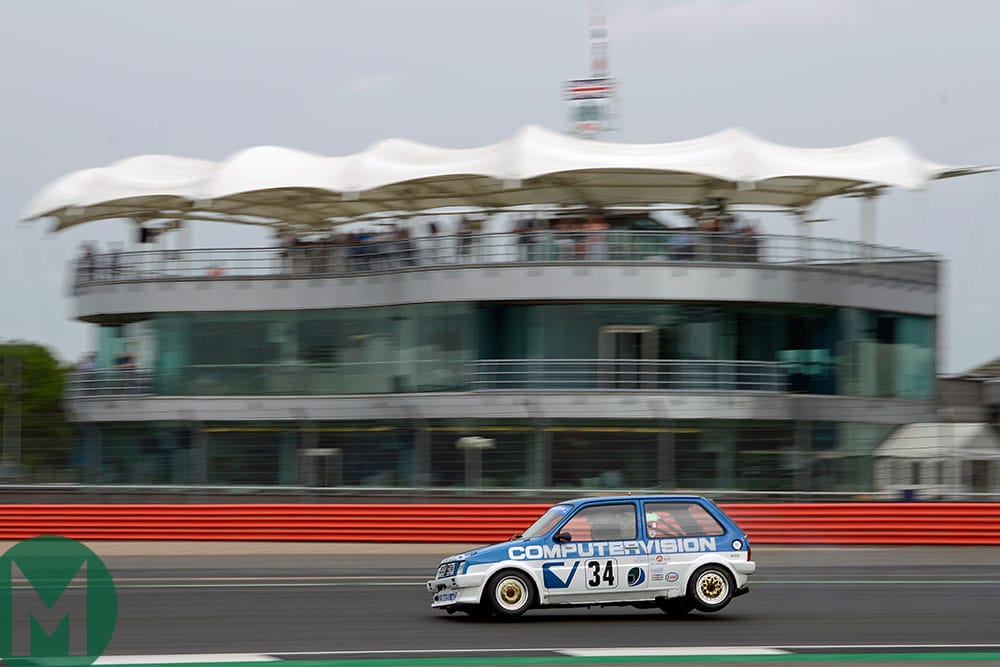 Patrick Watts gets on three wheels in his MG Metro Turbo at Silverstone Classic
It is barely 8am, yet already Silverstone's security service has found its voice: someone, somewhere, has presumably turned left instead of right, or vice versa, and the air is ripe with raised voices.
One accepts that guiding traffic can be a thankless task, but a little courtesy wouldn't go amiss.
In the here and now, though, it isn't forthcoming.
The annual Silverstone Classic has a scale all its own and Friday morning jams reflect as much. There are more photogenic stages for racing cars of this calibre, but no other UK venue could accommodate them so efficiently alongside thousands of static classics, a funfair, an expansive trade village and live music. Oh, and some football coaching.
Arguably, you could have a most rewarding weekend without ever setting foot by the side of the track.
Once you've worked your way past the shouty perimeter – where possible, we suggest packing a bicycle to get the most from your weekend – there is far more to take in than the average human can absorb in three days, let alone just one.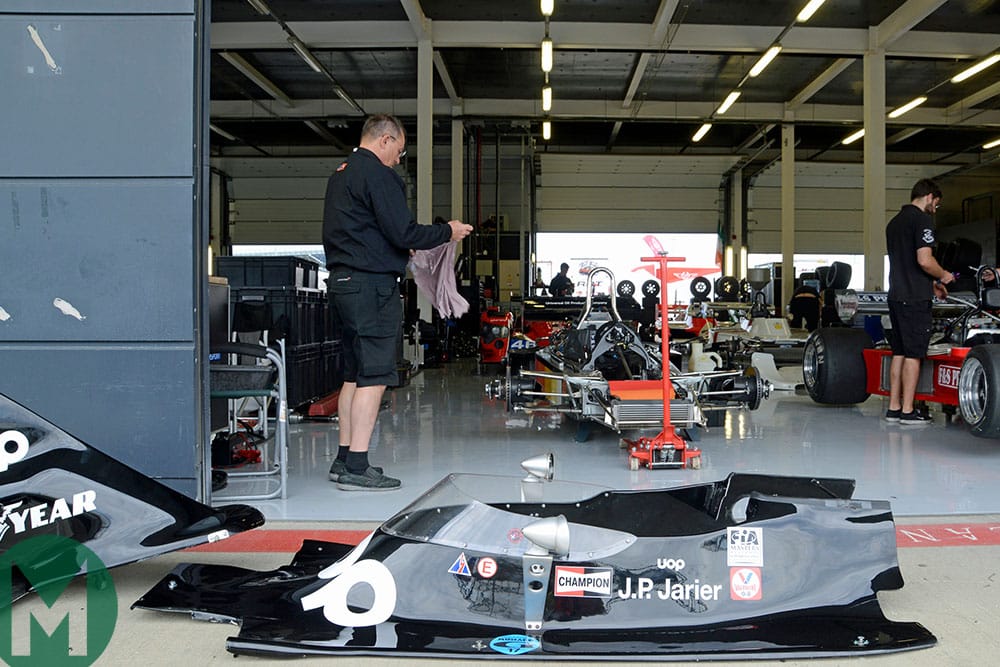 A scene from the Silverstone Classic paddock, including a classic 1970s F1 Shadow
Rediscovered in France, where it had been converted at some stage to Formula Atlantic specification, Pascal Gerbout's ex-Bruno Giacomelli March 772 has been returned to its pomp as part of the 55-strong Historic F2 field.
"We have lots of paperwork to confirm its provenance and know it's the genuine article," says restorer Hervé David. A broken driveshaft having stymied the car's scheduled return to action at Magny-Cours, this is the car's first serious outing for quite some time.
Nor is this just a place for encountering significant cars. Familiar faces lurk around almost every corner, among them former Manor/Marussia F1 team principal John Booth – a serial Formula Ford front-runner at Silverstone when many of the cars present were still fairly new.
He isn't actively involved in racing at present, but has taken a break from building a new house to bathe in automotive heritage. "I absolutely love this meeting," he says.
There is an overwhelming body of evidence to suggest he's not alone.