Motor racing and car gifts for kids
- Last updated: November 3rd 2020
These car gifts for kids are the perfect Christmas presents for junior drivers and budding car enthusiasts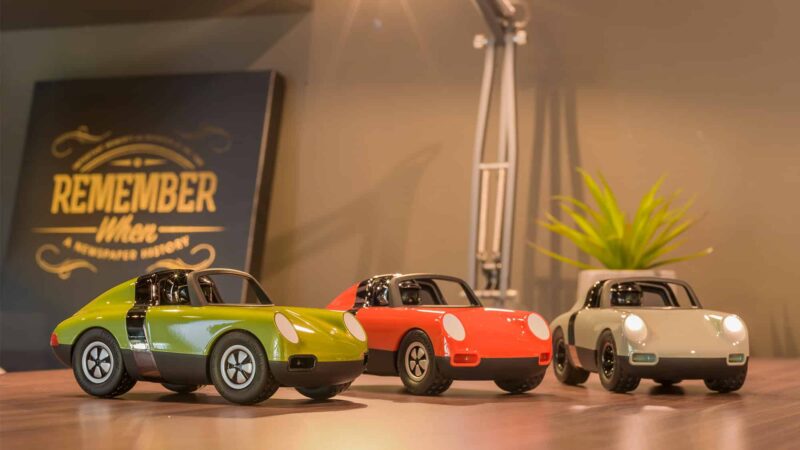 Motor Sport shop gift guide
You may not be able to take them to a race at the moment, but you can still spark the love of motor racing from a young age with a well-chosen gift.
Our selection includes toys that can withstand the attentions of a toddler; remote control and slot cars that will reward skilful driving, and books to fire the imagination.
Scroll down for our 2020 picks from the Motor Sport shop or click below for the full range.
Car and motor racing gifts for kids
---

Velocita Formula 1 Racing Car Toy Model
£25
Made out of high-quality and durable materials, the Velocita Formula 1 Racing Car is a throwback to the Grand Prix cars of the 1970s. Painted in a striking red livery reminiscent of that era's Ferraris, this charming toy is ideal for racing round the Christmas tree or dining room table legs. A perfect gift for the young race fan.
---

BMW v Honda – Touring Car Battle | Scalextric
£99.99
If there's one thing the BTCC can guarantee, it's a generous helping of thrills and spills. This Scalextric recreation is no different, ensuring racing entertainment for Christmas and beyond.
---

The XK Files: 120 – Jennifer Barker
£6.99
A magical children's story featuring a striking (and talking!) Jaguar XK120, which travels back in time to the 1950s. An ideal 'quiet time' gift for younger motor sport fans.
---

Ducati Panigale V4 – Remote-Controlled Model
£150
Kids can experience the thrill of Ducati motorcycle racing at their fingertips, with the Upriser Ducati Panigale V4 S RC motorcycle.
This 1:6 scale replica RC sport bike is unlike any remote-controlled vehicle ever seen, using True Balance and Omni Wheel technology to self-balance at any speed.
---

Luft sports cars
£35
Suitable for ages 1 and upwards, this Porsche-inspired car is built to last, with ABS plastic and rubber, with a hard-wearing coating that should keep the paintwork gleaming. As well as this distinctive orange model, the range includes green, grey, plus black and gold options.
---

Malibu Racing Car – Toy Model
£25.00
This Malibu racing car is a great toy for any budding car enthusiast. Built to last and ready to race, the set-up for the Christmas stint and beyond.
---

Speed Birds: An Unforgettable Story That Explains How Cars Work
£14.99
When a young crow witnesses the world's fastest bird, the Peregrine Falcon, he dreams of building an amazing car. With his friends on his side, the sky is the limit. The perfect motor sport-themed story at the end of a long Christmas day.
---

Porsche 911 – GT3 Cup | Playmobil
£39.99
Share the love of endurance racing early with this Playmobil Porsche 911 GT3 Cup, which has working headlights, rear lights and dashboard for racing through the night, a pit crew for swift fuelling and tyre changes and, er, a removable roof for easy access to the cabin, which includes a racing seat and roll cage.
---

Mini – Diamond Edition | Commemorative Triple Pack | Scalextric
£129.99
Few cars capture a kid's imagination like the Mini, and this Scalextric pack features not one but three. The perfect addition to any budding petrolhead's burgeoning collection, these miniaturised automotive icons guarantee hours and hours more fun on the slot-car race track.