Unusual Christmas gifts for motor sport fans
- Last updated: November 5th 2021
Find a Christmas gift for the fan who has everything, with our selection of unusual motor racing presents
Motor Sport shop gift guide
When you're buying for the motor sport fan who seems to have it all, then you'll need something out of the ordinary.
Fortunately, there are plenty of brilliantly niche options from the world of racing, including engine parts that have been remade into cufflinks; compellingly unusual books; products plastered in favourite liveries; and models of cars and components.
Scroll down for our pick of this year's gifts and click to search all shop products for many more unusual gift options.
---
Bluebird tie pin
£70
This lapel pin doesn't just commemorate Donald Campbell and his revolutionary K7 water speed record craft — it allows you to carry part of it with you. The sterling silver, gold-plated and enamelled on also contains aluminium reclaimed from the boat after it was raised from Coniston Water in 2001.
Produced in a limited run of just 100, each pin comes in a presentation box with a certificate of authenticity signed by Campbell's daughter Gina. The collection also includes cufflinks made with reclaimed metal.
---

No20 Gulf Blue glasses case
£25
Whether your favourite specs-wearing racing driver is Jacques Villeneuve, Sebastien Bourdais or Lewis Hamilton (who admittedly only wears them for fashion purposes), this case in classic Gulf livery is sure to please.
Echoing the No20 Porsche driven by Steve McQueen in the Le Mans film, the leather case fastens with a magnetic clasp.
---

John Surtees dinner service
From £40
You thought you had run out of ways to commemorate the only world champion on two-and four-wheels, and then the dinner service arrives.
Made in Italy, as part of a partnership with Surtees, the hand-painted service includes plates, side plates, bowls and salad bowl, which all carry Surtees' signature. They are available as individual pieces with stand or a complete collection.
---

Reclaimed F1 tyre bracelet
£150
Driven flat out, F1 cars rotate their tyres 2,800 times per minute, so the reclaimed rubber that makes up this bracelet collection can look forward to a calmer life, no matter how extreme your tastes.
The Rascasse bracelet featured is made of F1 tyres combined with a black rhodium, sterling silver clasp, stitched with kevlar from the inside of the tyre.
Also available is a wider 'Tabac' design. Both come in a black and red presentation box.
---
Motoring Leg-Ends socks
£10
Deck your heels in your favourite motor racing colours, cleverly designed with a bold look when your shoes are off, with a more discreet design on the ankle for when you're out and about.
Choose from some of the best-loved liveries in motor racing history, including the orange and blue Gulf colours above; the blue, red and white Martini stripes; British Racing Green; Italian Red; Bugatti Blue, plus the black and gold of the JPS Lotus days.
---
James Bond collection
£32.99
James Bond's Aston Martin has become a bit of a cliche, but this collection features some of his best-loved transportation choices: the Lotus Esprit submarine car from The Spy Who Loved Me, the 'Little Nellie' gyrocopter that provided plenty of comedy in You Only Live Twice, and the space shuttle that sent Bond into orbit in Moonraker. In an ideal world, we'd have added the Citroen 2CV from for Your Eyes Only, but no Bond fan will be able to resist this trio.
---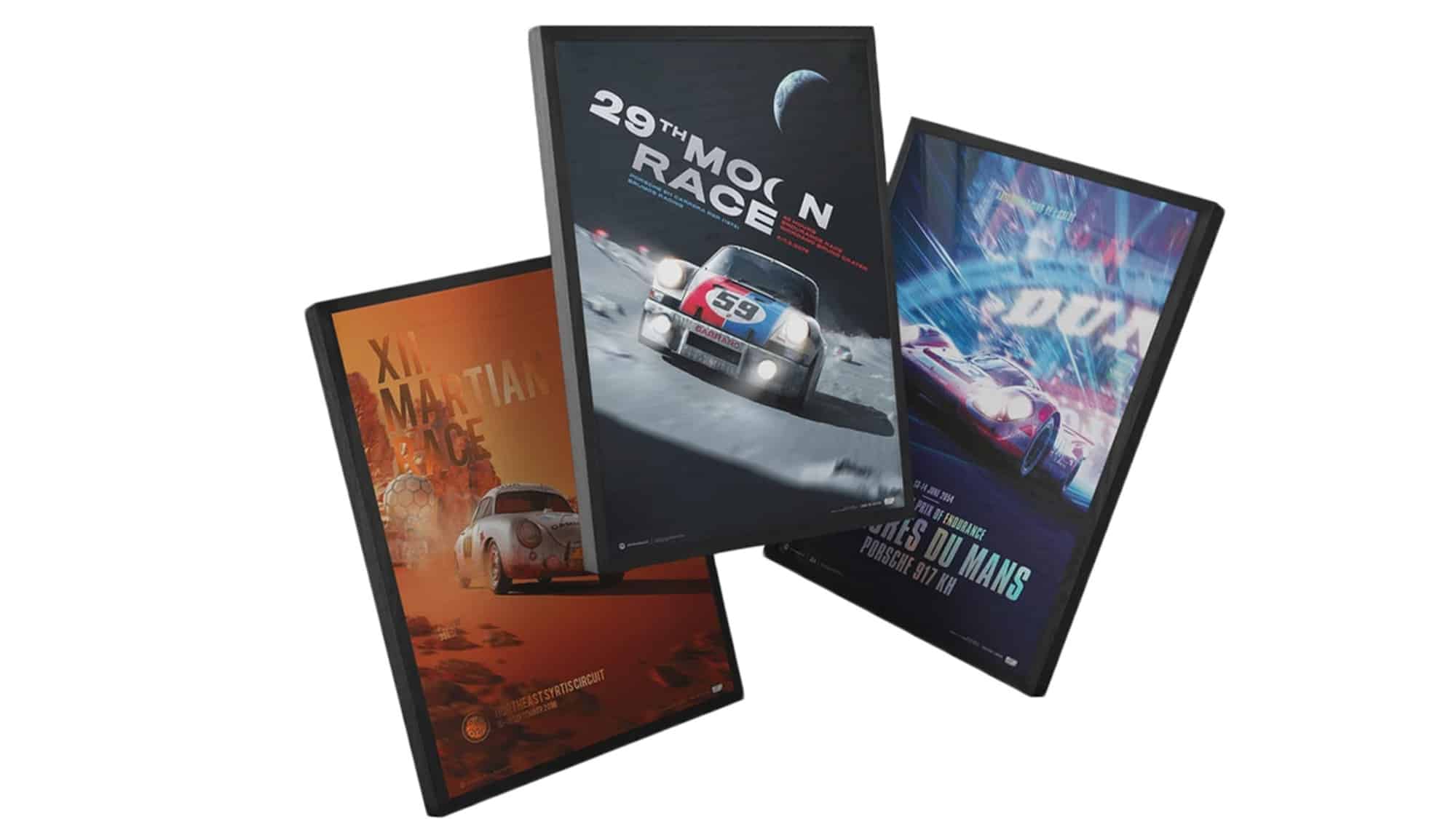 Porsche — The future lies ahead posters
From £94
Wherever the future takes us, it's reassuring to know that we'll still be able to watch classic Porsches racing.
That's the idea behind this Automobilist series that takes some of Stuttgart's most famous racing models and places them in the future. See the 1970 Le Mans-winning 917 competing at the same circuit – reimagined three decades into the future.
The Porsche 356 that won the Panamericana in the 1950s is shown continuing to battle harsh terrains on Mars in the year 2096, while the 1973 Daytona-winning 911 is seen in action on a racer around a crater on the moon.
The three posters can be bought individually or as a set of three. If it's all too far-fetched, then there's a complementary series featuring these classics at the scenes of their original triumphs.
---
Formula Helmet book
£115
The history of Formula 1 from the perspective of drivers' crash helmets: it begins with an unusual premise but it richly delivers over 288 pages of interviews with 18 F1 drivers (including five world champions), painters and technicians. There are moving, intriguing and hilarious stories, plus in-depth detail on the development of safety standards — and imaginative designs.
Available with either a Senna or Prost cover, depending on your allegiance.
---

Tony Brooks-signed steering wheel
£395
A growing market in the world of racing collectables are steering wheel replicas that either make you wonder at the simplicity of early models, or gawp at the complexity of modern versions.
This Tony Brooks-signed model is very much one of the former: the full-size three-spoke wood and riveted rim wheel is characteristic of cars in the early days of the World Championship.
Celebrate Britain's great unsung 1950s hero with this high-quality replica, which can either be displayed or installed a car, using its nine-hole moto-lita fitting.
There are also plenty of signed alternatives available, including replicas of a Nigel Mansell Williams FW14B wheel, and a Kimi Räikkönen 2007 Ferrari wheel.
---

Pocher Lotus 72D, Emerson Fittipaldi
£719.99
Often, you do get what you pay for. In this case, it's a self-assembly kit of more than 800 metal, rubber, textile and premium-quality plastic parts that make up a 1:8-scale model of the Lotus 72D driven to British Grand Prix victory by Emerson Fittipaldi in 1972.
If you're considering it for Christmas, then you'll need to be sure that your recipient isn't too impatient, as the kit is expected to be dispatched next June. But the fully-painted Pocher model is set to be worth waiting for, with intricate detail extending to even the unseen parts of the engine; the opening fuel filler cap; and just the right shades of JPS gold and black.
---
Oil can coasters
£7
The oil can coaster provides the perfect placemat for any petrolhead's beverage, proving that it's not just oil which is integral to liquid engineering – it's coffee and tea too. The coasters are designed in a classic weathered garage style and are available in numerous oil brand/racing car designs.
---
Bentley engine part cufflinks
£165
It's now possible to dress yourself in motoring history with Bentley's engine part cufflinks. Made from vintage Bentley V8 bearings, these upcyled accessories live up to the marque's stylish heritage. The cufflinks come with a certificate of authenticity and are presented in a tasteful black cufflink box.
---
Automotive Art Project
£100
If your car collection numbered in the dozens, then what chance would you have of finding the one perfect painter to capture them in artworks?
Claude Nahum, owner of the N Collection commissioned six leading artists to provide their interpretation on 25 of the cars in his stunning collection. The works of Tim Layzell, Guy Allen and Anna-Louise Felstead are featured in this 208 page book, depicting Nahum's Jaguar E-type, AC Cobra, Ferrari 250LM, Ford GT40, Lola T70 and Ford Lotus Cortina, and many more.
The exhilarating artwork is presented in landscape format in this beautiful, unusual book.
---
Porsche Carrera model engine kit
£175
The 547 Porsche Carrera engine is thought to be unique in the world of racing, and now you have a chance to build it yourself. This kit allows you to examine every detail of the engine in recreating it as a transparent, working model. The accompanying book also provides a comprehensive history of Porsche's early racing years, a great coffee table addition.
More gift ideas for Christmas 2020