Jackie Stewart to drive F1 Matra at Silverstone Classic
- Last updated: December 5th 2019
Sir Jackie Stewart will return to Silverstone to drive 1969 British Formula 1 Grand Prix-winning Matra at July's Classic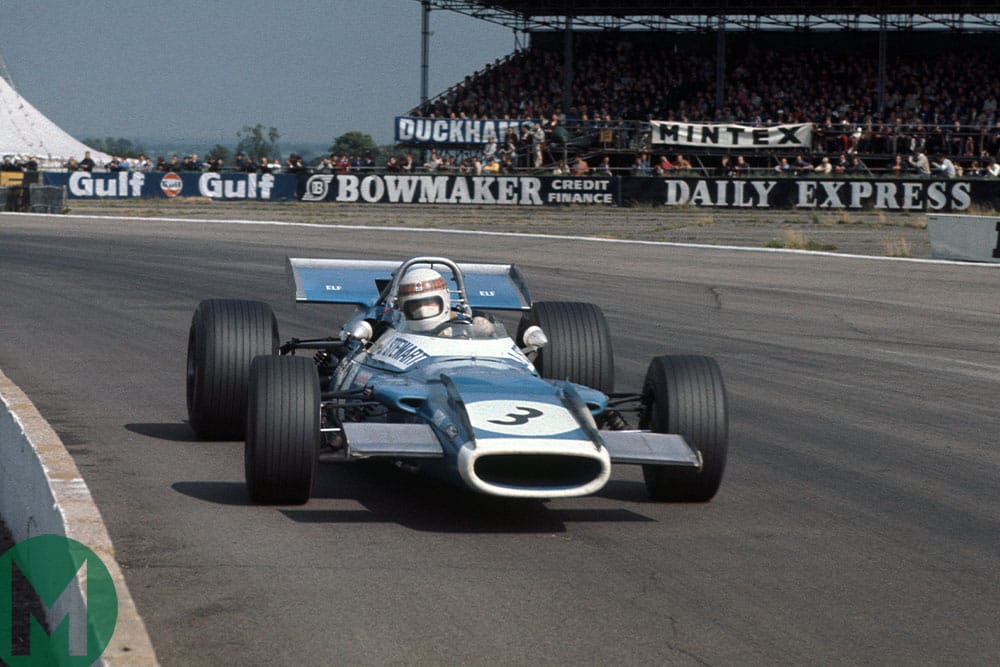 Jackie Stewart on the way to victory at the 1969 British Grand Prix Photo: Motorsport Images
Fifty years after his first British Formula 1 Grand Prix victory, Sir Jackie Stewart will drive his winning Matra-Ford MS80 at the Silverstone Classic on July 26-28.
Stewart will mark the July 1969 win with high-speed demonstration laps in the Matra-Ford on the Saturday and Sunday afternoons of the event.
The three-time F1 champion said: "I am looking forward very much to getting back to Silverstone in the Matra, even if not at quite the same speeds as 50 years ago!"
Furthermore, the Masters Historic Formula 1 races for DFV-powered F1 cars that competed between 1966-85 will be renamed as the Sir Jackie Stewart Trophy, and Stewart himself will present the trophies on the podium.
---
Aston Martin to star at Silverstone Classic
---
Motor Sport's report from 1969 read: "As has become the pattern this year Stewart set the pace right from the start with MS80-02, the Matra-Cosworth V8 he normally races, and there was no one out on the first practice session who could even cause him to worry, let alone try extra hard.
"The incredible tension that has been building up between Matra and Lotus, and Stewart and [Jochen] Rindt, throughout the season seemed to be at bursting point and Silverstone was electrified by it, oblivious to all else, which was a pity in some was as some of the other teams were doing great things, but they just were not great enough.
"The race was over 84 laps, but it could have been over 5 laps for all the difference it made to the way Rindt and Stewart leapt into battle," continued the report.
Stewart and Rindt duelled for first place but the contest virtually ended as Rindt pulled into the pits late in the race with a broken rear aerofoil, and dropped even further down (to fourth) after another pitstop for fuel.
Denis Jenkinson ended his report by stating that this race was one of the "hardest battles [Stewart] has ever had."
---
More: Sir Jackie Stewart's message to F1 stars
---
Stewart later recalled that the grand prix "was one of the most exciting and enjoyable F1 races that I ever had.
"Jochen was one of my best friends. The cooperation we had in not trying to block each other allowed us to definitively run away from the rest of the field.
"We knew, because in those days there was no aerodynamic sophistication, that we could draft each other and pass if we were not blocked. Almost every lap, we exchanged the lead on the Hanger Straight and going into the 155mph Woodcote corner, which in those days had no chicane.
"We pointed to each other which side to be passed on, to avoid reducing our lead from the rest of the pack. We exchanged the lead more than 30 times and it was a fantastic race for both of us.
"The Matra MS80 was a wonderful car to drive and the Lotus 49 was also exceptional, in addition to which we were such good friends that there were no nasty circumstances during the entire race, until the unfortunate point at which Jochen's rear wing came loose.
"My father and my brother were there to see me win. It was a big day in my life as we had lapped the entire field."
---
More: The greatest party that never happened…
---
This summer's Silverstone Classic will support Alzheimer's Research UK and Race Against Dementia – a cause that Stewart champions, applying F1 technology and methods to find a solution for the condition that affects nearly a million people in the UK alone and his wife, Lady Helen Stewart.
"I am extremely grateful to the organisers for supporting Race Against Dementia," said Stewart. "Helen will be truly proud of what we're doing to challenge her illness and the challenge dementia poses to us all."
Alzheimer's Research UK deputy CEO Ian Wilson added: "We're so excited that Sir Jackie Stewart will be returning to Silverstone this year to honour this iconic anniversary, while also raising much-needed funding and awareness for dementia research.
"Like so many people today, Sir Jackie knows only too well the heartbreak dementia causes and the desperate need there is to find a cure. Thanks to the incredible support of the Silverstone Classic, we will be able to fund research that will make breakthroughs possible."
Silverstone Classic CEO Nick Wigley said, "We are proud to be supporting such a worthwhile cause at the Classic this year and are very honoured to be celebrating the 50th anniversary of Sir Jackie's landmark 1969 season in the best possible manner."
"It will be very special to see Sir Jackie back behind the wheel of the iconic light-blue Matra and together once again roaring around Silverstone. It's going to be a fantastically evocative sight, and one which we hope will provide some impetus to further fuel awareness of, and fundraising for, the pioneering Race Against Dementia Fellowships."
Tickets are on sale until midnight on July 25 and adult admission starts at £45. Visit silverstoneclassic.com/ for more.
This year's Goodwood Festival of Speed will mark Stewart's 1969 F1 title and his 80th birthday.