Tributes paid to Zef Eisenberg after he was killed during land speed record attempt
- Last updated: October 3rd 2020
Multiple speed record holder Zef Eisenberg was killed during a record attempt at Elvington Airfield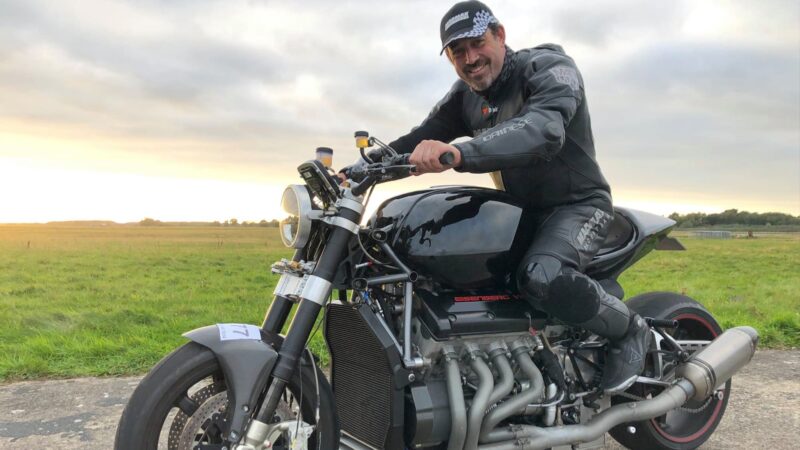 Zef Eisenberg, the multiple land speed record holder, has been described as an inspirational character after he was killed during a British land speed record attempt at Elvington Airfield, near York.
The 47-year-old, who set more than 90 speed records on two- and four-wheels "injected his positivity into everyone he came in to contact with," his family said in a statement.
"They, in turn, were left feeling upbeat and in an enlightened mood."
Eisenberg was behind the wheel of his 1,200bhp Porsche 911, developed with his MadMax race team, when the accident happened on Thursday.
He was attempting to set a new British speed record when the car was reported to have veered off the Elvington runway part-way down the tarmac and flipped.
The cause of the crash is still being investigated by police, organisers and Motorsport UK, which governs speed record attempts.
Straightliners, an events company that organises speed record runs, including Eisenberg's attempt on Thursday, said: "Zef was a much loved and valued member of the Straightliners family and he will be very sadly missed by us all.
"Zef was renowned for putting together an incredible team of people who helped him on his record-breaking land speed journey, there was never a dull moment when Zef and the MadMax team arrived."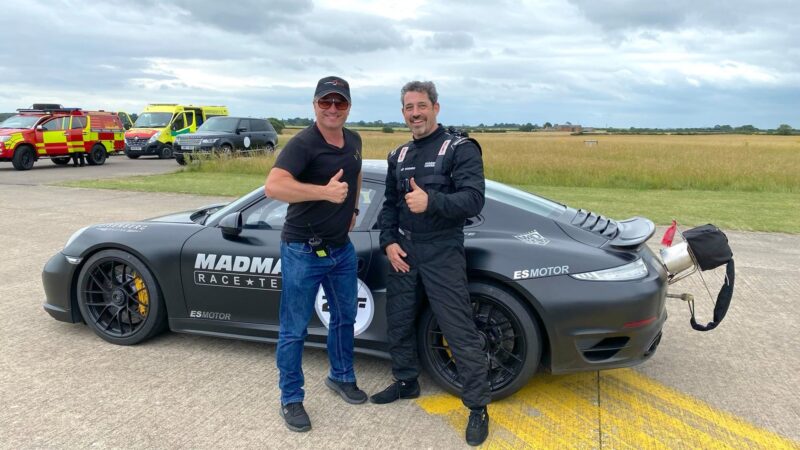 Since selling his Maximuscle nutrition company a decade ago, Eisenberg had become a prolific land speed record holder: building and developing his own machines and constantly seeking new challenges.
He and his team created record-breaking motorcycles, including a 234.01mph turbine-powered machine; and an electric bike. He set quad bike records, and had been developing his Porsche 911 for several years, setting records on tarmac, sand and snow.
Last year, he received the Royal Automobile Club's Simms Medal for outstanding contribution to motoring innovation and, in an accompanying podcast with Motor Sport, explained the draw of record-breaking.
"My problem is: when is it enough?" He said. "I want to go further. If you can go 234mph, why not 244mph?"
Eisenberg had previously survived a 230mph accident at Elvington – thought to be Britain's fastest motorcycle crash — during an attempt to beat his land speed record for a turbine-powered motorcycle in 2016.
He was described as a "true genius with unique talents," in the family statement. "Eisenberg leaves behind a loving partner Mirella D'Antonio and two children. His parents and four siblings all adored him and followed his progress with great admiration."
Born in North London, Eisenberg's fascination with speed had been there since his schooldays, when he modified a bicycle with an electric motor, aged 15.
Taking up bodybuilding, he developed his own protein powder and founded the Maximuscle business, which was eventually sold to GlaxoSmithKline, in a deal agreed in 2010, worth £162m.
Setting up home in Guernsey, he turned his focus to speed and built the world's fastest turbine motorbike, which set a Guinness record at 234.01mph.
It was during an attempt to break the record that Eisenberg survived what is thought to have been the world's fastest motorbike crash — at Elvington airfield, where the turbine-powered machine failed to stop at 230mph
He shattered his pelvis, hip, femur and eight other bones, spending three months in hospital. Doctors told him that he would never walk again, but he spent six months learning to get back on his feet and, 12 months to the day of the crash, returned to Elvington on the rebuilt bike.
The speed records continued to rack up, as he pushed the boundaries further with his MadMax race team – his progress followed by the ITV SpeedFreaks programme.
He set new speed records on sand at Pendine, on two wheels and with the 1200bhp Porsche 911 Turbo that he was continuing to develop.
In the meantime, Eisenberg was also a supporter of projects at home on Guernsey, where the keen skateboarder led the build and maintenance of a 15,000 square-foot skate park for the community.
Eisenberg built an electric motorbike that set three world records in 2019, the same year that he was awarded the Simms Medal by the Royal Automobile Club last year, in recognition of his outstanding contribution to motoring innovation.
Last month, he was celebrating the first speed tests of his own muscle bike, the Eisenberg V8, and posted a picture, the day before his death, of his Porsche 911 being refuelled in anticipation of what would be his final record attempt.