MotoE: is it safe?
- Last updated: December 5th 2019
After last week's blaze, what can MotoE learn from the hugely successful Formula E championship?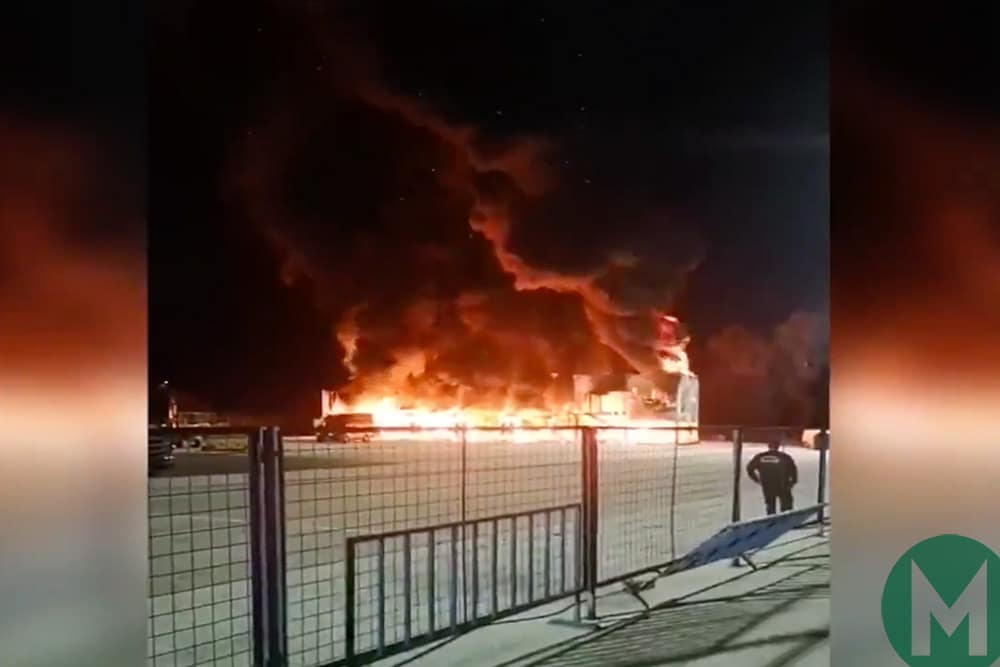 Photo credit: MCN
Last Thursday the entire MotoE grid was consumed by an inferno at Jerez. Riders and bikes were at the track preparing for what was supposed to be the first round of the electric-powered championship at May's Spanish Grand Prix. Fortunately, nobody was hurt.
Electric vehicles do cause some concerns, due to the risk of electrocution and fire. Isle of Man TT marshals are equipped with special insulated rubber gloves to marshal the TT Zero race, the world's first high-profile EV bike race. And at last year's TT a Zero bike caught fire in the paddock and blazed for 24 hours.
The big concern is the lithium-ion batteries used in most electric race bikes and cars, including MotoE's Energica Ego Corsa machines. Although the Jerez fire was ignited by a charging station and not by a battery, it is the lithium-ion batteries that are the usual worry.
Heat is the biggest enemy of battery performance and also the greatest danger. The problem is so-called thermal runaway, when a drastic temperature increase or damage to the battery triggers an exothermic chain reaction that leads to catastrophic combustion. This problem is magnified by the fact that these fires are very difficult to extinguish because some components of lithium-ion batteries produce oxygen as they burn.
It's not only EV batteries that can suffer from thermal runaway – this is why some smartphones and laptops appear to spontaneously combust.
And yet lithium-ion batteries used in car racing's Formula E series – the cutting edge of EV research and development – haven't been a problem. Williams Advanced Engineering supplied batteries for the first four seasons of the championship, claiming just two failures and zero fires in 149,000 track miles and many hundreds of thousands of miles in planes, crisscrossing the globe to Formula E's numerous flyaway races.
"Safety procedures were at the forefront of everything we did when we were getting ready for the first Formula E season," says Gary Ekerold, who headed the Williams battery programme. "Safety drives costs up but you can't take shortcuts. When you put 350kg Formula E batteries in a cargo plane those batteries need to have gone through a massively rigorous testing process."
All such batteries must meet the United Nations DOT 38.3 requirements for the transport of dangerous goods, which include all kinds of tests for heat, vibration, shock, impact, overcharging and so on.
"We had a defining moment in Formula E, which could have either ended the championship… or helped make the series what it is today."
"One of the reasons Formula E came to Williams was because we had developed a carbon-fibre ply that has a fire-protection rating," adds Ekerold, who is now sporting manager of Jaguar's Formula E team. "The FIA rules state that the battery box must be able to suppress a fire for 10 minutes, in case the emergency services need to extract an injured driver from the car.
"When we were developing the Formula E battery at Williams we set batteries on fire and tried all sorts of stuff to extinguish the fires. The only way to deal with a lithium-ion battery fire is to continuously flood it with water – more and more and more water – to remove the heat. Hence the battery boxes we have in the cars are watertight but they have dowse ports on the top.
"If there's a fire the water truck is attached to the dowse ports, then the battery is literally flooded until the heat is dissipated. We did a lot of work creating a battery that can both contain a fire and allow you to extinguish it in the correct manner."
Thermal runaway begins at about 60deg C, so all EV batteries include a battery management system (BMS) that monitors and reacts accordingly. Smartphones feature similar failsafe mechanisms – if a phone overheats it should shut down.
"Anything over 60deg C is dangerous territory, because you'll struggle to control the temperature and you may end up with thermal runaway," continues Ekerold, who is son of 1980 350cc world champion Jon Ekerold and has run superbike and supersport teams with Cal Crutchlow, Leon Camier, Nori Haga and others.
"All these batteries have systems that constantly monitor charge levels, because one thing lithium-ion batteries don't like is overcharging, which makes them get very hot.
---
More: From dark days to a bright future
---
"What causes heat in batteries is transient energy movement – charging and also discharging through use. If a battery gets too hot the first thing the BMS does is reduce regen, so that no more energy is put back into the battery, then it de-rates the demand from the car's electric motor, so the battery can't be discharged any more.
"The BMS in a Formula E battery records half a million pieces of data every second – it records the temperature from and voltage reading on every single cell every millisecond. This isn't an area where you can afford to take shortcuts. This is evolving technology and MotoE needs to do it right or they risk damaging the technology.
"We had a defining moment in Formula E, which could have either ended the championship, and possibly all EV technology with it, or helped make the series what it is today. The championship is now one of the most successful motor sport series in history, with nine manufacturers, including Germany's big four. This is the first time Audi, Mercedes Benz, Porsche and VW have been involved in a championship together.
"That defining moment was the last corner of the first race in Beijing in 2014 when Nick Heidfeld and Nico Prost collided. Heidfeld sustained a 50G impact and his car turned upside down. If that car had burst into flames or in any way indicated that electric cars aren't safe, it could've been the end of Formula E. Instead the car was structurally sound and the battery's green light stayed on throughout. So it was, OK, this technology is safe."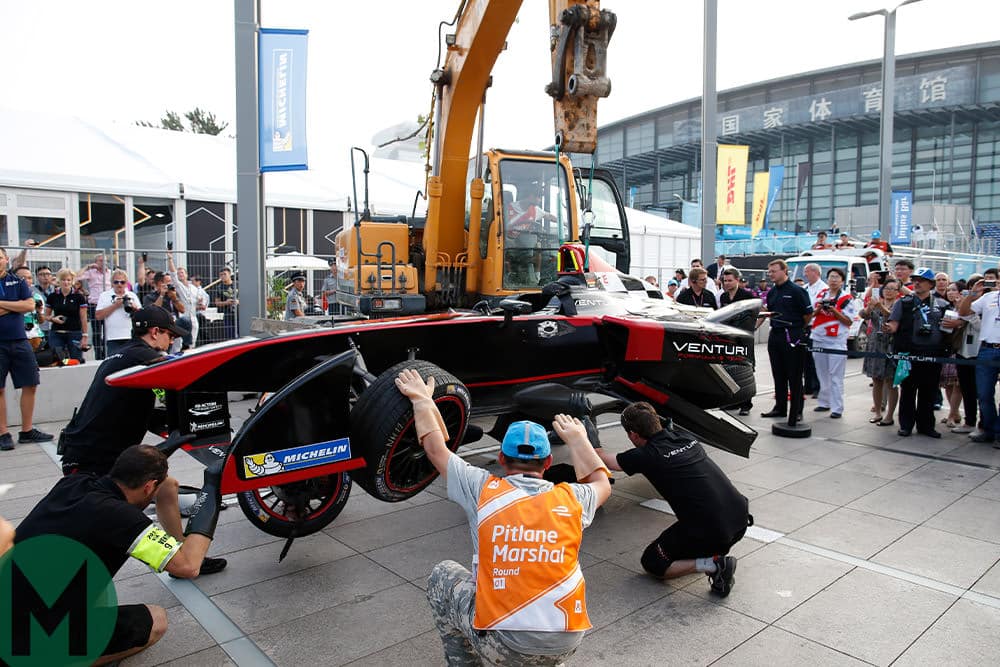 MotoE bikes also feature green/red safety lights to indicate the state of their batteries. There have already been several crashes during winter testing, including a big one at Almeria in January, with no particular problems.
If a crashed bike's sidelights indicate green then marshals deal with the bike as usual. However, if the lights show red the race is red-flagged and a crew is dispatched to the accident scene: one Energica staffer, a doctor and a fireman in a specially adapted 4×4 vehicle.
Marshals at all MotoE events undergo specific training to deal with EV bikes and are equipped with insulated rubber gloves, insulated rescue hooks and special fire extinguishers; but not water trucks, as favoured by MotoE. Each marshal post will have two nine-litre extinguishers and each pitlane garage used by MotoE teams during practice and racing will have one nine-litre extinguisher. The bikes will remain outside the garages, not inside. And a fire engine must be within a two-minute drive of the MotoE paddock area.
If all this sounds like a lot of effort, there's little doubt that EVs are the future, whether you like it or not. At least until someone comes up with a better idea.
Pioneers are never treated kindly. Way back in the earliest years of the internal-combustion engine, motorcyclists and car drivers were considered weird eccentrics. "Get a horse!" was the usual cry from people deafened and choked by the noise and smoke of nascent petroleum-powered vehicles.
Safety wasn't up to much either. The first oil gusher occurred in 1861, near Titusville, Pennsylvania, where the world's first oil drilling took place. The gusher killed 19 people when it was accidentally ignited. How many thousands have died in oil accidents since then? And how many from internal-combustion pollution? The annual death rate through vehicle emissions in the USA alone is estimated at 58,000.
EV powertrain and battery technology is improving at a rapid rate, a bit like internal-combustion technology a century ago. During the first few seasons of Formula E the batteries weren't powerful enough to make it all the way to the finish, so drivers had to change cars halfway through. Since 2014 the batteries have improved from 28kWh to 54KWh, so the cars can now go full-race distance. During the same period battery power has also increased, from 130kW to 200kW, with 250kW available in qualifying.
---
More
---
Electric bikes contesting the TT Zero event have undergone similar improvements. Last year's TT Zero was won at 121.8mph, compared to the 84.7mph of the first EV TT in 2009. That's a performance increase of almost 44 per cent. If petrol-powered superbikes had improved at the same rate over the past decade the outright TT record would now stand at 189.2mph.
MotoE batteries offer about 20kWh and up to 120kW; which is less than those used by the tailormade TT-dominating Mugen EV bikes. Batteries will be charged by semi-mobile units in the so-called E-paddock and mobile units will be used on the grid to top up batteries and power tyre warmers.
Formula E's latest batteries are made by McLaren Applied Technologies, who keep their chemical composition very secret. Lithium, nickel and cobalt are the usual ingredients, but there's speculation that McLaren is also using aluminium, which has high energy density, offers rapid charging, is less of a fire risk and is much cheaper.
Formula E has so much money behind it that it can push the boundaries of performance, unlike MotoE, which is a low-cost starter championship, using tweaked production bikes.
However, MotoGP has to start somewhere with electric-bike racing. Sometime not too far in the future a tipping point will come when batteries increase in performance and decrease in cost so that the major manufacturers get serious about EV motorcycles. Once that happens, MotoE will get really interesting.
Back to the present, Dorna has yet to announce when the MotoE World Cup will commence, because Energica and the 11 teams (Ajo, Ángel Nieto, Avintia, Dynavolt Intact, Gresini, Marc VDS, LCR, Pons, Pramac, SIC and Tech 3) have to build a new grid of bikes and ancillary equipment. Rounds one and two, planned for May's Spanish and French GPs, have already been cancelled, which means the championship will most likely get underway at what was supposed to be the third round, during July's German GP.