During the podium media conference Márquez kept dropping subtle hints that he has plenty more to come.
"I pushed hard only three or four laps, then when I saw the gap was increasing I was able to ride in [two minutes] 4.8, four-high at a constant pace, with some margin," he said. "I had the margin to be a little bit faster. This is the first race this year that I came to with the intention of fighting for victory. I said that already in the press conference on Thursday. The weekend was good – Friday was really good, Saturday so-so, but today better."
Although COTA was his 13th race since his comeback at Portimao, Márquez has yet to regain the man/machine intimacy that made him close to unbeatable before the accident.
"I need to keep working and keep pushing because the special feeling with the bike is still not there."
The way Márquez rode before requires that special relationship, in which the rider knows the motorcycle so well that he knows what it's going to do before it does it. This is what you need to teeter on the brink of disaster without tipping over the brink – you don't only need to be at one with the bike you need to be ahead of the bike.
Also, Márquez has yet to fully figure out Michelin's latest rear slick. The softer-construction rear was introduced at the start of last year, so he's effectively one season behind his rivals in understanding the tyre that changed MotoGP a lot.
"I cannot find the full potential of the new tyre," he added. "The tyre didn't drop, so I had more or less the same grip with the old tyre as will the new tyre. For that reason I kept a very constant pace during the race. But that's not the way to be fast – I prefer to have the initial grip and then manage."
Finally, of course, his right arm and shoulder still aren't at 100%. During the weekend he commented that they are usually between 60 and 80%, never more, so he can't attack right-handers in his usual style because he knows he can't save a front slide with his right elbow.
"I was on my last lap and once again I got hit out and got passed by two guys"
And Márquez likes Honda's latest and hugely revamped RC213V, which he tried for the first time at Misano, a week before he headed to COTA.
"The engine is a good step up but the main step Honda has made is in the full bike, all the components," he said. "The bike is really different, it's so different everywhere. The engine is different for sure but also how the bike is made – the weight, the height, everything is different, so it makes the bike so different.
"The most important thing is that we know what's going on, because to improve the problem first you need to know the situation you are in. It seems like we know what we are doing and Honda has brought something that improved rear grip quite a lot in the test. Of course we faced other problems, but it's a new bike so that's normal. But, yeah, the bike was better."
Quartararo was delighted with second place at a track that could've been tricky for him – Yamaha has never won at COTA. Once again he threw everything at the race, just as he threw everything at title-rival Pecco Bagnaia two weeks earlier at Misano.
During the first few laps he came under serious pressure from Pramac Ducati's Jorge Martin, which is just what he didn't want, because if he got mixed up with the Ducatis he might've been in trouble.
"My only solution to try to have a better race was to push," he said. "I pushed but all weekend I didn't have Marc's pace, especially with used tyres. In the end, we achieved our main goal, which was to finish on the podium.
"It's the best second place of my career, because before the start I was feeling a bit more stressed, but when you start the race the stress goes. I did a really good race and I'm really happy because Pecco was super-strong during the last two races, where he scored 50 points."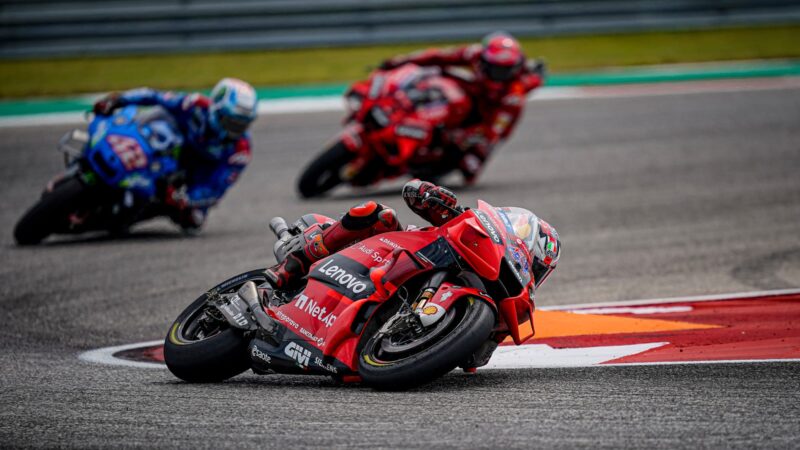 Bagnaia's back-to-back victories at Aragon and Misano had closed the gap between the pair from 70 points to 48, with four races remaining. A tall order for the Ducati rider, but far from impossible if he kept outscoring Quartararo at the same rate.
Bagnaia started from pole position for the third race in a row, but it took him too long to get his rear tyre up to temperature, so when Márquez took off he was already three seconds down.
"So I just tried to manage well the first part of the race," he said. "I saw that some riders, like Marc and Fabio, were fast and others were pushing a bit too much with the rear tyre. So, I said, just wait a bit: try to set your pace, because at the start, with riders in front of you, it's more difficult to brake where you want.
"When I saw other riders were starting to struggle I bettered my pace. I wasn't fast like Marc or Fabio, but I saw that the podium was there. I have to say thanks to Jack [Miller, his Ducati team-mate] who let me pass. He was struggling a bit, but he did great teamwork."