"He's obviously got real talent, but he also makes the very best of himself, the motorcycle and the situation and he really works at it. With that attitude, Jorge could always recover from difficulties. He always managed to keep it together – he was very mature, even back then. With some other riders it's all talent, but they don't know why it works but it works.
"The other great thing was that it was very clear that the family were not wealthy and that if Jorge hadn't been racing in the Rookies he probably wasn't going to be racing, at least not on a competitive motorcycle. So it was wonderful having him in the Rookies. To me that's what the Rookies is all about – giving a chance to riders who otherwise wouldn't have one."
Martin's talent was also obvious to fellow Spaniards Maverick Viñales and Aleix Espargaró, who took the youngster under their wings.
"Maverick and Aleix would pick me up, take me to the track and let me use their training bikes," said Martin in Qatar last weekend. "I had no money to buy a training bike, so I was lucky they would lend theirs to me."
Martin was amazing to watch last weekend, taking hanging-off to new extremes, with his elbows and shoulders grazing the asphalt during qualifying. This was no crazy goon riding. It's simple physics – the more you shift weight to the inside of the corner the more you minimise centrifugal effect to help the bike turn. No doubt this is a useful technique with the hard-to-turn Desmosedici.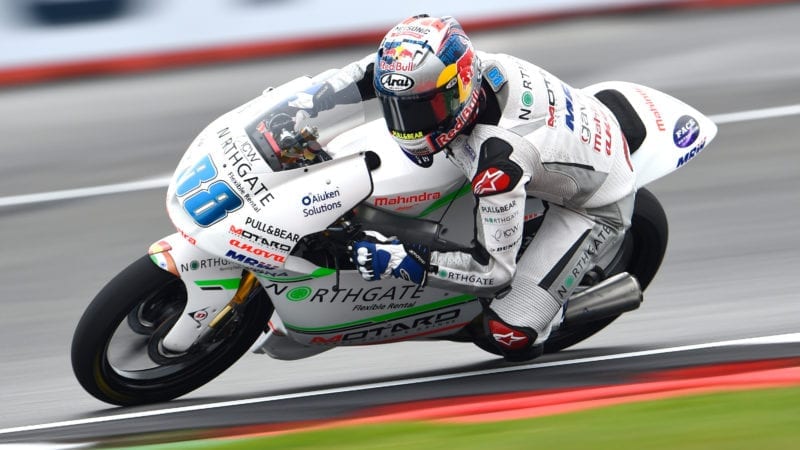 Pramac team manager Francesco Guidotti is as impressed as anyone by Ducati's latest signing but warns of over-hyping Martin's potential. After all, Losail has always helped rookies to shine. In 2006, Casey Stoner took pole there for his second race in the premier class and two years later Jorge Lorenzo and James Toseland qualified fastest and second fastest for their MotoGP debuts.
"Losail is a Ducati circuit, where Ducati performs well every year, so I think we would be making a mistake to interpret too much from the data from this circuit," said Guidotti on Sunday night.
"Jorge has only had the chance the ride a MotoGP bike at Losail. The pre-season tests were here and the first two races were here, so I think it's better that we wait until we go somewhere else to see what happens there.