F1 at 70: champions of the 1950s infographic
The beginnings of F1; Fangio's tally of wins; and the rise of Cooper and Vanwall plotted in out infographic of F1 in the 1950s
Silverstone, 13 May 1950. The first race in the new Formula 1 World Drivers' Championship, which would – eventually – go from strength to strength, inspiring motor sport fans worldwide with displays of daring, bravery and skill
As our infographic shows, the early years were dominated by Italian teams, and the prodigious skill of one Juan Manuel Fangio. But as the decade comes to its close, the bars for Alfa Romeo and Ferrari dwindle, while Cooper and Vanwall rise up, alongside Stirling Moss, Tony Brooks and Mike Hawthorn.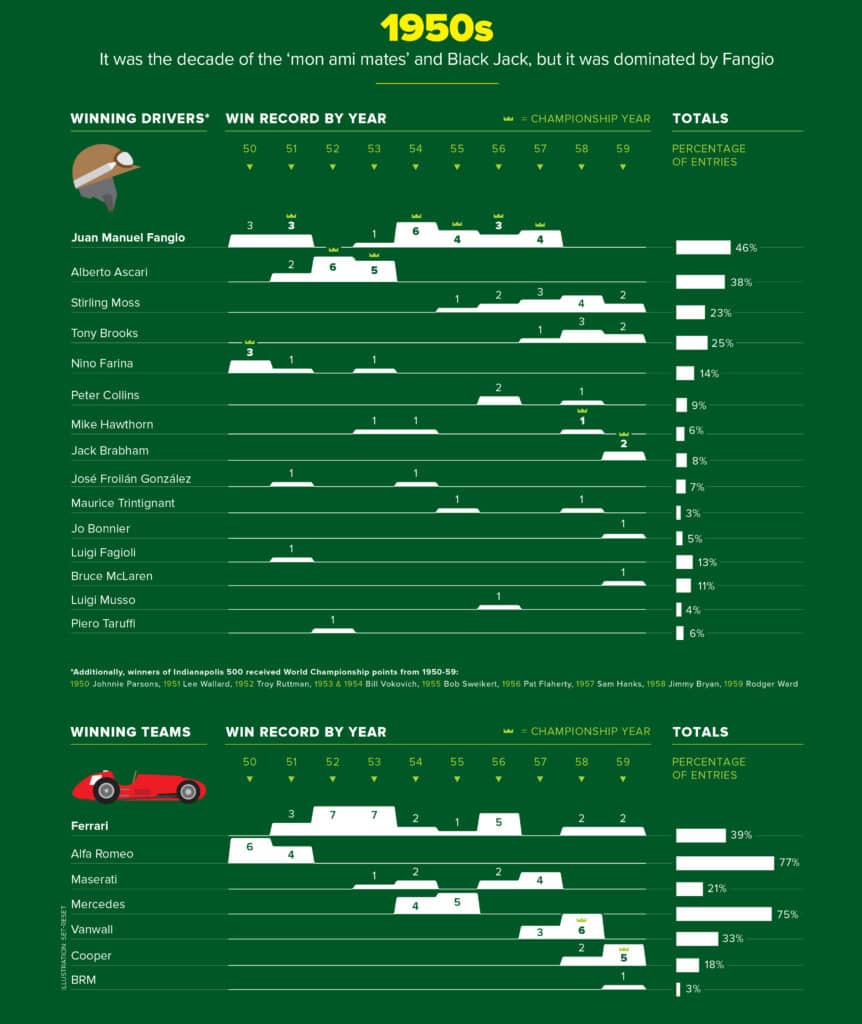 ---
F1 in the 1950s: On the Edge
The latest issue of Motor Sport Magazine celebrates 70 years of the Formula 1 World Championship. Racing's greatest writers recall the drivers, the grands prix and the incredible stories that made F1 into the world's leading racing series. Each decade is covered, with brilliant photography.
The tale begins in the 1950s with our renowned historian Doug Nye looking back to the beginnings of the championship where Fangio built his legacy, Alfa flourished, and a fleeting, game-changing Mercedes return led to battle with Ferrari.
After a stuttering start, he looks at how F1 came back from the brink to thrive.
Gallery
F1 at 70: the champions of the 1950s