The chaos at Imola painted a messy picture that's difficult to read into going forward.
Outside of the obvious (Max Verstappen was brilliant once again in the wet and Lewis Hamilton made his Mercedes work where Valtteri Bottas couldn't), making wholesale changes off the back of the Emilia Romagna GP might be a little too reactionary, depending on your end result.
A pre-race downpour sent the form book out of the window and left one or two predictions looking rather silly.
But the next race in Portugal is another chance to claw back lost ground or continue a surge ahead and there are several moves that you might want to consider making already.
Here's a round-up of the top performers on F1 Fantasy post-Emilia Romagna Grand Prix.
Overachievers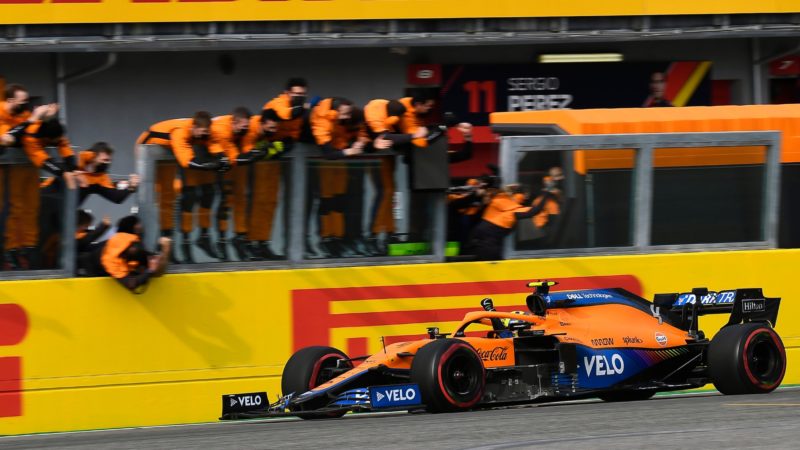 A second F1 podium for Lando Norris was a thoroughly deserved reward for the McLaren driver after putting in a great display in both defensive driving and tyre management.
Norris held off Lewis Hamilton for longer than team-mate Daniel Ricciardo and either Ferrari driver could as the Mercedes man made his comeback through the top 10, and nursed a set of soft tyres to the end of the race for P3. The result left him third in the driver's championship, seven points clear of Charles Leclerc. A driver you should strongly be considering bringing in sooner rather than later.
Lance Stroll might raise an eyebrow for being in the overachievers' portion of this but the Canadian has just three fewer points than his team in F1 Fantasy terms. He was in such hot form at Imola he burned through the outer casing of his brakes on reconnaissance laps to the grid.
The better Aston Martin can understand its tricky low-rake AMR21 car, the better his results should get. And he's already out-performing his four-time world champion team-mate.
Solid picks
As one of the cheaper assets on the constructor side of things, Alfa Romeo has been a quietly decent pick over the opening two weekends of the season. 28 points from a team valued under $9m is a nice return and would give you wriggle room to get one of the more costly drivers in. Something to think about for Portugal.
Another driver to out-perform championship-calibre opposition from across the garage is Esteban Ocon. The Frenchman scored Alpine's first points of the season on track before his team-mate was elevated up the order to 10th following a post-race time penalty for Kimi Räikkönen.
He's good value too at $9.7m and could be worth bringing in if you need a points differentiator versus a league rival.
Underperformers
There were plenty of drivers that did not score the result they should have been capable of at Imola for a variety of reasons. Sergio Perez ultimately should have brought his car home for a Red Bull one-two on Sunday, but a handful of errors meant the Mexican finished out of the points in 11th despite starting on the front row of the grid.
Valtteri Bottas wallowed around in ninth for most of his Emilia Romagna GP before George Russell arrived on the scene to put both out. Bottas's performance relative to his team-mate and Russell being one of three drivers on negative points following the first two rounds of Fantasy play should be a clear warning to stay clear.
A big name in the underperformers section and it's not that champion you're thinking of. Fernando Alonso has not had the smoothest of returns to F1 with Alpine this year, and the Spaniard is hardly on the cheap side of things budget-wise.
He is absolutely capable of the majestic and has proved as much countless times in the past but at the moment in a car that's been slow out of the blocks, he's been outperformed by his team-mate and your money could be invested more wisely elsewhere.