Porsche has now confirmed its drivers for the LMDh programme: 2018 and 2021 IMSA DPi champion and former Sauber F1 driver Felipe Nasr has been signed up for one of the berths, with Dane Cameron – 2016 and 2019 title-winner in the same class – joining him.
André Lotterer, one of Porsche's Formula E drivers, has also been confirmed. The most experienced and high-profile of all the drivers, the German has won Le Mans three times for Audi in '11, '12 and '14.
Porsche has looked to its GT team for the rest of the line-up: Matt Campbell and Mathieu Jaminet step up, along with Kevin Estre, Michael Christensen, Laurens Vanthoor.
The ACO dreams of the large fields of the '80s and '90s, when 956s widely populated packed grids. Stuttgart is on board with this idea, having now announced two customer LMDh car programmes so far for 2023, one in WEC and the other IMSA.
This year's Le Mans LMP2 champions JOTA will field a car in the former, with title-sponsorship from Hertz, whilst JDC-Miller will operate an entry in IMSA – driver line-ups are yet to be announced.
Audi – terminated
Audi announced in November 2020 that it was pulling out of Formula E and, according to its own motorsport boss Julias Seebach, was "intensively preparing to enter LMDh with its highlight races, the Daytona 24 Hours and Le Mans 24 Hours" in 2023.
In unison with Porsche, Audi had plans to run chassis produced by Multimatic. It is the second-most successful manufacturer in Le Mans history after Porsche, with 13 wins between 200 and 2014.
It was due to renew its rivalry with the sister Stuttgart brand next year but has repeatedly changed its plans. After the announcement of its 2026 Formula 1 team, the German marque has now confirmed the end of its LMDh project.
Alpine – confirmed
Alpine has finally made the long-expected announcement that it will build its own LMDh machine, entering the Hypercar class with two cars in WEC from 2024.
The French challenger will be based on an Oreca chassis, with an engine developed in-house at Alpine.
The cars will be run by the Signatech team, which has taken LMP2 class honours at Le Mans in '16,'18 and '19.
Alpine currently runs in the Hypercar class with a grandfathered LMP1 car, but looks most likely to just compete in LMP2 for 2023 before it steps up with its LMDh car.
The current Alpine line-up includes André Negrão, four-time Le Mans LMP2 class winner Nicolas Lapierre – whose CV also boasts two wins at the 12 Hours of Sebring – and Le Mans LMP2 podium finisher Matthieu Vaxiviere.
The Richard Mille team, which has been set up as a gateway for female drivers and is also run by Signatech, could perhaps run an LMDh car in the future. It currently fields 2021 LMP2 WEC / Le Mans champion Charles Milesi, young female racer Lilou Wadoux and seven-time WRC champion Sébastien Ogier.
Alpine has heavily implied it intends to supply customer teams with its LMDh car also.
Acura/Honda – confirmed
Honda confirmed its Acura-branded LMDh entry into IMSA, where it currently races the ARX-05, with a single-sentence press release, but has since revealed fire-up footage and renders of its ARX-06 prototype, keeping its familiar nose design from the DPi era.
"The process we used in creating the exterior design for the Acura ARX-06 is exactly the same as how we create a new Acura passenger vehicle," commented Acura Executive Creative Director Dave Marek.
"The same world-class stylists that lead Acura production car design created initial sketches, then pared those down to several potential designs. Next we created a scale model, did aero and wind tunnel model testing, and brought HPD and our partner teams in for their feedback."
Testing, Testing… 🎤

On-track testing continued for the all-new, electrified @Acura ARX-06 prototype sports car at @RoadAtlanta ahead of its debut in 2023! #AcuraMotorsports // #IMSA pic.twitter.com/S74DKXzXHZ

— HPD-North American Motorsport (@HondaRacing_HPD) August 30, 2022
Both Wayne Taylor Racing and Meyer Shank Racing will run a car each for Acura, with the ARX-06 expected to be ready for 2023. Wayne Taylor confirmed to Motor Sport that the firm will use an Oreca chassis, which will also be taken to Le Mans in the same year.
Would we see Jenson Button make a Le Mans return for Honda? The 2009 F1 champ won the 2018 Super GT title for the Japanese marque, and has said he favours a Le Mans return in the future.
His highly rated Super GT partner Naoki Yamamoto could be another candidate, after he was given a Honda-powered Toro Rosso Free Practice outing at last year's Japanese Grand Prix. The evergreen Takuma Sato, this year's Honda-backed winner of the Indy 500, is another option.
Drivers currently run by both the above mentioned IMSA teams will also be in contention – Filipe Albuquerque, Ricky Taylor, Tom Blomqvist and Oliver Jarvis could all be in the frame.
BMW – confirmed
An Instagram post by BMW M CEO Markus Flasch indicated the Munich marque was on its way back to Daytona and IMSA, which was followed by official confirmation, with the German marque then revealing the car in testing.
Its IMSA driver line-up has now been announced too, with Nick Yelloly, Augusto Farfus, Phillip Eng and Connor de Phillippi all set to get behind the wheel. IndyCar star Colton Herta will also join the line-up for the Daytona 24 Hours.
"My team's job was to make the BMW M Hybrid V8 look like a BMW, and embrace every opportunity to make it also perform like one on the race track," BMW Designworks Global Automotive Director Michael Scully said.
"The design is rooted in BMW's DNA of purposeful, efficient performance, and the exterior's bold, determined character invokes BMW's frontiersmanship of turbo power, now united with an optimized hybrid electric powertrain.
"The camouflage livery celebrates the 50 Years of M by commemorating the great cars of BMW's storied history in IMSA racing while uniquely cloaking the BMW M Hybrid V8's future-facing exterior geometry and technologies during the critical on-track development phase of the project."
Rahal Letterman Lanigan Racing will operate the IMSA team. The outfit, run by 1986 Indianapolis 500 winner Bobby Rahal, already campaigns BMW GT cars in IMSA, in addition to running its own IndyCar team.
On top of its IMSA project, BMW will also compete in WEC from 2024 with WRT, which will mark 25 years since it won Le Mans with its last prototype appearance.
The #BMWMHybridV8 is ready and rolling: Joining @FIAWEC from 2024. See you in Le Mans!

Read the whole story: https://t.co/1zqNMsFq4u pic.twitter.com/bw0TWSp5OU

— BMW Motorsport (@BMWMotorsport) July 26, 2022
"All of us at Team WRT are extremely happy with the start of this new partnership with BMW M Motorsport and feel honoured to be associated with a brand that has such an awesome pedigree in motor racing," said WRT's co-owner and team principal, Vincent Vosse.
"Team WRT was launched thirteen years ago and has enjoyed continuous success in different categories, mainly GT3 and endurance racing.
"Since the very beginning, the 24 Hours of Le Mans has been in our plans and in our dreams and being part of the new Hypercar era of the FIA WEC that is about to open, was our strongest desire.
"To prepare for that, we have launched a program in LMP2 two years ago, where we have proved to be competitive and successful, taking ELMS and FIA WEC titles, and also a class win at the 24 Hours of Le Mans in our maiden participation.
"Entering the LMDh arena with a strong partner such as BMW M Motorsport was the logical next step and we are not only thrilled about the challenge ahead but also thankful for BMW M Motorsport's trust in us.
"I can still remember when BMW M Motorsport won at Le Mans in 1999, as I was one of the drivers of the team in the neighbouring box. We will work hard to repeat these moments and live them together."
Cadillac
Cadillac has now revealed its new LMDh car, with the company stating it intends to enter Le Mans, WEC and IMSA, after a twenty year-plus absence in the top class at La Sarthe.
The Cadillac Project GTP Hypercar will use a Dallara chassis, the American/Italian combination creating the DPi-V.R which won the Daytona 24 Hours four times consecutively between 2017 and 2020.
An all-new V8 5.5-litre engine, along with the spec hybrid system, will power the car.
We have liftoff… the 2023 Cadillac race car is coming to a race near you 🚀#CadillacRacing // #BEICONIC // @CadillacVSeries pic.twitter.com/9oZZus0JLS

— Chip Ganassi Racing (@CGRTeams) July 12, 2022
Chip Ganassi Racing and Action Express Racing will run the cars, with the debut slated for Daytona 2023.
In anticipation of its LMDh debut, Ganassi has now announced it will run two DPi cars in IMSA for 2022, with four drivers confirmed also. It's widely anticipated that '22 will be a preparatory year, with these pilots then carrying over into the LMDh project.
The American team has confirmed that four-time Champ Car champion Sebastian Bourdais, two-time Le Mans winner Earl Bamber, former Formula E driver and Le Mans GTEPRO winner Alex Lynn and two-time Daytona winner Renger van der Zande will compete for the team in IMSA next year, with all likely to compete at some point in LMDh for the brand.
Lamborghini – confirmed
Lamborghini has now confirmed it will run an LMDh programme from 2024, intending to enter both WEC and IMSA.
This will be the first time a Lamborghini has vied for top honours at any of the endurance classics.
"This step up into the highest echelon of sports car racing marks an important milestone for our company," commented Stephan Winkelmann, Lamborghini chairman and CEO. "We will be measuring ourselves against the very best, on the most demanding proving grounds.
"On one hand, this will give our successful motorsports program even more visibility, but it will also allow us to test future technologies: our LMDh prototypes will become our most sophisticated open laboratory on four wheels."
Without officially confirming it, the Italian firm has implied it will make use of customer teams, as it does in its GT3 exploits, instead of running a works outfit.
"LMDh will play a special role in Lamborghini's motor sports strategy, giving us the unique opportunity to expand our customer racing activities to new platforms and enforce our long-term partnership with customer teams and drivers," the company's head of motor sport, Giorgio Sanna, said.
It has also announced Mirko Bortolotti and Andrea Caldarelli as its first two drivers, who are both already involved in GT competition with Lamborghini.
Bortolotti is a two-time Rolex 24 at Daytona GTD-class winner with Grasser Racing Team, while Caldarelli was part of Paul Miller Racing's GTD win in 2020 at Daytona.
"We are especially proud to announce Mirko and Andrea as the first drivers for the LMDh programme," said Sanna.
"Both have contributed substantially to achieving historic results for Lamborghini in GT racing and their addition to the LMDh project also rewards their continued commitment to the Squadra Corse [Lamborghini's racing division] family.
"I'm sure that their talent and experience will be an added asset to our competitiveness in the premier endurance class."
Lamborghini will be the second Volkswagen Group company represented in WEC's top tier, with Porsche confirmed but with Audi pausing its project.
McLaren – rumoured
McLaren shocked the motorsport world by taking overall 1995 Le Mans victory with their F1 GTR – run in the LM GT1 category and technically the third fastest class that year.
Could McLaren return to the endurance fold at the highest level?
The current F1 and IndyCar team has said that it's "very happy" with the latest LMDh regs, with boss Zak Brown declaring "We're very interested in sportscars. I think it's a great fit for the McLaren brand and we like it a lot."
The brand wants assurances of parity with LMH though. "One car can be four-wheel-drive and another [LMDh] is not, so it's one thing to balance two cars in the dry with new tires." Brown notes, "But how do you balance them at 2am in the wet at Le Mans?"
Hyundai – rumoured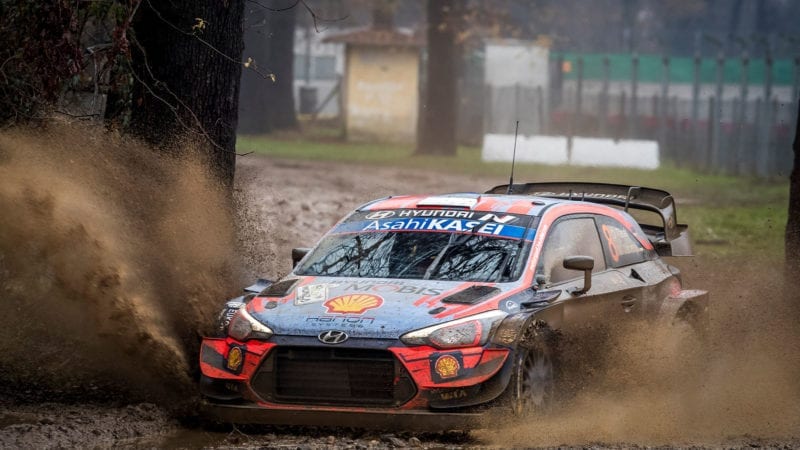 Hyundai is hardly the first name that comes to mind when one thinks of sports car glory.
However, the Korean marque has become frustrated with the FIA's determination to implement hybrid regulations in the new generation Rally1 cars next year.
Unwilling to be rushed in the development of its hybrid technology, a 2023 move to sportscars with either a Hypercar or LMDh challenger could be on the cards instead, with its Motorsport director Andrea Adamo saying "Any sort of motorsport that can show the capability, the technology and the things Hyundai can do in the world are welcome."
Mazda – programme terminated
Entering its iconic rotary-powered 787B, Mazda became the first Japanese team to win Le Mans in 1991 with Johnny Herbert at the wheel, shocking heavyweight entrant Toyota which had ambitious designs on the same achievement.
Did the Japanese marque fancy another upset? The convergence of WEC/IMSA rules was described by Mazda North America motorsport director Nelson Cosgrove as "really cool".
However, after some consideration a statement was released saying that after "internal assessment of the current DPi series and the future LMDh series", Mazda would not be carrying on its elite-level sportscar programme after 2021, and that any LMDh or Hypercar programme was off the cards.
Ford – has chosen GT over LMDh
Ford has previously expressed interest in building a Hypercar, before the LMDh regulations then offered a more cost-effective entry.
The Detroit-based brand was involved in the development of the Hypercar rules, where it pushed for a convergence of rules across WEC and IMSA. It has finally got its wish, but then decided instead to go down the GT route, committing its new Mustang to the GT3 rules for IMSA's GTD Pro class in 2024, instead of an LMDh programme.
"For us, having something that is more relevant or tied to a production car is what put our decision in favour of Mustang and GT3," said head of Ford Performance Mark Rushbrook.
"It's [LMDh] not the right programme for us at this time."