Classified spotlight: Pilbeam MP40
18th November 2015
Single-seaters designed and manufactured by Pilbeam Racing Designs (PRD) won 17 British Hillclimb titles between 1977 and 1997. That record has just been eclipsed by Gould Racing after Alex Summers secured his first championship triumph driving the manufacturer's GR61X NME. Indeed, from 1998 to 2015, only OMS Racing cars have managed to beat Gould machines to the British championship. The dominance demonstrated by both manufacturers is hugely impressive. This week, the classified spotlight looks back to the early years of Pilbeam's ascendency and a car that was there at the beginning: the MP40.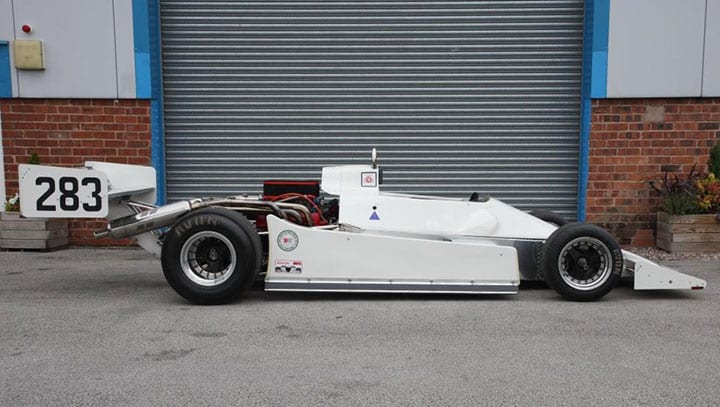 Mike Pilbeam launched PRD in 1975 after a series of technical roles with Surtees, Lotus and BRM. Pilbeam's last F1 creation before he set up his own initiative – the very triangular BRM P201 – took second place at the 1974 South African Grand Prix driven by Jean-Pierre Beltoise, one position behind Carlos Reutemann in his Brabham-Ford. BRM finished seventh in the constructors' standings that year but could have achieved more if not for a spate of mid-season retirements.
Fresh from F1, Pilbeam soon found success on British hillsides. The first PRD product to win the title was a modified Brabham BT38 strapped to Cosworth's all-conquering DFV powerplant. Alister Douglas-Osborn drove the Pilbeam-DFV in 1977, succeeding Roy Lane as British Hillclimb Champion.
Two years later, PRD started its first ground-up design for the hillclimb category. Though not overly pretty – its body panels formed an odd mixture of square and bulbous surfaces – the MP40 was very effective. Martin Griffiths used the model in 1979, securing PRD's second title in the MP40's maiden year. Chris Cramer won in 1980 using a March-Hart before another MP40 kicked off a string of Pilbeam titles from 1981 to '84.
James Thompson's title-winning MP40 from '81 is the car pictured throughout this article. It is reportedly one of two MP40s ever manufactured and the only example remaining today. As you would expect of a car with such pedigree, this MP40 set multiple FTDs (fastest time of the day) and overall course records in its first years on the scene.
Originally powered by a Hart engine, this white and silver single-seater is now pushed along by a 4.5-litre Rover V8 with Cosworth pistons, Carillo rods and quad downdraft Dellortos. In its current state of tune the engine develops 390bhp and 360lbs ft of torque. In a sport where run-off areas are virtually non existent and hedgerows denote track limits, those power figures seem extremely healthy.
The modern-day hillclimb monsters generate upwards of 600bhp and watching recent on-board footage is mind-scrambling (above). The videos seem to reel by in fast forward until a quizzical check confirms that yes, they really are going that quickly. Much like motorcycle riders who compete in the Isle of Man TT, hillclimb competitors display a level of bravery a step above their circuit racing brethren.
From the archive: Spotlight on Pilbeam (1986)
Alongside Martin Griffiths and James Thompson, other names to have secured the British Hillclimb crown using Pilbeam chassis include the aforementioned Roy Lane and Andy Priaulx. Lane won four championships between 1975 and '96, demonstrating a remarkable turn of pace over three decades. His first brace of titles were thanks to a McRae-Chevrolet GM1 while variants of the Pilbeam MP58 helped seal his final two. Priaulx, another MP58 driver, won the championship in '95 before switching to circuit racing and starting his climb towards three WTCC titles.
While PRD is most notable for its hillclimb successes, the Lincolnshire-based company continues to work across a range of motor sport activities. Since 1975 the team has undertaken projects in F3, Formula Renault, Rally, GT and Super Touring. More recently, Pilbeam has developed a rally-spec Lotus Elise, designed an LMP2 package and continue to produce cars capable of extremely fast hillside ascents. It sounds like a fantastic place to work.
Returning to the car at hand, race number 283 proudly wears the Pilbeam logo on the tip of its nose. Either side of its nose section extends a series of front wing elements that, together with the rear wing and the ground effect floor, ensure ample high-speed grip. Supplied with a full MSA logbook and a large selection of spares this MP40 is ready for competition. It has been regularly flung up hills since its debut in 1979 and remains in immaculate condition today. At a shade under £35,000 it also seems like a lot of car for the money.
The first round of the 2016 British Hillclimb Championship takes place at Prescott on the 23rd of April. #283 would make a great addition to the entry list.
Visit this car's classified page