Twenty Bahrain Grand Prix facts
by Mark Hughes on 4th April 2016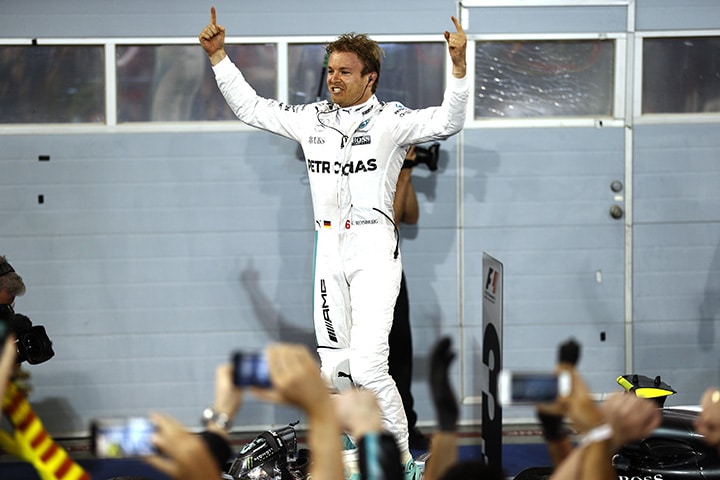 Click here to buy the lead image.
1) Nico Rosberg made it five wins in a row, equalling Jack Brabham (1960), Jim Clark (1965), Nigel Mansell (1992), Michael Schumacher (2004) and Lewis Hamilton (2014).
2) This was Sebastian Vettel's first DNS in Formula 1, breaking a streak of 159 races.
3) Hamilton's Q3 time of 1m 29.493s was the fastest ever set at the circuit, eclipsing Mark Webber's 1m 29.527s set during practice in 2005 during the 3-litre V10 era.
4) Fernando Alonso was cleared to race by his doctor, but subsequently banned from taking part by the FIA's due to a cracked rib.
5) His replacement, Stoffel Vandoorne, was flown in from Japan. He hadn't even driven the car on this circuit in the McLaren simulator.
6) Pascal Wehrlein almost escaped Q1, but fell 0.3s short of Danill Kvyat in 15th place.
7) Kevin Magnussen started from the pit lane after missing a weighbridge request in practice.
8) Track temperatures during the race exceeded expectations, which caused problems for the predicted strength of the medium tyre later on.
9) Anti-stall saved Rosberg on the green flag lap, as he selected second gear instead of first when pulling away.
10) Jolyon Palmer pulled off on the green flag lap, retiring with hydraulic failure.
11) Hamilton, Valtteri Bottas, Daniel Ricciardo, Kvyat and Nico Hulkenberg all suffered damage on the first lap.
12) Bottas received a drive-through penalty for colliding with Hamilton at the first corner.
13) Jenson Button pulled off the circuit on lap six with an ERS-related failure. Esteban Gutiérrez retired a couple of laps later with a broken left-front brake.
14) Mercedes tried a couple of ideas to leapfrog Hamilton over Räikkönen – first running him on the medium tyre, then staying out and hoping for a safety car. Neither paid off, but neither cost the Brit any places.
15) Rosberg was comfortably lapping 8s slower than his qualifying pace. An estimated 3s of this time was purely due to tyre management.
16) Haas' first live pit-stop in F1 happened on lap 11 as Romain Grosjean was serviced in a little over 3s.
17) As early as lap 28, Ferrari was already covering Hamilton having resigned themselves to not being able to catch Rosberg in front.
18) Kvyat passed both Williams cars in the final stint, demoting them to eighth and ninth.
19) The last time an all-new team scored as well as Haas in its first two races was in 1973, with the similarly British-based but American-owned Shadow outfit.
20) Vandoorne secured the final point on his F1 debut, just ahead of the recovering Magnussen.