Rossi's secret
by Mat Oxley on 25th April 2016
He's old and he's fat

I'm joking, of course, but not entirely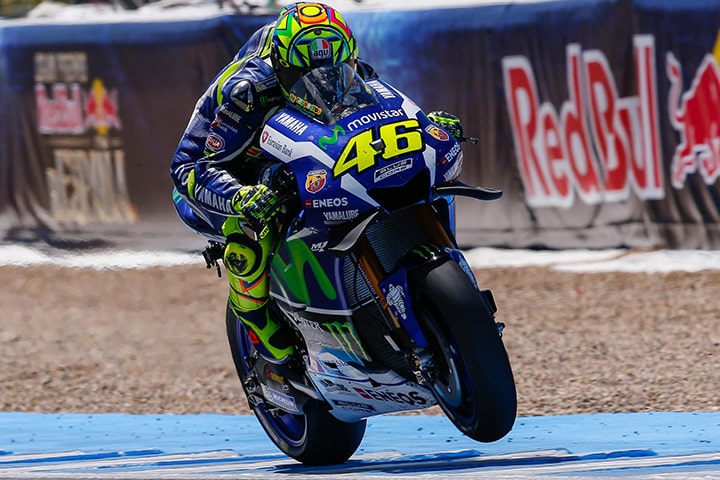 Valentino Rossi's 113th Grand Prix victory was historic and much more. It was the success that brought him to within ten wins of Giacomo Agostini's record of 122 victories, which for many decades was presumed forever impregnable. Hard to believe, but his 87th premier-class win was also the first time in 17 seasons in the big class that Rossi had led from pole position and from start to finish.
Rossi won his first Grand Prix in August 1996, three months after his first decent GP result, a fourth-place finish, just metres shy of the podium, at Jerez, funnily enough. After that race sidekick Uccio Salucci said, "that's when I thought, hmm, maybe it's possible that something good comes out of this, not just one victory or one podium, maybe something more…"
To attempt to fully understand the enormity of Rossi's unique career it's worth rewinding to 1996 to remind ourselves what else was going on in the world at the time.
Moto2 and Moto3 stars Alex Rins and Romano Fenati were born, John Major was British Prime Minister, Boris Yeltsin was President of Russia, Prince Charles and Princess Diana got divorced, the CIA's role in importing crack cocaine into the USA was revealed, Osama bin Laden wrote his 'Declaration of Jihad' and the Ramones played their last gig.
Meanwhile Rossi just keeps on rocking. And, believe it or not, the 37-year-old's new-found speed has plenty to do with his age. Rossi spent his first eight seasons in the premier-class riding Michelins, so he feels much more at home with the French rubber than do Jorge Lorenzo, who rode only his rookie MotoGP season with Michelins, and Marc Márquez, who has known them only for a few months.
The Michelins have changed since Rossi last raced them in 2007, but not so much. During last year's post-Valencia tests he explained that the DNA of the French tyres will never change, just as the DNA of Yamaha's and Honda's MotoGP bikes has remained essentially the same over decades. After Rossi lost the front and crashed at Austin he explained that he doesn't expect the front tyre to really change, so he thinks it's up to teams to set their bikes to get the best out of the tyre and it's up to riders to fully understand its limits.
During Rossi's rookie 500cc season in 2000, also his first with Michelins, it took him six months before he fully understood the front tyre. He had come from lighter 125s and 250s which were all about burying the front into corners and using huge corner speed.
It took him several tumbles to realise he couldn't do that on a 500 with Michelins. In Rio de Janeiro, where he took his first dry-track 500 victory in October 2000, he had finally it worked out.
"I understand I need to change my style because I make very much crash with the front tyre," he told me years ago. "Until this race [Rio] I was quite fast but I ride like I ride a 250. The perfect line is stay wide, wide, wide and after you close the line and go in inside, slowing a little bit to the apex. With the 250 it's possible to do this and if you make like this with the 500 you are very fast but when you go to close the line after several laps you lose the front and you crash. So it's necessary go inside a little bit early and a little bit more, use less speed in the corner and after pick up the bike and accelerate. So I change very much the first part of the corner."
Thus Rossi won five 500cc and MotoGP titles in five seasons by never asking too much of Michelin's front.
"I grew up with Michelin," he said on Sunday. "So I became familiar with them. When I went to Bridgestone I was already quite old."
Bridgestone's front slick was entirely different. Its corner-entry grip was so immense that it entirely changed both MotoGP bike design and riding technique, switching the emphasis from the rear to the front. Riders found they could bury the front into corners like never before. They pushed harder and harder into turns, convinced the tyre would fold under and they would crash. But usually they didn't and in fact the tyre did the opposite. The more they loaded the tyre, the more its contact patch grew and the better it gripped. It worked something like a servo brake.
"Motor sport is corners with rubber on the ground, mechanics with dirt under their fingernails. It is not a 75-metre mega yacht full of girls... Though I like that world, too!" Mat Oxley interviews Rossi (December 2008)
Rossi won the 2008 and 2009 titles with Bridgestone, but the front slick became increasingly extreme during the Japanese's company's nine-year domination. And Rossi began to struggle, mostly in the new, TV-friendly 15-minute qualifying session, which he has never liked and during which he rarely had what it took to dig deep enough with the front tyre. So he usually qualified badly and his race results suffered. It is significant that both his Bridgestone titles were won well before the introduction of the 15-minute QP session in 2013.
Meanwhile youngsters Jorge Lorenzo and especially Marc Márquez – the only alien who had never known Michelins – dug deeper and went faster. Occasionally, of course, Rossi got it right, but only occasionally. This year he has already qualified on the front row in three consecutive races – the first time he's done that since 2009 – because he can more easily take the Michelin front to its absolute limit.
Sunday's Jerez race was very strange, unique perhaps, with Michelin's rear tyre spinning in a straight-line in fourth, fifth and sixth. That's unheard of, but it was directly attributable to Scott Redding's Argentine tyre delamination, after which Michelin introduced a much stronger rear casing that can struggle to find traction, especially at a low-grip track like Jerez on a hot and greasy day: Sunday was a massive 15 degrees hotter than Saturday. That's why many riders complained the race was like riding in the wet, so they were short-shifting and modulating the throttle, even on the straights, trying to get the rear tyre to hook up.
Rossi's weight certainly helped here. He is by no means fat – in fact he's incredibly skinny, unlike muscled Marquez – but he is tall. He weighs 65 kilos, while Lorenzo weighs 64, Marquez 59 and poor Dani Pedrosa just 51. The differences between the first three aren't great, but in MotoGP every gram counts: when the rider is sitting over the rear tyre, more weight means more load, which increases grip.
Also, Rossi rode his first three big-bike seasons – in 2000 and 2001 on Honda's NSR500 and in 2002 on its genius RC211V – with zero traction control. So he learned to increase and reduce traction with his brain and his right hand; it had nothing to do with a little black box of electronic trickery. As his predecessor Mick Doohan once said, pointing at his right wrist, "this is my traction control". No doubt all that experience was an immense help on Sunday as Rossi searched for traction via this year's lower-tech control electronics, which don't fully adjust to changing grip conditions as did MotoGP's previous full-factory electronics.
Of course, Rossi didn't do it all on his own on Sunday, just like he's never done it all on his own.
"We've checked our data and Vale also had a lot of spin during the race," explained Rossi's data engineer Matteo Flamigni on Sunday evening. "But with our traction-control setting and with the way Vale understands how to open the throttle, he avoided the spin a bit better. Also, today was much hotter than practice, so before warm-up we adjusted the traction control and after warm-up we changed it a bit more, after we had looked at how the temperature was going to increase during the day. It was a good move!"
Before warm-up the rest of Rossi's crew also adjusted the balance of his Movistar M1, to suit the much hotter conditions predicted by their weather-forecasting equipment.
Of course, as we noted after Austin, everything may change at the next race. So far this season is a work in progress for riders and engineers as they battle to get the best out of the control electronics and Michelin tyres. That is what's making the racing so unpredictable, because one weekend one team and rider get it right, then another weekend another team and rider get it right. So one really knows what will happen in the next race at Le Mans.