Starting the right way
22nd April 2016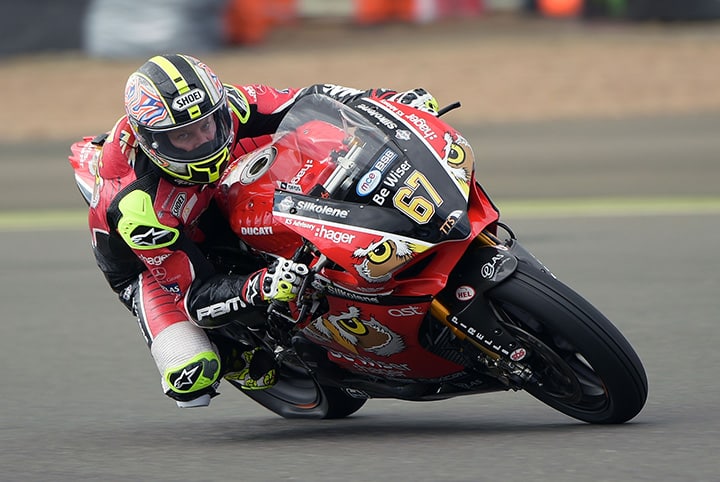 The first race of a new season always brings excitement to anyone involved in the British Superbike Championship and I was no exception heading into Silverstone two weeks ago.
Leaving the track on Sunday night with two second place finishes and being top of the early championship standings felt like a job well done by the entire team, and we can now look forward to Oulton Park at the end of this month with real optimism.
You can't beat that winning feeling but to be competing at the front end of proceedings and securing two runners-up finishes was a good start when you consider it's a new bike and, largely, a new team.
Winter testing went well, even though we were a little unfortunate with the weather in Spain, but there are always a few nerves ahead of the opening weekend of the season.
It was great to be involved in an exciting tussle for first spot with Peter Hickman in race two, and congratulations to him for coming out on top.
There were a couple of moments in the race where I just managed to edge ahead of Peter but he hit straight back. I just couldn't quite get far enough ahead, then going into the final drag to the line it was anyone's game. I just pushed it that fraction too hard and my bike started drifting sideways. In the end I did well just to keep control of the bike and get past the flag to secure second spot.
I must also mention Christian Iddon, who finished third in both races with his new Tyco BMW team. Christian is still a young guy and he might just be a dark horse this season. I'll certainly be keeping an eye on him.
It goes without saying that I would love to have been on top of the podium – I'm not one to start a race thinking about anything other than first - but to get the competitive juices flowing so soon in the season will certainly stand me in good stead.
I started race one in fourth so I was pleased to move through the field and pick up a runners-up spot. I didn't really get close enough to Michael Laverty to genuinely challenge for victory in that opening race, but it was a very solid performance.
With its big long straights, Silverstone probably doesn't suit us as much as other circuits will this season, so to be as competitive as we were should give the whole team a major confidence boost.
We know there are areas we can improve significantly with the bike and I've no doubt we will do exactly that and go from strength to strength over the coming weeks and months.
The whole team are putting in endless hours to make sure we give ourselves the best possible chance of being in contention for the title come the end of the season.
Whenever anyone in motorsport undergoes major change like we have during the winter, there is always going to be a period of transition and battling to reach peak performance and I need to keep reminding myself of that.
One of the things that the opening weekend reminded me of was just how fortunate I am to be competing in the British Superbike Championship.
It's an absolute privilege and there is nothing like the buzz of competing on the big stage like we did at Silverstone.
Now all the focus is on Oulton Park in three weeks and we are just working through the data now to pick up where we can get that extra 0.01% of improvement which can make all the difference at the highest level of sport. I won't be giving away any secrets on what we are working on at this stage but, it goes without saying that we have identified certain areas.
There are a number of people who will have aspirations of challenging for the title but I'm not going to focus too much on them. It's all about what we do and I'm confident if we continue to work as hard as we are as a team, we will soon be notching race wins and challenging for the championship we all want so desperately.
Shane 'Shakey' Byrne was speaking exclusively to FUCHS Silkolene, one of the main partners of the four-time British Superbike Champion