2019 Australian Grand Prix report
- Last updated: February 25th 2020
Mark Hughes reports from the 2019 Formula 1 season-opener: the Australian Grand Prix at Albert Park, Melbourne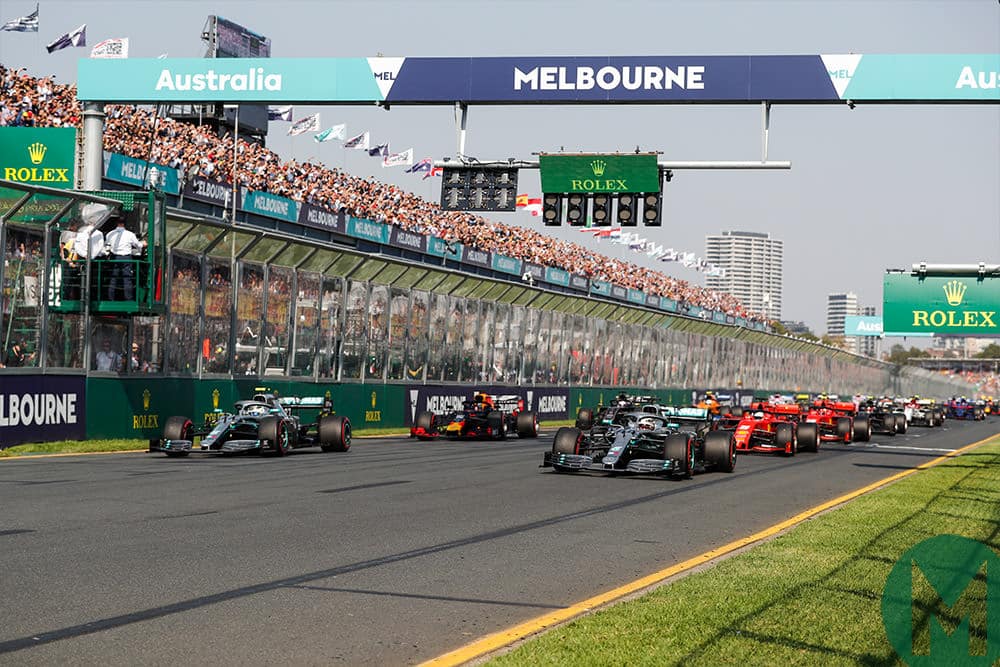 "I don't know what just happened," said Valtteri Bottas after totally dominating the 2019 Formula 1 season-opener. It was about much more than winning the start against Mercedes team-mate and polesitter Lewis Hamilton, although that was of course a critical component.
But there was relentless brutality about his pace and the way he ran his race that suggested some sort of inner conviction. It was suggested too in his communication with the team. When the team told him it was not about to risk pitting him for a fresh set of tyres near the end in order to be sure of the extra point for fastest lap, he replied: "Ok, but I want those 26 points."
In other words, if it wasn't going to pit him, he was demanding the necessary aggressive engine mode for the ultimate lap. Hamilton – over 20sec behind by the end – was demanding the same, for the same reason. They were both given the modes. Bottas' best was over 0.4sec faster, as Hamilton struggled with oversteer from a floor damaged – probably over a kerb – on lap four.
The SF90 simply wasn't working
If there were any doubts that this was a badass version of the nice guy, Bottas addressed his previous detractors on his slow down lap. "To whom it may concern, f**k you." A few minutes later he was out of the car and Mr Nice again, but feeling – as he said – uncertain about what part of himself he had just accessed.
"I recall the young boy who asked me for a meeting in 2008," said Mercedes boss Toto Wolff. "It was snowing in Vienna when we met and he was asking me for advice. He dominated Formula Renault Europe the following season, against some very good drivers, including Daniel Ricciardo, sometimes by an outrageous margin. I saw again that young man today."
That was one story; the other was the under-performance of Ferrari. Around a low grip, bumpy track very different to Barcelona, the SF90 simply wasn't working. "It was not balanced, it struggled with the tyres and none of the different set-ups we tried worked," surmised Mattia Binotto. It was noticeable that it was running a lot of front wing angle and GPS analysis confirmed that most of the time loss was in Turns One, Three and 13 – i.e. the slow, big steering-lock corners leading onto straights. Meaning it was slow onto the straights and at the end of them. Even with all its front wing angle used up, it still had a front-end grip shortfall.
This and some tactical complications saw Sebastian Vettel overtaken for the final podium place by the Red Bull-Honda of Max Verstappen.
Qualifying
Déjà vu all over again as Hamilton blitzed Albert Park qualifying by a margin over Ferrari that had negative implications for the competitiveness of the season to come. But although the Mercedes advantage on Saturday was very real (Hamilton and Bottas were around 0.7sec clear of Vettel's third-fastest Ferrari), it may not be indicative.
Using the front of the incredibly densely-packed six-team midfield as a reference, Ferrari's advantage over it (around 0.7sec) was much as it had appeared through Barcelona testing – which suggested it was Mercedes which had suddenly found a lot of speed, not Ferrari losing it all. That's the first point (though it has a caveat, which we'll come to in a moment). The second is that in the hotter conditions of Friday (when Mercedes was also fastest) the Mercedes' advantage over the midfield was normal but the Ferrari had dropped back into it. So although Mercedes was comfortably fastest both days, there were very big competitive swings going on from one day to the next and neither team could readily understand why. Vettel was saying that, like last year, the Ferrari wasn't giving him the messages he liked around this tricky windy, bumpy track and he didn't have the confidence he did with it in testing. But he accepted that it was much better on Saturday than Friday.
The caveat was that the 0.7sec advantage Vettel had over Romain Grosjean's Class B-leading Haas would have been just 0.4sec had Grosjean's car not suffered an exhaust-related power loss on his best lap. So it wasn't all Mercedes finding more. Ferrari had lost something since Barcelona. Just not enough to explain Mercedes' dominance here.
So what was behind these swings? Well, for one the Ferrari was lacking in front-end grip. Although its straightline speeds were well down too, this was a just a function of how much slower it was onto the straights (GPS-derived power overlays suggested a negligible difference between Mercedes and Ferrari). No amount of set-up change was changing that and the suggestion was that the Ferrari's front wing philosophy (with the elements cut away at the outboard ends ahead of the front tyre to help outwash the airflow around the tyre) under these new regulations can leave you with not enough range of downforce settings to compensate for a low-grip, slow corner-dominated track. That's the working theory of a few aerodynamicists. Those cars performing notably better than at Barcelona – i.e. Mercedes and Haas – feature the opposite front wing approach to Ferrari's, with full depth elements ahead of the tyres.
"We think it's probably tyres," said an unnamed Red Bull man. "They are so stiff that it can be difficult to get them working properly around this place. But if you get them in the window suddenly there's lots of extra performance. Looks like Ferrari have got caught out by it, same as us."
Maybe the front wing limitation was exacerbating the tyre situation. Because even if Mercedes had been sandbagging, as the popular reaction insists, that doesn't explain why Ferrari's Melbourne form Friday to Saturday was so volatile. And if Ferrari (and everyone except Mercedes) wasn't getting the tyres working properly around the dusty, low grip track, then we probably aren't seeing the picture we will around a more conventional track.
---
MPH: Brawn spells out F1's future
---
Q1
The track grip was ramping up fast towards the end of Q1 and it caught out Red Bull, which believed Pierre Gasly's first run time was enough to get him through. It wasn't and as he sat in the garage with 15 other cars out there, he dropped from sixth fastest to 17th – and out of qualifying. It underlined how volatile the tyre grip was. The other Q1 casualty was Carlos Sainz's McLaren which was about to set a top 10 time until encountering Robert Kubica's limping Williams with a burst rear tyre two corners from home. The tyre was damaged from Kubica having hit the Turn Nine wall on his final lap. The Williams cars were dreadfully slow, just drastically lacking in downforce and are clearly going to be alone adrift of the pack for the foreseeable future. George Russell cleanly and impressively found his way around the place on his F1 debut, building up the data banks without ever looking like snagging a wall – then unleashing his pace on his final run, around 1sec faster than the returning Kubica. All for 19th place. Aside from Gasly, Sainz (18th) and the two Williams, the other not making it past the first hurdle was 16th-fastest Lance Stroll who got caught up in traffic in his Racing Point.
Q2
Charles Leclerc's Ferrari had actually headed the Q1 times, but only because he'd made a second run while the Mercs stayed in the garages. Into Q2 Merc was 0.6sec clear of the field. Falling out at this stage were the Renaults of Nico Hülkenberg and Ricciardo, 11th and 12th and separated by hundredths, but only because Hülk had suffered a sudden reduction in boost pressure on a lap that would otherwise have got him through. They headed the Toro Rosso of Alex Albon, another impressive rookie who, after being in the wars on Friday, settled into a good groove that allowed him to leapfrog ahead of his more experienced team-mate Daniil Kvyat who showed flashes of real speed (his fifth fastest time from Q1 would have made Q3 had he repeated it in Q2) but asked for too much on his final lap. Nestling between the Toro Rossos was the Alfa Romeo of Antonio Giovinazzi, who was a little off team-mate Kimi Räikkönen's pace all weekend.
So aside from the remaining cars of the 'big three', the other Q3 graduates included the Haas team, Räikkönen, Sergio Pérez's Racing Point and the McLaren of the remarkable Lando Norris who was arguably the star of qualifying on his debut: calm, composed and fast in a car that isn't, at the moment, quite Q3 material.
Q3
Hamilton's first Q3 run was spoiled by a slight over-commitment into the first turn that bounced the Mercedes hard and awkwardly across the kerbs – and it was Bottas who set the provisional pole. As they made their second runs neither had ideal slots on track and both had to slow to find themselves suitable gaps. This seemed to compromise Bottas more and it was probably only this that separated them, with Hamilton taking a sixth consecutive Albert Park pole by the margin of just over one tenth.
Vettel's third-fastest lap was achieved by taking the Ferrari by the scruff of its neck (he'd been off on the exit of Turn 12 in Q2) and eclipsed fifth-fastest team-mate Leclerc by a quarter of a second. "I made a few too many mistakes, especially in the first sector and I was unable to improve," explained the Scuderia's new recruit.
The red cars were split by fourth-fastest Verstappen who was spectacular in his efforts at forcing the Red Bull-Honda into the mix. Albert Park isn't traditionally the best of tracks for the team but it was, at least, enjoying the reliability and power of its engines.
Convincingly fastest of 'Class B' was the Haas team, Grosjean in particular. His sixth-fastest time was 0.7sec off Vettel but put impressive distance on the rest of the 'midfield', and even over team-mate Kevin Magnussen who lined up seventh.
The car was working well but Grosjean's final lap was one of the best of the day – and was doubly impressive given that he lost around 0.3sec to an exhaust problem. Norris, with just one set of new softs for Q3, was around 0.5sec off Grosjean in a McLaren that is a little lazy on turn in into slow corners and without the best traction, but that was good for eighth on his debut, ahead of Räikkönen's Alfa (his single Q3 lap not a great one) and Pérez's Racing Point.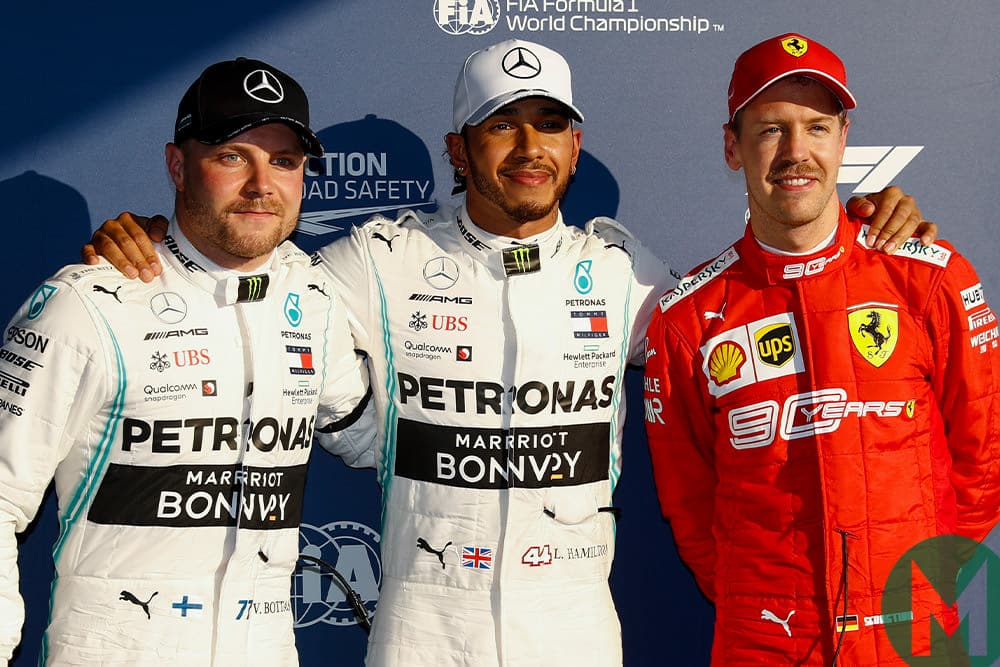 Race
As the cars lined up in the breezy late afternoon sunshine, everyone going about their busy routines, the loss of Charlie Whiting seemed somehow more poignant than ever, underlined by the 'Thank You Charlie' messages on cars. As the lights went out and the pack accelerated away, it felt like final confirmation of the world moving on without him, leaving just his fond memory.
Bottas got a better initial getaway than Hamilton – and didn't even need to contest the first corner. In the mid-pack, Ricciardo shimmied right, putting a wheel onto the grass in reaction to Pérez moving but caught a big dip in the ground there that ripped off the Renault's front wing. He locked up, desperately trying to avoid cannoning into those ahead. Behind the Mercedes, Vettel and Leclerc were pincering Verstappen into Turn One, with Vettel running out wide over the kerbs – where Leclerc already was, forcing him to take to the grass and thereby allowing Verstappen past onto Vettel's tail. "We spoke," said Leclerc later, "and Seb just didn't see me. I think I was in his blind spot."
Down the narrow chute to Turn Three the jostling snake of colour ran: two Mercedes, Ferrari, Red Bull, Ferrari. The two Haas – Magnussen had out-accelerated team-mate Grosjean – were next from Hülkenberg, Räikkönen, Norris, Albon, Pérez, Stroll, Sainz, Kvyat, Giovinazzi, Gasly and Russell.
There'd been contact at the back, as Kubica had snagged Sainz's McLaren, taking off the Williams' front wing. Just like Ricciardo, he'd be in at the end of the lap for a new one. The home hero's Renault would eventually be retired as a precaution.
Hamilton almost immediately fell back out of Bottas' turbulence (yes, it still exists under the new regs!), with Vettel and Verstappen equidistant behind. No one was making a break for it in these early heavily-fuelled laps, but that quartet was putting distance on Leclerc who just did not like the feel of the Ferrari on these tyres.
Everyone in the top 10 had started on the Melbourne soft (the C4, roughly equivalent to the old supersoft), as had the Renaults and Albon. These were reckoned good for 20+ laps, with the mediums (C3s) then running you to the end in a one-stop race. Those opting to start on the mediums (Stroll, Kvyat, Giovinazzi, Gasly and Russell) would be running up to 10 laps longer on their first stints, so it was imperative for the soft runners to clear those cars before the stops if their races were not to be compromised. Ultimately Norris, Albon, Pérez and Gasly were not able to do so. It would allow Kvyat and Stroll to use their medium-starting strategy to make up places on their respective team-mates, who would be delayed behind the long-running Giovinazzi after rejoining.
Williams? It's going to be a very long season…
"I had damage on my car from lap four," asserted Hamilton post-race, "and from that point on the rear was down in grip." It wasn't drastic, but its effect would build as the rear tyres became progressively more overworked. None of this was helping Hamilton's mood, which seemed to have taken a dive immediately after losing the benefit of his pole position. By lap 10 he was almost 4sec behind Bottas. When the team asked if he could keep to within 3sec of his team-mate, he found he couldn't. That's when it was plain that Bottas now held destiny in his own hands. Vettel remained within a couple of seconds of Hamilton.
Despite the new aero regulations Albert Park was never going to be an overtaking-fest. The configuration of the track with its shorts straights makes it the second-most difficult on the calendar, behind only Monaco. Even the reduced wheel outwash, enhanced rear wing upsweep and more powerful DRS wasn't going to be enough to change that. In fact the biggest effect the new rear wing was that of visible vortices curling up on the upper corners, adding a certain 'flying on the ground' visual drama. Actually, some drivers were reporting an improvement, notably Grosjean: "The new rules are great for following another car, but the tyres are still what they were last year; as you push, you slide, then you lose grip. Even though we can follow easier than in the past, overtaking is still complicated."
So in terms of order changes, it was still very much strategy-led. For example, Verstappen was hovering within undercut range of Vettel as the pitstop window opened. Ferrari had to do something before it was too late, and brought Vettel in early, at the end of lap 14, switching him to the medium tyre. This, in turn, forced Mercedes to respond on the next lap to prevent Hamilton being undercut by Vettel. This early stop would make Hamilton's and Vettel's long second stints very tricky – as 40-odd laps put the medium tyre on the margins of its usable life. Hamilton had treated his out-lap very steadily to conserve the tyres, at around 2sec slower than Vettel a lap earlier.
Bottas, Verstappen and Leclerc were able to stay out for much longer first stints. This would just enhance Bottas' advantage, allow Verstappen to come on hard at Vettel and later cause some uncomfortable moments on the Ferrari pit wall.
---
---
Magnussen held sway in the second division pack, with Grosjean a couple of seconds behind and being tracked closely by Hülkenberg's Renault. Just behind that little train ran a much longer one headed by Räikkönen, still comprising Norris, Albon, Pérez, Stroll, Kvyat and Gasly, the Red Bull driver having been able to pass only the steady Giovinazzi in the first stint. Sainz had left the fray early with his McLaren's engine ablaze after the Renault motor's MGUk failed.
The midfield stalemate would be broken as the pitstop window for the soft-shod runners approached. The domino effect was initiated by Räikkönen on lap 12. Renault brought in Hülkenberg next lap – and this was very bad news for Grosjean because Magnussen would automatically get Haas' pitstop priority as the car ahead. Magnussen wasn't far enough ahead that they had the luxury of defending Grosjean from Hulkenberg's undercut – because Magnussen needed to be defended from it. As it turned out, it didn't matter anyway; there was a problem with Grosjean's front left at the stop, losing him around 7sec right there and causing his retirement a few laps later with what looked suspiciously like a repeat of last year's loose wheel.
Once Bottas had established a pitstop's worth of gap (23sec) over Leclerc by lap 22, Mercedes brought him in for his routine stop onto mediums. He got underway a few seconds behind the yet-to-stop Verstappen.
Vettel was finding he did not like his new medium tyres and perhaps he'd over-worked them on his out lap as he ate into Hamilton's gap – and now he was struggling a little. He was only just managing to go fast enough to prevent the old-tyred Verstappen from overcutting him.
Red Bull finally brought Verstappen in on lap 25 and he rejoined just 3sec behind the Ferrari but on tyres that were 11 laps fresher. He quickly closed him down. Six laps after rejoining, Verstappen got DRS on the Ferrari down the pit-straight. Vettel was able to fend him off into Turn One, but it put him on a compromised line there – and in the second part of the double DRS zone, Verstappen was able to slipstream by, turning in ahead from the outside into Turn Three. It was one of very few genuine overtakes, it had taken a tyre difference and DRS to do it – and it came on the exit of the Ferrari's weakest corner. But it said much about the competitive power of the Honda engine too. Verstappen now set chase for Hamilton. But alerted to this, Hamilton stepped up the pace. Verstappen took a brief trip through the Turn One grass in his chase and eventually understood the Mercedes had pace in hand.
The new point on offer for fastest lap began to come into play here. In a straight running of the race Bottas was going to take that award, but if one of the Ferraris would make a late pitstop it could conceivably go to them. In which case Mercedes might wish to respond with a Bottas pitstop. But he'd need 23sec over Hamilton to pit without losing the lead. He'd achieved this gap by lap 41. Hamilton, firmly in the support role ever since not being able to hold the 3sec gap to Bottas, might potentially be asked to remain that far back.
Vettel meanwhile began to fall back into the clutches of team-mate Leclerc who – with no undercut pressure behind him on account of running last in the lead group – stayed out until lap 28. He opted for the rarely-seen hard compound of tyre. He'd been one of the few to do a long run on it on Friday and had preferred it to the medium. This time he preferred it to the soft too. "The car was better balanced for me in the second stint," he said.
And with a 14-lap age offset to the rubber on Vettel's car, Leclerc closed him down. He was with him by lap 48 and Ferrari had some decisions to make. Not just about team orders either. Leclerc had enough of a gap over the midfield that he was potentially going to be able to pit late for fresh tyres and set about attacking the fastest lap stat.
In the midfield, as the medium-tyred cars of Stroll, Kvyat, Gasly and Giovinazzi stayed out and rose up the order, so the fresh-tyred train behind them comprised Magnussen, Hülkenberg, Räikkönen, Norris, Albon and Pérez (whose undercut attempt went awry due to exiting behind Russell's slow Williams, allowing Albon to get ahead). Magnussen, Hulk and Räikkönen were ultimately able to leapfrog back ahead as the long runners finally stopped. But Stroll, Kvyat and Gasly were able to get out ahead of Norris, Albon and Pérez who had all managed eventually to overtake Giovinazzi on track before he stopped, but not before costing them expensive, position-costing time. Albon's brakes were getting a bit hot in the slipstream, leading him to suffer a long pedal into Clark Chicane and he only just managed to keep it out the wall coming out, this allowing Pérez to grind back ahead.
It had been super-close between Gasly and Kvyat as the former rejoined from his late (lap 37) pitstop. Red Bull had run him this long so they could get him a short enough final stint for softs. Kvyat had stopped for hards nine laps earlier but had momentum on the Red Bull as it exited the track ahead of the Toro Rosso.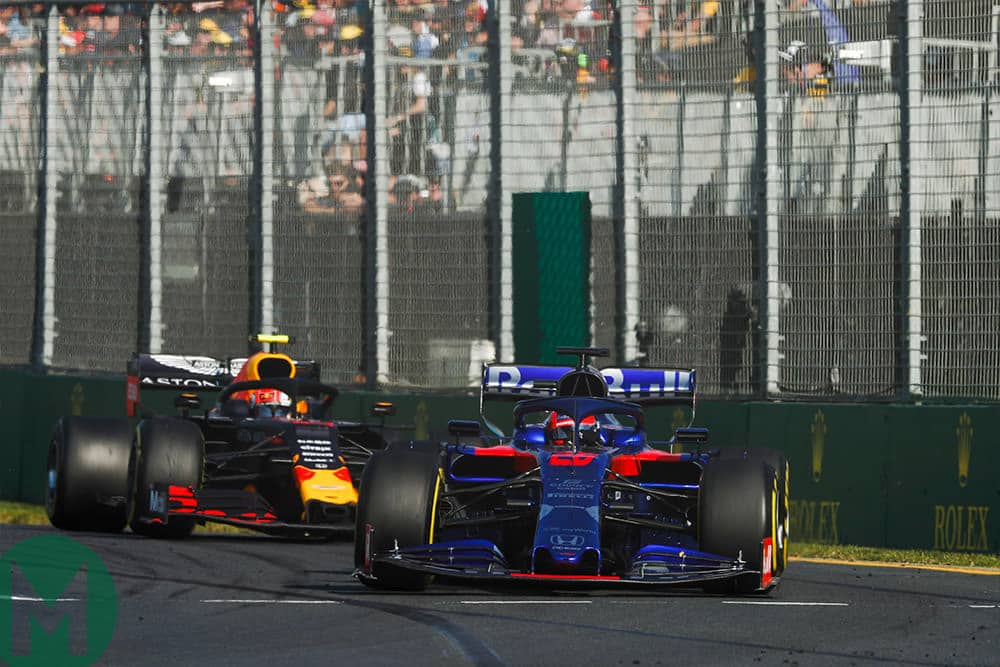 Kvyat tracked it like a heat-seeking missile and was able to nail a firmly committed outbraking move into Turn Three. Given Kvyat's star-crossed history within the Red Bull programme, there was a certain poignancy to this on his return to F1. "I saw as I passed that he was on red-striped tyres," recounted Daniil, "and I thought it was going to be very hard to keep him behind." But that's what he proceeded to do for lap after lap, Gasly never quite finding a route through for that 10th place point.
Even as Kvyat later took to the Turn Three gravel after attempting a super-late pass on Stroll, Gasly wasn't close enough to capitalise. His weekend had essentially been defined by the team's costly error in not sending him out for a second run in Q1 as the track grip ramped up. His first run lap had been within hundredths of Verstappen's. But by late Sunday afternoon he was still trapped in the place that decision had put him and seemed unwilling to risk much on his debut for the big team. It was a conservative reaction to a situation he'd been placed in and untypical of his usual feisty performances. Kvyat prevailed.
Bottas had set the fastest lap to date but now as we reached the low fuel stages of the race it was a status he wished to retain, so as to get the point that goes with it. He asked if the plan was to make the stop. No, he was told. We are not going to risk it. "Copy," he replied. Last year's Valtteri might have left it at that. But this time he added. "But I want those 26 points." He was asking for the aggressive engine modes required to knock a further few tenths off the benchmark. Hamilton was asking for the same. It was quite a tense situation to control on the pit wall. Bottas was reminded that the only way he could lose the race was if he used up all his rubber chasing fastest laps and there was a safety car. He was prepared to run that risk. He had it under control.
"Maybe his years at Williams and then the shock draft into Mercedes was something he needed to digest" – Toto Wolff
At Ferrari it was even more tense as Leclerc was now being held up by the tyre-struggling Vettel. He was eventually called off. Leclerc made it obvious when this was by backing off by a couple of seconds. The fastest lap pitstop discussion then ensued there too. As at Mercedes, it was decided to be too risky. But the new little tweak of the rules certainly gave the wind-down late phase of the race a bit of jeopardy and intrigue.
Bottas and Hamilton were given their engine modes. Bottas' best was 0.4sec faster than Hamilton's. Yes, his floor was damaged but Hamilton gave the impression of his heart not really being in it once he realised he was not in victory contention. He was comfortably able to fend off Verstappen who gave Honda its first podium since its return with the promise of plenty more to come.
The Ferraris in fourth and fifth were almost a minute behind but 20sec clear of Magnussen's Class B winning Haas. A lap down, Hülkenberg hung on tenaciously from a late Räikkönen attack on his seventh place, with Stroll and Kvyat completing the scorers. The races of the following Gasly, Norris, Pérez and Albon were defined by their track positioning and strategic compromises rather than performance, with Giovinazzi well adrift of them after a difficult weekend in an Alfa that picked up damage on the first lap.
Williams? Russell and Kubica finished two laps down. They didn't have each other for company after Kubica's lap one pitstop. It's going to be a very long season for the pair.
By contrast, Bottas was saying: "I can't wait for Bahrain." He feels he's turned a corner. "This was definitely the best race of my career," he said, thrilled. "I'm just trying to optimise everything for this year, every single thing. It's difficult to explain what's been going on inside my head over the winter. But definitely, something changed in terms of the way I feel about things in life in general and in racing. But I felt good in the car. That's all that matters."
"Maybe his years at Williams and then the shock draft into Mercedes was something he needed to digest," suggested his boss, "and he went off tired at the end of the season. Then the 2008 young man came back…"
---