2019 Austrian Grand Prix race report
- Last updated: February 25th 2020
Max Verstappen makes a swashbuckling comeback to win the 2019 Formula 1 Austrian Grand Prix after a disastrous start. Full qualifying and race analysis from Mark Hughes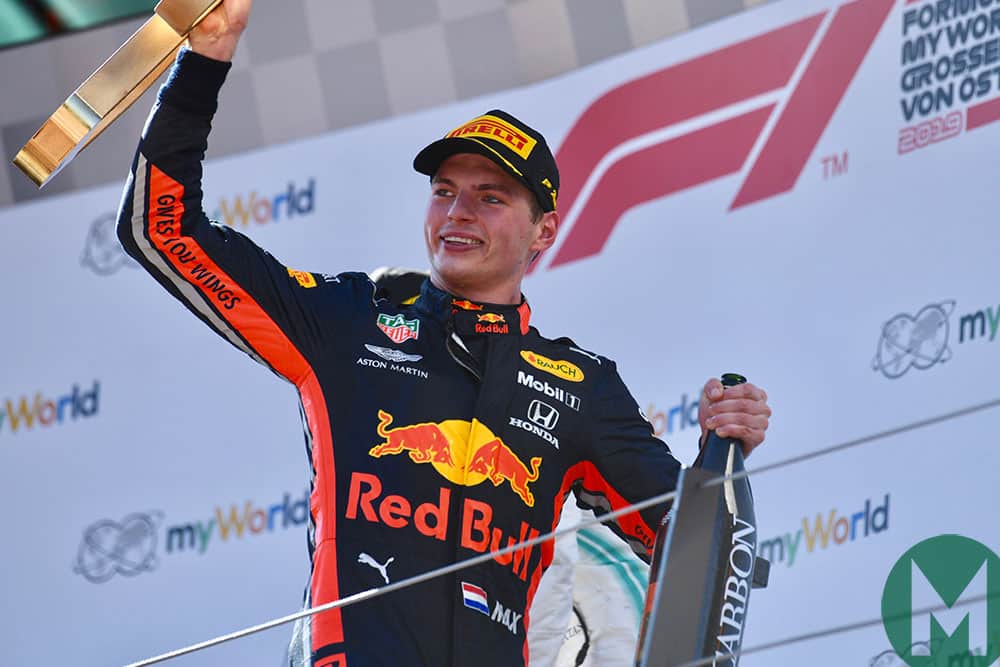 Photo: Motorsport Images
Game on. 32 laps down, 39 to go as Max Verstappen rejoined the race after a pit stop 10 laps later than his main competitors. One of those – Lewis Hamilton – had already been sidelined with a wing damaged over a kerb and subsequent delay at his stop fitting a new nose. But that still left two Ferraris and Valtteri Bottas' Mercedes to deal with. The race-leading Charles Leclerc was surely too far out of reach at 13 seconds up the road and apparently just cruising. But this was Max Verstappen in a Red Bull with a tyre grip advantage and a Honda engine that he'd been authorised to 'run at 11' for the rest of the race, win or bust.
The most amazing confluence of circumstances and perfect timing was about to unfold to make for a thriller of a race, like it was predestined.
Read on.
Qualifying
At an altitude of 660 metres, the Red Bull Ring is high enough that there are some serious technical implications. Nothing cools as well, less downforce is produced, the effect on each type of engine varies. Combined with a grunt-rewarding layout – a significant uphill drag, lots of acceleration bursts from slow speed corners – this was all great news for Ferrari, bad for Mercedes.
The Mercedes is packaged so tightly at the rear that in this heatwave, at this altitude, its bodywork needed to be opened up significantly more than that of either Ferrari or Red Bull. The extra area of radiator outlet peeking above the suspension at the base of the engine cover was visibly greater on the Mercedes than its rivals. This not only interrupts an aerodynamically sensitive area around the diffuser, but that hotter air is less dense, thereby less effective in creating the pressure differentials that in turn create downforce.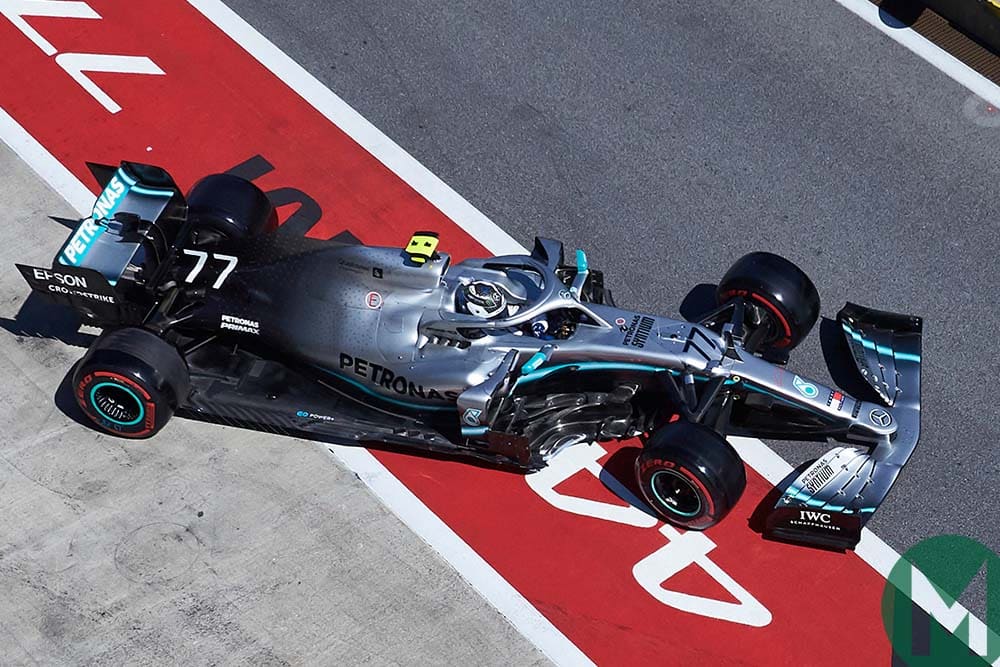 Mercedes had to significantly open up bodywork to improve cooling in the Austrian heat Photo: Motorsport Images
So the Mercedes' usual downforce advantage was reduced, possibly even cancelled out. And even though the lap time cost of the car's extra drag over the Ferrari was reduced by the high altitude, that altitude took more of Mercedes' lap time (relative to Ferrari) than it gave.
Furthermore, the Ferrari power unit's horsepower advantage brought more lap time reward than usual and, in addition, the team had been pleasantly surprised to find that the track's layout opened up a set-up window that allowed the car a reasonably good front end for once. Put into that mix Charles Leclerc on his absolute favourite track – the heavy braking into slow corners somehow gels beautifully with his way of driving – and his Ferrari was on a fairly resounding pole, over a quarter-of-a-second clear of Lewis Hamilton's Mercedes.
Hamilton and Bottas' appearance had triggered a queue of cars behind them, all looking for tows
"The car was a pleasure to drive on the limit," confirmed the now two-time pole sitter. Even with the extra wing used after Friday that gave respectable speed through the two corners of the final sector, it was still up to 7km/h quicker through the speed trap than Mercedes. A twist more front wing into Q3 gave Leclerc a near-perfect balance. The car was otherwise much as that which had been so off the pace around Paul Ricard seven days earlier. The 'new' floor taken off there had been tried again here on Friday, just to confirm that it wasn't working. Down the side of the nose was a horizontal splitter and an enhanced series of guide vanes at the back where the nose joins the chassis.
Practice had suggested Sebastian Vettel was a little breathless against Leclerc's pace, but he looked more than a match for anyone else. Then his engine wouldn't start in Q3 because of a pneumatic air line problem. That left him a nominal 10th (before the penalties of others). "It was a trivial mechanical problem," explained Mattia Binotto. "Probably because of riding over a kerb, a mechanical connection came apart resulting in a loss of pneumatic pressure to the engine. The mechanics tried their best to fix the problem but unfortunately, the connector is very inaccessible."
With a Mercedes down on power to the Ferrari, a little draggy and without the usual compensation of more downforce, it left its drivers relying heavily on getting a good tow. It was Valtteri Bottas' turn to choose the running order this weekend – and he inevitably chose to go out behind Hamilton in Q3, leaving Lewis to make his own slipstreaming arrangements. This got complicated when combined with the need to treat the soft tyres very gently on the out-lap.
On the first runs, Hamilton and Bottas' appearance had triggered a queue of cars behind them, all looking for tows. Hamilton crawled around the early part of the out-lap, with Bottas doubtless willing him to get a move on so as to allow him to work the tyres. Hamilton was treating it like a safety car restart and at a point between Turns Six and Seven suddenly sprinted clear – leaving Bottas far behind. Hamilton's lap was without a tow, but now Bottas didn't have one either… Nonetheless Bottas was ahead after those first runs, a couple of tenths slower than Leclerc and only just clear of Max Verstappen's Red Bull (which had received its tow from Leclerc).
Into the second runs, much the same scenario but with the clock ticking down to get to the flag in time, Hamilton couldn't afford to repeat his 'safety car restart' ploy. But still the cars behind him bunched up through the penultimate turn and in the confusion Bottas lost out again. Through a radio communication confusion, he mistakenly thought he needed to be right with Leclerc to get to the line in time – and was consequently too close. Leclerc was perfectly placed to get his tow from Verstappen. The net result of all this was Leclerc over two-tenths clear of Hamilton who in turn was a couple of tenths quicker than Verstappen and Bottas. The tow confusion essentially cost Bottas a place to Verstappen. Bottas had crashed heavily at Turn Six on Friday afternoon after a gust of wind got him out of shape.
Complicating things further was Hamilton's Q1 baulking of Kimi Räikkönen at Turn Three, for which he later received a theoretical three-place grid penalty. With a total of six cars taking some sort of penalty, the reasons the grid lined up as it did were arcane and deeply dull. We won't let it detain us, but it meant Hamilton would be starting fourth, behind Bottas.
The Red Bull was in good shape around here, helped by upgrades (new nose and front wing) that Max Verstappen reckoned increased the overall grip – and by being able to minimise how much the body was opened up for the heat. Honda had allowed the latest engine to be run a little more aggressively too. Verstappen was another to have been caught out by the wind on Friday, going off backwards at the final turn, thankfully without damaging the gearbox. Team-mate Pierre Gasly messed up his final Q3 lap with a lock-up and was a couple of tenths slower than he'd been in Q2 when he was only 0.15sec off Verstappen. This left him down in ninth (before penalties).
Mercedes and Verstappen went through Q2 on the medium tyres, but Ferrari went wholesale with the soft. Vettel's non-appearance in Q3 may have foiled the thinking behind that plan.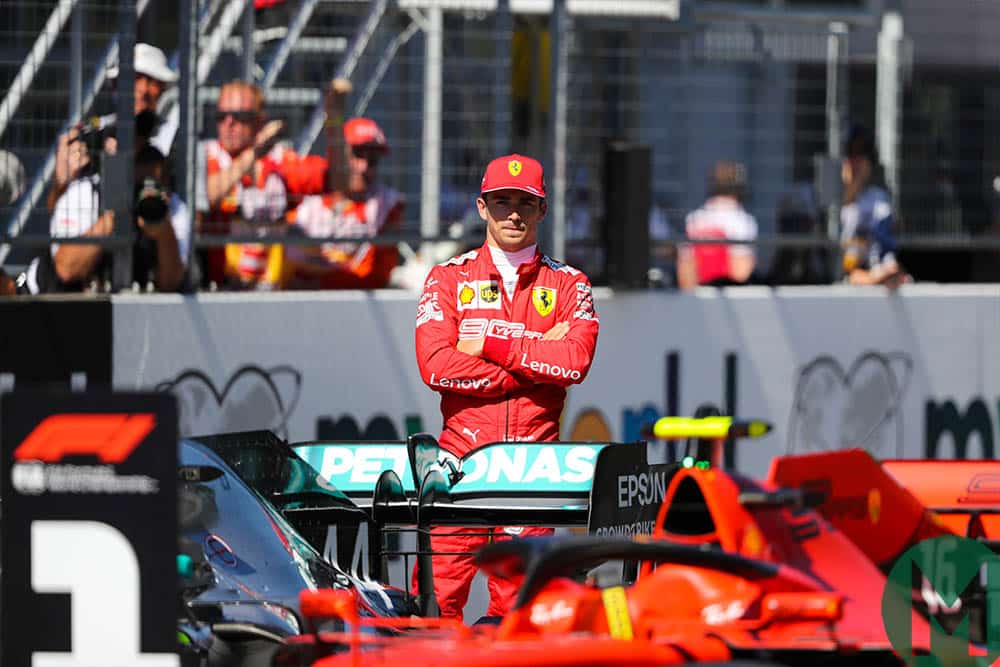 Leclerc ended Saturday on top Photo: Motorsport Images
Out of the blue, the Haas emerged as best of the rest in Q3, with Kevin Magnussen recording fifth-fastest time there but taking a five-place gearbox change. There seemed no particular understanding for why it had gone right, any more than usually for what was wrong. "I don't know where that lap came from. It was there, and I took it," said K Mag. Team-mate Romain Grosjean just failed to make the Q3 cut, in 11th.
Lando Norris was only hundredths away from Magnussen in the ever-improving McLaren. Carlos Sainz in the sister car was taking an engine change beyond his seasonal allocation and would therefore be starting from the back and so didn't make a serious Q2 assault after graduating from Q1.
Had Kimi Räikkönen repeated his Q2 time in Q3, he'd have out-qualified Magnussen for best of the rest. As it was, he was a tenth slower and seventh fastest, a couple of hundredths and one place ahead of Alfa-Romeo team-mate Antonio Giovinazzi.
Renault failed to make Q3, with Nico Hülkenberg (12th) and Daniel Ricciardo (14th) finding it impossible to get a consistent balance that worked through – as opposed to just into – the corners. It was losing time in both high- and low-speed sections. Following on from the upgrade disappointment at Ricard, this was a depressing development for the Enstone team. Hülkenberg was taking an ICE replacement penalty of five places so as to upgrade to the latest B-spec already in Ricciardo's car.
Alexander Albon put his Toro Rosso between the Renaults, satisfied with his lap but knowing he was taking an engine/turbo/MGU-H penalty as he was upgraded to the new Honda that would line him up at the back with Sainz. Team-mate Daniil Kvyat had his Q1 lap spoilt in a terrifying near-miss with George Russell at the penultimate corner as the Williams was cruising on its tyre prep lap and Kvyat, unsighted by the crest, arrived flat-out and had to take evasive action to avoid what would have been an enormous crash. Russell was penalised three places. Kvyat's only proper lap left him in between the Racing Points and Williamses in Q1.
Sergio Perez and Lance Stroll were separated by only half-a-tenth. The Racing Points were actually on around the same pace as the Renaults but Perez didn't get in a clean lap. Russell was 0.3sec ahead of Kubica at Williams, all of the difference in the first sector where the latter made a mistake in Turn One. Russell's front wing was replaced by one of a different specification, obliging him to start from the pitlane.
---
Related content
---
Race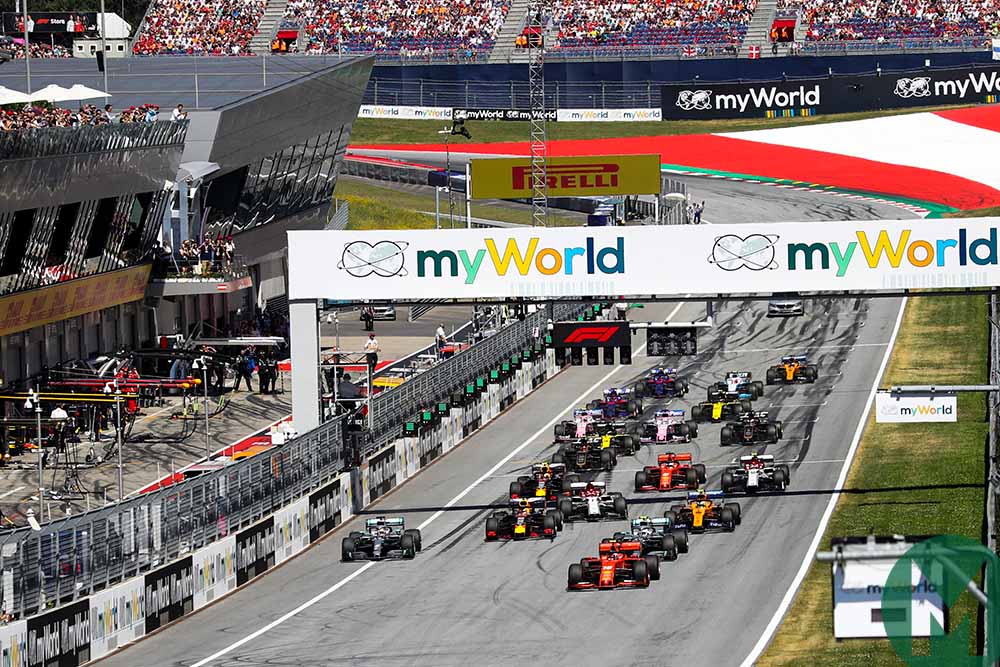 Verstappen drops to eighth as Leclerc leads from pole Photo: Motorsport Images
The track was measured at 56C at 3pm, 10 minutes before the start. This was extreme – and very bad news — for the marginally-cooled Mercedes. The question was whether it would also be bad news for the soft-tyred Ferrari. So prospects were looking good for the crowd's darling Verstappen, on the front row in his well-cooled, medium-tyred Red Bull.
That question seemed to be rendered irrelevant when – to the orange crowd's groaning dismay – Verstappen's car bogged down so disastrously that it had to be rescued by the anti-stall. They had under-estimated the track grip and set the clutch too aggressively.
Leclerc burst into an easy lead and began sprinting clean away. The two Mercedes were in no position to chase the Ferrari, regardless of tyre compounds. Their limitation was temperatures of engine, control electronics and tyres, but mainly engine. These conditions were beyond the design limits of the car – and they couldn't even begin to contemplate running close behind other cars. So Bottas backed away from Leclerc and Hamilton did the same to Bottas.
At Ferrari, they were concentrating on getting their softs to do a decent stint in these hotter-than-forecast temperatures so were not perhaps monitoring just how slowly Mercedes was running. They were taking their cue from Bottas' pace as to how fast to allow Leclerc to run. It made sense in the moment but in hindsight contributed to them losing this race.
"For us to attack any cars ahead was quite difficult today with the overheating issues we had," explained Bottas post-race, "so we had to do big amounts of lift and coast and couldn't actually use any of the better engine modes in the race, so everything was on safe mode, just because of overheating. It felt like we couldn't really race today, so it was nice to have a good track position in the beginning."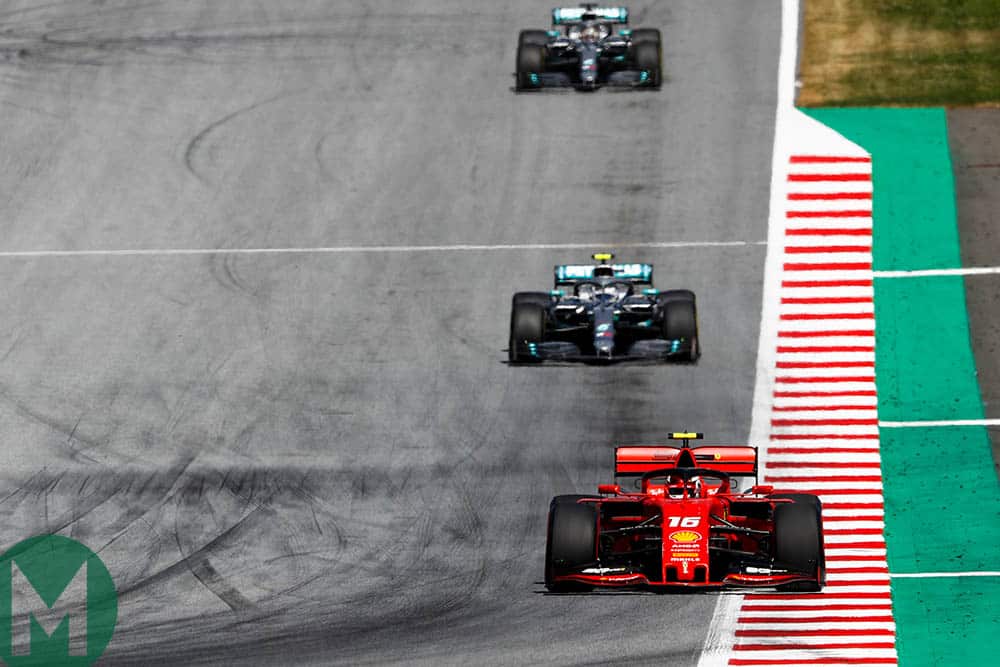 The need to run in cool air forced the two Mercedes to maintain a gap to the car in front Photo: Motorsport Images
Verstappen, meanwhile, had dropped down to a disastrous eighth place, behind team-mate Gasly who had gone around his outside through Turn Three. Verstappen successfully retaliated into Four but locked up a front tyre in the process. So now he was carrying a flat-spot for all the first stint and running seventh. What a disaster. Actually, that bogging down off the startline was what was going to win him this race… That and Ferrari's misreading of how slow Mercedes actually was.
Behind the second- and third-placed Mercedes initially ran the dicing Räikkönen and Norris – and Vettel, who'd run around Verstappen's outside at the first turn. Vettel would soon enough pick off the McLaren and Alfa to be running fourth, quite comfortable at the pace the compromised Mercedes ahead of him were running and now, like Leclerc, just running at a pace calculated to keep his softs in shape long enough for a decent-length first stint. He'd be followed through at a distance back by the flat-spotted Verstappen, who finally put a pass on Räikkönen into Turn Three on the ninth lap.
Once he'd quickly got 2.5-3sec over Bottas, Leclerc – with concerns going in about getting the soft tyres to do a long enough stint in this heat – was guided into easing off. He was bursting to be let off the leash, but Ferrari held him firmly on it.
Norris forced his way past Räikkönen on the 14th lap to head the second division, with Gasly caught up behind the Alfa and finding no chink in Kimi's defences until after the pit stops. Giovinazzi watched on from not far back. Sainz in the other McLaren was having a terrific race from the back of the grid, steadily picking off the slower runners and running very long. He'd be joining the class leaders before the end of the race. Going strongly in the opposite direction were the Haas pair. Afterwards Grosjean was beyond being angry. "I let the clutch out and it just spun its wheels almost standing still! Then as I got going it was like driving in the wet! It's just unbelievable that a car that can qualify P5 is in the race fighting with Williams." Which is exactly what happened, K Mag's race further compromised by a drive-through for having started from outside his grid slot.
Why Ferrari began on the softs
Ferrari had chosen to run the soft tyre in Q2 – and therefore into the first stint of the race – rather than the apparently safer medium chosen by Mercedes and Verstappen. But there was a sound logic behind that. They'd had the pace to lock out the front row. The superior traction on the softer tyre would pretty much have guaranteed they'd have held those positions into the first turn and established 1-2 track position. This would have enabled the second car to have kept the two Mercedes and Verstappen off the backs of the leader and thereby not force a tyre-killing pace on the softs. But that plan had gone awry with Vettel's Q3 mechanical problem.
So now, without the buffer of a team mate, Leclerc had to run long enough on his softs that his second stint wasn't compromisingly long or – even worse – be forced onto a two-stop. The pre-race Pirelli estimation was a maximum range of 25 laps for the softs, 44 laps for the mediums. Hards then for the second stint to the end. So Ferrari logically figured they just needed to keep Leclerc out of undercut range around the pit stop window and run as gently as possible within that limitation. That was the mindset going in and perhaps that blinkered them to the possibility that this wasn't going to be the pattern of the race at all.
Covering Mercedes. The Trap is set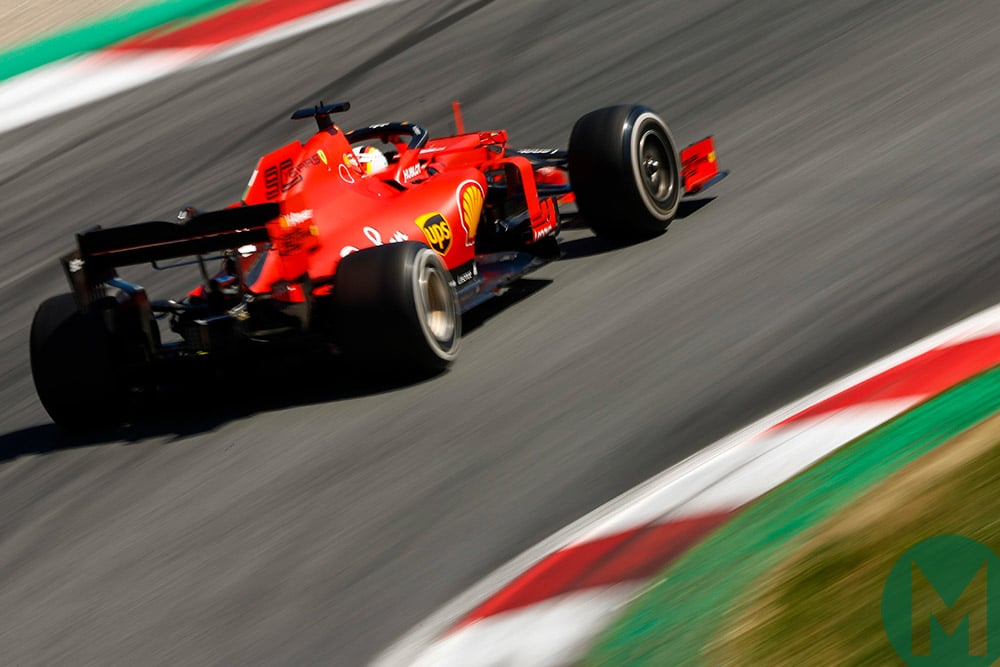 Vettel's pace triggered the round of pit stops Photo: Motorsport Images
Ironically, it was Vettel's pace as the pit stop window opened that played its part in Ferrari's own downfall. Seb began stepping it up from around the 17th lap – and the Mercedes drivers had nothing with which to respond. No higher engine modes and they were lifting and coasting to a ridiculous degree to keep the temperatures down – up to 400 metres before the corners. Because they were closely spaced, there was a real danger that Vettel was going to jump them both. Before it was too late, Mercedes decided it would have to act and instructed its lead car (Bottas) to come in at the end of the 21st lap.
Ferrari had just instructed Vettel – at late notice – to do the same. The order from the Ferrari pitwall to the garage went out late. Half the mechanics – those on the radio system of communication – heard it. The other half – those on a cable communication – did not. So two of Vettel's wheels were not ready as he stopped. He was stationary for over six seconds. Had it not been for that, there's a good chance that Vettel would actually have jumped Bottas in the pits – for Mercedes had been forced to hold him as Vettel was about to cut across their bows on his way to the adjacent Ferrari pit.
The whole fanatical crowd was behind them – and Max was in the mood. Magic was in the hot air.
But it was worse than that. Not only did Vettel fail to jump ahead of the Mercedes, but the Bottas stop pressured Ferrari into bringing Leclerc in to cover him on the very next lap. At the time Leclerc had been running 4.6sec ahead of Bottas, so it actually had time to monitor Bottas' pace for a lap without putting the position at any real risk. Instead, it played it safe, assumed all it had to do was ensure track positioning over the two Mercedes – and Leclerc duly exited still 4sec clear of Bottas.
In hindsight, that was a victory-costing error. It was later apparent that had he stayed out, he'd easily have had enough pace on his old tyres to have countered the badly compromised Mercedes. Instead, the earlier-than-necessary stop put Leclerc on a 49-lap second stint against an opponent that wasn't Mercedes after all, one which it had mistakenly assumed it needn't worry about: Verstappen. It could have given Verstappen that mistake and still won it – if only it had allowed Leclerc off the leash in his first stint, as he was constantly urging them to do. That way, he'd have built a bigger cushion to protect him against Verstappen's later charge. The softs that came off at his pit stop still had loads of life in them, so confirming that the tyre strategy had been absolutely fine. That wasn't what lost them this race; rather it was in not using their extra performance. But that's hindsight – and isn't the way races are run in this software-controlled era where a safety car can always wipe out your hard-earned gap.
There was one more click of fate's ratchet that sealed Leclerc's attack by Verstappen: Hamilton's lap 22 error. Mercedes had instructed Hamilton to stay out after Bottas pitted. His pace on his old mediums was pretty much the same as Bottas' on his new hards – and there was almost exactly a pit stop's-worth of gap between them. They didn't want to bring Hamilton out right on Bottas' tail – not with the temperatures as they were. They wanted to maximise Hamilton's time in free air, just to keep the temperatures under better control.
This gave Hamilton the opportunity to see if he could pull out enough time on his team mate to ensure he would overcut him at his pit stop. So he stopped lifting and coasting for a lap, began actually pushing for the first time – and set the race's fastest lap to date. But in doing so he ran hard over the final turn kerb, just as he had on Friday morning – with exactly the same front wing-damaging result. A flap cracked, meaning it couldn't transfer as much force to the wing – and it became steadily worse. He was no longer on course to jump Bottas and was brought in on the 30th lap for a nose and tyre change. Had it not been for that, Verstappen would have had to have found his way past Hamilton before attacking the others – and that could probably have kept the Red Bull off Leclerc's back just long enough for Ferrari.
Verstappen and Honda. Release the beast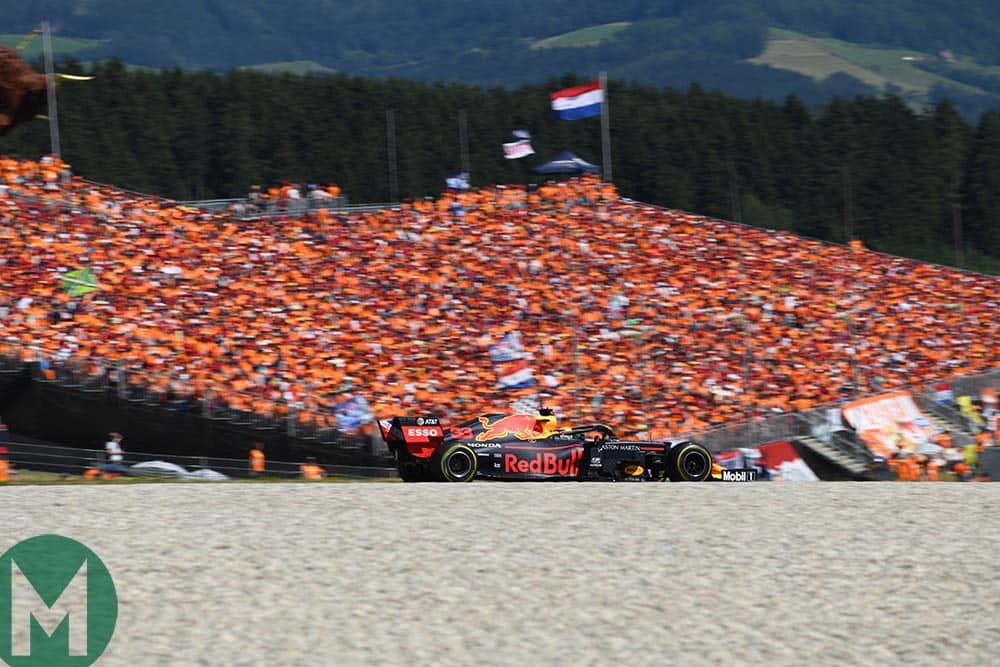 Verstappen and the home support Photo: Motorsport Images
Verstappen had only been able to stay out this long because his near-stall off the line had put him at the back of the lead group – and so he therefore had no undercut pressure from behind. All the others had to compromise their fastest theoretical race time in order to retain – or try to gain – track position. Verstappen's startline problem meant he had no such concerns.
The crowd roared its approval as Hamilton pitted – because it put Verstappen into a temporary lead. But Red Bull brought him in the very next lap. After a fantastic 1.8sec pit stop, Verstappen rejoined on his fresh hards – tyres that were 10 laps newer than those of his rivals ahead of him. He'd picked up a position thanks to Hamilton's nose change delay and now had ahead of him Vettel, Bottas and Leclerc. He was 12.9sec adrift of the leader with 39 laps to go. Could he average 0.33sec per lap faster than Leclerc while also passing the two cars in between them? He was up for giving it a try – and so was Honda.
He asked for more power. The reply came back: mode 11. Run it to the end. This was the Honda's most aggressive mode and it will almost certainly have cost it a lot of engine life. But so what? Honda's vice principal was here, the whole fanatical crowd was behind them – and Max was in the mood. Magic was in the hot air.
Leclerc meanwhile was finding the Ferrari not as good on the hard tyre as it had been on the soft. He held his gap over Bottas steady at 4-4.5sec but even at that relatively gentle pace, the tyre deg was heavier than expected. Vettel was finding much the same and didn't have enough in hand to put any real pressure on Bottas.
It became obvious pretty soon after Verstappen rejoined that this was game on. The crowd began to stir as he caught the three in front at a completely different pace.
Meanwhile Norris still held sway at the head of Class B a long way behind, under no real pressure from Gasly who'd finally found a way by Räikkönen. Sainz stayed out until lap 41, losing positions to Racing Points and Renaults by doing so – but only temporarily, and with the reward of much newer tyres as he rejoined. He began lapping almost as fast as Verstappen as he closed on them. He needed to get through the train of Stroll, Hulkenberg, Perez etc before Leclerc arrived on his tail to lap him in order for his charge not to be brought up short by blue flags. He proceeded to do that with clinical efficiency, going through the midfield like a dose of salts, then picking off Giovinazzi and Räikkönen. He was closing on Gasly and Norris and seemed set to be right with them before the end. He was flying.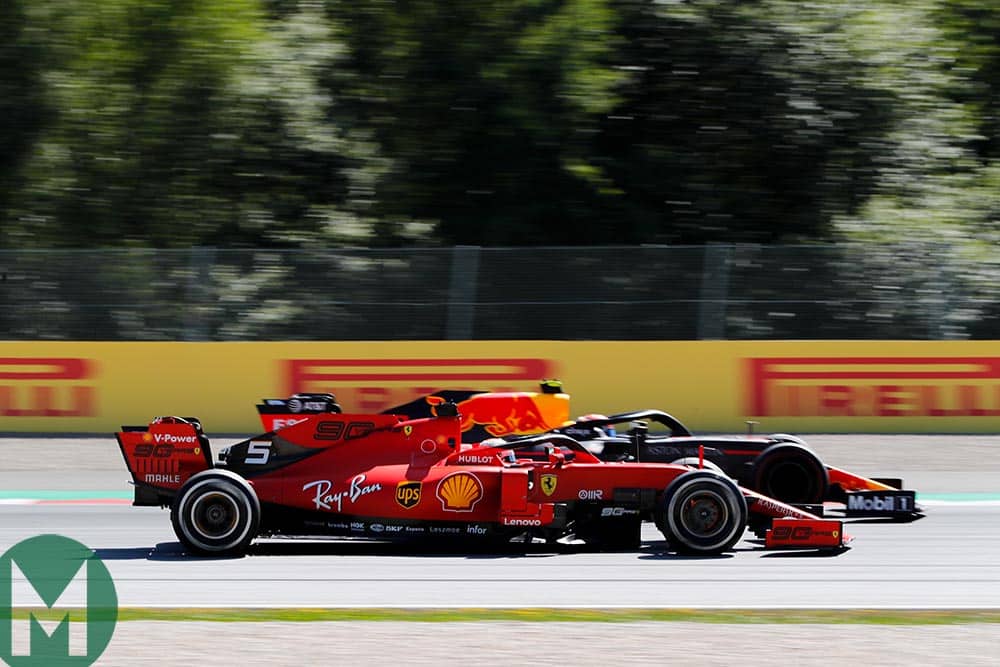 Verstappen overtakes Vettel on his way to the front Photo: Motorsport Images
Verstappen was too. "The car really came alive in the second stint," he related. He caught Vettel on lap 49, got DRS on him and had a look at the end of the pit straight, then another one into Turn Four. But he did him cleanly the following lap, DRS helping him to fly by the Ferrari even before the braking point for Turn Four. The crowd roared above the engines. Ferrari responded by immediately bringing Vettel in for a set of softs with which to attack the fastest lap, calculating that it would lose position only to the struggling Hamilton with plenty of pace with which to repass him.
Next in Verstappen's targets: Bottas. On the 55th lap was a Verstappen radio message: "I'm losing power." And he suddenly dropped back. It was just an exhaust sensor playing up. With a bit of guidance from the pits about how to reset, he was back to full power soon enough – and Bottas wasn't in a position to offer any resistance as the Red Bull scythed up his inside at Turn Three on the 56th lap. Leclerc was just 5sec up the road now.
The leader tried as best he could to respond, getting into higher power modes and dipping into the high 1min 7sec. But it wasn't enough. With six laps to go Verstappen was within DRS range of the Ferrari – and the crowd was going crazy. A lap later and he was alongside at both Turns Three and Four, but Leclerc was defending perfectly.
Saving his energy for a lap, Verstappen relaunched his attack on the 68th lap, slicing up the inside of Turn Three to take the lead – only for Leclerc to switch to the inside and get the tow up to Turn Four, where he was able to get back ahead. At much the same time Vettel on his new softs was within DRS range of Hamilton's fourth place and all over the Mercedes like a rash.
The Controversy
It came on the 69th lap, two from the end as this time Verstappen went yet-deeper on the brakes into the inside of Turn Three. At some point between turn-in and mid-corner Verstappen had the place, the Red Bull's nose clearly ahead. Leclerc refused to surrender though and opted to stay side-by-side, around the outside. Verstappen held firm, the wheels banged – and Leclerc went off the circuit, losing a lot of momentum.
"What was that?" questioned Leclerc for the benefit of the stewards. "He pushed me off the track." Verstappen was saying much the same thing. "I don't think the second overtake was done correctly," said Leclerc afterward, "but I believe that anyway the end would have probably been the same but it's just not the way you overtake."
"It's hard racing," countered Verstappen. "Otherwise we have to stay home… if those things aren't allowed in racing, then what's the point of being in Formula 1?"
The stewards looked at it and decided there was no case to answer.
Leclerc's view on the result was clear Photo: Motorsport Images
Vettel got by Hamilton for fourth on the last lap on the run up to Turn Four, Hamilton locking up as he tried to defend the move. Vettel's fastest lap ploy had failed – as Verstappen had managed to eclipse him by 0.2sec despite much older and harder tyres.
Bottas' third place was actually a great effort in such compromised circumstances and Hamilton in fifth was last of those on the lead lap. Norris was best of the rest in sixth, under no threat from Gasly who was lapped by his victorious team-mate. The second Red Bull actually looked vulnerable to Sainz until the latter's front wing partially collapsed, bringing his charge up short. But it had nonetheless been another terrific performance, following those of Monaco and Paul Ricard. The Alfas of Räikkönen and Giovinazzi rounded out the points scorers. Sergio Perez beat the Renaults, with the newer-tyred Ricciardo breezing past the old-tyred Hulkenberg near the end, both of them feeling there was something seriously amiss with the RS19. Stroll stayed ahead of a challenging Albon, with Grosjean and Kvyat both enduring a woeful time. Russell managed to beat Magnussen's Haas, with Kubica not far behind it.
So Honda won for the first time since 2006 at a very timely moment. The crowd's hero won in the most swashbuckling style and Red Bull won on its home ground, finally breaking Mercedes' seasonal dominance. And all because he'd almost stalled off the grid.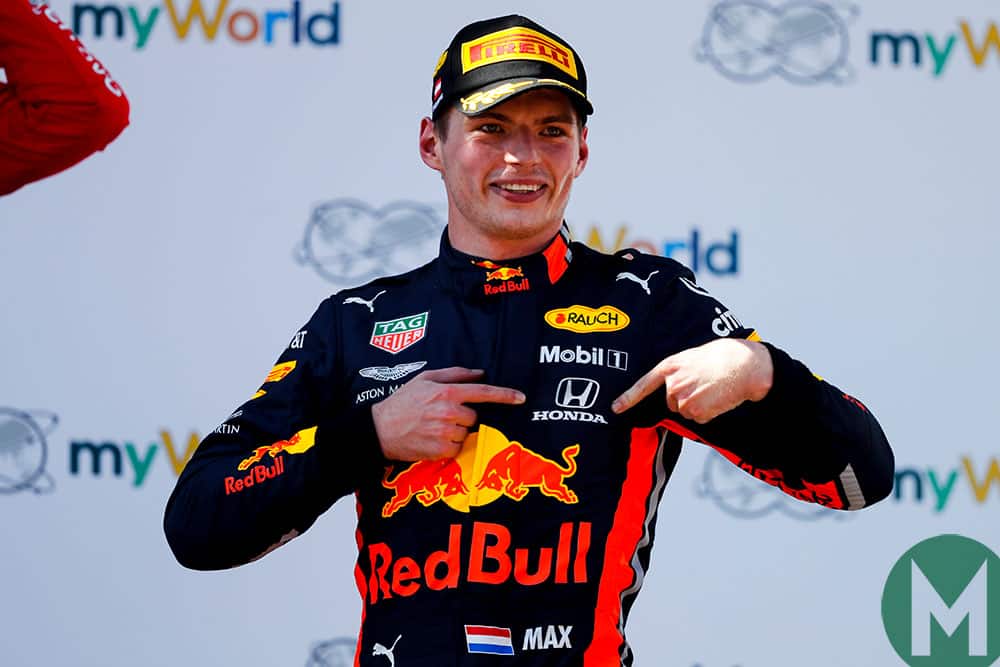 The Austrian win is Honda's first since 2006 Photo: Motorsport Images
2019 Austrian Grand Prix results
| | | | | |
| --- | --- | --- | --- | --- |
| Position | Driver | Team | Time | Points |
| 1 | Max Verstappen | Red Bull | 1hr 22min 01.822sec | 26* |
| 2 | Charles Leclerc | Ferrari | +2.724sec | 18 |
| 3 | Valtteri Bottas | Mercedes | +18.960sec | 15 |
| 4 | Sebastian Vettel | Ferrari | +19.610sec | 12 |
| 5 | Lewis Hamilton | Mercedes | +22.805sec | 10 |
| 6 | Lando Norris | McLaren | +1 lap | 8 |
| 7 | Pierre Gasly | Toro Rosso | +1 lap | 6 |
| 8 | Carlos Sainz | McLaren | +1 lap | 4 |
| 9 | Kimi Räikkönen | Alfa Romeo | +1 lap | 2 |
| 10 | Antonio Giovinazzi | Alfa Romeo | +1 lap | 1 |
| 11 | Sergio Perez | Racing Point | +1 lap | 0 |
| 12 | Daniel Ricciardo | Renault | +1 lap | 0 |
| 13 | Nico Hülkenberg | Renault | +1 lap | 0 |
| 14 | Lance Stroll | Racing Point | +1 lap | 0 |
| 15 | Alexander Albon | Toro Rosso | +1 lap | 0 |
| 16 | Romain Grosjean | Haas | +1 lap | 0 |
| 17 | Daniil Kvyat | Toro Rosso | +1 lap | 0 |
| 18 | George Russell | Williams | +2 laps | 0 |
| 19 | Kevin Magnussen | Haas | +2 laps | 0 |
| 20 | Robert Kubica | Williams | +3 laps | 0 |
*Includes point for fastest lap
F1 drivers' championship after Race 9 (Austria)
| | | | |
| --- | --- | --- | --- |
| Position | Driver | Team | Points |
| 1 | Lewis Hamilton | Mercedes | 197 |
| 2 | Valtteri Bottas | Mercedes | 166 |
| 3 | Max Verstappen | Red Bull | 126 |
| 4 | Sebastian Vettel | Ferrari | 123 |
| 5 | Charles Leclerc | Ferrari | 105 |
| 6 | Pierre Gasly | Red Bull | 43 |
| 7 | Carlos Sainz | McLaren | 30 |
| 8 | Lando Norris | McLaren | 22 |
| 9 | Kimi Räikkönen | Alfa Romeo | 21 |
| 10 | Daniel Ricciardo | Renault | 16 |
| 11 | Nico Hülkenberg | Renault | 16 |
| 12 | Kevin Magnussen | Haas | 14 |
| 13 | Sergio Perez | Racing Point | 13 |
| 14 | Daniil Kvyat | Toro Rosso | 10 |
| 15 | Alexander Albon | Toro Rosso | 7 |
| 16 | Lance Stroll | Racing Point | 6 |
| 17 | Romain Grosjean | Haas | 2 |
| 18 | Antonio Giovinazzi | Alfa Romeo | 1 |
| 19 | George Russell | Williams | 0 |
| 20 | Robert Kubica | Williams | 0 |
F1 constructors' championship after Race 9 (Austria)
| | | |
| --- | --- | --- |
| Position | Team | Points |
| 1 | Mercedes | 363 |
| 2 | Ferrari | 228 |
| 3 | Red Bull | 169 |
| 4 | McLaren | 52 |
| 5 | Renault | 32 |
| 6 | Alfa Romeo | 22 |
| 7 | Racing Point | 19 |
| 8 | Toro Rosso | 17 |
| 9 | Haas | 16 |
| 10 | Williams | 0 |