2019 French Grand Prix race report
- Last updated: February 25th 2020
Lewis Hamilton looking unassailable after a lights-to-flag victory at the 2019 Formula 1 French Grand Prix. Full race report by Mark Hughes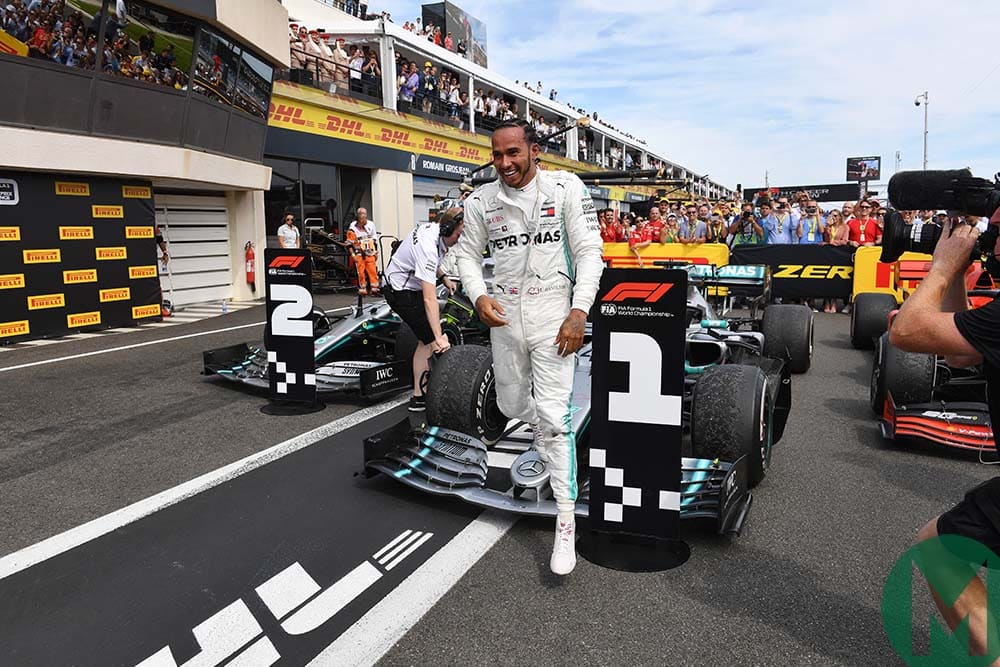 Photo: Motorsport Images
The first lap, with derring-do and beautiful wheel-to-wheel judgement, was pretty good. The last too, as Charles Leclerc attacked Valtteri Bottas' second place while a starring Lando Norris in a crippled car tried in vain to hold off the three attacking sharks Daniel Ricciardo, Kimi Räikkönen and Nico Hülkenberg.
But the 51 laps in between lacked a certain something: racing.
What little action there was happened increasingly far behind the Mercedes of Lewis Hamilton, as he reeled off his sixth victory from eight this year. He worked hard for it in the sense that the temperatures inside the car on this scorching Mediterranean day were pretty extreme and the loads upon the body through the fast, long-duration turns are severe and even broke his seat. But no-one – neither Ferrari nor team-mate Bottas – came close to threatening his dominance.
Forty-eight years ago Jackie Stewart was similarly dominant on the first grand prix to be held here – and there he was, 80 years old now, in the post-race green room chatting with Hamilton, Bottas and Leclerc.
Barring problems, this was never going to be anything other than a Mercedes benefit, such is the layout and nature of Paul Ricard. But Ferrari came up doubly short in that its upgrades were less than convincing and in that, they were apparently carrying a power unit problem that prevented a troubled Sebastian Vettel from using his higher engine modes after Q2 and for the rest of the weekend.
Hamilton was in expansive mood later and seemed to be rueing the lack of competition. "When we were in Barcelona in testing, we did not think this would be where we were. When the team spoke to me afterwards and said, 'how's the car?' I didn't really have any good things to say and there was a real worry for the first week and a half until the last day when we kind of figured out how to get the car to work. And then since then, the first few races, practice has been so-so, Valtteri has been super quick and much happier with the car and I've been thinking, 'Jeez, why have I not been as on top of it as he has', for example, or I have been in the past. But little by little, just keep working at it, keep chipping away and it's getting better and better but the races just continue to be my strongest point, since some point of last year, and that's really comforting and so that's an area that I've particularly enjoyed.
"I really do hope that we have more close races like the last race. I really hope Ferrari bring some extra downforce rather than keeping the straights fast, get some speed through the corners so we can start racing each other."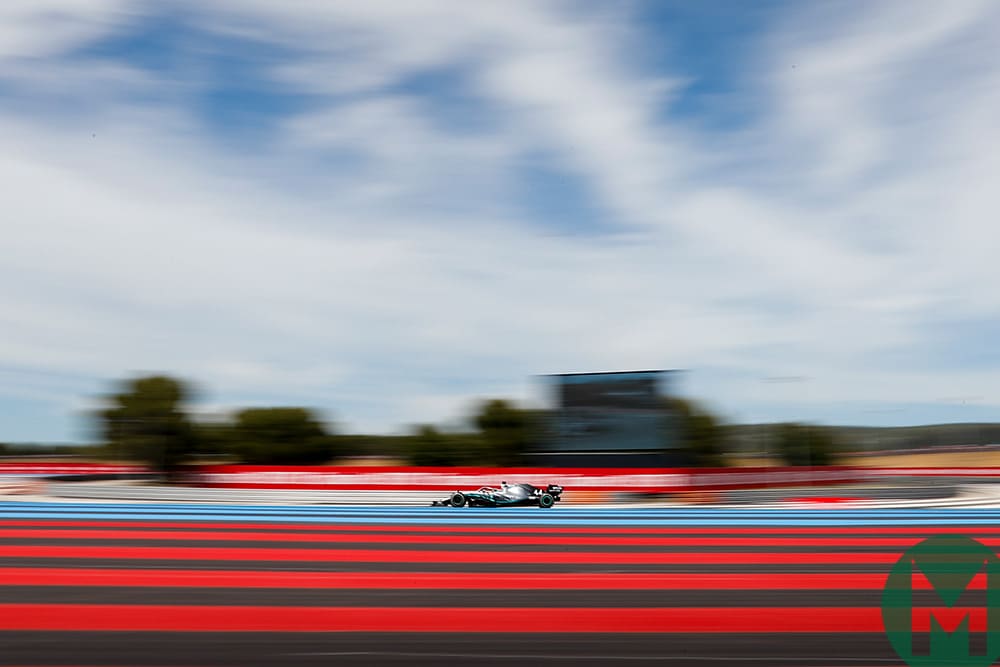 Hamilton in a class of his own Photo: Motorsport Images
Qualifying
Through the practices and into Q1 and Q2 Lewis Hamilton looked like he was scratching against Valtteri Bottas. It was an illusion, like the heatwave mirages down the end of the Mistral straight. The infamous wind from which that piece of track takes its name turned up at the beginning of Q3 and with her treacherous tricks made getting a lap much more a game of improvisation than honing. "The wind has been picking up and it's quite gusty… so you have to be quite dynamic with how you attack the lap," explained Hamilton. "There are certain points at which you can attack and there are others where you kind of have to give way a little bit to the wind."
In such conditions, Hamilton's improvisational approach perhaps came to his aid and worked against Bottas. "All weekend I felt pretty good in the car and in a happy place," related Valtteri, "But in Q3, the first lap felt OK but the wind direction changed throughout the qualifying, Turns Eight and Nine, I think, struggling all weekend a little bit. At some point, I found some good lines there but they didn't any more work with that wind direction." That and not being able to pick up a tow down the Mistral (Hamilton was able to use Bottas' tow, as it was his turn this weekend to choose the Q3 running order) accounted for the order between the Mercs, with Bottas not improving on his second run.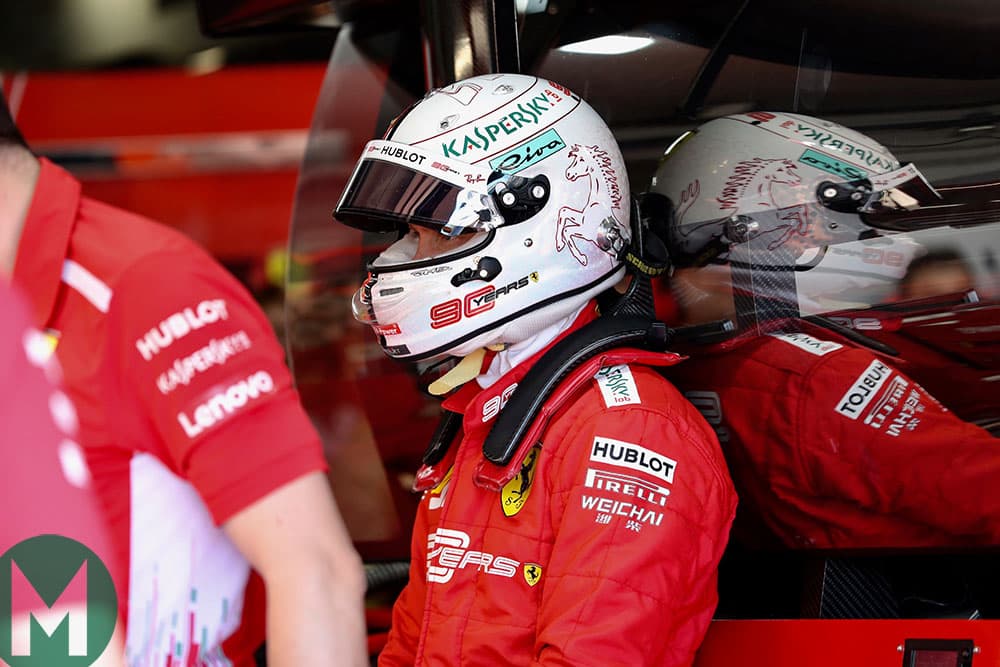 Vettel's body language was clear on the Saturday ahead of the race Photo: Motorsport Images
Hamilton might have set a significantly better time than he did. "I was up four-and-a-half tenths [compared to the previous lap] coming into the second-to-last corner, but it's really gusty out there, and I think I just lost the back end, partly through that or maybe going too quick." The on-board shows the big snap of oversteer exiting Turn 14 as he cuts across the bows of the wind. It cost him around 0.4sec, but that still left his pole number 86 with a margin of 0.286sec, as Bottas failed to improve on his first run.
Ferrari arrived in Ricard cautiously optimistic. In simulating their latest aero upgrades – tweaked front and rear wings, brake ducts and new floor – an error in how the aero platform numbers have been applied to the car all season was discovered. It was hoped that the combined effect of correcting this and the upgrades themselves might help them close the gap to Mercedes around a track with similar demands to that of Barcelona, which was Ferrari's least competitive race of the season so far. The results were disappointing. Not all of the upgrades stayed on the car into Saturday and Charles Leclerc's third-quickest time was 0.646sec adrift of pole. Around a much longer lap, it did represent a better performance than at Barcelona – but with the proviso that Hamilton was potentially 0.4sec quicker again, had he not made that error towards the end of his lap.
Norris calmly delivered almost error-free laps in tricky conditions, with a track temperature of over 55C and a gusting wind, on a day when many more experienced hands tripped up
Leclerc felt he'd pretty much maximised what was at his disposal, commenting, "The past few weeks my main target has been improving the car set up in order to suit the track evolution from Q1 to Q3. From this point of view, I am satisfied with my personal performance and have definitely made a step forward."
In the other Ferrari, Sebastian Vettel was having a tougher time of it in Q3, having been nip and tuck with Leclerc up to that point. On his first run, he got out of shape early in the lap, then had the gearbox not respond to his upshift paddle. He abandoned the lap and staked all on his final run, only to find the car not handling the same as it had. "On the last lap, I just didn't have the same feeling as during other parts of the session." He was also unable to use the highest engine mode (subsequent investigations revealed an intercooler leak). He did not like the balance of the car on the soft tyre as much as on the medium, in that it understeered more and gave him less feedback. Combined, it meant he couldn't approach his Q2 time and ended up only seventh fastest, 0.6sec adrift of Leclerc.
This gifted a grid place to Max Verstappen, putting his Red Bull fourth on a day where it was well off its usual pace despite the upgraded Honda engine in the back. His lap, at over 1sec off Hamilton's compromised pole, wasn't a great one, he reckoned: "It wasn't very clean. Something happened in the last few corners and the car had an odd behaviour." It was likely the same wind that had caught out Hamilton. Like Mercedes and Ferrari – and McLaren and Renault on this occasion – Verstappen got through Q2 on the slower medium tyre with an eye to race day.
Team-mate Pierre Gasly was struggling, further adrift of Verstappen than he's been all season and feeling afterwards that he'd gone in the wrong direction on set-up. Red Bull wasn't confident in him getting through Q2 on the mediums (theoretically around 0.6sec slower than the softs) and so he'd be at a strategic disadvantage on race day. It was all the more disappointing therefore that he was only ninth quickest in Q3, 0.7sec shy of Verstappen.
The problems of Vettel and Gasly opened up the possibility of great grid slots for whoever proved 'best of the rest'. That status definitely belonged to McLaren this weekend, enabling Lando Norris and Carlos Sainz to go fifth and sixth respectively. Norris was in great form and shaded Sainz by just over a tenth – and in fact, this was just a hundredth slower than Verstappen, further underlining how much Red Bull was struggling. Although it represented McLaren's best grid positions of the season to date, it was actually closer to pole in Bahrain. Norris calmly delivered a series of almost error-free high-pressure laps in tricky conditions, with a track temperature of over 55C and a gusting wind, on a day when many more experienced hands tripped up. Sainz had spent Friday trialling a new front suspension (with an articulation like those of Ferrari and Mercedes that allows the nose to dip on high steering lock) and so was playing catch-up a little into Saturday on the standard set up.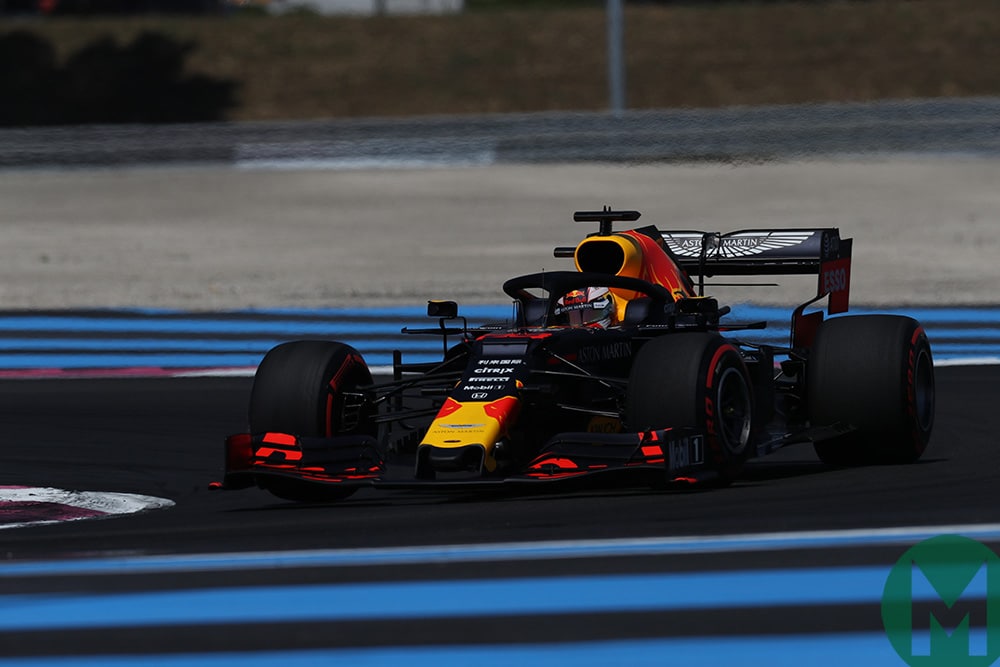 Verstappen off the pace but fourth Photo: Motorsport Images
Renault had set itself very high targets for this weekend as its major aero upgrade arrived. It failed to match them, with only Daniel Ricciardo making it to Q3 and going only eighth-fastest there, 0.5sec slower than the McLarens despite his higher-spec upgraded engine. Nico Hülkenberg – still with the older spec engine – got crossed up at the chicane on his final Q2 lap, leaving him relying on his first run, good only for 13th.
The Alfa Romeo was marginally improved this weekend, with further upgrades around the barge board area – and Antonio Giovinazzi scraped it into Q3, lining up tenth. In the sister car, Kimi Räikkönen suffered a moment on his Q2 lap and missed out on Q3, 12th fastest.
At Toro Rosso, only Daniil Kvyat had the upgraded Honda engine and, on account of the number of units previously used, he'd be starting from the back. As such he didn't do a serious qualifying effort and went out in Q1, 16th-fastest. Team-mate Alex Albon with the old-spec unit just failed to make Q3 and would start 11th.
The low-drag Racing Point wasn't at its best around a circuit with so many long-duration corners and Sergio Perez did well just to get into Q2, where he was around 0.3sec adrift of Toro Rosso, 14th. Lance Stroll was 0.8sec slower and therefore retained his 2019 record of not getting past the Q1 hurdle, in 18th.
Haas was further off the pace than it has been all year and it was all Kevin Magnussen could do to put it 15th, with Romain Grosjean, not getting a good lap in, two places back. Williams was also further off than at any other race, at almost 5sec. George Russell and Robert Kubica were separated by 0.4sec, but Russell would be taking a grid penalty for a new power unit.
---
Related content
---
Race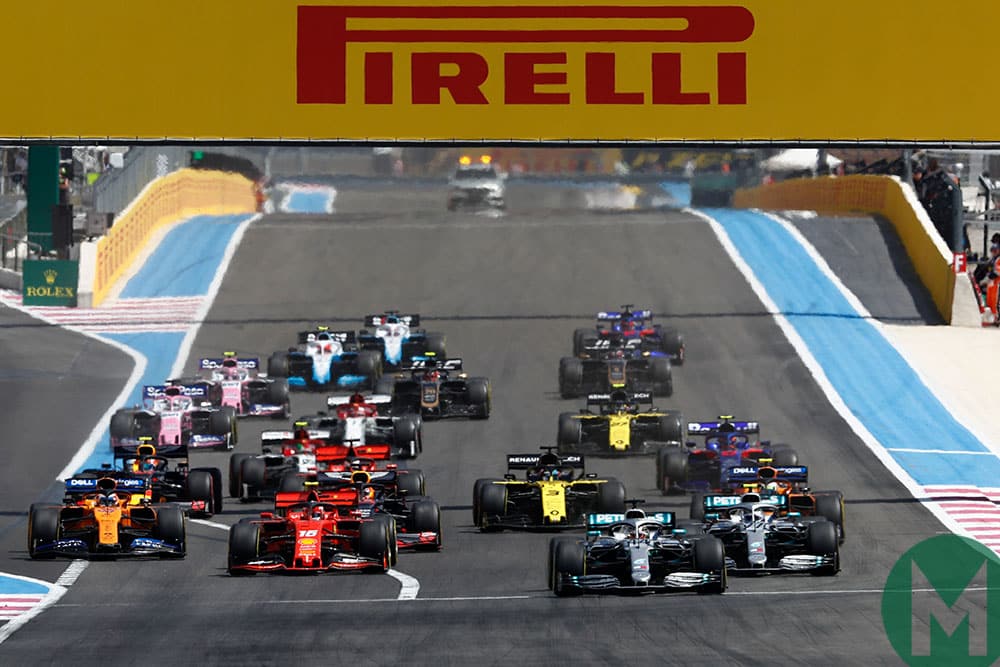 Hamilton leads from the start Photo: Motorsport Images
Hamilton's start was good enough to retain his lead, Bottas' from the less grippy side of the track sufficiently slower that he was under threat down to Turn One from Leclerc who made for the outside of the second Mercedes.
Verstappen's similarly ordinary start from the inside of row two created a bit of excitement as the McLarens speared either side of him, with Sainz, in particular, getting a flyer to slot between the Red Bull and the pit wall. Verstappen had to get committed on the brakes to grind back ahead of the McLarens into Turn One, Sainz slotting in ahead of Norris.
As Leclerc gave up on the idea of trying for Bottas' outside through the left-handed part of the Turn 1-2 switchback, he lost enough momentum that Verstappen was around his outside through Turn Two and briefly ahead. But this still put Leclerc on the inside for the first chicane and they accelerated up the following straight with wheels almost touching. As Leclerc prevailed and Verstappen tucked in, so it gave Sainz another opportunity to attack.
Albon had been forced to take the Turn Two run-off and dropped many places. There was a bit of a concertina effect, making a queue into Turn Three that Perez feared running into the back of. So he took the easier option of turning onto the stripy tarmac and following the prescribed arrowed route back on – but that still brought him out ahead of the car (Magnussen's Haas) that he'd been behind. He'd thereby gained an advantage, essentially overtaking him off the track. As he didn't surrender the place back, he'd later be awarded a five-second penalty.
Behind Verstappen and the McLarens ran Vettel, Gasly (fast off the line on his softs), Giovinazzi (also on softs), Ricciardo, Räikkönen, Hülkenberg, Perez, Magnussen, Stroll, Albon, Kubica, Grosjean, Russell and Kvyat.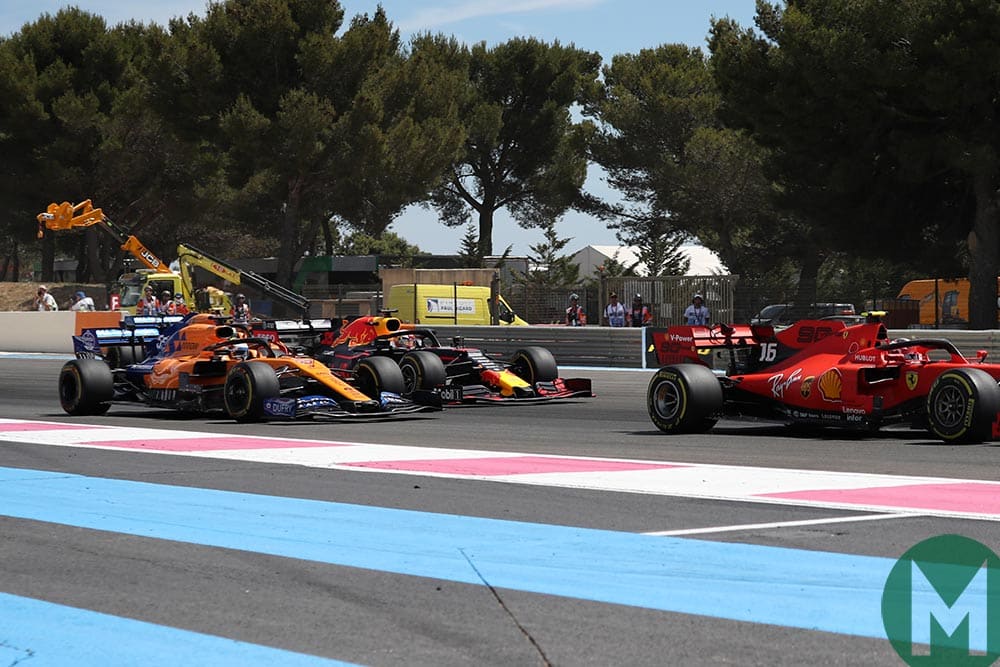 Sainz and Verstappen side-by-side Photo: Motorsport Images
Sainz used his greater momentum on Verstappen through the long, sweeping loop onto the back straight formed by Turns Three and Four. They have history, these two, as recently as Bahrain this year and Max defended heavily into the Mistral chicane, Sainz surrendering early into the turn so as to get a better run out of there, slipstreaming the Red Bull for all he was worth. With Verstappen defending the inside line as they approached Signes at 200mph+, Sainz flicked left to go around the outside. Verstappen kept his foot in and prevailed on the exit and the run down to Le Beausset, the 180-degree parabola with the spectacular braking/turning approach. High-octane stuff from two no-holds-barred fighters. But eventually, the Red Bull's greater pace allowed Verstappen to begin easing clear. Norris' mirrors were soon full of Vettel red.
Those up front on the mediums were sliding around spectacularly for a couple of laps (Hamilton having a big oversteer moment exiting Turn One on the second lap) until the rubber found its working temperature. But it was the same for everyone and Hamilton was 1.5sec clear of Bottas by the time DRS was enabled on the third lap. The mediums were reckoned good for a range of about 25 laps – and the hards would get you to the end from there. Gasly and Giovinazzi, the only soft starters, were therefore already badly compromised and their early strong positions were not sustainable. A few drivers further back (Räikkönen, Hülkenberg, Grosjean, Stroll, Kvyat) started on hards with the idea of a long first stint and an attacking second one on mediums.
The two Williams had sunk to their natural places at the back by the fourth lap and Russell enlivened things by going for an around-the-outside pass of Kubica at Signes. Robert held firm and Russell's car wouldn't stick, running him out wide and damaging his front wing as he hit a marker board.
Vettel was anxious to get on from his compromised grid slot, but not over-anxious, putting clean out-braking moves into the Mistral chicane on the McLarens of Norris and Sainz on laps five and seven respectively.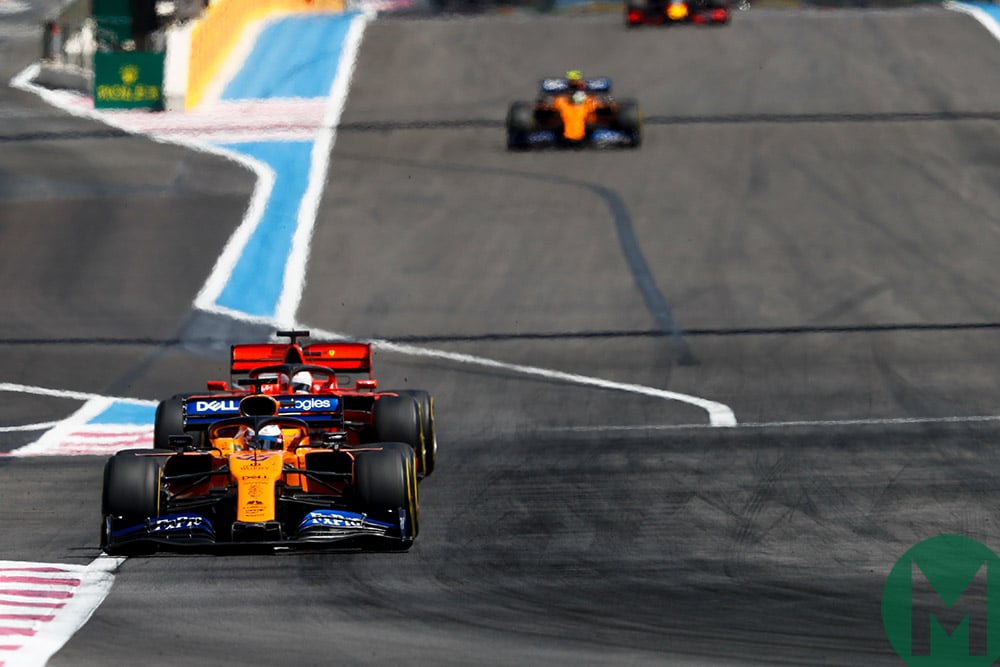 Vettel lines up Sainz Photo: Motorsport Images
As Giovinazzi's softs surrendered early, he was picked off by Ricciardo, Räikkönen and Hülkenberg in quick succession before pitting to the back for a set of hards on lap seven. It had been a brief walk-on part. Gasly would prove a tougher nut to crack, running in eighth and keeping ahead of the Renaults and the Alfa for a long time to come despite the soft tyres. Others to struggle with the rubber, regardless of which compound they were on, were the Haas pair Magnussen and Grosjean who gradually fell back.
Now, snore, it was tyre-conserving time. The pre-race expectation was that it would be a thermally-limited race, ie you had to keep the rear tyres from overheating. On a track temperature of over 55C, that meant a bit of management from the driver. You cannot just go attacking the car ahead of you willy-nilly… Furthermore, without a headwind down the main straight, the DRS was nowhere near as effective as it was here last year. Then a line of rubber marbles began to litter the off-line bits of track, further limiting passing attempts.
This phase of the race saw Hamilton judge his pace on the gap back to Bottas who in turn was able to pull gently away from Leclerc without over-stressing himself too much. Verstappen couldn't run at Leclerc's pace and have his rubber survive to tell the tale, but Vettel's early delays behind the McLarens had left him too far behind the Red Bull to have a hope of reaching it before the pit stop window… So we had a colourful high-speed display of whooshing techno marvels driven by incredibly skilful pilots, guided by software and pit wall strategists. All keeping a respectful distance apart so as to conserve the rubber.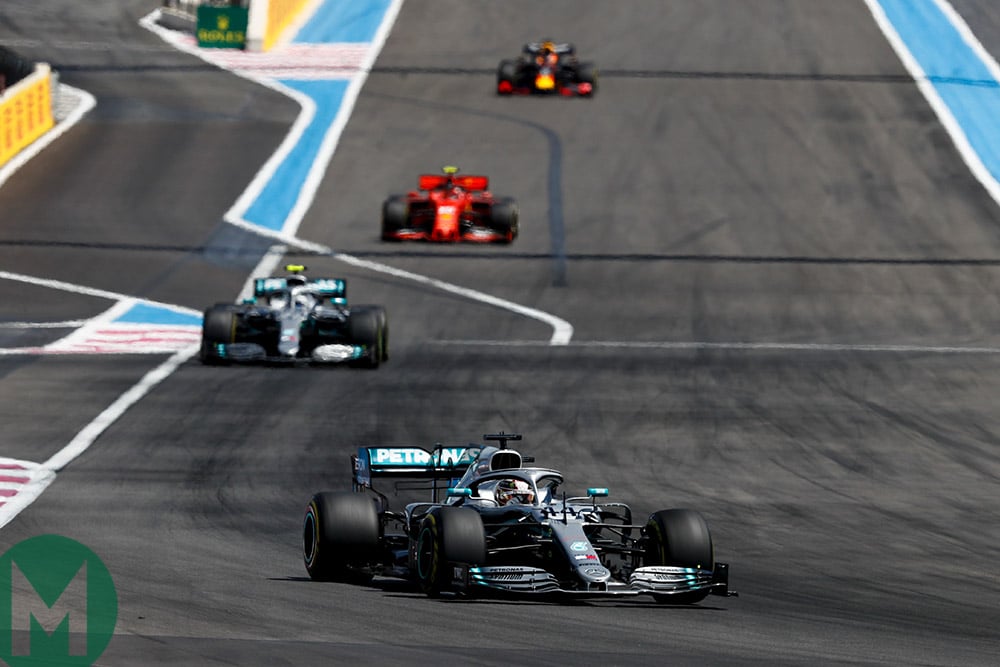 Formation driving in tyre-conservation mode Photo: Motorsport Images
A set of instructions was relayed to Hamilton about light settings for shift points. Then changed. Then changed back again until the driver lost patience: "Make a decision and stick to it." They did. This was just about how to best manage the electrical energy at the pace dictated by the tyres. The power units are so torquey with their combined mechanical and electrical power that it doesn't much matter from a performance point of view if you shift at 9,300 or 11,000 or anything in between. But it does matter to the electrical energy capture.
Sainz, having been warned that his rear tyre temperatures were creeping up, backed off to a slower target lap time. Which brought Norris onto his tail asking if Sainz could be hurried up! When they asked Carlos, they got short shrift. Gasly, on his gradually degrading softs, was doing an effective job of keeping Ricciardo off the backs of the McLarens. While Hulk was trying as hard as he could to find a way around Räikkönen without killing his tyres. "I tried a couple of times down the inside into 11," related Hulk, "and used my energy there but he hung me out to dry. He was faultless."
Renault brought Ricciardo in earlier than planned – on lap 16 – in order to try to undercut past Gasly, thereby surrendering the range advantage of his medium tyres and making him vulnerable later to longer-runners behind. Red Bull brought Gasly in next lap and turned him around swiftly enough that he emerged still ahead, helped by the slow warm-up of Ricciardo's new hard tyres. But the Renault driver finally got ahead next lap, taking advantage of the same slow warm-up of Gasly's hards, to out-brake him into the Mistral chicane.
Gasly's stop and the undercut pressure it applied forced McLaren to bring Norris in first despite being the team car behind. Sainz was brought in for his hards on the next lap and because Norris had exited behind the yet-to-stop Albon, Sainz's position was safe.
Verstappen was in for his hards on the 20th lap. He'd been running 6sec behind Leclerc who, in turn, was 6sec behind Bottas, who was 5.5sec adrift of Hamilton. Lewis was moving around inside the cockpit a little more than he would have liked, as a seat support stay had broken. But it didn't stop him maintaining the required gap over the sister car.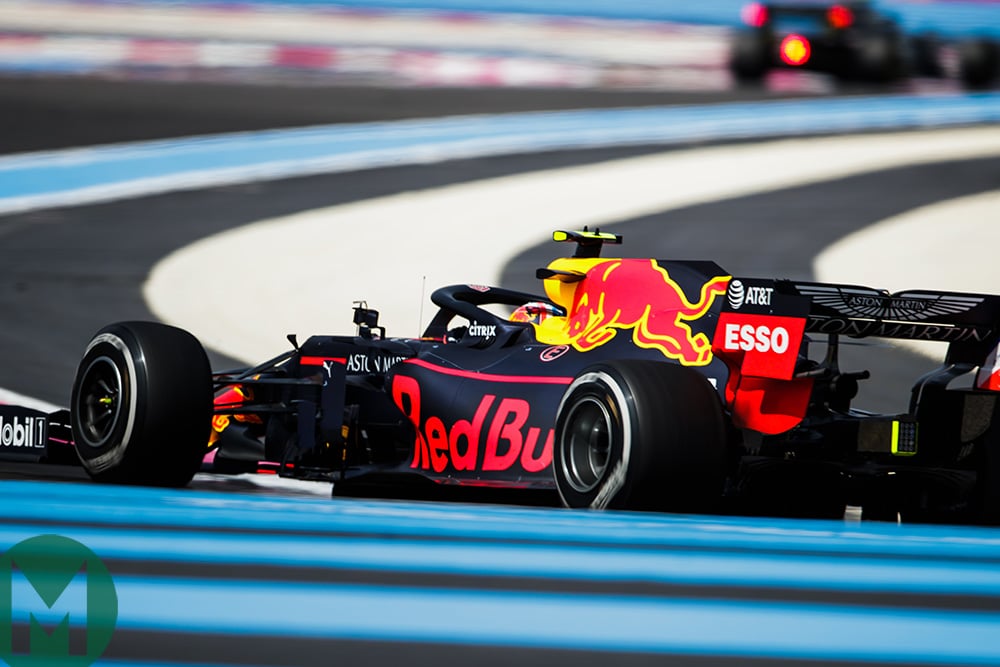 Verstappen maintained position in the pit-stops Photo: Motorsport Images
Leclerc came in on the 21st lap and exited still ahead of Verstappen. Vettel at this time was instructed to do the opposite of whatever Verstappen did – and so stayed out. There was plenty of life left in the medium tyres on the Mercedes and they looked capable of continuing to lap at least as quickly as the new-tyred cars behind. So even as Hamilton pulled out a pit stop's worth of gap over Vettel, he stayed out there. But Bottas was brought in before having cleared Vettel – on lap 23. Why? Because Mercedes was playing it carefully: with that slow warm-up of the hard tyre, they didn't want to bring Bottas out just a couple of seconds ahead of Leclerc on fully warm tyres; they wanted it more like 4sec. Bottas, furthermore, was about to begin lapping the tail end of the field soon, which would have allowed Leclerc to gain quickly. He exited a couple of seconds behind the yet-to-stop Vettel and 4sec ahead of Leclerc.
Hamilton was brought in a lap later and was able to rejoin without losing the lead to Vettel, who finally came in a lap later, rejoining still in fifth, behind Verstappen. "They stopped me, for sure, too early," claimed Hamilton later. "I could have kept going for at least another five, maybe even ten laps; I had a lot of life left still in the tyres." Maybe so – and the times he was running on his new hards were not significantly faster than he'd been going on his old mediums. This would have given him a more comfortable second stint, with hard tyres not required to last as long. But from the team's perspective, it was the logical thing to do, to keep its race as operationally simple as possible, to not introduce a random variable that might, for example, have allowed Bottas to win it on strategy.
Anyway, he now began easing out a gap over Bottas much bigger than that which he'd established in the first stint. Bottas was not as happy with the balance of the car on these tyres as he'd been on the mediums. Leclerc meanwhile has been on a mission to better understand set-up since Montreal. Having succeeded in getting the car right for qualifying, he was super-sensitive in how he looked after the tyres in this second stint. "I was very careful to balance out both axles," he confirmed. As the stint went on, so he edged gradually closer to Bottas.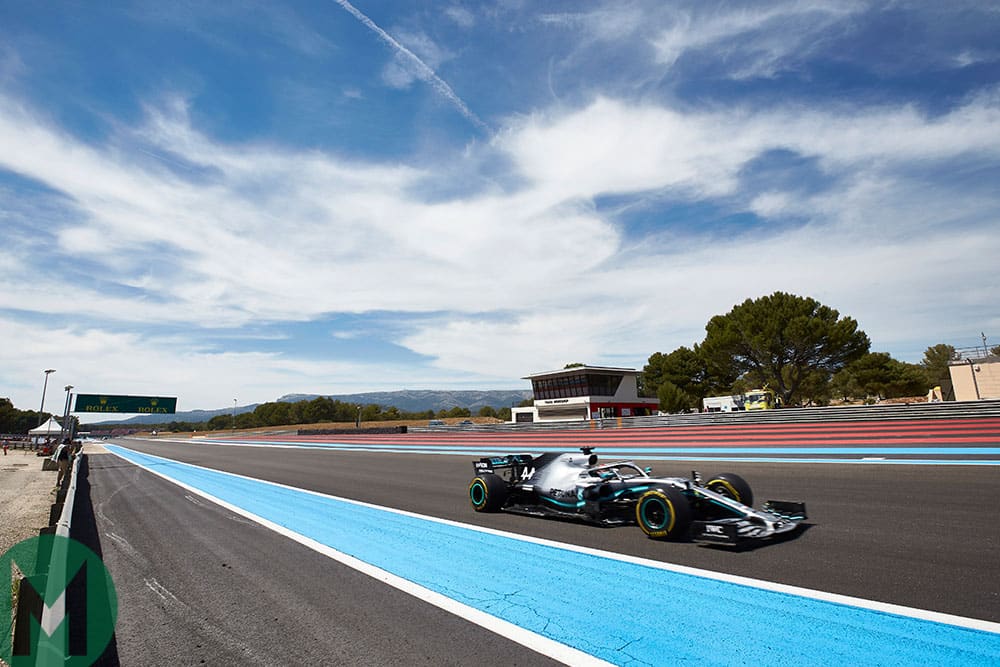 Hamilton (on mediums) extended his lead further with hard tyres Photo: Motorsport Images
After a while, a strip of blisters began to form on the inside front of each Mercedes. Then another on the outside front tyres of both Hamilton and Bottas. It wasn't immediately slowing their pace, but it was an obvious cause for concern. Hamilton thought back to last year here and how, on the same thin-gauge construction, Lance Stroll had suffered a front blow-out through Signes.
The McLarens still held sway behind the big three teams, Sainz still ahead, Norris running just out of his turbulence zone. Ricciardo and Gasly were around 5sec back but suffering delays stuck behind the long-running hard-tyred Grosjean. The hard-tyred Räikkönen and Hülkenberg had still not pitted either. Had Hulk managed to find a way past the Alfa, he might have been able to take advantage of team-mate Ricciardo's compromised strategy. But Kimi remained inch-perfect and immune to pressure. Eventually, Ricciardo's patience ran out and he forced his way past Grosjean at Turns 1-2 but put all four wheels off the circuit in doing so.
Alfa brought Räikkönen in on lap 31, Hulk stayed out for another three laps trying to overcut his way past – to no avail. He exited still behind. Sainz now led a train of cars comprising Norris, Ricciardo, Räikkönen, Hülkenberg, Gasly and Perez. There were in-team battles at Racing Point – with the hard-tyred Stroll running long but never quite getting the required gap over Perez – and Toro Rosso, just behind. Kvyat had made great progress from the back on his hard tyres and had exited behind team-mate Albon on fresher mediums with Albon now on hards. Kvyat tried for a pass around the outside of Signes but Albon didn't budge, remaining on the inside for Le Beausset. Eventually, Kvyat prevailed after slipstreaming his rival and out-braking him into the Mistral chicane.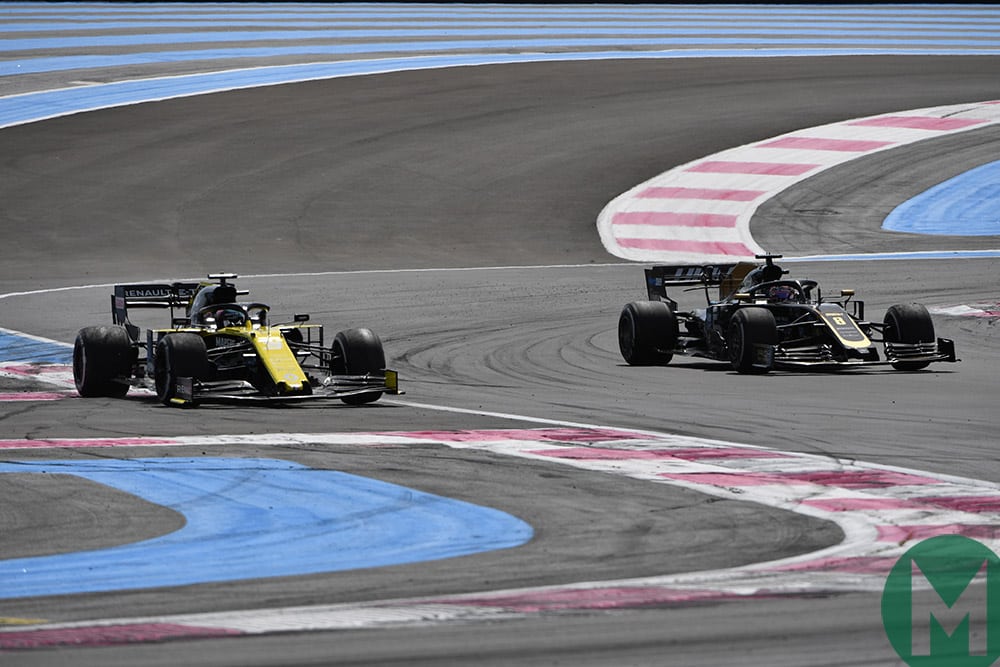 All four wheels off the track as Ricciardo overtakes Grosjean Photo: Motorsport Images
At the back, Russell had got ahead of Kubica but was then forced to make a second stop as the wing damage incurred earlier began to worsen. This allowed Kubica to win this in-team battle for the first time.
As Mercedes were keeping a wary eye on their front tyres and becoming further occupied with managing a misfire that had developed in Bottas' engine, things were yet-more tense at McLaren. Norris began complaining that his diff wasn't pre-loading as he adjusted it. He'd already been told not to use DRS. These were the first symptoms of failing hydraulic pressure. Next, the upchanges became very rough, then the steering became increasingly heavy. And so Ricciardo, Räikkönen and Hülkenberg closed up. It seemed inevitable they'd pass before too much longer but Norris stayed calm and improvised some sort of tune out of it for the time being. Just as Ricciardo was gaining fast on the 49th lap, so he received blue flags to ease leader Hamilton's passage. This gave Norris a brief breather, before he too received the flags, allowing Ricciardo back onto his tail.
A wayward bollard had rolled onto the track and the race was briefly put under the Virtual Safety Car as it was retrieved by a marshal. Bottas, with his misfire and well-worn front tyres, needed to be well clear of Leclerc when the race was underway again. But he'd been over-conservative in meeting his minimum time, expecting the VSC to last longer than the 15sec or so that it did. As the race was declared back on, Leclerc was within DRS range of the second Merc, and with tyres that were in much better shape. Bottas would have to withstand three laps of this if he was to retain the position. Hamilton had extended his gap through Bottas' second stint struggles and was under no threat despite his worn tyres.
Vettel, in fifth, had enough of a gap over Sainz that Ferrari could pit him near the end and fit him with a set of brand-new softs with which to attack the race's fastest lap. Hamilton had the fastest lap up to this point and was up for trying to retain it despite his 30-lap old hard tyres. Given permission to use the necessary engine modes, he was faster than Vettel in the second sector… Vettel was not given the highest modes – just as in Q3. "We had a slight battery issue that didn't allow us," he admitted reluctantly. It made a difference of around 0.2sec. A Ferrari on new softs should still have comfortably been able to eclipse a Merc on such old rubber. With one sector of the final lap to go, it couldn't be called which of them was going to take the award and the extra one point.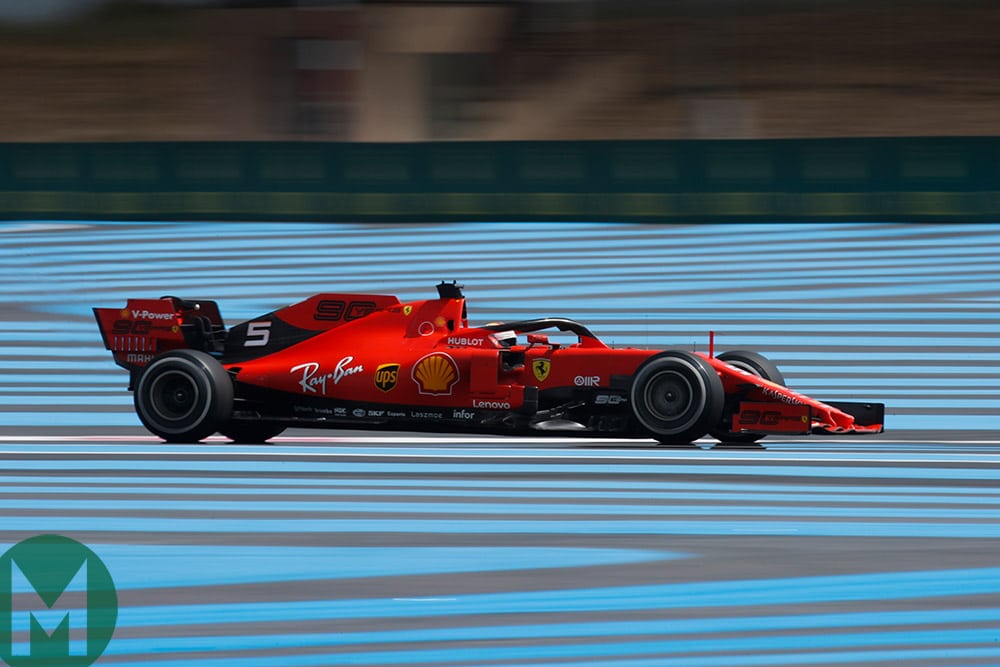 Vettel had the gap to aim for the fastest lap Photo: Motorsport Images
Meanwhile, into this last lap, Norris was still withstanding Ricciardo's pressure on his seventh place. Finally, the Renault got a run going around the McLaren's outside into the Mistral chicane but, as with his earlier move on Grosjean, had all four wheels off the track. Norris refused to surrender and tried to pincer Ricciardo in, but ran off wide as he did so, allowing Räikkönen and Hülkenberg to go past them both. A drag race between there and Signes ensued, with Räikkönen over to the extreme right of the track as defined by the white lines, Hülkenberg trying for the left – and Ricciardo going by with all four wheels off the track again! "When the track's so wide you have to improvise a little," said Ricciardo afterwards after being told he was under investigation by the stewards. "To be honest whatever happens I don't really care. I think it was fun and it's better to have a fight and see what happens than to just sit behind and be a loser."
Hamilton crossed the line for his 79th career victory. Eighteen seconds behind, Leclerc made one last desperate lunge on Bottas into the final corner, but from too far back for it to work. Bottas remained ahead. Another 18sec behind, Verstappen recorded his usual fourth place and, as Vettel crossed the line for fifth, he took the fastest lap by the margin of just two hundredths. Sainz was best of the rest from Ricciardo, Räikkönen, Hülkenberg and Norris. Sometime later Ricciardo was awarded ten seconds-worth of penalties, five seconds each for the Norris and Räikkönen off-track passes. This dropped him to an official 11th place, one behind Gasly.
"I don't think we got all the answers [to our issues] from this weekend," said Ferrari's Mattia Binotto. "Because the new floor not working properly gives us a lack of answers. So we will still work on that one and have some test items again in Austria and try to better understand and I think we will fully understand when all the parts will properly work as expected."
We must all hope, like Hamilton, that Ferrari finds something soon.
---
Read more
---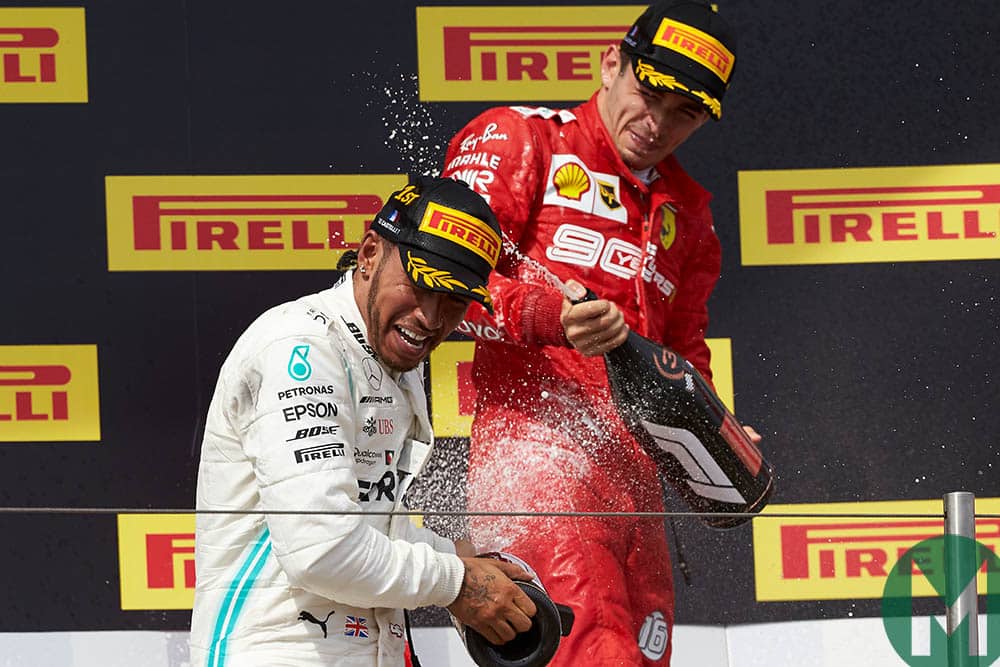 Photo: Motorsport Images
2019 French Grand Prix results
| | | | | |
| --- | --- | --- | --- | --- |
| Position | Driver | Team | Time | Points |
| 1 | Lewis Hamilton | Mercedes | 1hr 24min 31.198sec | 25 |
| 2 | Valtteri Bottas | Mercedes | +18.056sec | 18 |
| 3 | Charles Leclerc | Ferrari | +18.985sec | 15 |
| 4 | Max Verstappen | Red Bull | +34.905sec | 12 |
| 5 | Sebastian Vettel | Ferrari | +62.796sec | 11* |
| 6 | Carlos Sainz | McLaren | +1 lap | 8 |
| 7 | Kimi Räikkönen | Alfa Romeo | +1 lap | 6 |
| 8 | Nico Hülkenberg | Renault | +1 lap | 4 |
| 9 | Lando Norris | McLaren | +1 lap | 2 |
| 10 | Pierre Gasly | Red Bull | +1 lap | 1 |
| 11 | Daniel Ricciardo** | Renault | +1 lap | 0 |
| 12 | Sergio Perez | Racing Point | +1 lap | 0 |
| 13 | Lance Stroll | Racing Point | +1 lap | 0 |
| 14 | Daniil Kvyat | Toro Rosso | +1 lap | 0 |
| 15 | Alexander Albon | Toro Rosso | +1 lap | 0 |
| 16 | Antonio Giovinazzi | Alfa Romeo | +1 lap | 0 |
| 17 | Kevin Magnussen | Haas | +1 lap | 0 |
| 18 | Robert Kubica | Williams | +2 laps | 0 |
| 19 | George Russell | Williams | +2 laps | 0 |
| RET | Romain Grosjean | Haas | | 0 |
*Includes point for fastest lap
**Includes two five-second penalties
F1 drivers' championship after Race 8 (France)
| | | | |
| --- | --- | --- | --- |
| Position | Driver | Team | Points |
| 1 | Lewis Hamilton | Mercedes | 187 |
| 2 | Valtteri Bottas | Mercedes | 151 |
| 3 | Sebastian Vettel | Ferrari | 111 |
| 4 | Max Verstappen | Red Bull | 100 |
| 5 | Charles Leclerc | Ferrari | 87 |
| 6 | Pierre Gasly | Red Bull | 37 |
| 7 | Carlos Sainz | McLaren | 26 |
| 8 | Kimi Räikkönen | Alfa Romeo | 19 |
| 9 | Daniel Ricciardo | Renault | 16 |
| 10 | Nico Hülkenberg | Renault | 16 |
| 11 | Kevin Magnussen | Haas | 14 |
| 12 | Lando Norris | McLaren | 14 |
| 13 | Sergio Perez | Racing Point | 13 |
| 14 | Daniil Kvyat | Toro Rosso | 10 |
| 15 | Alexander Albon | Toro Rosso | 7 |
| 16 | Lance Stroll | Racing Point | 6 |
| 17 | Romain Grosjean | Haas | 2 |
| 18 | Antonio Giovinazzi | Alfa Romeo | 0 |
| 19 | George Russell | Williams | 0 |
| 20 | Robert Kubica | Williams | 0 |
F1 constructors' championship after Race 8 (France)
| | | |
| --- | --- | --- |
| Position | Team | Points |
| 1 | Mercedes | 338 |
| 2 | Ferrari | 198 |
| 3 | Red Bull | 137 |
| 4 | McLaren | 40 |
| 5 | Renault | 32 |
| 6 | Racing Point | 19 |
| 7 | Alfa Romeo | 19 |
| 8 | Toro Rosso | 17 |
| 9 | Haas | 16 |
| 10 | Williams | 0 |