Description
Own the legend
Limited edition 'Stirling Moss' signed large scale 1:18 Mercedes-Benz 300SLR Mille Miglia model car boxed set.
Beautiful 722 livery box measuring 12 x 10 inches containing fabulously detailed model car, presented on a display base with plaque, hand signed by Stirling Moss.
The 1955 Mille Miglia was a 1,000 mile race held on a course made up entirely of public roads around Italy. This race was won in the Mercedes-Benz factory prepared 300 SLR, which was numbered #722, reflecting the time in the morning Stirling Moss and Denis Jenkinson left the start. Moss and Jenkinson had prepared a revolutionary set of pace notes on a long roll of paper inside an alloy and Perspex case. It was their team work which gave them their record average speed (97.90) for the 992.329 miles; a record which will never be broken, nor matched in terms of driving ability.
Our 'quick-silver' box set, features a '722' branded presentation box containing a 'mirror' display base, a 1/18 scale Mercedes-Benz 300SLR model, and plaque signed by Sir Stirling Moss, along with a photo Certificate of Authenticity.
The perfect gift or addition to your quality collection.
Racing success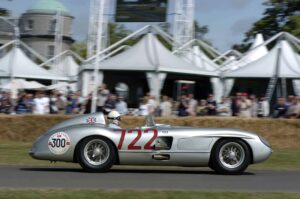 Winner, 1955 World Sportscar Championship
Winner, 1955 Mille Miglia, Brescia-Rome, Italy (Moss/Jenkinson)
Winner, 1955 RAC Tourist Trophy, Dundrod Circuit, Ireland (Moss/Fitch)
Winner, 1955 Targa Florio, Circuito delle Madonie Piccolo, Italy (Moss/Collins)
Winner, 1955 Swedish Grand Prix, Kristianstad, Sweden (Juan Manuel Fangio)
Winner, 1955 ADAC-Eifel-Rennen, Nürburgring, Germany (Juan Manuel Fangio)
Own the limited edition of one of the most legendary sports cars in history today