When you arrive at the Goodwood Revival this week you maybe intrigued, depending on your age, by a banner on the footbridge that leads from the car parks to the circuit.
'Dan Gurney for President' it exclaims, stirring memories of a campaign that began in America and spread across the ocean to Europe in the 1960s. So great was Gurney's popularity at the time that the Editor-in-Chief of Car and Driver magazine David E. Davis Jr launched a campaign to get Daniel Sexton Gurney elected to the White House.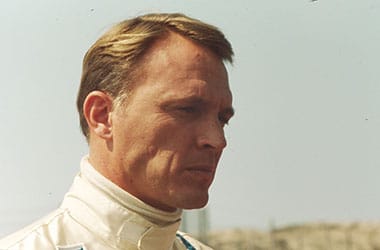 In May 1964, soon after Gurney had qualified for the Indianapolis 500, Mr Davis exhorted his readers to keep Senators Goldwater, Rockefeller and Nixon out of the White House where President Lyndon Johnson had reached the end of his term. David described the candidates as an assortment of "poltroons, charlatans, earnest amateurs and fuzzy idealists." Strong stuff.
"Who could possibly be better suited to champion our cause than Daniel Sexton Gurney?" he wrote, " he goes like the wind, he can drive anything better than most anybody. He has the enduring love of 300,000 fans at Indianapolis. His name inspires countless stock car partisans in the Southeast. He is the patron Saint of American sports car racing. European GP aficionados speak his name in the most reverent tones imaginable. He has become a legend in his own time."
This is only very slightly exaggerated. Gurney was in his second season with the Brabham Grand Prix team in Europe, coming sixth in the World Championship. In 1966 he formed his own F1 team, All American Racers, and went to score a famous victory in his Eagle-Weslake at Spa in 1967.
As far as most Americans were concerned, he was he was an Indy racer, a true American hero with film star looks and much charismatic appeal as he was a quiet man, less extrovert than many American drivers. David E. Davis was moved to describe him as being "handsome enough to be a film star and as brave as Dick Tracy". Great stuff, and the readers loved it, buying bumper stickers and badges in support of the campaign.
After qualifying at Indy in '64 none other than Jim Clark wore a Gurney badge and gave his support to the 'Gurney for President' campaign. "If he gets elected, he won't have time to come to Europe and run against me," quipped Clark. High praise indeed from one of the very greatest racing drivers of all time.
You too can wear a red, white and blue Gurney badge at the Goodwood Revival. The badges, and the stickers, cost £1 each with all proceeds going to The Fly Navy Heritage Trust, the official charity of the 2012 Revival.
Have fun, wear your badge, and don't miss seeing the man himself. One of the highlights of this year's event will be a tribute to Dan Gurney and his achievements as a driver and engineer. On the grid will be 24 of the cars that he raced including the Eagle, a Shelby Cobra and and of course a Ford GT40. Should be a great weekend. See you there.