"Now I have some days to think about this crash, to try to understand how to improve myself, because I can't win the championship with these mistakes. Maybe it's time to be more mature."
Bagnaia's exit handed Bastianini a 2.2 second lead, which he didn't need to increase but he was comfortably faster than Miller during the final laps.
After the race Bastianini was his usual self – remarkably chilled, like he'd just been out for a gentle Sunday ride, laughing and joking with his fellow podium finishers Miller and Aleix Espargaró.
This was particularly impressive considering he had crashed three times during the weekend, including once in morning warm-up – and yet his confidence had remained rock solid
"I think I stayed calm in the first part of the race," he said. "I didn't have a strategy, but it was important for me to learn something when I was behind Pecco, because all weekend he was faster than me in two parts of the track. When I changed my lines I closed the gap."
In other words Bastianini is still very much in learning mode, which must be a worry for his more experienced rivals. Although there's not much difference between the GP22, used by Ducati's factory and Pramac riders, and the GP21 that Bastianini rides, there is a big difference between the GP21 and the GP19 he rode last year so he's still trying to extract the maximum from the bike.
Miller, who crossed the finish line 2.7 seconds down for his second podium of 2022, was mightily impressed by the winner's pace
"This little bastard is always strong at the end of races," he laughed, looking across at Bastianini during the post-race media conference, which he attended bootless, after launching them into the Le Mans throng. "He has done it more than twice; he's done it plenty of times. He's got good drive, he's good on the tyres. He worked it well, rode a perfect race and didn't make any mistakes."
"All my wins are because I'm fast in the last part of the race and I don't know why"
The Australian was particularly impressed by Bastianini's corner-entry speed and thought (probably hoped) it would be his undoing.
"He started firing it in a bit deep. I saw him towards the end of the race at Turn 8, getting close to the kerb. You can see when someone does that, because their body goes a bit central. I thought finally he might be struggling with the front, meanwhile I'd been struggling with my front for about five laps."
Miller was the only top-four finisher to use the soft front after two crashes in practice with the medium.
"I crashed every time I used the medium – two from two, so I didn't want to make it three from three in the race," he added. "The soft was moving a bit more but I was getting a good reading [feeling] from it, so I could understand where I could push and where I couldn't."
Bastianini's natural ability allowed him to feel what the medium was doing.
"Enea's secret is a lot of confidence with the front tyre," said his crew chief Alberto Giribuola, Andrea Dovizioso's former right-hand man, who has guided more Ducati riders to wins that anyone else since the days of Casey Stoner. "His riding style uses the front a lot in entry, which the saves the rear for the exits.
"This is a double secret, because if you gain a lot in the second part of braking into the corner [on angle] you can stop the bike better and turn better, then you can stand up the bike sooner, so you don't have to accelerate so much on the edge of the tyre, so you don't use the rear tyre so hard.
"When Enea can't find that front feel then we struggle a bit more and he's like the other riders, but many times we start a weekend with some front problems but we find the way to get the feeling for the race."
On the other hand, it all seems to come naturally to Bastianini. "All three of my wins are because I'm always fast in the last part of the race and I don't know why," he grinned.
During the last few months Miller, Bastianini and Pramac's Jorge Martin have been in competition for the second 2023 factory Ducati seat, alongside Bagnaia, who is already signed up.
Martin is a huge talent but he's having a horrible second year in MotoGP – five crashes from seven races – while Miller has scored two podiums to Bastianini's three wins.
Asked (for the umpteenth time) what are his chances of holding onto his factory ride for 2023, Miller shrugged his shoulders and had this to say, "Put two and two together – Enea has won three races, he's doing a fantastic job and he's Italian… makes sense doesn't it?".
Espargaró's fourth podium in five races – 1.4 seconds behind Miller – confirmed his championship credentials for anyone still unconvinced by Aprilia's transformation from MotoGP also-ran to title contender. He now stands second in the title chase, just four points behind Fabio Quartararo, with whom he fought throughout most of Sunday's race.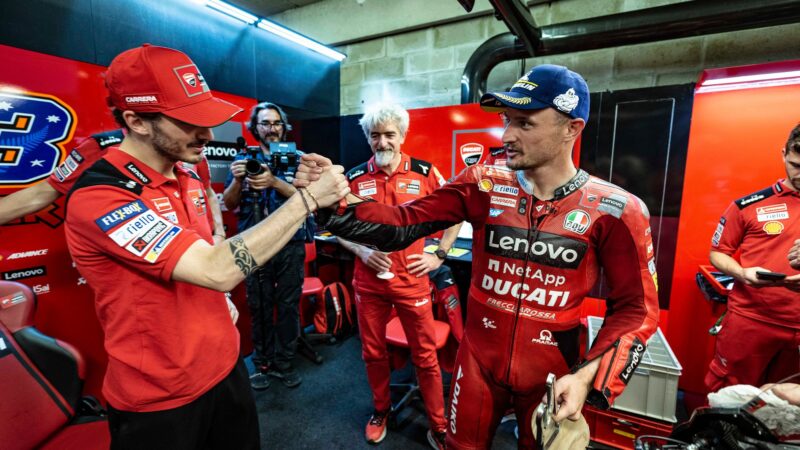 Once again Espargaró was just about lost for words after yet another podium, like he feels like he's about to wake up from a dream.
"I have no words, sincerely," he said. "I have no explanation of what's happening, I don't understand! I'm enjoying this year a lot because the bike I have is the bike I've always dreamed of."
The Argentine GP winner might have been able to give Miller a harder time if not for the usual front-tyre pressure issues.
"The track was very slippery, so it was difficult to go very fast but avoiding a crash was the key," he added. "Every time I got close to Jack I started to have a lot of movement from the front and I saw on the dash that the front tyre was on fire, so I said, OK, let him go, about half second and stay there.