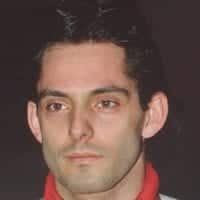 Alex Caffi
Alex Caffi was one of a number of highly touted Italians who broke into Formula 1 in the late 1980s – promising much but ultimately unable to deliver sustained success. Six seasons at the "poor end" of the pitlane saw to that.
Early racing career 
A graduate of karting and Italy's junior formulae, Caffi made his Formula 3 debut with Euroteam's Ralt RT3-Alfa Romeo in 1984 – challenging for the Italian Championship until a blown engine at the final round. He finished as runner-up to Alessandro Santin that year who he replaced in Enzo Coloni's team for 1985.
Runner-up again in Italy, his Dallara F385-Alfa Romeo won the one-off race at Paul Ricard that decided that season's European F3 Champion. His third and final F3 campaign was with Venturini. A disappointing third in the Italian Championship, he finished second in the European Cup at Imola.
Formula 1 promise with Osella and Dallara 
But Caffi made a promising F1 debut in the 1986 Italian Grand Prix with Osella and he remained with the Italian minnows for the following season. 1987 was spent at the tail-end of the field but still drew positive comment nonetheless.
Two seasons with BMS Scuderia Italia's Dallara-Fords were his best in F1. The team switched to Pirelli tyres for 1989 and Caffi impressed on those occasions when the Italian rubber had a distinct advantage. Fourth at Monaco and third in Hungarian qualifying, his greatest day as an F1 driver was in the United States GP. Caffi ran second in Phoenix's baking heat before team-mate Andrea de Cesaris collided with him.
Disappointing end to his Formula 1 career 
He moved to Arrows for 1990 and finished fifth at Monaco. But that was a rare highlight and his second season with the team was blighted by the uncompetitive and heavy Porsche engine. He was also in the wars during the spring of 1991. Two weeks after emerging unscathed from a substantial accident while practising before the Monaco GP, Caffi broke his jaw in a road accident. He missed four races as a consequence and then struggled to regain his form. A once promising career fizzled out with a succession of DNQs including two attempts with the hopeless Andrea Moda team in 1992.
Caffi has since raced in saloons and sports cars – finishing fifth with a Mazda MXR01 at Donington Park's 1992 World Sportscar Championship race, winning a 1995 Spanish touring car race for Opel and finishing sixth in the 1999 Le Mans 24 Hours with a works Courage C52-Nissan.
A GT champion in both France (2002) and Italy (2006), his Skoda Fabia finished 11th on a surprise appearance in the 2011 Monte Carlo Rally. Caffi retired a Fiat Pandakar 4 x 4 from the following year's Dakar event in South America as he continued to experiment with other forms of the sport.