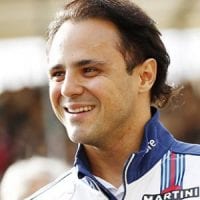 Felipe Massa
The 2008 Brazilian Grand Prix provided the most contrasting of emotions for this popular and longstanding Formula 1 driver. Victory appeared to have delivered the World Championship for Ferrari until Lewis Hamilton's last gasp pass of Timo Glock snatched the crown. Champion for 20 seconds or so, Felipe Massa reacted with impressive dignity. That proved to be the highlight of his eight years at Ferrari – half of which were spent in Fernando Alonso's considerable shadow.
Karting and an unconventional route to the top 
Of Italian decent, the eight year old Massa began racing karts in São Paulo and he competed both at home and abroad for the next seven years. His move into car racing followed in the 1998 Brazilian Formula Chevrolet Championship, a title that Massa won a year later.
He moved to Europe in 2000 to drive for Marcello Rosei's Cram Motorsport Formula Renault 2.0 team. It was a successful transition for Massa won seven times to clinch the Eurocup and Italian titles at the first attempt – beating Raffaele Giammaria on "countback" in the latter despite missing two rounds.
Massa jumped straight into the 2001 Euro 3000 Series with the Draco Junior Team for another successful campaign. He won six of the eight rounds to add another, dominant championship victory. He also started four European Touring Car Championship races that year with a Nordauto Alfa Romeo 156 – finishing fifth at Estoril in October. Formula 1 was already on Massa's horizon by that time for he had completed five days testing at Mugello driving a Sauber C20-Petronas.
Formula 1 – erratic debut season with Sauber 
Announced as Nick Heidfeld's Sauber team-mate for the 2002 F1 World Championship despite his relative inexperience, he began with crashes and points finishes in equal measure. Fifth in Spain and sixth in both Malaysia and the European GP illustrated Massa's promise. But it was an erratic and error-strewn campaign that included sanction after he crashed into Pedro de la Rosa at Monza. The resulting 10 place grid penalty led to Heinz-Harald Frentzen replacing Massa for the United States GP as Sauber chased fourth in the points.
Frentzen rejoined Sauber on a fulltime basis in 2003 and Massa spent the season as Ferrari's test driver. Time out of the limelight while learning his trade with the reigning champions helped this wild young Brazilian tame some of his excesses.
It was a more mature Massa who returned to Sauber in 2004. The incidents were less frequent and he showed well alongside the highly-rated Giancarlo Fisichella. Fifth in Monaco, he finished fourth at Spa-Francorchamps despite contact with two different rivals during the opening lap alone. He ended the season by qualifying fourth in Brazil before leading a couple of early laps in front of his home crowd.
Massa remained with Sauber-Petronas for 2005 and generally outperformed team-mate and former World Champion Jacques Villeneuve. He held off Mark Webber's Williams-BMW to finish fourth in Canada to match his best result so far.
Massa's Ferrari career – so nearly World Champion 
He moved to Ferrari in 2006 to replace Rubens Barrichello as Michael Schumacher's team-mate. That his manager (Nicolas Todt) was the son of the team's Director General cannot have harmed Massa's cause but it appeared a risky appointment by the Scuderia. However, Massa and Schumacher developed a strong bond in their single season together. On the front row for his debut with the team in Bahrain, he scored first podium finishes at the Nürburgring (third), Indianapolis and Hockenheim (both second). Massa then converted pole position in Istanbul into his maiden Grand Prix victory. He completed an impressive season with pole position in Japan and Brazil – finishing second at Suzuka before scoring a famous victory at Interlagos. F1's former wild child was third in the 2006 World Championship.
Schumacher retired at the end of the season to be replaced by Kimi Räikkönen. Both Ferrari drivers battled McLaren's Lewis Hamilton and Fernando Alonso for the 2007 championship amid the acrimonious "Spygate" affair. Massa won in Malaysia, Bahrain and Turkey and recorded his sixth pole position of the season for the final round in Brazil. Räikkönen led Massa in a Ferrari 1-2 that day to snatch the title from McLaren with the supportive Brazilian fourth in the final standings.
That Massa was now a regular factor was emphasised in 2008 when he nearly won the World Championship. He eclipsed Räikkönen and challenged Hamilton for the title – winning in Bahrain, Turkey, France, Europe and Belgium. Crucially, another victory in Singapore was lost in a botched pitstop. Hamilton just needed to finish the Brazilian finale in fifth position to become World Champion but a late rain shower through the race into chaos. Massa converted pole position into victory with Hamilton only sixth as he entered the last lap. With Ferrari and Massa celebrating, Hamilton passed Glock's dry shod Toyota for fifth on the very last corner. A disconsolate but justifiably proud Massa lost the title by a single point.
The Hungarian accident and life in Alonso's shadow
Massa struggled to match that form in 2009 and third in Germany was his first podium of the season. He was lucky to survive a 160mph qualifying accident next time out in Hungary when hit on the helmet by a suspension spring that had fallen off Barrichello's Brawn-Mercedes. The unconscious Massa crashed straight into the barriers with serious head injuries that forced him to miss the rest of the season.
Well enough to wave the chequered flag at the 2009 Brazilian GP, Massa returned to Ferrari in 2010 with Fernando Alonso now his team-mate. The campaign began with Alonso leading Massa to a 1-2 in Bahrain and that the Spaniard was the team's number one driver was confirmed amid controversy in Germany. Massa was seemingly on course for victory before he let his team-mate pass him and win ("Fernando is faster than you; can you confirm you understood that message?") despite team orders being outlawed at the time. Alonso just failed to beat Red Bull's Sebastian Vettel in that year's title fight with Massa a disappointing sixth overall – a pattern that would repeat itself all-too-often for their four seasons together.
Design of the new Ferrari F150° Italia proved too conservative to challenge in 2011, although Alonso managed to win the British GP at Silverstone. In contrast, Massa's lacklustre form continued and repeated accidents with Hamilton's McLaren further darkened his mood. He was a distant sixth overall after finishing no higher than fifth all year.
While Alonso nearly wrestled the title from Vettel's grasp in 2012 thanks, Massa struggled for much of the campaign. With rumours surrounding his Ferrari future rife, it was Monaco before the Brazilian qualified in the top 10. However, late podium finishes in Japan (second) and Brazil (third) at least elevated him to seventh in the standings.
That late season improvement earned a contract for 2013 for what would be his eighth and final season as a Ferrari driver. Alonso was again Vettel's closest (if distant) challenger with Massa mired down in eighth overall – third in Spain his final podium finish for the Scuderia.
Formula 1 with Williams 
Replaced by the returning Räikkönen for 2014, Massa signed for the resurgent Williams team. With Martini sponsorship and Mercedes engines, the move re-invigorated Massa. Fastest lap before a violent last-lap crash confirmed promise in Canada and Massa qualified on pole position at the next race in Austria (his first since 2008). Team-mate Valtteri Bottas may have been the more consistent podium finisher but Massa then finished third in Italy and Brazil and almost won the final round in Abu Dhabi. Second that day clinched seventh in the championship as Williams-Mercedes confirmed its place as F1's third best team of 2014.
In 2015, Williams continued to duel with Ferrari and Red Bull to be best of the rest behind the dominant Mercedes-Benz team of Lewis Hamilton and Nico Rosberg. Third in Austria and Italy saw Massa return to the podium on the way to a strong sixth in the final standings. Massa and Bottas convincingly led at the start of the British GP before a conservative strategy saw both Williams' passed by Hamilton and Rosberg in the pitstops that day.
Massa began his third and final season with Williams by finishing in the top 10 for the first GPs although he was eventually eclipsed by Bottas. He failed to score a podium for the first time since 2011 and announced that he was retiring from F1 at the Italian GP. The emotional scenes after the finish at Interlagos were typical Massa but was soon reconsidering his decision to leave F1.
When new champion Nico Rosberg shocked F1 by announcing he was quitting the sport immediately, Bottas was announced as his replacement in January. In need of an experienced driver to partner Lance Stroll in 2017, Williams enticed Massa to stay for one more season. The Brazilian generally outperformed his young team-mate but it was Stroll who delivered Williams' only podium in Azerbaijan. He finished sixth in two of the first three races but those proved the best results of his final F1 season.
Formula E with Venturi
He started a couple of Brazilian stock car races during 2018 before joining the Venturi Formula E team for season five of the all-electric series. Massa struggled to adjust at first but scored points in both México City and Hong Kong. He then finished third in Monte Carlo – his first Formula E podium finish – as he claimed 15th overall. Massa crashed in Santiago and during race one at New York as reliability issues hindered Venturi's cause.
The following season was more difficult and Massa slumped to 22nd in the championship. He announced he would not be exercising his option to stay on with the team for the 2021 season.