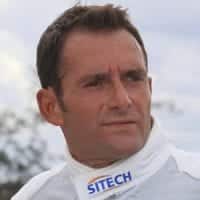 Gianni Morbidelli
Quick in Formula 3 and a race winner in Formula 3000, Gianni Morbidelli was groomed by Ferrari as a potential Grand Prix star. He made one start for the Scuderia but bowed out of Formula 1 after 67 largely unproductive starts.
Championship success in karting and cars
The son of a world championship-winning motorcycle manufacturer, Morbidelli was more at home on four-wheels. 1985 Formula K European Karting Champion, he graduated to Formula 3 in 1987. The Italian title followed at the third attempt when driving a Forti Corse Dallara F389-Alfa Romeo. His promise was emphasised by finishing fourth at Monaco and winning the end-of-season European F3 Cup at Misano.
Signed as Ferrari's test driver for 1990, his F3000 season in Forti's Lola T90/50-Cosworth included victory at Enna-Pergusa. Further podium finishes at Pau and Nogaro (the latter from pole position) clinched fifth in the standings.
Formula 1 includes a points finish for Ferrari
He also made his Grand Prix debut that year when substituting in Emanuele Pirro's Dallara BMS190-Cosworth. He failed to qualify in Phoenix, finished 14th in Brazil and ended the year by replacing Minardi's Paolo Barilla for the final two races.
He remained with the Italian minnows in 1991 and qualified his Minardi M191-Ferrari in a fine eighth in San Marino and Japan. The season ended with a dream opportunity with Ferrari in the torrential Australian rain. Replacing the sacked Alain Prost, Morbidelli's Ferrari 643 was running sixth when the race was stopped early with half points awarded.
He spent 1992 trying to develop the recalcitrant Minardi M192-Lamborghini and Morbidelli's F1 career appeared over when overlooked in favour of a better funded driver for the following season.
Grand Prix return with Footwork Arrows and Sauber
He bided his time in Italian touring cars before returning to F1 with the Footwork Arrows team in 1994. The Ford-powered FA15 proved an unreliable beast at the start of the year but drivers Christian Fittipaldi and Morbidelli avoided first-lap carnage at Hockenheim to finish in fourth and fifth positions. The Italian then inherited sixth in Belgium after Michael Schumacher was disqualified.
Retained to lead the team in 1995, Morbidelli finished sixth in Canada shortly before being replaced by Max Papis and much needed sponsorship. He did return for the final three GPs and finished in a career-best third position in Australia – his Footwork FA16-Hart two laps behind the winner after a race of attrition.
Morbidelli returned to F1 for a final time when replacing Nicola Larini with Sauber-Petronas early in 1997. He missed three races after breaking his left arm testing at Magny-Cours and the campaign (and his F1 career) ended when he broke his wrist during practice for the Japanese GP.
Career after Formula 1
He joined Volvo's 1998 British Touring Car Championship squad and has continued to compete in saloons and national GTs. A season in the 2006 World Touring Car Championship included a couple of second place finishes with N-Technology's Alfa Romeo 156 and Morbidelli won the Italian Superstars title for Audi Sport Italia in 2007, 2009 and 2013.
Morbidelli competed against fellow ex-F1 drivers in the Middle East-based Speedcar Series and won the 2008/09 title before the series was abandoned. A single season back in the WTCC in 2014 with Münnich Motorsport's Chevrolet Cruze included victory in Hungary. Morbidelli then raced for West Coast Racing in the first three seasons of the new TCR International Series. A race winner each year, he finished fourth overall with a Honda Civic in the inaugural 2015 campaign, and was sixth in the standings in 2016 and 2017 (having switched to a Volkswagen Golf GTi that latter year).
He drove Team Mulsanne's Alfa Romeo Giulietta TCR at the start of the 2018 World Touring Car Cup. Having not scored a point during the first half of the season, Morbidelli was replaced after the Race of Portugal at Vila Real.
Morbidelli returned to West Coast Racing's Volkswagen in the European TCR Series in 2019 and was 13th in the points having finished fifth on three occasions.