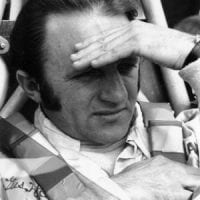 Gus Hutchison
Motor racing was only ever a hobby for this successful entrepreneur. A chemistry graduate of the University of Georgia, Gus Hutchison moved to Dallas in 1962 and founded Chemscope with an initial investment of $750. Within five years the chemical manufacturing company was turning over in excess of $1million.
Early racing career
His early racing exploits during 1958 were with an old MG but he was driving an Elva Courier when he won his first race at Tuskeegee a year later. He competed on a shoestring budget at the time and camped at the circuits to conserve his meagre funds.
With success in business came a move into Formula Junior with a Lotus 20 and Hutchison won the 1964 South-western regional title. He started his first professional race in 1966 before acquiring a Lotus 41B for what would be his most successful season in the sport.
National Champion and Formula 1 driver
Formula A – a category that would later become Formula 5000 – was introduced in 1967 and Hutchison's Lotus dominated by winning four out of the five qualifying rounds. He also formed Hutchison Racing Engines that year to prepare twin-cam engines for the SCCA's professional categories.
A rule change led to Hutchison briefly leaving the sport but he returned for the final Formula A race of 1969 when he was second at Sebring. He bought an ex-Jacky Ickx Brabham BT26A-Ford with which he finished as runner-up in the 1970 standings and made a one-off Grand Prix start at Watkins Glen that autumn. He qualified the car 22nd for the United States GP but retired when his fuel tank fell off.
Another couple of seasons in F5000 followed before Hutchison stopped racing to form Solar Kinetics in 1975. The professional lighting manufacturer that harnessed solar power is now called KW/2 Prime Time Lighting and Hutchison remains its President today.