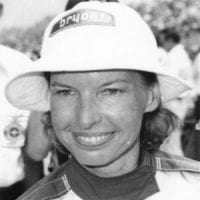 Janet Guthrie
Before 1977 and Janet Guthrie, the 500-mile races at Daytona and Indianapolis had exclusively been male domains. But Guthrie started both events that year and forced Indianapolis Motor Speedway President Tony Hulman to amend one of racing's most famous commands to "in the company of the first woman ever to qualify at Indianapolis – gentlemen start your engines."
Background and motor racing debut
The daughter of an airline operative and always fascinated by flight, she graduated from the University of Michigan with a degree in physics. Having failed to become a NASA astronaut, she turned to racing for her thrills in 1962 with a Jaguar XK120. A decade of SCCA events followed and included victory in the Bridgehampton's 1969 endurance race with an Austin Healey 3000.
Still an amateur racing driver, Guthrie worked as a development engineer in the aerospace industry and then as a flying instructor. But she chose motor racing as her full-time profession in 1972 and made her debut in both Indycars and NASCAR four years later.
Pioneer in Indycars and NASCAR
She retired a Vollstedt-Offenhauser on her debut in the 1976 Trenton 200 and did not qualify at Indianapolis. A couple of 15th-place finishes were her best results from five NASCAR races that year in Lynda Ferreri's Chevrolet. 12th in the 1977 Daytona 500 with the Kelly Girl-sponsored car, Guthrie qualified a Bryant Air Conditioning Lightning in 26th position for the Indianapolis 500. She retired after just 27 laps when her Offenhauser engine broke but history had been made.
It was a similar story in another two Indycar starts that year but she was sixth in NASCAR's Volunteer 400 at Bristol (when relieved by Ronnie Thomas) and briefly led at Ontario. Guthrie returned to Indy in 1978 to finish ninth in a self-run Texaco Wildcat Mk3-DGS/Offy despite a broken bone in her wrist sustained in a recent charity tennis event.
That was the best of her three races at the Brickyard for she retired early once again in 1979. Two further appearances in that year's Champ Car World Series with Armstrong Mould Racing's Lola T500B-Cosworth netted career-best performances in qualifying (fourth at Pocono) and the race (fifth at Milwaukee). That was her last such start for Guthrie failed to qualify at Indianapolis and Milwaukee in 1980 and did not enter again.
She retired from racing having started 11 Indycar/Champcar and 33 NASCAR races. Her autobiography Janet Guthrie: A Life at Full Throttle was published in 2005 to critical acclaim.