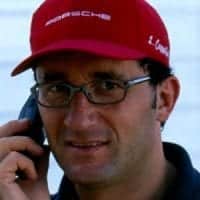 Luca Cappellari
With a grounding in national hillclimb events, this Italian enthusiast was already in his mid-thirties when he switched to circuit racing. A couple of seasons in Group N saloon cars were followed by Luca Cappellari's 1999 debut in the FIA GT Championship.
FIA GT success with BMS Scuderia Italia 
The BMS Scuderia Italia team was the class of the field when he joined in 2003. Partnered by the fast Fabrizio Gollin, Cappellari proved a consistent driver and their Ferrari 500 Maranello won the final race at Monza to become championship runners-up behind team-mates Thomas Biagi and Matteo Bobbi.
The team again dominated proceedings in 2004. Gollin was undoubtedly the fastest driver of the year but Cappellari proved an able deputy. The Spa 24 Hours was one of three victories as they clinched the title in another 1-2 for BMS Scuderia Italia.
That was his final season in international racing and he raced in national GTs and saloons – winning the 2008 CITE (Campionato Italiano Turismo Endurance) Championship – until 2012.