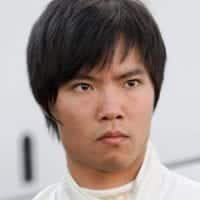 Ma Qing Hua
The first Chinese-born driver to feature during a Formula 1 event or win an FIA-sanctioned World Championship race, Ma Qing Hua's Grand Prix ambitions were thwarted when the Spanish HRT team closed down before the 2013 season.
Early racing career 
Before testing an F1 car for the first time at the 2012 Silverstone rookie session, the previously little-known Ma had appeared intermittently in various single-seater categories without setting pulses racing. That included an A1GP outing in 2005 before six Formula Renault starts with Team Astromega a year later.
He joined the 2008 Spanish Formula 3 Championship at mid-season and seventh at Jerez was the best of three top-10 finishes with a Team West-Tec Dallara F306-Toyota. A couple of British F3 starts during 2009 and appearances in the Chinese rounds of the 2010 Superleague Formula did little to mark out Ma as F1 potential.
Formula 1 test driver with HRT and Caterham 
1600cc Chinese Touring Car Champion in 2011, he joined HRT as a development driver in 2012. He tested on the Friday of the Italian, Singapore, Abu Dhabi and United States GP weekends and signed as a race driver for the following season, subject to Super Licence. Unfortunately for Ma, the Spanish minnows closed its doors during the winter. He was Caterham's Friday test driver 2013 Chinese GP but that was as close as he came to making his F1 debut.
World Touring Car Championship race winner for Citroën 
With F1 ambitions at an end, Ma raced for Citroën's World Touring Car Championship team during 2014 and 2015. He won twice during that time and finished fourth in the 2015 standings. However, Citroën reduced its team from four to two cars in 2016 and Ma was not retained.
He replaced Team Aguri's Salvador Duran for the last four races of the 2015/16 Formula E season and joined Techeetah for the opening three rounds of season two but without success. He also tested an Adapta-run Ford Fiesta RS WRC during 2016 although a planned switch to rallying was delayed when that year's Rally China was cancelled.
World Touring Car Cup 
Back with Citroën for the 2017 WTCC races at Macau, he drove Boutsen Ginion Racing's Honda Civic Type-R at the Asian rounds of the following year's newly reconstituted World Touring Car Cup. Seventh in race three at Wuhan, Ma switched to Team Mulsanne's Alfa Romeo Giulietta for the 2019 WTCR campaign. That included an outstanding weekend in Slovakia where he finished second in the opening race and won race three by holding off champion-to-be Norbert Michelisz. Further second-place finishes at Vila Real and Ningbo helped Ma claimed 16th in the standings after an inconsistent campaign.