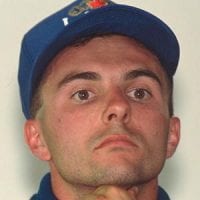 Marco Apicella
Born
7th October 1965 (Age 56) - Bologna, Emilia Romagna
Nationality
Italian
Recent Race
Series
Years in Database
1 (1993)
Starts
1
Years in Database
6 (1987 - 1999)
Starts
52 (2)
Poles
2
Podiums
10
Years in Database
5 (1995 - 2009)
Starts
4 (1)
Years in Database
3 (1984 - 1986)
Starts
4
Years in Database
4 (1992 - 1994)
Starts
5
Wins
5
Poles
1
Podiums
5
Years in Database
2 (1996 - 1997)
Starts
17
Years in Database
1 (1999)
Starts
7
Wins
2
Poles
1
Podiums
2
Years in Database
3 (1984 - 1986)
Starts
7
Wins
7
Podiums
7
This Italian's career has been long and largely successful, but it is his unwanted records that draw comment. Marco Apicella raced in more FIA Formula 3000 events without winning than anyone else and he had the shortest career (by mileage at least) of any Formula 1 driver.
Early racing career
Apicella raced in Italian Formula 3 from 1984 against the likes of Stefano Modena, Nicola Larini and Alex Caffi. It promised a new golden era for the country but ultimately none would succeed at the highest level. 1986 developed into a championship duel with Coloni team-mate Larini – Apicella won the opening two races of the season but eventually lost out to his rival.
He graduated to F3000 in 1987 with Euroventurini and the overweight and unloved Dallara F3087 – finishing fifth in the crash-shortened race at Spa-Francorchamps. The next three seasons were with Lamberto Leoni's FIRST Racing but victory remained frustratingly elusive.
Eleventh, fourth and fifth in successive seasons – Apicella was a fixture in the FIA F3000 field but seven second places were his best results. He tested for the Minardi Grand Prix team during 1990 but continued in F3000 for another season. Fifth in the 1991 championship with Paul Stewart Racing's Lola T91/50-Mugen was a disappointing return for this series veteran however.
Formula 3000 in Japan and F1 debut
A move to the Japanese series with Dome brought F3000 victories at last in 1992 and 1993 and resulted in an unexpected F1 debut in the 1993 Italian GP. He qualified in 23rd position but Apicella's Jordan 193-Hart did not even make it through the first corner when eliminated in a multiple shunt. The Italian's one GP was over before it had really started.
He returned to Japanese F3000 in 1994 with a works Dome F104-Mugen and eased to the only major championship win of his racing career thanks to three victories. However, two seasons in Team 5Zigen's Reynard-Judd included just a single points finish – fourth at Mine in 1996. Apicella tested the stillborn Dome F105-Mugen F1 car that winter, but that was as close as he would come to a GP return.
Apicella returned to Europe in 1999 to race for Monaco Motorsport in the new Italian F3000 series. He won the opening round to confirm his status as title favourite but accidents and fading form restricted him to a disappointing third in the final standings. He also failed to qualify on a one-off return to the FIA series at Spa-Francorchamps. That was a sad end to a once promising open-wheel career and he has since competed in the Japanese GT series with little tangible success.