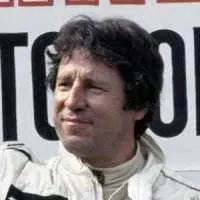 Mario Andretti
This most versatile of racing drivers has enjoyed success in all forms of the sport. 1978 Formula 1 World Champion and four times Indycar title winner, Mario Andretti also won races in both sports cars and NASCAR. 1969 was his only victory in the Indianapolis 500 however – the famous "Andretti luck" repeatedly thwarting further success at the Brickyard. The 5ft3in Italian immigrant was an aggressive racer who remained at the top of his profession for over 30 years.
Alvise Andretti had run several farms near to Trieste but the family lost everything when communist rule was imposed after World War II. Time in a refugee camp was followed by a move to Lucca in Italy's Tuscan region. They lived opposite a garage and an early interest in cars and motor racing was established through friendship with its owner. Mario and twin brother Aldo were spectators at the 1954 Italian Grand Prix but were disappointed when their hero Alberto Ascari retired from the lead. The family immigrated to America a year later and settled in Nazareth, Pennsylvania to be close to an uncle. 
The brothers saved enough money to buy a 1948 Hudson with which they were soon winning local events. However, Aldo was left in a coma after he crashed at Hatfield and he quit after another accident. In contrast, Mario progressed to URC sprint cars and ARDC midgets as soon as he turned 21 years old. Working as a mechanic at the time, Andretti grew so successful that he decided to concentrate on racing as a career. 
He stepped up to USAC competition in 1964 – racing in both sprint cars and the National Championship that year. Andretti spun Doug Stearly's Elder-Offenhauser at Trenton on his debut in the latter but he was drafted into the Dean Van Lines team when Chuck Hulse was injured. Third at Milwaukee was his best result of that maiden season in what is now known as Indycars. 
He had done enough to keep his ride and Dean Van Lines' chief mechanic Clint Brawner introduced the rear-engine Hawk-Ford for the 1965 Indianapolis 500. Andretti qualified fourth and finished in a fine third position when beaten by just Jim Clark and Parnelli Jones. Victory in the Hoosier Grand Prix followed at Indianapolis Raceway Park and the impressive rookie clinched the National Championship with another 10 top five finishes. 
Andretti began his title defence by qualifying on pole position for the opening six races of the 1966 season. That included the Indianapolis 500 which he led for the opening 16 laps before retiring early. The 26 year old won eight times that season to successfully retain the championship. 
Another eight victories followed in 1967 but AJ Foyt narrowly beat Andretti to that year's Indycar title. In addition, Andretti was a works Ford driver in selected NASCAR and sports car races that year. He won the Daytona 500 in the former – lapping all bar Fred Lorenzen – and Sebring 12 hours when sharing a GT40 with Bruce McLaren. However, his debut in the Le Mans 24 hours ended during the night when he crashed the second-placed car at The Esses. 
Long-time backer Al Dean lost his long battle against cancer in December 1967 so Andretti reluctantly turned car owner. He acquired the Dean Van Lines team's equipment, hired Brawner and formed his own team for the 1968 USAC season. By his own high standards, it was a disappointing campaign although he did win four times and finish as runner-up to Bobby Unser. Both Unser and Andretti were entered in that year's Italian GP for BRM and Lotus respectively. However, neither was allowed to race as they had competed in the previous day's Indycar event at Indiana State Fairgrounds. There was no such clash with the United States GP and Andretti stunned the F1 fraternity by qualifying his Lotus 49B-Ford on pole position – becoming the first debutant to do so since the World Championship had begun. 
During 1969, Andretti started three GPs for Lotus although regaining the Indycar title remained his primary focus. He sold his team to Andy Granatelli and the STP Corporation and finally tasted the winner's milk at Indianapolis – finishing almost two minutes ahead of Dan Gurney's Eagle-Ford. That was one of nine victories as Andretti clinched the third championship in five years. 
Both Brawner and respected mechanic Jim McGee left the team at the end of the season and Andretti endured a disappointing Indycar campaign during 1970 – Castle Rock his only victory in Granatelli's McNamara T500-Ford. He also drove a Ferrari 512S in the Daytona and Sebring sports car races – winning the later with Ignazio Giunti and Nino Vaccarella – and started selected GPs with an STP March 701-Ford. A lapped third after a race of attrition in Spain was his only finish in five GP starts during 1970. 
He joined Ferrari's F1 team at the start of 1971 after Giunti was killed during the Buenos Aires 1000Kms – a singular honour for any driver raised in Italy. His season began in spectacular style with Andretti winning the opening round in South Africa – his maiden GP victory – and the non-championship race at California's Ontario Motor Speedway. He was fourth in the German GP but only started five GPs as another Indycar season with Granatelli and STP took precedence. However, his McNamara-Ford proved troublesome and Andretti left the team after his first winless Indycar campaign since 1964. 
Andretti joined Al Unser and Joe Leonard in Parnelli Jones's "super team" in 1972 while also racing for Ferrari in selected F1 and sports car races when his schedule allowed. However, while Leonard retained the USAC title, Andretti could finish no higher than second at Phoenix. Fourth in that year's South African GP, he enjoyed better fortune when sharing a Ferrari 312PB with Jacky Ickx. They won at Daytona, Sebring, Brands Hatch and Watkins Glen as Ferrari secured the World Championship of Makes. 
The next two seasons with Parnelli included victory in the 1973 Trenton 300 as he finished fifth in the final USAC standings. He won the following year's USAC dirt track title on his return to that form of racing and finished as runner-up in the 1974 and 1975 North American Formula 5000 Championship when driving Parnelli's Lola T332-Chevrolet. It was not that Andretti had forgotten about F1 for he gave the new Parnelli VPJ4-Ford its GP debut in the final two races of 1974. Third on the grid for the US GP, the combination showed glimpses of real promise during 1975. Andretti led the Spanish GP (as well as setting the race's fastest lap) and was fourth in the Swedish GP and fifth in France for the one-car team. 
Already frustrated by Parnelli's lack of focus on F1, Andretti finished sixth in the 1976 South African GP but was without a drive when the team suddenly withdrew. The American had already made a one-off return to Lotus in Brazil and he spent the rest of the season with Colin Chapman's once-great concern. Andretti's analytical mind proved invaluable as he developed the new Lotus 77-Ford. Third in Holland, he qualified on pole position and then won the wet Japanese GP as Niki Lauda and James Hunt disputed the world title – his first F1 victory in five years. He also drove a Penske Racing McLaren M16C/D-Offenhauser in selected Indycar races – the quickest qualifier at Indianapolis and third at the finish of the Phoenix finale. 
Chapman introduced the "ground-effect" Lotus 78 in 1977 and it was soon the quickest car on the F1 grid when it held together. Andretti won the Long Beach, Spanish, French and Italian GPs but crucial mid-season engine failures prevented a sustained title challenge and restricted him to third overall. 
Nothing would stop Andretti and Lotus in 1978 but he secured the World Championship in tragic circumstances. He won the opening round in Argentina and proved even more dominant once the Lotus 79-Ford was introduced at the Belgian GP. With its aerodynamic principles refined and reliability improved, Andretti won another five GPs (Belgium, Spain, France, Germany and Holland) to arrive in Italy on the brink of the title. However, team-mate Ronnie Peterson succumbed to injuries sustained in a startline accident at Monza, leaving Andretti with an unassailable points lead. 
From being the dominant team in 1978, Lotus endured a frustrating title defence. Andretti spent the early months of the season trying to develop the complicated Lotus 80-Ford that was eventually abandoned despite his third-place finish in Spain. Back in a Lotus 79 after just three outings with the new car, Andretti slumped to tenth in the standings. Victory in the invitational International Race Of Champions (IROC) was scant consolation. 
The 1980 F1 season was even worse with only one point scored, sixth at Watkins Glen in the final race of the year. Andretti had raced in selected Indycar events since joining Penske Racing in 1976 and it was in the breakaway Champ Car World Series that he enjoyed success this year. He qualified a Penske PC9-Cosworth in the middle of the front row at Indianapolis and was on pole position at both Michigan and Phoenix – finishing those races in first and second position respectively. 
Andretti joined Alfa Romeo in 1981 for what proved to be a disastrous last full F1 campaign. Fourth in the Long Beach GP was a promising start to the year but the V12 Alfa Romeo 179 was old and uncompetitive and the American did not score another point all season. He switched to Patrick Racing for his selected Champ Car appearances that year and looked like he had finally won the Indianapolis 500 for a second time. Reunited with STP as his main sponsor once more, Andretti's Wildcat Mk8-Cosworth followed Penske's Bobby Unser across the line but his rival was initially disqualified for a yellow flag violation. Andretti posed for the traditional photographs a day later but Unser was finally reinstated in October. 
Now in his forties and with a competitive F1 ride out of reach, Andretti made a successful fulltime Champ Car return in 1982 with Patrick Racing. Despite not winning that year, Andretti finished on the podium on six occasions and was third in the championship behind Rick Mears and Bobby Rahal. He qualified on the second row at Indianapolis but very real hope of victory was lost when Kevin Cogan crashed into him at the start. There was still a final flourish to his F1 career. Carlos Reutemann suddenly quit in the spring of that year and Andretti retired his Williams FW07C-Ford from a one-off appearance at Long Beach. He was then drafted into Ferrari for the Italian GP and promptly qualified on pole position. He finished third in front of an ecstatic Tifosi but retired the turbocharged 126C2 from his 128th and final GP in Las Vegas. 
One of North America's greatest teams – Newman-Haas Racing – was formed in 1983 with Andretti at its heart for the next decade. With Budweiser sponsorship and the hastily commissioned Lola T700-Cosworth ready late, Andretti made progress all year and won at Elkhart Lake and Las Vegas to claim third in the Champ Car standings once more. He also returned to Le Mans to share a Kremer Porsche 956 with his son Michael and Frenchman Philippe Alliot – the trio finishing third behind the works cars. 
Nigel Bennett, Andretti's race engineer during his 1978 F1 title campaign, joined Lola at the start of 1984 and his new Lola T800-Coswsorth proved quick on both road courses and ovals. Andretti used the lightweight car to emerge as the class-of-the-field. His six victories included recovering from a lap down at Michigan as the veteran clinched his fourth and final National Championship. 
He began the following season in similarly emphatic style. He won three of the first four races and was narrowly beaten at Indianapolis by Danny Sullivan, the first man to "spin and win" at the Brickyard. But Andretti's 1985 campaign thereafter was marred by ill-fortune and injury. Andretti fractured a couple of ribs in a boating accident and then missed a race due to breaking his collarbone in a heavily crash during the closing laps of the Michigan 500. The 1986 Lola was no match for the rival March chassis – especially in race trim – and Andretti struggled for much of the year. He did win twice including beating his son Michael by just 0.07s at Portland on Father's Day. 
Newman-Haas switched to Chevrolet's new Ilmor-developed engine in 1987 and Andretti scored its first victory after a dominant display at Long Beach. He also won at Elkhart Lake but mechanical issues and accidents ended too many race days. That he was still highly competitive was illustrated by eight pole positions which included the Indianapolis 500. 
Andretti began 1988 by winning the Checker 200 at Phoenix and he resisted pressure from Sullivan and Bobby Rahal to repeat that success at Cleveland. His fifth appearance in the Le Mans 24 Hours that year was a family affair for Mario shared the sixth-placed Porsche 962 with son Michael and nephew John. 
Michael joined his father in an expanded two-car Newman-Haas line-up from 1989 and emerged as a star of Champ Car's new generation. Now in his fifties, Mario endured his first winless campaign in seven years that season and was lucky to escape injury after crashing into Roberto Guerrero's parked car in Toronto. Michael led Mario in four Newman-Haas 1-2s during the next three seasons and finally clinched his first Champ Car title in 1991. 
The younger Andretti switched to F1 in 1993 and he was replaced at Newman-Haas by new World Champion Nigel Mansell. The Englishman won the title at the first attempt but Mario also had his days – winning at Phoenix to end a 73-race barren spell and qualifying on pole position at Michigan. Andretti retired from Champ Cars at the end of the 1994 "Arrivederci Mario" season having won 52 of his record 407 starts in the series. 
Eager to add winning the Le Mans 24 Hours to his impressive c.v., Andretti started the French classic on four more occasions – making his eighth and last appearance in 2000. The closest he came to victory was in 1995 when his Courage C34-Porsche finished second, less than a lap behind. He would have won the race but for losing half an hour in the pits after spinning into the wall avoiding a backmarker in the Porsche Curves. He made a surprise return to Indianapolis in 2003 but decided not to attempt to qualify when his Andretti Autosport Dallara IR3-Honda flipped at 225mph during practice.