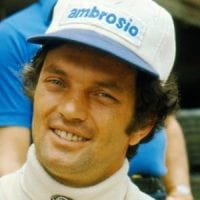 Renzo Zorzi
Born
12th December 1946 - Ziano di Fiemme, Trento
Died
15th May 2015 (Age 68) - Bari, Apulia
Nationality
Italian
Recent Race
Series
Years in Database
3 (1975 - 1977)
Starts
7
Years in Database
9 (1974 - 1985)
Starts
18 (3)
Poles
1
Years in Database
1 (1975)
Starts
3 (1)
Wins
1
Poles
1
Podiums
1
Years in Database
1 (1980)
Starts
1
The son of a miner and raised near the Austrian border, Renzo Zorzi is unfortunately best remembered for his unwitting role in the tragic 1977 South African Grand Prix. His Shadow DN8A-Ford retired after 17 laps with an electrical fire. That prompted inexperienced marshal Jansen van Vuuren to run across the track carrying a fire extinguisher just as Zorzi's team-mate Tom Pryce crested the brow on Kyalami's pit straight. The Welshman's car hit the marshal at full speed and both were killed.
Early career with Pirelli and in racing
Zorzi was an engineer at Pirelli when he began racing in Formula 3 during 1972. Initial efforts were without reward and he entered his fourth season in the category still looking for a first win. He drove a GRD 374-Lancia during 1975 and shocked the establishment with victory in the prestigious Monaco support race, inheriting the lead when Conny Andersson was penalised for a jumped start and Tony Brise and Alex Ribeiro collided.
Formula 1 with Williams and Shadow
Emboldened with that success, Zorzi hired a Williams FW03-Ford for the Italian GP, in which he finished 14th. He also drove for the now Walter Wolf-owned concern in the opening race of 1976 in Brazil and again he made it to the finish in ninth. He returned to Formula 1 a year later (having raced a Modus in F3 in the meantime) when he joined Shadow for the start of 1977.
New backing from Italian industrialist Franco Ambrosio appeared to secure the team's future with Pryce considered a star in waiting. Zorzi finished a career-best sixth in Brazil to score a championship point for the only time. However, any mood of optimism evaporated with Pryce's death at the next race in South Africa.
Sports cars and subsequent career
Zorzi started the next two GPs before being replaced by a young Riccardo Patrese. That was the end of his seven-race F1 career. He continued to race in sports cars from time-to-time and won the non-championship Monza 1000Kms in 1979. He qualified the unusual Capoferri M1-Ford on pole position for the following year's race (a World Championship round once more) and scored top-six finishes at Imola in 1977 and Monza in 1986.
He also made a one-off appearance driving an Arrows A1-Ford in the 1980 British F1 Championship at Monza but his top-flight racing pretensions were in the past. Zorzi returned to work for Pirelli for which he now runs a driving school in southern Italy.