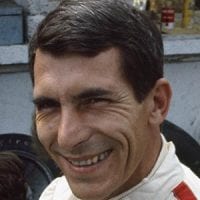 Vic Elford
One of motor sport's greatest all-rounders, 'Quick' Vic Elford raced just about anything — and lived up to his nickname in series from rallying to sports cars and Formula 1
One of the most versatile drivers in motor racing history, Vic Elford was fast in almost anything he sat in: rallycross cars, touring cars, sports cars, Can-Am cars, even in NASCAR. In a career lasting just five seasons, he competed in 13 grands prix, international rallies and every globally-renowned sports car race — save the Le Mans 24 Hours.
In 1968, over the course of just a few months, he won the Monte Carlo Rally, Daytona 24 Hours, Targa Florio and Nürburgring 1000km. Later that year, he made his Formula 1 debut.
Whatever I did in a car I could always do it, whether it was driving downhill on ice or snow, or driving down the Mulsanne straight at night at 250mph in a 917," he told Motor Sport. "It was the one thing I could do well."
Rally champion and sports car race winner
Elford was 25 before his racing career started properly: as the son of a cafe owner in Peckham, south London, money wasn't so much tight as non-existent. Initially unable to afford to drive, he began competing as a rally navigator, moving into the driving seat of a Mini in 1960. Works drives for Triumph and Ford followed but it was in a Porsche 911S that Elford came to the fore when third in the 1967 Tour de Corse and that year's Group Three European Rally Champion. Elford was also a member of the Stuttgart marque's sports car team and third place finishes in the Targa Florio and Nürburgring 1000Kms confirmed his circuit racing prowess.
The 1968 season might have been a bleak one for the sport but it was exceptional for Elford. It began with victory in the Monte Carlo Rally (with a 911) a week before he won the Daytona 24 Hours when the lead driver in a works Porsche 907. Second at Sebring, Elford won the Targa Florio (recovering from 18 minutes lost to a puncture) and Nürburgring 1000Kms.
Formula 1 with Cooper
He also made his GP debut in the wet French GP that year when his Cooper T86B-BRM came from the back of the grid to finish fourth. Elford remained with the team for the rest of the season – qualified fifth in Germany and finished fifth in Canada but the once-great team closed down at the end of the year.
Elford even ventured into stock car racing at the start of 1969 when he drove H.B.Ranier's Dodge to 11th in NASCAR's Daytona 500. Elford entered the race for the next two years and was 10th in 1972 with a Don Robertson Plymouth.
Porsche's sports car programme was his main focus in 1969 although he did start another five GPs with Colin Crabbe's privateer outfit – his McLaren M7A-Ford fifth in France and sixth at Silverstone. But that season was cut short after he ran into a wheel that had been shed when Mario Andretti crashed during the German GP. Elford broke a collarbone and arm in his ensuing accident.
Return to sports cars and final Grand Prix
He returned to sports cars to star in the mighty Porsche 917 – completing his hat-trick of victories at the Nürburgring and winning the 1971 Sebring 12 Hours in partnership with Gérard Larrousse. He also made a final GP start in the 1971 German GP with a BRM.
He joined Alfa Romeo's sports car team in 1972 but would not win at world championship level again. He continued to compete in Can-Am and Formula 2 before retiring in 1974.
Elford was team manager for the ATS Wheels F1 concern in 1977 for little more than a week before he tired of team owner's Günther Schmid's eccentric ways. He later ran a driving school in Florida and acted as a consultant for Porsche.
His diagnosis of cancer was met in April 2021 with a global fundraising appeal, which saw more than $180,000 donated to fund Elford's needs. He lost his battle on March 13, 2022.