1975 South African Grand Prix race report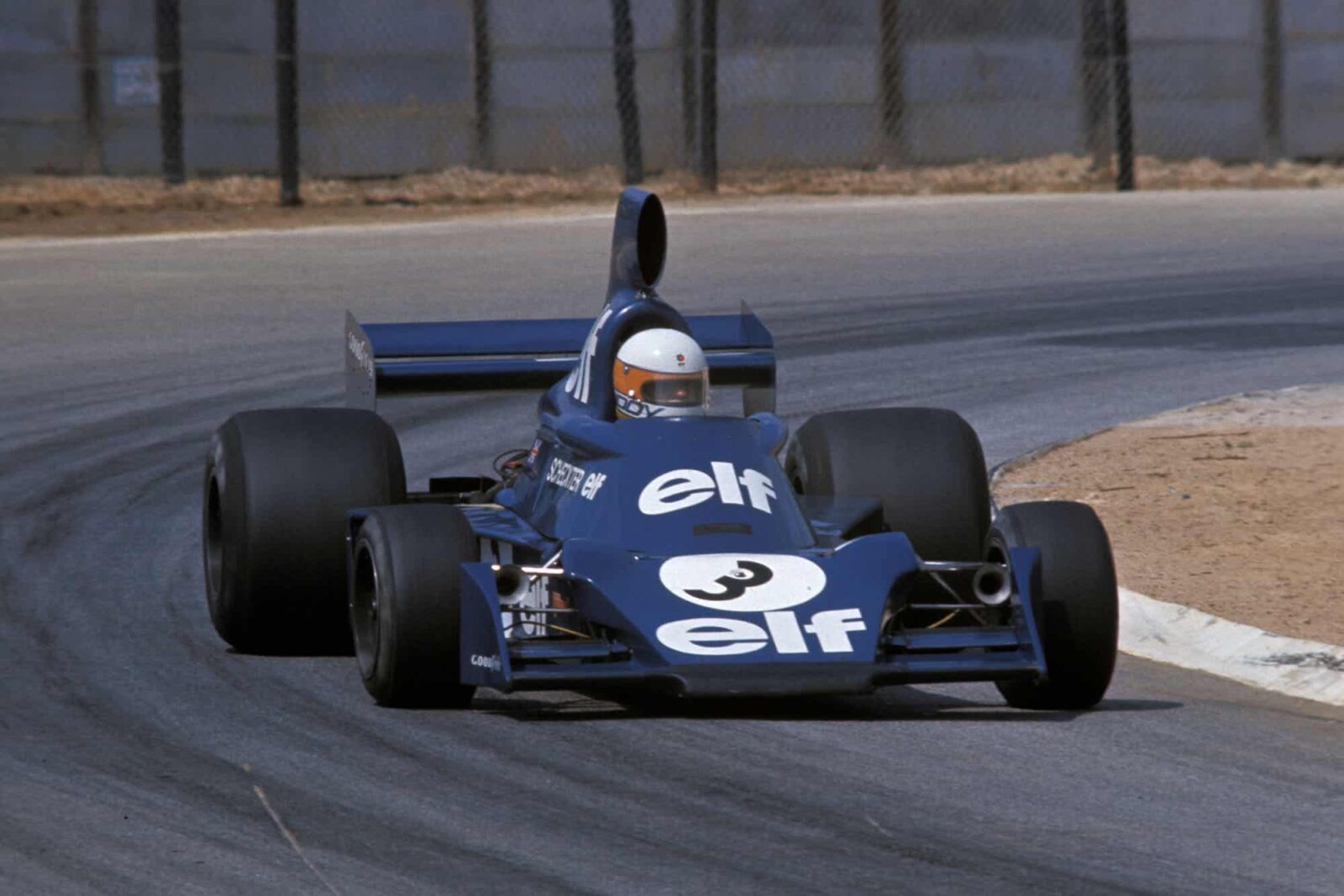 Scheckter is the new national hero, Kyalami, March 1st
The six-week break between the Brazilian Grand Prix at the end of January and the South African Grand Prix on March 1st provided welcome relief for most Grand Prix teams, giving them time to reflect on their own individual situation after the first two events of the season and enabling several of them either to complete new machinery or try to take some corrective action if they decided their performance had been deficient in any way. Thus there were several new cars to be seen from a number of different teams in addition to a handful of locally-owned machines handled by South African competitors having their annual taste of international competition.
Kyalami has a predominantly friendly atmosphere aided by the unobtrusively autocratic control of Alex Blignaut, himself a former South African Grand Prix competitor and racing car entrant. In years gone by, before the upsurge of motor racing interest in South America which led to the re-establishment of an Argentine Grand Prix and the inauguration of the Brazilian Grand Prix, Kyalami was the starting point of the Formula One season and many of the teams went there for up to a couple of weeks prior to the race for testing purposes. Now South Africa's major race is the third Grand Prix of the calendar, but it still retains its congenial atmosphere nevertheless. After their disappointing performances in South America, Ken Tyrrell's team were extremely anxious that things should take an upswing for Kyalami, being as it is home ground for his number one driver Jody Scheckter who hails from East London, Derek Gardner had prepared some detail modifications on a brand new chassis (007/6) including fresh suspension geometry all round, a taller and slimmer airbox and repositioned water radiators in the style of the Parnelli (or as Tyrrell himself remarked "the Lotus 76—heaven forbid!"). Having reverted from inboard to outboard front brakes for South America, Gardner continued this apparent reversal of his development by replacing the torsion bars at the rear of the two Tyrrells with a conventional coil spring/damper arrangement. Depailler used 007/4, repaired after its accident at Interlagos and fitted with the coil springs, while Scheckter's 007/2 had been fitted with both torsion bars and coil springs for comparative tests and use as the team spare. Completing the Tyrrell line-up in South Africa was 007/1, one sold to Lexington Racing for Ian Scheckter to drive and still in original trim with inboard front brakes and torsion bar rear suspension.
McLaren Racing brought along three M23 cars under the care of Gordon Coppuck, Emerson Fittipaldi using M23/9 and Jochen Mass allocated M23/8, the World Champion's car having had its wheelbase lengthened even more. Brabham designer Gordon Murray was optimistic that his cars would produce a victory for the second successive year on his home soil, coming as he does from Durban, and the immaculate white Martini-Brabham BT44Bs were in exactly the same trim as they were raced in Brazil by Carlos Pace and Carlos Reutemann. March Engineering arrived with their first F2-based 751 for the plucky Vittorio Brambilla, his old 741 having been passed on to the Italian girl Lella Lombardi who drove an F5000 Lola last year and tried unsuccessfully to qualify for the British Grand Prix in a borrowed Brabham.
Slightly disappointed after their uninspired performance in South America, Ferrari decided to abandon the current 312B3s and replace them with a pair of the latest 312T chassis for Lauda and Regazzoni to use at Kyalami. The way in which Enzo Ferrari, helped by substantial financial backing from Fiat, can say "right, that car has finished its useful life. For the next race well use the new design" and then turn up at the next race with two new cars, rather than with one new car for his "ace" and an old one for his "scratcher", must make one or two of the less financially endowed teams drool with envy. One way, or another, Ferrari was committed to his new chassis with its transversemounted five-speed gearbox and novel front suspension, although they hadn't yet built up a spare and relied on the latest B3, chassis 020, just in case anything should befall his latest equipment in his drivers' hands.
In stark contrast to the Ferrari way of doing things, the newly constituted BRM team faced the South African race with a singleton P201 chassis and their old V12 motor. Last year Beltoise managed to take second place in the South African Grand Prix, "qualifying" tyres and a number of important retirements rather flattering the car on that occasion, but even the most optimistic team member couldn't hope for a repeat performance. Mike Wilds had been "put on the shelf" after failing to win the South American races for the rather imaginative Bourne hierarchy, his place being taken by Formula 5000 champion Bob Evans who will be driving in all the races this season.
Having decided that Ronnie Peterson will be their man after all during 1975, Team Lotus had built up a brand new car (72/R9) for their Swedish number one driver, R8 being long overdue for a rebuild. Jacky Ickx drove his usual R5 and the two Team Gunston cars for Eddie Keizan (72/R6) and Guy Tunmer (72/R7) lifted the Lotus contingent at Kyalami to four cars. Having used one of last year's DN3s in South America, Tom Pryce was very glad to at last have a race in the new DN5/2A following Jarier's promising showing in the first new car at Interlagos while John Watson was hoping that the improvement in Team Surtees fortunes would continue with his single car entry from the Edenbridge team. Frank Williams brought along his usual Cosworth-powered cars for Merzario and Laffite, now fitted with old Hesketh nose sections and front radiators and Hunt himself used his regular Hesketh 308/3 unchanged from South America.
Graham Hill's Lola team brought along one new T371 model for Rolf Stommelen, this being a development of the year-old T370 design but with different suspension geometry and repositioned fuel tanks, Hill himself still relying on his regular T370. Hoping for an improvement along with the Lolas were the Vels Parnelli Jones team with their single entry for Mario Andretti and the Penske machine for Donohue, this latter car having been lengthened by five inches and had its rear track increased by three inches in an effort to improve its rather erratic handling. Wilson Fittipaldi's rather bulky Copersucar Fittipaldi turned up for its third race and the entry was rounded off by South African F1 Champion Dave Charlton in his ex-works McLaren M23/3.
Qualifying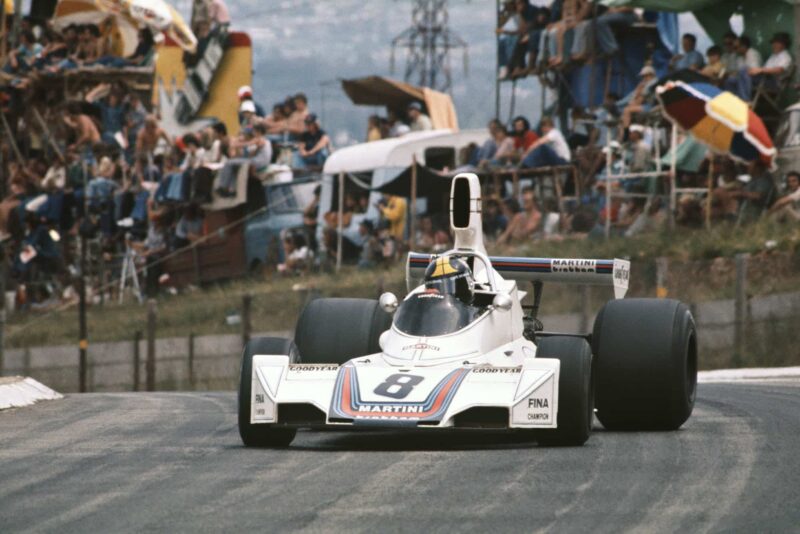 With practice taking place on Wednesday and Thursday for a Saturday race, the schedule was more leisurely than usual with Friday free for relaxation or work on the cars depending or not whether you were a driver or a mechanic. Denny Hulme's 1973 pole-winning time of 1 min. 16.3 sec. was the point at which to aim, for Lauda's Ferrari had only managed 1 min. 16.8 sec. during practice for last year's race when the Austrian was on pole position. When the first session began on Wednesday it did not take long for Lauda to set the ball rolling with a 1 min. 16.83 sec. in the new 312T, starting off, so to speak, where he left off at Kyalami last year, although before the end of the day Carlos Reutemann had improved on this, having taken his Brabham BT44B round in a 1 min. 16.61 sec. and Pace wasn't far behind on 1 min. 17 sec. dead.
While Fittipaldi (1 min. 17.22 sec.) and Jody Scheckter (1 min. 17.17 sec.) were busy chasing the Brabhams and leading Ferrari, further down the field there was plenty of drama in store. Hardly had the session been going than Graham Hill spun wildly at the Jukskei kink on the back straight, his Lola careering off the track and enmeshing itself amongst the safety-catch fencing much to the detriment of the chassis which was damaged beyond immediate repair. Examination of the Lola revealed the right rear tyre to be deflated so this seemed to be the reason for his sudden loss of control. While Hill was busy picking his car out of the ditch Peterson himself had a lot more to think about than a slight oil leak for his new Lotus showed all the symptoms of brake trouble that he had originally experienced with 72/R8 in South America. On the Wednesday the best he could manage was 1 min. 18.20 sec. but the master cylinder and rear callipers were changed overnight and, with the addition of some fresh brake fluid, the problem seemed to be cured by Thursday only for an oil scavenge pipe to become dislodged and herald Peterson's departure into the pits beneath billowing clouds of blue smoke.
In stark contrast to Brazil, the new Shadow DN5 simply wasn't performing at all well. Jarier, who had so completely dominated the race at Interlagos before his retirement could only manage a lap in 1 min. 17.37 sec. on the first day, improving fractionally on the second but barely sufficient to get him into the front half of the grid. Tom Pryce fared even worse, his optimistic assessment of the DN5's potential during tests at Goodwood being prematurely (and one hopes temporarily) shattered with an eventual best of 1 min. 18.36 sec. Neither car was quick enough in a straight line and both drivers were quick to report this fact to their team manager.
Further down the field Ian Scheckter was busy imitating his younger brother's ebullient oversteering style of driving and to good effect as well, the Lexington Tyrrell managing 1 min. 18.01 sec., its fastest practice time, in the second session. Ian Scheckter was the fastest "resident" South African by a long way, outpacing Donohue in the unwieldy and erratic handling Penske as well as Pryce and Ickx in the second works Lotus, the Belgian really dragging his heels and barely managing to lap faster than the two locally driven 72s of Keizan and Tunmer. Right at the back Evans was finding out about Formula One "in at the deep end", reckoning that his old Formula 5000 Lola would be quicker round Kyalami than the underpowered BRM. Thursday's session got off on a particularly unfortunate note for both Emerson Fittipaldi and Niki Lauda. The Brazilian's latest McLaren contrived to blow up its engine in spectacular fashion as it came through the 140 m.p.h. right-hand Sunset Corner, dousing the track with oil for Lauda's Ferrari to hit helplessly a few yards behind. The Italian car spun wildly, crashing through the catch-fences on the outside of the corner, tearing the outer skin along one complete side of the monocoque as well as badly twisting the rear wing. But the disgruntled Austrian managed to extricate his damaged machine and brought it slowly back to the pits under its own steam, doubtless relieved that the present trend away from Armco barriers in favour of triple-layer catch-fencing had let him and his car get away so lightly.
After a short break in practice, the first of many on Thursday, Fittipaildi's McLaren was retrieved and while the McLaren mechanics laboured furiously adding the latest suspension parts to the spare car, the Ferrari lads were hard at it preparing the spare B3 for Lauda to use later the same day. It's interesting to note that while Lauda managed 1 min. 16.83 sec. in his brand new car, such was his irritation at being involved in somebody's else's misfortune, he managed 1 min. 16.96 sec. in the "muletta", an effort which just goes to show how a driver will react to a situation when he is "needled".
Meanwhile there were other competitors enjoying better fortune. Carlos Pace pipped Reutemann for pole position, the Brazilian Grand Prix winner lapping in 1 min. 16.41 sec. which ensured that both the sleek Gordon Murray-designed Brabhams monopolised the front row of the grid, a personal triumph for the unassuming South African designer which almost equalled Jody Scheckter's efforts to gain overall third fastest time. Driving progressively quicker and quicker, Tyrrell's number one gradually pared his way down to 1 min. 16.64 sec. before crashing very heavily at Barbeque Bend, the corner on which Revson's fatal accident took place in 1974. It was a simple case of stepping slightly over the limit and, once Scheckter had extricated himself from the forgiving catch fencing, he made no attempt to cover up his error or make pitiful excuses to his entrant. He had lost control pure and simple but at least his team had the satisfaction, as they hurriedly got to work preparing the team's spare car for the race, that their man had been contesting the leading grid positions rather than "scratching around" at the back.
While all this drama was surrounding Scheckter, Patrick Depailler unobtrusively worked his way down to 1 min. 16.83 sec., a praiseworthy effort, and Andretti appeared further up the grid than perhaps expected with a 1 min. 16.89 sec. Brambilla's new March had been hastily patched up after a trip into the catch-fencing on Wednesday, the stocky Italian making a few people stand up and take notice with a lap in 1 min. 17.05 sec. while the irrepressible Peterson was next, Ickx's pathetic lack of form being measured by Peterson's effort depending on which way you like to look at it. Watson made a fine effort in the Surtees while Fittipaldi found himself caught out with insufficient time left to put in a quick lap in the spare car and faced the start from way back on the sixth row of the grid. Both Shadow drivers just sat and wondered what had happened to the new Shadow's South American form. Ian Scheckter was the fastest of the "residents" by a comfortable margin and both Donohue and Ickx simply should have gone quicker. Right at the back Evans' BRM qualified for the Englishman's first Formula One race as did Lella Lombardi while Wilson Fittipaldi was the last one on the grid and eventually got left out as 27th man after a bout of arm waving and table thumping between the Constructors and organisers at the end of the day.
If the Tyrrell team reckoned that its dose of ill-fortune was confined to Scheckter's accident on Thursday, then they found themselves sadly tricked on Saturday morning when the car's engine began losing power during the unofficial practice session and closer examination revealed ominous traces of white metal in the oil. There was nothing left but to change the engine again, all this just hours before the start of the Grand Prix.
Race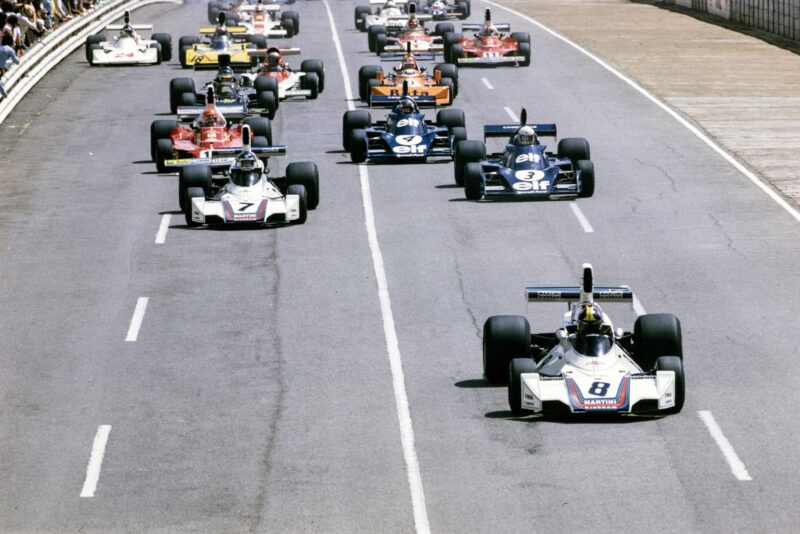 By 14.00 hours the whole field was lined up on the widely-spaced grid waiting for the starter's flag, Wilson Fittipaldi's car hovering hopefully at the back waiting for some lastminute problem to strike one of the qualified competitors and enable him to start the race. Slowly they moved up towards the flag, the two purposeful white Brabhams side by side with their two drivers carefully watching each other out of the corner of their eyes. Down swept the flag and Pace made the best getaway by far, cresting the rise after the start line already five lengths ahead and leading away down to Crowthorne Corner with Scheckter bringing his Tyrrell through from the second row and Peterson's black and gold Lotus weaving through to third place from the fourth row of the grid.
Round through the curving, section down through Clubhouse and up to the right-hand hairpin at Leeukop they went with the Brabham still leading, out onto the main straight, and past the pits the order was Pace, J. Scheckter, Peterson, Reutemann, Depailler, Regazzoni, E. Fittipaldi, Lauda, Brambilla, Hunt, Andretti, Merzario, Laffite, Mass, Stommelen, Pryce, Watson, I. Scheckter, Jarier, Donohue, Charlton, Evans, Ickx, Lombardi, Keizan and Tunmer with W. Fittipaldi trailing into the pits having started rather too optimistically when one of the tail-enders appeared to be in trouble just before they moved up to the proper grid. Scheckter was not planning to ease the pressure on Pace, hanging on close to the Brabham as they completed their second lap and diving through under braking for Crowthorne Corner at the end of the main straight. Driving with all the confidence of an assured veteran, the young South African confidently began to control the race from the front. On dap three Reutemann came rushing through from fourth place, Pace waving him obligingly past before the Esses as the brakes on his BT44B started to feel "spongy" for he didn't want to hold up his team-mate unduly as Depailler was still right behind. Peterson was already dropping away, the Swede grappling with huge armfuls of understeer on his Lotus which forced ham to adapt his driving style to provoke huge oversteering slides to counteract the difficult situation.
Within ten laps, the race had developed into a firm pattern. In the lead was Jody Scheckter, fighting off a determined challenge from Reutemann's Brabham just ahead of Depailler who had now got Emerson Fittipaldi muzzling his gearbox after a good start from the sixth row. Peterson had fallen back to be eaten up by the two Ferraris of Regazzoni and Lauda, running in tandem, while Andretti was next followed by Mass and Stommelen. Further back, Ian Scheckter had gone off sideways on to the grass and dropped to the back of the field in his "original" Tyrrell 007 and was busy cutting a confident path back through the mid-field runners.
Retirements included Brambilla's March, an early casualty with a split oil cooler, and Watson's Surtees which stopped after 18 laps with a faulty clutch mechanism which threatened to burn out the unit altogether. Right at the back Ickx was having trouble with the two local Lotuses, his 72 suffering from the same understeer problem as his team-mates but, unlike Peterson, he didn't appear to be coming to grips with the situation and just resigned himself to the problem. By contrast, his team-mate wore out one front left-hand tyre before corning into the pits for some wing adjustments and then rejoined the race at unabated speed.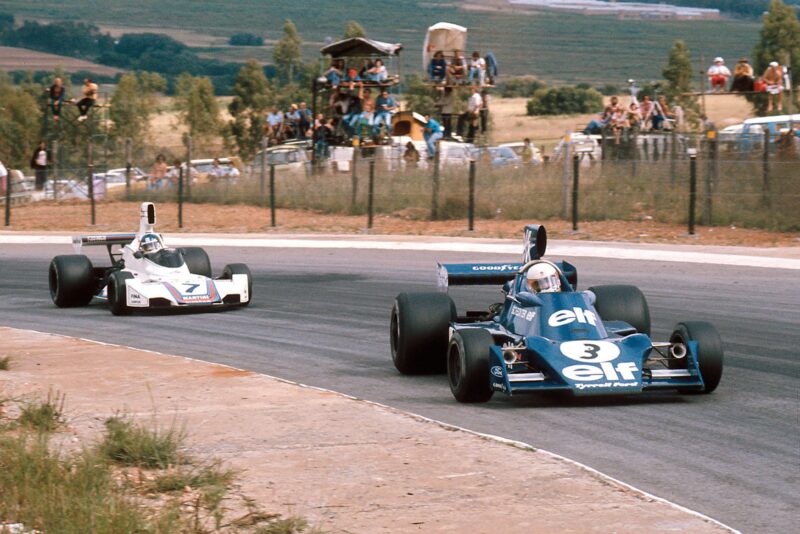 At the head of the field it seemed as though an impasse was developing. Many observers had thought that Scheckter would contest the lead, but not many thought he would stay in front, particulary when he was under such constant pressure. But while Reutemann hung on a few lengths behind, even making the occasional foray up alongside the Tyrrell's rear wheel under braking, but only once managing to get properly alongside under braking for Crowthorne. On that occasion Scheckter simply "sat it out" and stayed ahead and, from that point on, Reutemann gave the impression that he might just settle for second place. Fittipaldi dropped away from Depailler as his McLaren developed a misfire, the World Champion making three pit stops before the fault was traced to a slightly loose lead in the distributor. This drama dropped Fittipaldi way down the field and, with Pace dropping back in fourth place and pumping his brake pedal on the straight to ensure he had enough retardation at the next corner, Depailler was left alone to chase the two leaders.
The two Ferraris ran steadily around in fourth and fifth places, Regazzoni not quick enough to keep up with the leaders and Lauda not forceful enough to elbow his way past, Mass was a lonely seventh and then came Stommelen who'd got Ian Scheckter's Tyrrell on his tail from lap 25 onwards. Unfortunately Scheckter senior's unsuccessful efforts to displace the Lola T371 ended rather ignominiously in the catch-fences at Crowthorne Corner on lap 56 after he'd locked the back wheels of his Tyrrell under-braking. Nevertheless it had been a game effort, for although he was on his local circuit, he had driven very hard and passed a lot of cars before his accident rather than be promoted to seventh place by other people's misfortunes.
Almost unnoticed Jarier's Shadow pulled in to retire with a broken exhaust pipe and an overheated engine after 37 laps and 16 laps later Hunt's Hesketh finally stopped with a metering unit failure having already made a pit stop in the race's opening stages to replace the car's nose section after "nudging" somebody in the "traffic jam" on the opening lap. Behind Stommelen and Donohue, Pryce was now on his own while Peterson was ploughing his way past the local Lotuses and his undistinguished team-mate.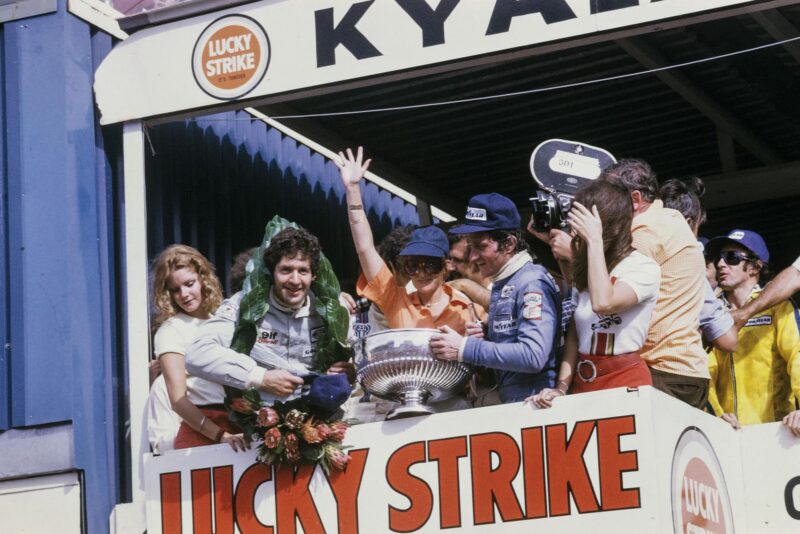 Gradually Reutemann faded to a couple of seconds behind the leading Tyrrell, this adding all the more to Scheckter's terrific confidence and the works Tyrrell driver didn't ease his pace at all over the last few laps, finally demoralising the Argentinian over the last few laps and finishing just over three seconds ahead of his opponent after 78 laps racing. It was a deliriously happy occasion for the thousands of racing fans who swarmed onto the circuit to cheer their local hero and it was nice to hear Ken Tyrrell saying above all the hubbub "don't forget Patrick", the little Frenchman having driven a fine race into third place even though he was overshadowed by Scheckter's big day on his home soil. Pace finished a worn-out fourth, while Regazzoni's Ferrari stopped with a broken throttle linkage seven laps from the end which enabled Lauda to take an uninspired fifth ahead of Mass and Stommelen. Donohue and Pryce were next ahead of the hard-charging Peterson while Tunmer added his piece of effort to what was obviously a great day for South Africa by beating Ickx across the line even though the local Lotus 72s were two laps down on the victorious Tyrrell by the finish.—A.H.