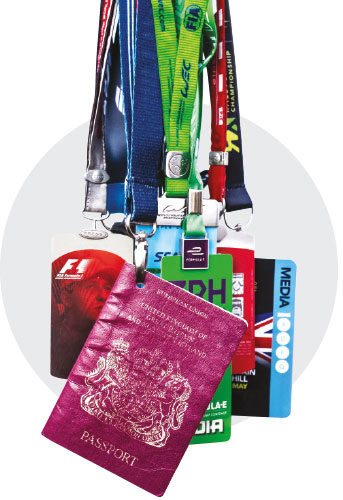 Fancy getting on the grid yourself? Historic motor racing has been one of the sport's biggest growth areas across the past two decades, with events throughout the UK and Europe but it can sometimes be an intimidating place to get started in.
However, there are some key strengths to this form of motor sport that have remained true, regardless of the level of competition you're aiming at.
Motor Sport caught up with some of the leading names from within historic motor racing to find out some of the benefits of this, unique, form of competition.
Variety is king
For anybody fresh into historic motor racing, one of the first things they'll notice is that almost any given grid is made up of machinery or all shapes, sizes, colours, capacities, countries and marques.
"Historic racing cars have identities, you're not just looking at the same shape in different colours, like you do with a lot of modern categories," says Alan Jones, competitions secretary of the Historic Sports Car Club – the UK's largest classic racing organiser.
"With historic grids you're looking at the shapes and forms, the model and the different engines and you have a depth most other parts of the sport can't match. Many cars also have interesting histories, whether that involves who built them, who raced them or what they competed in. You don't get that with modern cars.
"There's also often an emotional connection between the cars and their drivers. If you have a particular passion for the sport, being able to drive cars associated with the heroes of the past or your personal heroes – such as a Lotus Cortina similar to one Jim Clark raced – it's very special. If you have a versatile car, like a Lotus Elan or MG B, it opens the door to so many different events, and many are very prestigious – such as the Silverstone Classic, Spa Six Hours, Hockenheim Historic or things like the Monaco Historique and Le Mans Classic at the higher end. You can pick and choose where you want to race around the UK and Europe, depending on your budget."
It can be affordable
The Historic Racing Drivers' Club is one of the UK's newer organisers, and opts to run only series instead of championships, with the thinking being that the lower-pressure environment encourages more relaxed and welcoming racing.
"A lot of drivers who come and race with us get connected to their cars via the classic clichés like 'My dad used to take me to school in one of these' or 'My parents once had one of these and I loved it" says HRDC head Julius Thurgood. "Historic racing tends to be an emotive thing.
"I always suggest for newcomers to buy a car, instead of build one, purely because they will usually get it for less than it would cost to build from scratch in many cases, and at that point it's very unlikely to lose any money, making it more of an investment. Plus, it also saves the hassle.
"If you do your research, it's quite easy to buy a proven, reliable car with a strong history that will take a lot of the stress out of getting started in the sport and allow you to just enjoy the racing.
"The cars also offer good sustainability. With a lot of modern series you can pay a lot for a car, and it can be obsolete in a year or two and lose a load of value. For example, if you buy something like an MG B – which I still believe to be one of the most affordable and accessible historic cars going – it does the job, is easy to run and I know people who have run them for 20 years and they're still competitive, mostly because the regulations rarely change.
"Sure, the top level of historic racing can be hugely expensive with things like Goodwood and the Le Mans Classic, with star cars and star names, but that's not really what historic motor racing is about in my mind. This side of the sport doesn't have to cost a fortune."
Jones agrees on the grounds of cost limiting, adding that club competition in the UK can be very good value.
"We get a mixture of entries running the car with a team, which obviously costs more, or running the cars themselves, which is more cost-effective," he adds. "The paddock is very open, with drivers often happy to be up to their elbows in axle grease and chat about their cars as they become a source of pride, whatever the level they're raced at.
"You'll also find that most of the popular cars are very sustainable because many spare parts are reproduced new, so it removes the expensive rarity factor. If you go for the mass-market cars, so to speak, the costs aren't much different to running a modern vehicle."
The skills it teaches
"The fact the cars handle so differently makes them a different challenge for racers as they put the driver element back into the competition," enthuses Jones on this subject. "A few of our HSCC members have dabbled in modern racing and a few have progressed well in it, but they usually always come back to the historic classes because of the feeling the cars give you.
"With modern racing much of it is about hitting the right window in qualifying with the tyres in perfect state, and often where you've qualified is where you'll be for most of your weekend. Historic racing is very different in that you can start at the back and finish anywhere, and have some real battles along the way, which I think is probably the biggest draw."
The HRDC happened on to something of a historic racing sensation when it created its Academy series in 2014. It used Austin A30/35 saloons with limited modifications and can be credited with bringing a large number of new drivers into historic racing. The formula even hosted a celebrity race during the 2017 Silverstone Classic.
Thurgood says: "The Academy is our way of bringing new drivers through and it got elevated because the cars were so accessible. I designed them to be a car that you have to learn to drive. They have no limited-slip differential which means you have to judge the wheelspin and they only have 75bhp, so they can't get you into too much trouble. They are also easy to maintain and build and the Austin just epitomises the historic genre and the sense of fun and competition. We got up to 80 cars at one point."
Where to start
For drivers looking to go historic racing on a budget, there are a number of cost-effective options that will allow you to get behind the wheel of a classic without reaching too deep into your pocket.
"Classic Clubmans is perhaps our lowest-cost series," says Jones about the HSCC's current portfolio of championships. "The cars have been in owners' hands for many years and they all use common engines, like the Ford Kent X-Flow. They look like a modified Caterham, but because they run slicks and wings, they can lap as quickly as a two-litre classic F3 car, but cost far less.
"Roadsports has also been a huge success, because we keep the regulations tight. The cars are production-based and use a road tyre. With that series you're buying into a piece of history, and they are cars that usually you can drive on the road, too."
---
Some to consider
Four of the most accessible UK series
Swinging Sixties
(CSCC)
The Classic Sports Car Club has been one of the big success stories of club racing, running only series instead of championships. Swinging Sixties is one of its most popular offerings, catering for 1950s and '60s sports, GT and production cars. Races are 40-minutes with a pitstop, allowing drivers to share. This is its 16th year.
Roadsports
(HSCC)
A runaway success, Roadsports is now a series split in two to allow an even greater variety of cars. It has grids for production or GT cars from 1947-1969 (Historic Roadsports) plus its '70s Roadsports variant. Cars must remain road-legal and you even get extra championship points for driving your car to rounds.
Gentlemen Drivers
(Masters)
While aiming at the higher end of the market with many rounds held around Europe, Masters still offers some accessible options. Its Gentlemen Drivers class offers mini-endurance races for pre-1966 GT cars. Cars range from high-ticket Ferrari, Aston Martin and Porsches down to more available MGs, Fords and Austins.
HRDC Allstars
(HRDC)
For Pre-66 GT and Touring Cars the Allstars offers great variety and a low-pressure series-only format. Races are often 30-minute sprints with meetings typically lasting just a single day. Rounds are usually run alongside the HRDC Coys Trophy, allowing drivers the chance to enter a second race should they wish.