Stranger Things
Netflix made sweary Haas boss Guenther Steiner a sensation last year. Now Drive to Survive has returned, he explains to Scott Mitchell why F1 must grasp its chance to hit the mainstream
We are in the presence of TV royalty. Guenther Steiner is taking time away from a valuable day in his Haas team's testing schedule at the Circuit de Barcelona-Catalunya to delve into a world he happily admits he knows little about, but one that turned him into an overnight star last year.
In case you missed it, the first series of Netflix's Drive to Survive gave a rare look behind the scenes of the 2018 F1 season, featuring eight of the 10 teams – Ferrari and Mercedes were absent but will appear in season two. Focusing less on the racing in favour of narrative intrigue, highlights included Daniel Ricciardo deciding his post-Red Bull future and Steiner's expletive-filled management of Haas and its drivers Romain Grosjean and Kevin Magnussen.
"It's weird because it sounds too simple," Steiner says. "People ask: 'Why did you say that?'. I am who I am. I'm pretty relaxed about things in life. If you try to make something up about a story which isn't there, I have no patience with that. That's a waste of time. I put a mic on and went working [as usual]."
That's not to say Steiner transforms into a loose cannon. He is as honest as they come in F1, and that is what makes him such a powerful asset to the Netflix documentary series. Haas's up-and-down 2018, and its dramatic decline in 2019, provided an engaging storyline. Steiner's raw character and authenticity help bring it to life.
And he truly is authentic. Steiner's inadvertent starring role in the first season of the series made him one of its surprise revelations. So it is surprising that he says he has not watched the show's first season and does not intend to watch the second one, which was released on February 28.
That's probably for the best. If  'Guenther Steiner: Swearing F1 Team Boss' made his mark on season one, then in season two the character comes to the fore. There is not a trace of conscious thought in how Steiner comes across when he's laying into the team for the VF-19's stagnated development, or lambasting Magnussen and Grosjean for crashing into other in the British Grand Prix. He threatens people with the sack in the moment – not to play up to the cameras, but because he is emotional. It's real. "When it comes out, and everybody tells you what is happening, you're not proud of yourself," he admits of his high-profile profanities. "But then you get over it. The damage is done."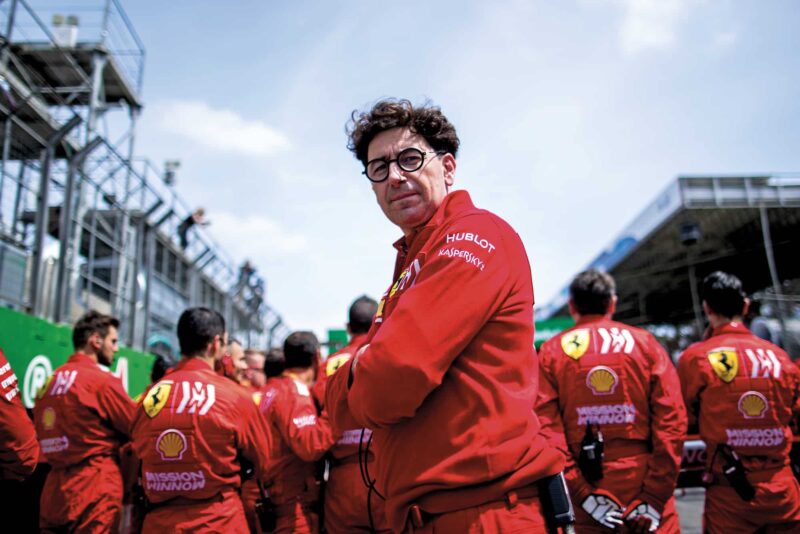 Steiner understands F1 placing his public persona in the hands of Box to Box Films, the company creating the series. It's the main reason he has been so open, and why Haas has not fought harder against the inclusions of highly-charged exchanges in season two.
"My understanding is: we want fans to watch us," says Steiner. "We are our own biggest enemy, by not giving them access to the cool things we have got. And I'm not saying cool things referring to me! Just to make that one clear!
"But we have got so much going on. We've got personalities, we've got technology. I would have thought differently 10-15 years ago – that we need to keep it secret. But we are a consumer product, we live from the consumer who consumes Formula 1.
"They are part of it and if you don't show them what you're doing, and if you don't give them access to it, how should they know and get interested?"
Steiner strikes a key point. One of motor sport's biggest problems is its high barrier
of entry. It is a lot easier to 'fall into' a sport where you can take a ball to a playing field and kick it around with friends. To go motor racing requires cash. Simply stumbling into F1 has never been an easy thing to do, particularly as broadcast offerings have moved increasingly towards to pay-TV.
We suggest to Steiner that Drive to Survive is F1's chance to have a 'jumpers for goalposts' moment, by lowering the barrier of entry, making it more accessible, and taking a casual audience to the heart of F1's positives. "Yeah, that's fair," he says. "In the 2000s, all the TV stations had a lot of Formula 1 and it was free to view. But the market changed. Now it's all streaming. In the States, a lot of people don't have a normal TV anymore. They do Netflix, Amazon [Prime], that stuff.
"So I think what Liberty did, making the deal with Netflix, was very good, because that is where people go now and you need to stay current in this market. Social media is the same. If you don't do social media, you are out of the game, you don't reach people.
"That [new media] helps, to make F1 accessible, and give it to people who normally don't go and look for it. Maybe some of them now see it and say, 'hey, that's quite interesting, I could watch a race'."
Judging how successful the series is is difficult. Steiner and Renault's Ricciardo, who spends a lot of time in the United States, both say they have registered an impact on a day-to-day basis, pointing to the number of people who refer to the series.
That it got a second season, which includes Mercedes' German Grand Prix explosion, indicates that F1 saw enough initial value to persevere beyond a single 10-episode run. Ferrari and Mercedes agreeing to be involved in season two was also a major boost.
How long Drive to Survive will continue for is another question entirely, but Steiner suspects it will reach a point of diminishing returns fairly quickly. If it does not, his message is quite simple: shine a light on the championship and all its positives and the rest will take care of itself. F1 has world-class drivers, fantastic engineers, great technology and engaging human stories – "the race on Sunday is not even 50 per cent of what we are doing", Steiner notes.
Having an outlet that can put those stories to a much bigger, more casual audience is a weapon F1 can use to combat the age of digital media and pay-to-view television. Steiner reiterates that the authenticity of F1 is key.
"I've lived in the States for 13 years, and I've learned that you need to give what's happening to the people that watch you," he says. "You cannot always stage everything. It's show business, but you don't need to play a show. It comes free!
"These guys from Netflix, they're not making a movie. It's not staged. For me, it's pretty simplistic. I didn't know that it would pick up this much, to be honest. I wouldn't have given it this much credit, that so many people would dedicate such a big following.
"But I was I was convinced that this will help Formula 1 in general to attract people and help to make it interesting. Because unfortunately, there are billions of people watching us, but how many have got access to the paddock? A few thousand. Think about that. Two billion against a few thousand. But now the billions, if they want, they can get a lot closer to that stuff."
Steiner doesn't watch the series because he doesn't need to. He's living it, and welcomes the hardest pressure points of his job being broadcast to the world, warts and all. F1 and Drive to Survive are much stronger for that.
---

Guenther in his own words
"In Formula 1 the highs are very high, the lows are very low."
Drive to Survive season one
"If we didn't have a stupid idiotic steward we would be eighth… You know who is the steward. You know him. It is always the same. He just does not get any more intelligent…"
Message over the team radio at the 2019 Russian GP. Steiner was fined E7500.
"We looked like rock stars. now we look a bunch of clowns"
To Gene Haas after Magnussen and Grosjean lost a likely shock fourth and fifth to its Australian GP pitstop errors
"I've had enough of both of you. You let the f***ing team down, me down, [when] I protected you all the time."
Steiner to his two drivers after the 2019 British GP debacle, Drive to Survive season two