The wild bunch: endurance racing's new historics
Until now, recently retired prototypes and GTs in the UK had to wait for historical status before becoming competitive again. Gary Watkins welcomes a new grid for 1995-2016 machinery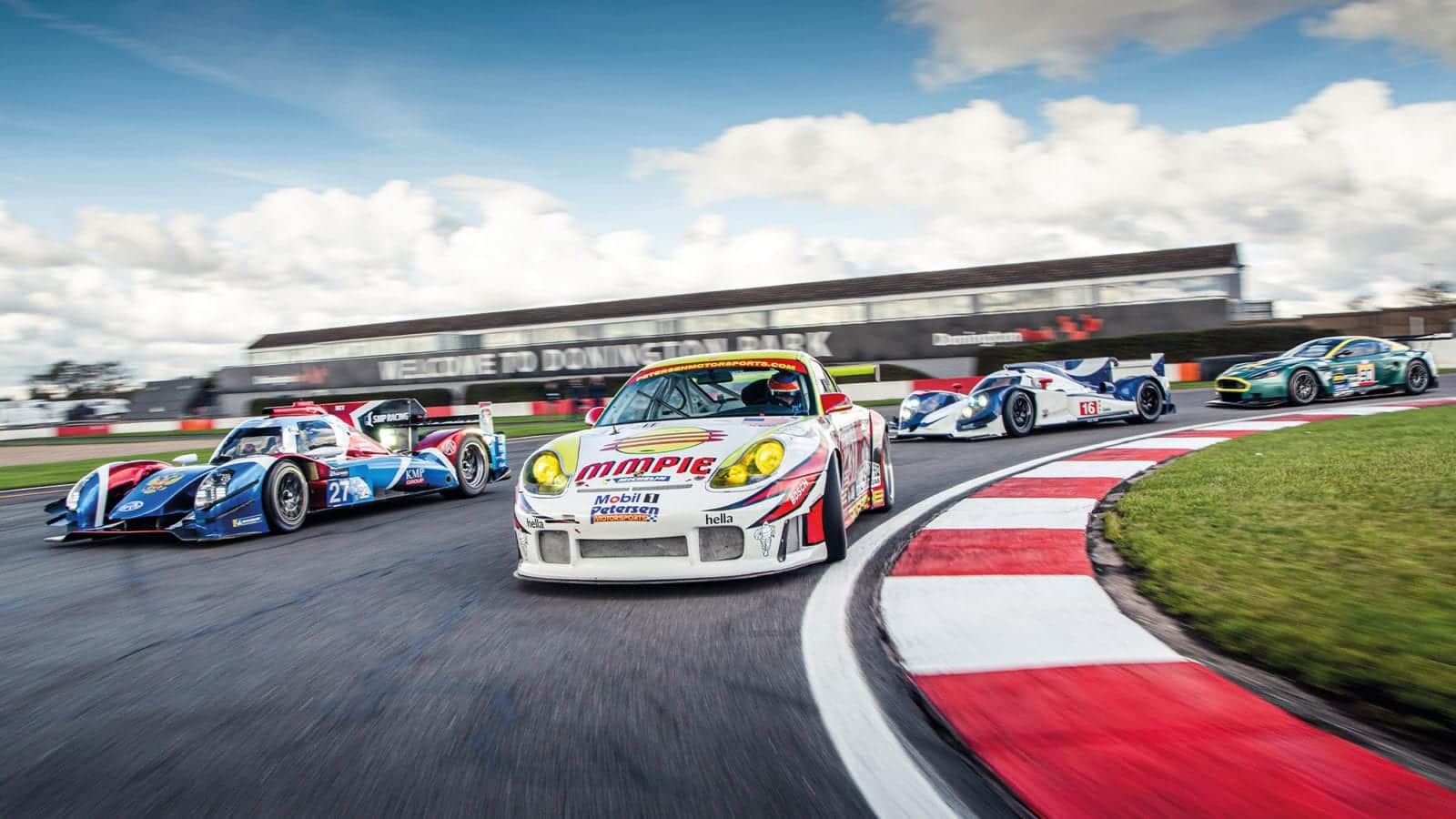 The cars out on track, some of them at least, look as though they are hot off a World Endurance Championship grid. It's a double-take moment because the prototypes and GTs lapping Donington Park — an Aston Martin DBR9 GT1 racer and a Lola-Judd LMP1 coupé among them — are now historic racers. Machinery that competed at the Le Mans 24 Hours this century, and deep into it, has found a home in a new series launched by Masters Historic Racing.
Post-historic would probably be a better term for the cars that compete in the series started up in 2017 by the British-based organisation, best known for its FIA Masters Historic Formula 1 Championship. Masters Endurance Legends (MEL) from next year will encompass cars built from 1995 to 2016.
The new championship is a departure, at least in the European culture of historic racing. (Over in North America cars find a place on the grid in classic series almost as soon as they are superseded in contemporary racing.) Unusual maybe, but it is perhaps a necessary one, reckons Masters founder and president Ron Maydon.
"Someone in their thirties might not relate to the older cars"
He began looking for what he calls "a new grid" for more modern cars to widen a Masters portfolio that also includes the FIA Masters Historic Sports Car Championship for Le Mans-style machinery that raced between 1962 and '74 and the Gentlemen Drivers series for pre-1966 GT cars. The search began after a eureka moment when his family joined him at the Silverstone Classic a few years back.
"My son-in-law was there and I noticed that he wasn't at all interested in our cars, but he was in the Super Tourers [competing in a Historic Sports Car Club race]," recalls Maydon. "It made me realise that someone in their thirties or even their forties might not relate to the older cars that race with us, but they would if there was machinery they saw racing when they were younger. My son-in-law remembered the British Touring Car Championship from the 1990s, the days of Will Hoy and John Cleland.
"None of us are getting any younger, so part of my job is to make sure that Masters is not only fit for today, but also for 10 or 20 years' time."
Maydon's interest in more modern GT and prototypes was piqued while at Road America for a Historic Sportscar Racing (HSR) meeting at which Masters' US-based F1 series was on the bill.
"There was a grid for later prototypes in which some of our competitors who race F1 cars were competing," he recalls. "I thought, this has to be a sign. I was initially told they were expensive to run, but the more I looked into it, the more I found that they were actually very cost-effective."
The idea for MEL, originally dubbed Masters Le Mans Legends, took hold in Maydon's mind. A pilot race for cars built up to the end of 2011 was organised at Spa in September 2017, ahead of a six-date series the following year. The likes of the Aston and the Lola LMP1 coupé, as well as the Porsche 911 GT3 RS and the Nissan-powered BR Engineering BR01 LMP2 car that joined them for the Motor Sport track test at Donington, have since become a fixture in the Masters paddock alongside Cosworth DFV-engined F1 cars, Jaguar E-types and Mini Coopers. Masters also runs a sister series in North America called MEL USA.
Many of Masters' hardcore of drivers have now bought themselves cars to race in MEL alongside existing machinery. One is Andrew Lawley, a regular competitor in Masters Pre-66 Touring Cars, who is now the proud owner of a 996-shape Porsche 911 GT3 RS with which he will start racing in the coming season. The step from his regular Alfa Romeo Giulia Sprint GTA didn't daunt him as a driver or an owner.
"This Porsche hits a sweet spot for me," he says of a GT2 class car with a nice history in the American Le Mans Series — it was a winner in the American Le Mans Series with the Petersen/White Lightning team in 2003. "It's recognisable as a modern racing car with slicks and wings, and has a fair amount of downforce. Yet at the same time it's pretty analogue – it has an H-pattern gearbox, for example. The car is recent enough to remain fully supported by the factory – it even comes with an owner's manual. You can ring up Porsche and get everything off the shelf. The car is cheap to run for the level of performance you're getting: we have been doing Porsche Carrera Cup times straight out of the box in testing. The engine will go for 30 hours between rebuilds; compare that to the Alfa, which is only 10 to 12 hours."
Long-time historic racer Steve Tandy has brought along his Lola B12/60 LMP1 powered by a Judd V8, which was fielded by the Dyson Racing squad in the ALMS with Mazda power in period, to the Motor Sport test. He's a self-confessed sports car nut, who has raced, among other things, Nissan R90CK and Porsche 962C Group C machinery, an IMSA GTP Spice-Chevrolet SE90, not to mention his beloved Lola T70 Mk IIIB continuation car. To Tandy, MEL is manna from heaven.
"This era of prototype racing produced genuine 30-hour cars"
"I've always loved prototypes," says Tandy, who only a couple of years back was turning out aboard contemporary sports racers in the LMP3 Cup in the UK driving a Ligier-Nissan JSP3. "I just enjoy driving cars with downforce."
He also likes the fact that when he goes out on track in the Lola, he's strapped into a modern racing car.
"I loved driving the Nissan, but it's now a 30-year-old racing car," says Tandy. "It's very apparent when you climb into the Lola that massive advances were made in terms of safety in the 20 years that followed. For where I am in my life right now, I want to be sitting in an up-to-the-minute survival cell."
The BRE LMP2, which raced in the WEC as recently as 2016, has been brought along to Donington by BBM Motorsport. The BR01 designed by Paolo Catone — whose credits include the Peugeot 908 turbodiesel LMP1, another car to compete in MEL — might look like a trick bit of kit, but BBM's Bob Berridge points out that the car isn't prohibitively expensive to run.
"This era of prototype racing produced genuine 30-hour cars — they turned Le Mans into a flat-out sprint because they were so reliable," he explains. "When you've got service intervals of 7000km for the engine and 15,000km for the gearbox, you end up with a car that can do two or three seasons of historic racing without a major overhaul.
"The technology incorporated in these cars actually works for you. When you have a problem, you plug in the laptop and within five minutes you know whether it's a coil pack, a spark plug or the fuel pump. The serviceability is fantastic and the cars are still young enough that parts are readily available."
Niko Ditting, who owns and races the Aston, isn't so convinced that MEL is a cheap option. He has to bring someone from Aston Martin Racing, the Prodrive-run operation that developed the DBR9 and its successors, to help run the car.
For Ditting, it's all about maximising his track hours when he takes time away from business and family to go motor racing. The German has added the 2006 Aston Martin, which was sold new to Brazil but only took part in qualifying for a single event in period, to a fleet of cars that includes an E-type, a Lola-Chevrolet T70 Mk III and an Alfa Romeo Giulia Sprint GTA.
"When I'm away from a race weekend I want to get as much time behind the wheel as possible, so I bring as many cars as possible," says Ditting, who has also raced the DBR9 in Peter Auto's Endurance Racing Legends series for cars built between 1994 and 2010. "I want to spend three or four hours driving over a weekend, not just 25 minutes. I believe racing a variety of cars from different eras make you a better driver."
Ditting, Tandy and Lawley are the kind of 'gentleman' drivers at which MEL is being pitched. The Masters organisation is wary of professionals being bought in to co-drive or even race a car alone. That explains the time penalties put in place for line-ups incorporating a pro in each of the two 40-minute pitstop races each weekend.
"Our job is to make sure that the people paying the bills take home the trophies," says Masters event manager Rachel Bailey. "If we have a battle for the lead between three cars driven by pros and the top gentleman in fourth, we're doing something wrong. We've got to look after our owners, because they're the ones investing in the cars."
The Covid-19 pandemic restricted last year's MEL calendar to two events. In 2021 seven weekends are scheduled, with a round at the Silverstone Classic in the summer and another on the bill of the Spa 6 Hours historic meet in September.
Masters is hoping for grids approaching the 30-car mark in 2021 and to spark a few memories of Le Mans. Memories that aren't too distant in the past.
---
Test drives
By Sam Hancock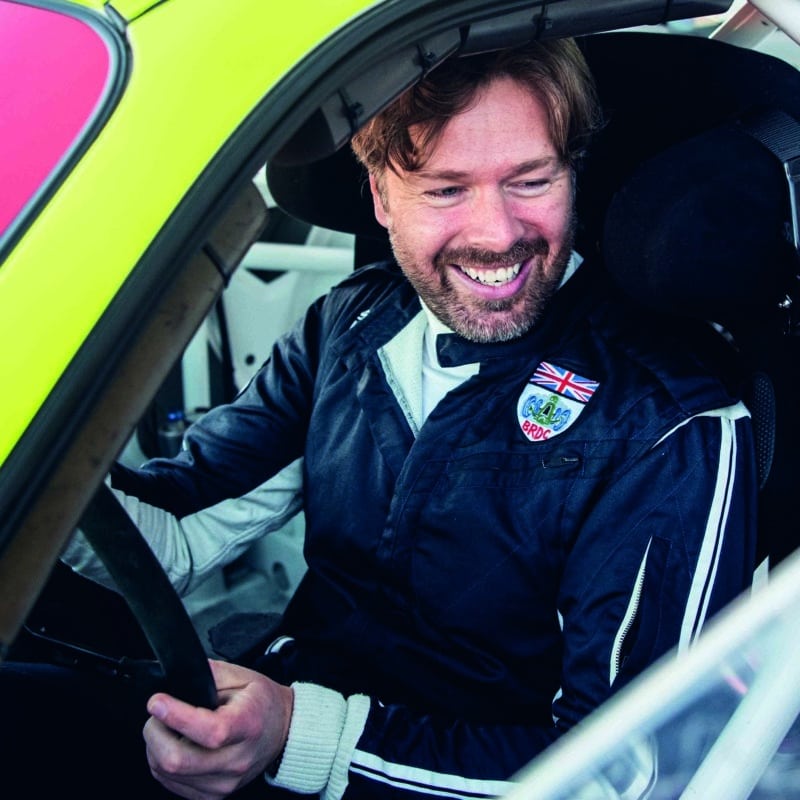 Years of racing sports cars across the categories hasn't numbed the sense of awe that a brace of unsilenced thoroughbreds can have on me. Arriving to a frosty Donington, it's not just the bark of their warming engines that arrests my attention, it's their sheer visual presence among the more modest machinery of the pit lane.
The Lola is an imposing sight: its sheer scale intimidating. With conversational efforts rendered mute by this quartet, I take a moment to absorb the variety of 21st century power: an early RS, a rare DBR9, a recent LMP2, and a Lola package that should, by rights, have a glittering history. But more on that later…
Aston Martin DBR9 GT1
More prototype in feel than a GT, most noticeable is the way the DBR9 belies its near-1200kg mass. The mechanical grip alone is phenomenal. In the chicane, the front end remains glued through the direction change, while the rear is kept in line by a flutter of traction control through the exit. Launching over the low apex kerbs, I marvel at the speed the DBR9 can carry through what is supposed to be a slow and technical corner.
I love the driving position, with the high-mounted steering wheel thrusting close towards my chest and an upright seat which helps me feel in charge of the car. I've ample room for my long legs, and, unencumbered by intrusive steering columns, I have the choice of left-foot braking.
The manually-operated sequential gearbox prefers use of the clutch when downshifting, so there are few moments of the lap that benefit from doing so. It's probably for the best. The carbon brakes facilitate braking so late that there's little room for error and, truth be told, my left-foot braking technique is rusty.
This chassis is exceptional in high-speed turns. It's beautifully set up by Tim Samways and co, and makes mincemeat of the Craner Curves.
At the following fourth-gear right-hander, I can't help but feel I'm leaving too much on the table so, encouraged by the huge torque on offer from the 6-litre V12, I try using fifth. Predictably, I lose a too much punch on the uphill exit, but eliminating that extra downshift pays dividends on the way in: the car is more stable, the aerodynamics more consistent, and I arrive at the apex significantly faster.
Impressive as the downforce is, the aero-balance is pitch-sensitive and efforts to keep the car quite 'flat' are rewarded.
The big stops at Redgate and the chicane are hard to execute with precision. Too late and too hard on the brakes and I find the rear objects with a snap of oversteer.
The DBR9's highlight is the soundtrack. The wail is automotive Mozart, and seems higher revving than it actually is. A vigorous assault on the senses, the DBR9 is intoxicating.
Lola-Judd B12/60 LMP1
The cockpit of the Lola is a pleasingly familiar environment and takes me straight back to the majestic Gulf-liveried Aston Martin LMP1 coupé I raced a decade or so ago that was built essentially around this same tub. As was the case back then, my 6ft 2in frame is once again comfortably accommodated.
The dash panel and steering wheel controls are encouragingly straightforward, with one large, clear display embedded into the wheel to tell you what's going on. But as with the Aston all those years ago, lateral vision through the tiny letterbox windscreen isn't great: those huge front wheel arches commandeering more than their fair share of the view and rendering it hard to gauge when a pass is complete.
I needn't worry too much about that though. With more than 600bhp and just 900-odd kilograms to push around, the Judd V8 positively inhales the road ahead, rendering all traffic stationary by comparison The engine is glorious, with a raw, taut and, dare I say, coarse edge to its note. What it lacks in aural silk is more than requited by the power delivery. Strong and responsive throughout the rev range, yet entirely progressive with notable torque.
None of that matters, of course, unless that power can be delivered to the road via a capable chassis – a quality this particular car has in spades. The handling is truly exceptional. Beautifully balanced in both high and low-speed corners, it's right up there among the best prototypes I've ever experienced. So effortless in fact that I have to forcefully recalibrate my brain and speed up my inputs to keep pace with the car.
Once dialled in, I find a rhythm that feels almost meditative and I long for more laps. For the life of me, I cannot understand why this package wasn't campaigned in period. It surely would have thrived.
BRE-NISSAN LMP2
Stepping into the BR01 is like entering the future. It's hard to believe I'm here testing it in the context of a 'historic' racing series. The cockpit is a bedazzling rainbow of lights and switches, and the central display more detailed than that of the Lola.
I'm told to ignore most of it and need only remember the sequence required to engage first and neutral, which isn't quite as straightforward as you might think.
In contrast to the Lola, the field of vision is outstanding, which proves most helpful when scything through a gaggle of Caterhams. I can't say I feel hugely assisted by the power steering, but the paddle-operated gear change is perfectly tuned.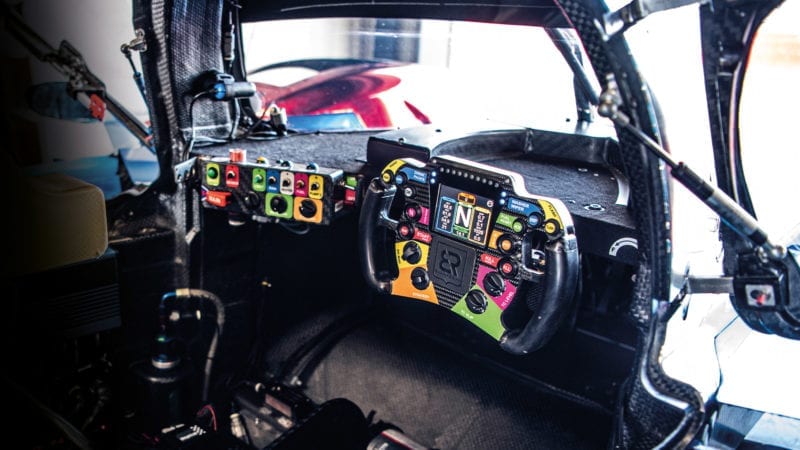 At first I struggle to get temperature in to the tyres, and it takes a few laps before the car comes alive. But when it does, it delivers. Cruising around at 80-90 per cent of the car's potential is effortless and needn't overwhelm any amateur.
To explore its limits, another mental recalibration is required. It's not so much that sense of someone having hit fast-forward on the movie playing out through the windshield, it's more about normalising braking points and entry speeds.
The harder I push, the more co-operative the car. Braking later and putting the car on its nose unlocks a sweet spot in the balance. Mid-corner understeer that was frustrating my efforts to get back on the power is gone, as is the feeling that the steering is over-responding and leading me into apexes on too shallow a line.
This is a car tuned to perform on the limit, but what lies beneath will be more than enough for most.
Porsche 911 GT3 RS GT2
The 911 is the earliest car in the group and the difference in cockpit technology is pronounced. No snazzy displays and flappy paddles, just a good ol' six-speed manual gearbox and a surprising quantity of production-spec interior trim.
In fact, so unassuming is the engine on start up, that until you blip the throttle, there are few indications from the driver's seat of being at the wheel of anything particularly spicy.
But the response confirms otherwise and belies the modest surroundings. Revealing itself, the car bolts from pitlane with gusto and immediately I'm transported to a retrospective Porsche paradise.
Entirely analogue and perfectly imperfect, the nose bobs and weaves while the rear disputes the laws of physics. Rowing through the gears is a joy, accompanied by that flat-six rhapsody, so tightly conducted by the accelerator.
With no meaningful downforce, the car feels light on its toes and I learn quickly to be patient, waiting a little longer than I would like for the weight transfer to complete before inputting my next request. The strategy pays off. Allowing the car to roll and take its set before mashing the throttle all but eliminates the onset of power understeer and seems also to increase rear traction. Nudges on the steering through the turn-in phase can speed the process, but it's a balance.
In contrast to the point-to-point precision and simple bravery demanded of the other cars, the GT3 RS requires more feel from the driver and, in turn, rewards it. High-speed drifts through the quicker turns are entirely manageable, while the 'on-tap' power oversteer from the tighter corners is joyous – if not necessarily the fastest way!
It's hugely characterful, with a wide performance envelope accessible even by drivers of limited experience. To me, the 911 represents the tipping point between the older analogue cars more commonly found in a historic paddock, and the younger machinery that is seemingly becoming all the rage.