A cut-price Lamborghini Gallardo: April 2022 auction results
Simon de Burton casts his eye over the month's auction sales, including a bargain Lamborghini Gallardo
2013 Lamborghini Gallardo LP570
Sold by Collecting Cars, £79,500 (above)
This could have been a 'once in a lifetime opportunity' – the chance to buy a purpose-built Lamborghini race car that had been used in serious competition only once before being sold off as a track-day toy. Originally supplied to Lamborghini Dallas, the car was raced at Watkins Glen by Scott Speed in the Super Trofeo series before, unaccountably, being moved on to a private owner. With just 1600 miles on the odometer, the 5.2-litre, V10-engined LP570 had been well maintained and was sold complete with a basic spares kit, factory technical passport and FIA-compliant rollcage.
---
1985 Ferrari 288 GTO
Sold by RM Sotheby's, £2.9m
Collector Marcel Petitjean bought this in 1998 from the original owner – BMW 'Batmobile' racer Bepp Mayer. Petitjean used it sparingly before displaying it in his private museum. It had clocked 6000 miles.
---
2009 Lotus Elise Jim Clark Edition
Sold by The Market, £36,250
A modern classic if ever there was one, this supercharged Elise was one of a series of just 25 introduced in 2008 to commemorate the 50th anniversary of Lotus star Jim Clark's death.
---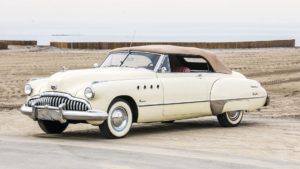 1949 Buick Roadmaster Convertible
Sold by Bonhams, £250,000
"Are you an excellent driver?" If so, this Buick could have been for you, since it was the car featured in the award-winning 1988 movie Rain Man and was consigned for sale by its star, Dustin Hoffman.
---
1958 Wahlborg Quarter Midget
Sold by Gooding & Company, £7450
This midget racer was given as a gift to the consignor as a five-year-old by his father, the late Can-Am driver and scale model fan Oscar Koveleski. Campaigned in 44 junior races between 1958 and 1962, it featured a Continental A-7 2bhp engine. Although he hadn't used it for more than 60 years, Robert Koveleski had kept the car in excellent condition.
---
1958 AC Ace Roadster
Sold by Bonhams, £385,000
A rarity in the US where the beefier Shelby Cobra is better known. This was owned by a USAF pilot who exported it home from where he was stationed in France. It sold for a third more than expected.
---
2005 Ultima GTR
Sold by Collecting Cars, £36,040
Looking to spice up the commute? This Ultima's 5.7-litre Chevrolet V8 was tuned to a road-friendly 450bhp (from an initial 600bhp for track use). It had covered just 8551 miles from new.
---
1957 Porsche 356A Speedster
Sold by Gooding & Company, £167,570
This early Speedster had its engine and gearbox removed and stripped more than 30 years ago but was never re-assembled. Apparently complete, it was offered as a "blank canvas".
---
Forthcoming car sale highlights
H&H, National Motorcycle Museum
Solihull, April 6
With one year to go until it marks 30 years of two-wheeler sales, H&H heads back to the National Motorcycle Museum with a promising line-up of classics ranging from pioneer-run machines to modern superbikes. Highlights already consigned include a 1951 Vincent Black Shadow built as a race bike (£75,000-£85,000) and a possibly ex-works 1952 Norton Manx (£65,000-£75,000).
Bonhams Amelia Island
Florida, March 3
If you're reading this hot off the press, you're just in time to bid for what might be one of the finest Porsche 550 Spyders in existence – assuming you have around £3.7m to spare. With Wendler coachwork, and in the hands of the same Florida owner for half a century, it has covered less than 100 miles since the completion of a meticulous, five-year restoration.
RM Sotheby's Amelia Island
Florida, March 5
RM has been the official auction house of the Amelia Island concours for more than 20 years. It returns to the ocean-front grounds of the Ritz-Carlton hotel in 2022 with a varied line up of road and competition cars ranging from a bright red 1955 Mercedes- Benz 300SL Gullwing to a triple race-winning Camaro IMSA GTO driven in period by Jack Baldwin.
Artcurial Rétromobile
Paris, March 18-20
Originally scheduled to take place in February but postponed due to Covid, the Rétromobile old car show returns for the first time since 2020 – and, along with it, the official Artcurial auction. We're promised "fabulous pre-war automobiles, classic bikes and a sprinkling of celebrity-owned vehicles". A Le Mans class- winning 1968 Porsche 907 should fetch at least £3.5m.