Les Thacker: Pitstops and f-stops with the man from BP
As BP's motor sport manager, Les Thacker had a golden ticket to the paddock where he'd meet and mix with some of the world's best drivers – and as a keen photographer, he recorded his experiences too. Here he guides Damien Smith through his unique archive compiled over 20 glorious years
When Les Thacker left the British Army in 1963 a move into the oil industry seemed a natural next step. "I wrote to Shell-Mex and BP, and Esso – and although both responded, Shell-Mex and BP were quicker off the mark," he says. "Their sales and marketing department tended to be recruited largely from ex-military personnel in that era." Training followed and a spell at the company's Fulham terminal and laboratory, where he found himself naturally drawn to the motor sport warehouse, home to Shell-Mex and BP's racing department which then included development of the "methanol fuel grand prix cars ran on at the time".
A self-confessed petrolhead before he'd even joined Shell-Mex and BP, Les asked if he could attend a race meeting and was surprised to be told to get himself up to Snetterton that weekend. "I was to head to the Castle Hotel in Norwich on the Sunday morning to pick up my pass," he says. "When I got there, I found myself having breakfast with Graham Hill, Jim Clark and Innes Ireland." And so began a high-octane life in motor sport, as Thacker later became BP's motor sport manager, helping along the way the careers of Derek Warwick, Martin Brundle, Johnny Dumfries and many more.
Les was also a handy photographer, and at a time in the 1960s when gaining a press pass was simply a question of writing a letter to the right official, he found himself well-placed at countless race weekends to indulge his passion – with spectacular results. He started with a Minolta Autocord, rare at the time in the UK, then moved on to a Mamiyaflex C33 Pro – the weapon of choice that captured most of what you see here. Now 82, he often dips into his archive to share evocative and unpublished images with friends on social media and is minded to put together a book – if only he had the time to scan his many thousands of negatives. Here, Les kindly grants Motor Sport a glimpse of just some of his astonishing photographs.
| | |
| --- | --- |
| | Les Thacker, in sheepskin coat, surrounded by drivers racing in the BP-sponsored F3 series. From left: Dick Parsons, Larry Perkins, Danny Sullivan, Gunnar Nilsson, Eddie Cheever, Terry Perkins, Patrick Neve and Stephen South. "Danny, Gunnar and Stephen were all associated with BP," Les says |
Jim Clark, Silverstone, 1967
The maestro with his British Grand Prix-winning Lotus 49, at what turned out to be his last race appearance on home soil. Les doesn't pretend he knew Jim Clark well, but he was on nodding terms. "A very shy man, but one of those superstars, like Ayrton Senna and Stirling Moss, who it was a privilege to have watched."
Chris Amon, Oulton Park, 1968
The Kiwi driver could be looking straight down the lens at Old Hall, in a shot that captures his artistry to perfection at the 1968 Oulton Park Gold Cup. Chris Amon in a Ferrari 312 finished second to Jackie Stewart's Matra, but it's this image and others similar that stick most in the mind. "It's my favourite shot," says Les. "I seem to remember there were just three photographers: myself, Nigel Snowdon and one other at Old Hall and this is how close we could get, before the days of the extreme focal length telephoto lens."
Derek Warwick & Brian Henton, 1980

Here are the Toleman drivers in the team truck during their successful European Formula 2 campaign. "In many ways it was my favourite year in motor sport," says Les. "Toleman was such a great family, and Derek acknowledges how much he learnt from Brian, who was among the very best test drivers."
Helen and Paul Stewart, Brands Hatch, 1971
Smiles for Helen Stewart, wife of Jackie, and their son Paul at the Victory Race. The day ended in tragedy when Jo Siffert was killed in his BRM. Given where they are looking, mother and son might well be watching the presentations for the Jack Brabham Trophy race earlier in the day.
Stirling Moss, Thruxton, 1983

The ubiquitous Herbert Johnson crash-helmet is totally out of period in a BP-sponsored Formula 3 car for a promotional photo shoot at Thruxton. "Stirling and Fangio were both with BP in the 1950s," says Les. "I loved my time with Stirling and Susie. It was a privilege to work with Stirling – the epitome of loyalty and integrity. So rare today."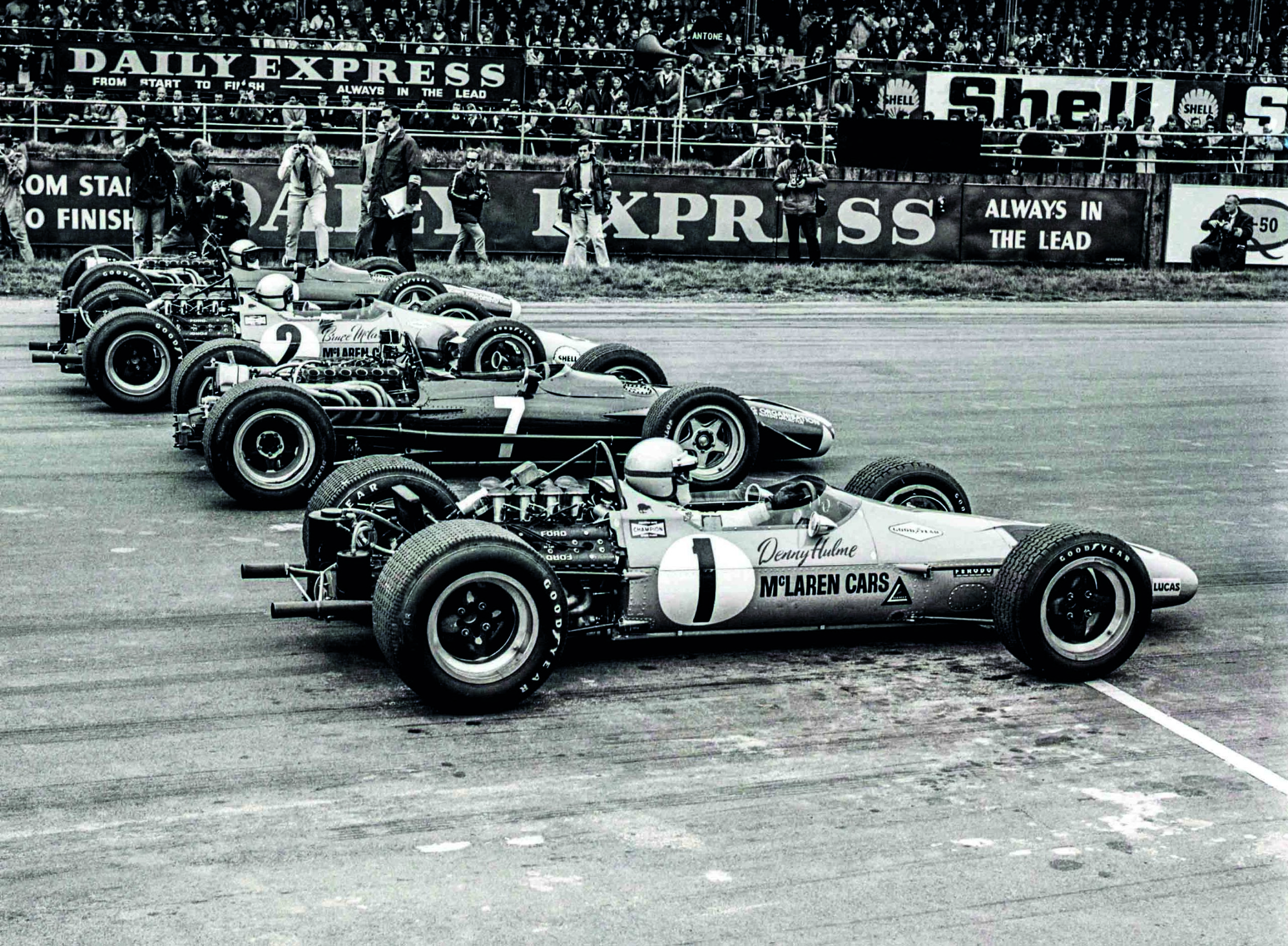 Silverstone, 1968
From nearest: Denny Hulme, Mike Spence, Bruce McLaren and Pedro Rodríguez form an all-McLaren and BRM front row at the International Trophy in April, following a poignant silence in memory of Jim Clark, who'd died earlier that month. Hulme and McLaren would score a team 1-2 in their M7As, world champion Denny recovering from a stone smashing his goggles and cutting an eyebrow to beat his team leader.
Chris Amon, Brands Hatch, 1968

Moments after finishing second to Jo Siffert in the 1968 British GP, Chris Amon was grabbed by Piero Lardi, left, much later to be recognised as Enzo Ferrari's son and today, as Piero Ferrari, vice-chairman of the Maranello car company.

Chris Amon & Frank Williams,
Brands Hatch, 1972

Frank Williams had hired Amon to drive his Len Bailey-designed Politoys FX3 in the end-of-season World Championship Victory Race, following the car's unhappy summer debut at the British GP when Henri Pescarolo crashed after a mechanical failure. Amon qualified well off the pace and retired with engine trouble in the race. "Chris is obviously telling Frank, who I remember as an incredibly courteous man, what he thinks of the Politoys!" says Les.
François Cevert & Jackie Stewart, Brands Hatch, 1971
"These two were acting as pitcrew for their boss 'Chopper' Ken Tyrrell in the Jack Brabham Trophy team managers' race run in Ford Escort Mexicos," recalls Les. Colin Chapman looked to have Jack Brabham beaten after a masterful pass on the last lap, only for his Escort to gasp on the run to the line, allowing Jack to claim his own trophy. A wayward Frank Williams and March's Max Mosley also starred, but Ken was well off the pace…
Peter Revson, Brands Hatch, 1974

This moody portrait of the American driver was taken at the Race of Champions just days before he died in a practice accident driving for Shadow at Kyalami. "A lot of people looked upon him because of his name and background as a bit of playboy [his father was co-founder of cosmetics brand Revlon]," Les says. "But he was a good driver, top class. I knew Shadow owner Don Nichols very well. He often used to stay at our home when he was in Europe."
Jim Clark, Silverstone, 1967
Les risks his eardrums to capture this evocative shot of the business end of the new Lotus 49 and its potent Cosworth DFV V8 – naked here for all to behold – at the British Grand Prix, as Jim Clark adjusts his helmet before pulling away.
Brands Hatch, 1970

Pitboard signs for drivers in the British GP. On 'pole' among the heroes is George Eaton, heir to a Canadian department store empire, who raced in Formula A, Can-Am and made 11 F1 starts for BRM before returning to the family business.

Graham Hill & Max Mosley, c.1973

What are these two talking about? Les catches Graham Hill and Max Mosley in conversation. "Max, to me, was incredibly polite and courteous," says Les. "He was in the wrong job. He would have made a fantastic diplomat or even prime minister. I used to have lunch with him and Robin Herd in a posh place up in Kensington. The pair of them together, when they were trying to work you over for something, were a class act! Both Max and Robin were unbelievably gifted. Graham? There was the public image that everyone loved but there was always the intense professional and serious side as well."
Bruce McLaren, Silverstone, 1968

Here's Bruce McLaren at the 1968 Silverstone International Trophy, which proved a good outing for the McLaren team with Bruce 10.9sec behind winner Denny Hulme. "I really like this photo," says Les. "It just shows what a thoughtful individual Bruce was, a very underrated engineer and the guiding light of McLaren as it is today. His late widow Patty had a copy of this picture."
Dan Gurney, Silverstone, 1967
The pipes of the Weslake V12 have Les directly in their sights as Dan Gurney leaves the Silverstone pit at the 1967 British Grand Prix. Gurney qualified fifth, 1.1sec behind the Lotus of Jim Clark on pole. In the race, the Eagle was grounded by a slipping clutch after 34 laps – while Clark would go on to win his fifth and final British GP. "This shot really shows how beautiful grand prix cars were in that era," remarks Les. "And the Eagle was among the best."
Colin Chapman & John Surtees,
Brands Hatch, 1971

Two great characters sharing a joke before the Jack Brabham Trophy race. "As team owners they were a little bit similar," says Les. "You wouldn't have argued with Colin, and you couldn't with John!"

James Hunt & Mike Hailwood,
Brands Hatch, 1973

Two peas in a pod? Les reckons James Hunt and Mike Hailwood were "very similar characters in a way". He has stories about both, but recalls visiting Hailwood and Howden Ganley at St Thomas' Hospital in London after the pair had crashed separately at the Nürburgring in 1974. Both had F1 career-ending leg injuries. "Mike," recalls Les, "didn't look well and said, 'Les, 'I've never been in so much pain.'"