Isle of Man TT through its rough and raw pre-war years
It began as a legal expedient. Now the Isle of Man is forever associated with the Tourist Trophy races. These eloquent pictures bring a flavour of just how tough those pre-WWII events were
Run every year since 1907. Pausing only for wars and epidemics, that's the proud record of the Isle of Man Tourist Trophy motorcycle races. A spectacle of staggering speed and daring, it still runs over public roads temporarily closed to traffic, and huge crowds arrive every June to watch. Kerbs, signposts, trees and terrifying stone walls still define the route, yet speeds today approach 200mph.
The originators would have stood open-mouthed. Debut winner Charlie Collier covered 10 laps of the 15-mile St John course in his belt-driven Matchless in just over four hours at a speed of 38.21mph. Courses and classes have changed many times since, but the winner of the Senior TT still receives the same priceless trophy showing Hermes astride a winged wheel.
Conceived by the Auto Cycle Club (now ACU) the event was first meant as a test for road-equipped touring machines, carrying mudguards, silencers and pedals to help with slipping drive belts. With closed-road racing forbidden in mainland Britain, the self-governing island was a convenient option. Initially dominated by home makes and riders, the event quickly drew wider interest, and now riders and spectators from around the world crowd onto the island every year. Today's touring link may be tenuous, but those initials TT still mean the most famous and prestigious races on two wheels.
These impressive pre-World War II photos give some idea of how raw and rough the courses were, especially when in 1911 a new Mountain course speared off up the side of rugged Snaefell, the island's highest peak. Only fully surfaced in 1926, the Mountain course has traced the same route since 1920, starting in the island's capital Douglas and reaching 1300ft in its almost 38-mile, 200-corner lap.
Where we remember Hailwood, Agostini and the Dunlops, these early spectators in their trilbies and overcoats came to marvel at the heroics of Wal Handley, Stanley Woods and Jimmie Guthrie as lap speeds inched up through 50, 60 and 70mph. Take a look at these wonderful photos and marvel.
June 16, 1926
A competitor manoeuvres his machine into place in front of the starter ready to be flagged off for his first lap. Behind, more riders wait for their start times. On the complex scoreboard, the 'Progress' line shows each rider's approximate position on the circuit.
June 9, 1932
Situated just a mile after the start, Quarterbridge remains the riders' first big challenge, especially on cold tyres on the first lap. Today it is unrecognisable from this 90-year-old shot, having been radically reprofiled and including two roundabouts on non-race days.

June 14, 1937
Jimmie Guthrie sits astride his 350cc Norton after winning the Junior TT, being heartily congratulated by his rival Stanley Woods. Later that year Guthrie was killed in Germany; a memorial cairn still stands by the TT course.
June 28, 1912
Jack Haslam steers his 350cc Douglas inline twin through Greeba Bridge over the loose stones, gravel and mud that then made up the Mountain circuit. Today it forms a tricky third-gear S-bend.
June 15, 1936
In the Lightweight TT this year, H Lamacraft rode an Excelsior with its 'Manxman' single-cylinder engine. Then as now, advertising formed a vital part of racing's background.
June 14, 1937
From this angle you can see how tight Quarterbridge once was, as Jimmie Guthrie cranks his Norton between the kerbs.
June 28, 1912
It's finally over. Ed Kickham finishes second in the Junior TT, backing up Harry Bashall in a Douglas 1-2, both private entries.
June 19, 1923
Freddie Dixon, later to achieve great success in Riley cars, poses in his Douglas outfit after winning the sidecar TT, both he and his cheerful passenger smoking the inevitable cigarette.
June 12, 1939
The elevated beer garden of the Railway Arms pub still today offers the same great view of the approach to Union Mills as these spectators had as they watch Harold Daniell on his 500cc Norton.
July, 1928
Irish champion Stanley Woods won numerous TT races in a long career, but he was out of luck in 1928, when fog and rain upset the running in the Senior event.
June 28, 1912
The slow way round the track. WH Bashall being raised shoulder-high after his victory in the Junior Tourist Trophy.
June 19, 1926
By 1926 all of the course had been surfaced with Tarmac, producing the first 70mph lap, by an AJS, while victory went to Stanley Woods' Norton. Langton's New Hudson, shown here, failed to finish.
July 16, 1930
Get a load of Pratts! Smart RAC official refuels a BSA from a hand-cranked petrol bowser on the quayside in Douglas. By this time methanol had been banned and pump fuel was mandatory.
June 15, 1933
Onlookers get a close-up view as Wal Handley loses his Velocette and slides to a halt in front of them. Luckily neither he nor machine were hurt; he remounted and continued to finish seventh.
July 1, 1912
It may look more like a forest rally stage than a road racing motorcycle circuit, but this is what early contenders had to face. Here J A Hoffman gingerly cranks his Triumph over in the Senior race.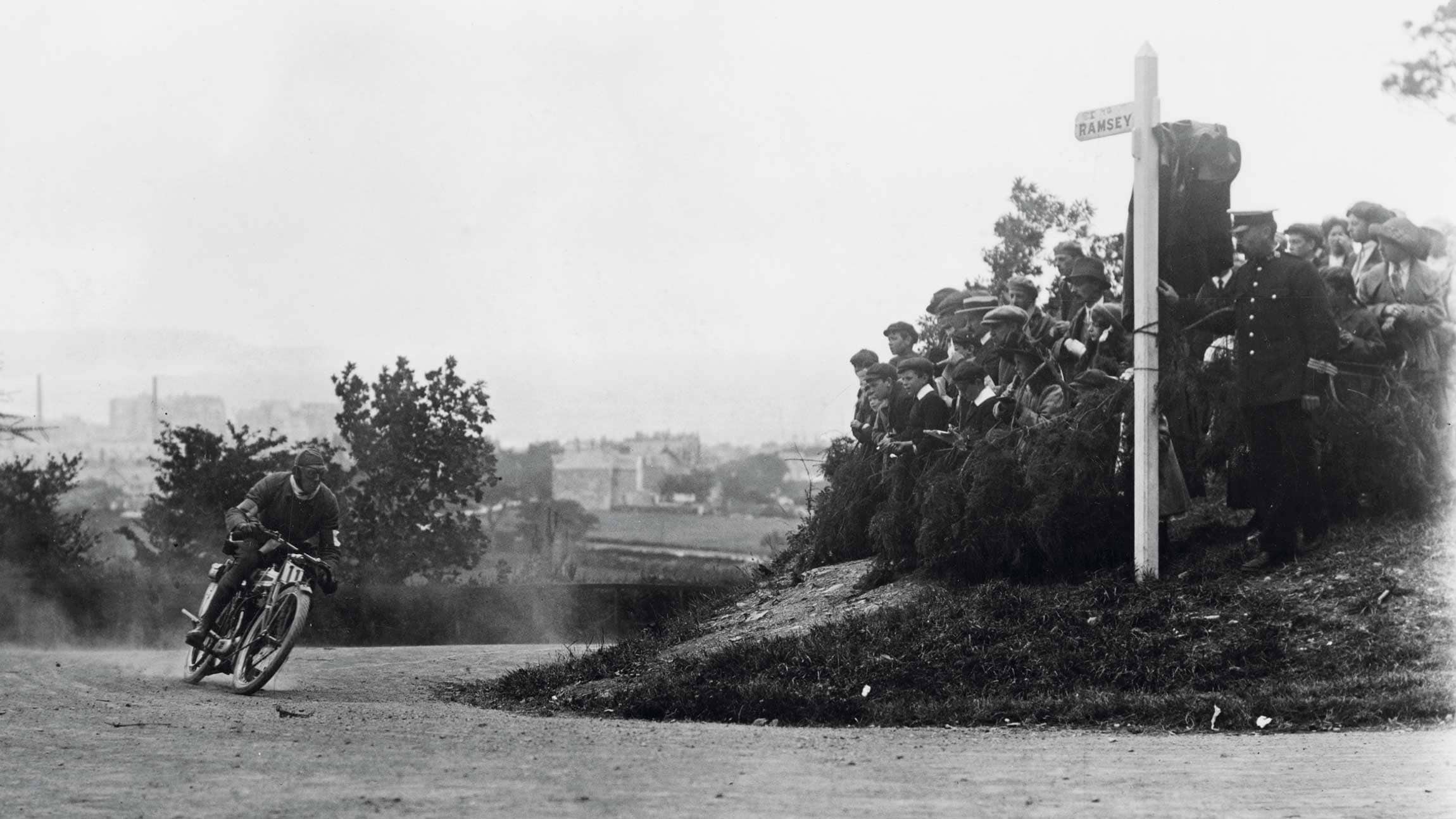 June 12, 1939
Yet another victory for Stanley Woods, this time in the Junior race and again on a Velocette, although he rode a Moto Guzzi in the Lightweight TT. This would be his final win.
April 20, 1932
Classic shot of the plunging downhill hairpin at Governor's Bridge, the last obstacle before the sprint to the finish. Cheering spectators wave on their hero Stanley Woods.