1959 British Grand Prix race report - A walk-over for British cars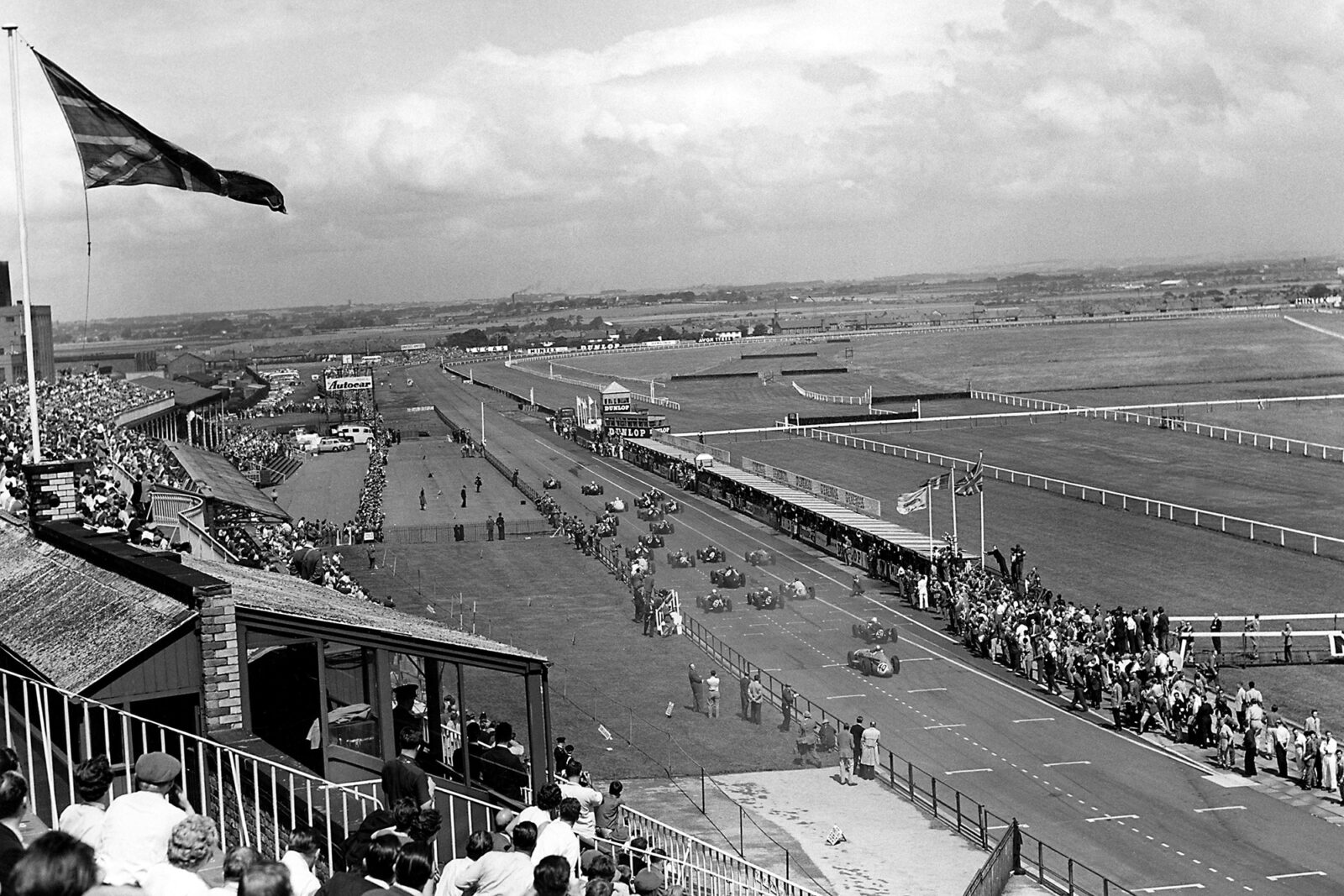 A walk-over for British cars
Aintree, July 18th.
As now seems traditional the British Grand Prix never rests in the same place two years running, and this time it was the B.A.R.C. who organised the race, using Mrs. Topham's Aintree Stadium for the venue. The entry was a strange one for a World Championship meeting, for the Ferrari team were prevented from appearing by labour disputes in Italy, though the Scuderia Centro-Sud managed to get over these problems and were the sole representatives of Italy. With Enzo Ferrari withdrawing his entries it meant that his drivers were left high and dry and Brooks was the only one able to borrow another car, thanks to the generosity of Mr. Vandervell who lent him a 1959 Vanwall. A total of 16 cars were accepted as definite entries and a further 8 places on the starting grid were made available to the best of an assorted bunch of F.1 and F.2 cars, the fastest of these having first pick of the extra entries.
Practice for the Grand Prix began on Thursday afternoon and after many rumours and counter-rumours various final decisions as to who was going to drive what car were settled, and though the circuit was open from 2.15 p.m. to 5 p.m. the times recorded were not intended to decide grid positions, this being left until Friday. The afternoon was as wet and miserable as one could possibly imagine and the paddock was full of unhappy faces, for this first period was meant to serve as a test run for serious motoring the day after. As it was, those who braved the rain splashed their way round learning very little apart from getting a taste of how horrible the race was going to be if the heavy rain continued throughout the meeting. Lap times were 10 seconds or more down on what would be expected in the dry, and Moss made the fastest lap in 2 min. 08.4 sec. driving the pale green B.R.M. prepared by the British Racing Partnership team. Schell, Bonnier and Flockhart were out in the works B.R.M. team cars, Salvadori and Shelby in the works Aston Martins, Brabham, Gregory and McLaren in the works Coopers, and Brooks with a pair of new Vanwalls. Of the sixteen definite entries two were scrubbed so that ten of the "also-rans" had a chance to get on the starting-grid, the two withdrawals being Atkins' Cooper-Maserati which should have been driven by Fairman, and the third works car from Team Lotus. Both were non-starters due to engine troubles in previous races, the Maserati engine breaking a piston at Reims and the Lotus awaiting its 2½-litre engine from Coventry-Climax after being blown sky-high at Le Mans. Such is the shortage of engines that Lotus have to share theirs between F.1 and sports cars and a broken valve or connecting rod means a long delay. The B.A.R.C. refused to allow Chapman to install a 2.2-litre Climax engine in his third car, yet allowed Atkins to put such an engine in his F.2 chassis, for Fairman to drive amongst the qualifiers.
Friday practice was held at the same time as the previous day, and it was still wet, so that the recording of times to decide the starting-grid got under way rather slowly, though Moss and Bonnier were not letting the slippery track worry them too much, nor was Salvadori. Within a matter of minutes the rain stopped, the sun appeared and the track dried at a phenomenal rate, so that times started dropping down towards the 2-minute mark very quickly and practice took on a more serious air. Graham Hill was going fast and looking very steady, though Lotus still had not got their Weber carburetters working as well as Cooper, and Flockhart was trying very hard as he had been entered amongst the "also rans" and was determined not to stay there for long. With only two cars in the Lotus team the second one was being shared by Ireland and Stacey to decide who was going to drive in the race, the former still a bit sore and stiff after his crash at Rouen. Gregory in his works Cooper was looking exceedingly wild, especially under heavy braking, but nevertheless was making some fast times, while Salvadori was also going very fast, the Aston Martin looking as steady as one could hope to see a racing car. Of the Formula 2 cars Bristow was going well, as was H. Taylor, while W. F. Moss was trying as hard as his ordinary Cooper would allow. Brabham then arrived at Melling Crossing going absurdly fast, got through the ess-bend in a wild and woolly snaking-motion and recorded under 2 minutes, proving that the track was now really dry all the way round and that set the signal for a lot of very fast motoring. Moss and Salvadori were soon well under the 2-minute mark, and so was Schell, while Bonnier was not far off, but Brooks in the Vanwall was not at all happy and could not approach a good time, the car just not being fast enough. He tried both the cars that the Vanwall team had in the pits, but was not happy with either of them, and though they were supposed to be developing more power than last year, their rivals were running away from them. These two cars were fundamentally the same as in 1958, except that the engine had been lowered in the frame, as had the propshaft line and the driving seat, while the bodywork had been lowered and made narrower and some weight, reduction had been effected.
The Coopers, both F.1 and F.2, were going extremely fast, and looking horribly unstable, yet the drivers all seemed quite unconcerned, whereas drivers in more stable machinery following behind were getting quite anxious at the twitchings and jumpings of the Surbiton cars. Towards the end of practice Trintignant in Walker's Cooper-Climax began to go very fast and joined the elite with lap-times of under 2 minutes, while Salvadori and Brabham had got down to 1 min. 58 sec. which just improved on the existing lap-record of 1 min. 58.8 sec. Although there was an improvement, it was not as much as has been seen on most of the other Grand Prix circuits this season, but there was no doubt that Aintree was very suited to the Coopers and the Aston Martins. Although Moss was driving the B.R.M. hard he could not approach the fastest times and was back in the third row of the start, and was not even the fastest of the B.R.M. cars, Schell being quite a lot quicker. As if giving up all hope of going any quicker he contented himself with doing a lap with a tape-recording outfit on his knees. At the back of the field there was tension amongst the runners to see who was going to qualify for the start, and Flockhart had made quite sure by lapping in 2 min. 00.2 sec., while Naylor led the rest in his home-built Cooper based Maserati, using a 4-cylinder 2½-litre Maserati engine and a new 5-speed Maserati gearbox built by the Modena firm expressly for fitting into a Cooper-type chassis. Bristow was the fastest of the F. 2 cars with the Cooper-Borgward, just beating Bueb with a similar car, while Brooks (Vanwall), Herrmann (Cooper-Maserati), d'Orey (Maserati 250 F) and Piper (Lotus F.1) were all down among the times of the lesser qualifiers, but were assured of a starting position anyway.
Shelby joined the select group by lapping the second works Aston Martin in under 2 minutes, while Gregory and McLaren were in as well, but not as fast as Trintignant. As practice drew to a close the sunny blue skies disappeared and down came the rain again, so that all hopes of any more fast laps were now gone, though Brooks was still trying to get the Vanwall sorted out. With weather prospects not too bright for the race the timekeepers drew a line under Michael Taylor with his Formula 2 Cooper and W. F. Moss (Cooper), Parkes (Fry F.2), T. Taylor (Cooper), Greene (Cooper) and Parnell (Cooper) were the unlucky ones who were ruled out, the lowest time to count being 2 min. 07.0 sec., while Salvadori and Brabham were fastest with 1 min. 58.0 sec.
After torrential rain about midday on Saturday the skies cleared once more and the sun dried the Aintree Stadium at a remarkable rate, so that while the cars were being assembled on the grid and the drivers were paraded round the circuit in white Austin-Healey Sprites, things looked set for an interesting and exciting race, even though it was almost entirely dominated by British cars.
At the last moment before the start Team Lotus substituted Stacey for Ireland in their second car; although he made the faster practice time Ireland was not feeling well enough to race. The start was comparatively orderly, and when the flag fell Piper had not got his engine running properly and Herrmann stalled, so that 22 Cars went off in a tight bunch towards the first corner, the Centro-Sud Maserati being pushed off afterwards and Piper going in to the pits to reset his ignition. It was Brabham way out in front, followed by Schell, Bonnier, Gregory, Trintignant, Moss, McLaren, Hill and Salvadori, while Shelby was even further back at the end of the opening lap, neither of the Aston Martins making a good getaway, and Brooks was right out of the picture. On the next lap the field was still following each other nose-to-tail, trying to get things sorted out, when Fairman spun and dropped right to the back and Shelby stopped at the Aston Martin pit as he was being sprayed by fuel. The cause was merely splash from the overflow from the tank, so he was sent off again, and the very next lap Salvadori came in for a similar reason and to check that the filler cap was shut properly, it being under a flush fitting flap in the tail so that he could not see it. Again it was only initial surge from a full tank so he also rejoined the race and waited for the level to go down. This meant that both Aston Martins, which had shown such good promise in practice, were now way down the field with no hope of catching the Coopers and B.R.M. as which were monopolising the leading positions. Brabham was drawing steadily away from the rest, but for second place Schell, Bonnier, Gregory, Moss, Trintignant and McLaren were having a terrific battle, with Hill just behind them watching it all. Then came Flockhart, Stacey and Naylor in close company with Salvadori gaining on them fast, and a very unhappy Brooks on his own at the back of the major portion of the field. By five laps there was a long pause after Brooks before Bristow arrived leading the F.2 cars and the odds and ends of Formula 1, while Fairman was trying to make up for his error and Piper had joined in two laps late. On lap eight the scrap for second place arrived at Tatts Corner at the same time as Piper, and the bright green Lotus was surrounded by cars on all sides, With irate drivers cursing him from all angles, and that rather broke things up for it let Moss and Schell get away, leaving Gregory on his own with Bonnier, Trintignant and McLaren following. Salvadori was now going splendidly and was challenging Flockhart for tenth place, while Shelby was not making much progress as one of his magnetos had ceased to function due to a sheared drive, so the Aston Martin was running on six plugs instead of 12 and was a few hundred revs down in consequence.
By 10 laps Brabham was 13 seconds in the lead from Moss and Schell, while Trintignant had come up to fourth place, closely followed by McLaren, Bonnier and Gregory, the American not being too happy with a water temperature gauge that was approaching the end of the dial. Fairman had by this time made up a couple of places and Brabham was lapping most of the tail-enders. On lap 11 Hill spun his Lotus round in a wide sweep across the lawns on the inside of Tatts Corner, making the photographers jump, and continued unabashed, but this let Salvadori catch him up, and on lap 12 the Vanwall went by in 13th position misfiring badly and on the next lap Brooks retired at the pits, the cause of the misfiring not being curable. Salvadori now attacked Hill and took eighth place from him, but the Lotus driver retook his position and there followed a furious battle between these two, during which Salvadori was forced to bump the tail of the Lotus more than once as well as shout at the driver but it was more than five laps before the Aston Martin could rid itself of the long lean Lotus, and a few laps later Salvadori had to start all over again with Gregory's Cooper. Passing the slower cars had been easy, but as he got nearer to the front the drivers were less desirable of giving way and there was some pretty fierce dicing going on, and some harsh words being shouted. Meanwhile Brabham was scuttling on in the lead, taking his corners with the tail sliding outwards and looking sideways to see how Moss was getting on in the pale green B.R.M. On lap 17 the Cooper had a 17 second lead, but after that Moss began to speed up, as the fuel load lightened and the tyres wore down, and slowly but surely the 17 seconds were being reduced. Trintignant and Schell were battling away for third place and getting in each other's way so that McLaren was catching them up. On the 24th lap Moss set up a new lap-record in 1 min. 58.6 sec., and the gap was reduced to 15 seconds, but Brabham was lapping close on 1 min. 59.0 sec. so there was little to choose between the Cooper and the B.R.M. McLaren now caught Trintignant and Schell, and whistled by into 3rd place and Salvadori and Gregory were still carving each other up, with Hill and Flockhart following a fair way behind, the rest of the field having been lapped, including Shelby. On lap 27 the dice for third place arrived at the corner before the pits at the same time as H. Taylor in his F.2 car and he had little choice but to go wide on to the grass to get out of their way, for they would surely have run right over him. Although Moss reduced the lap-record to 1 min. 58.2 sec. and then 1 min. 58.0 sec. Brabham had got the measure of him and the gap between them hovered around 14 to 16 seconds, with the Australian keeping a wary eye across the inside of the corners to see if the B.R.M. was getting dangerous. By lap 35 Brabham was lapping at the same speed as Moss and wasting no time in overtaking slower cars, while his team mate, McLaren had dealt with Trintignant and Schell and was pulling away.
The Salvadori/Gregory battle had caught and passed Bonnier who had been running steadily but not in the picture, and then Salvadori overdid one of the corners slightly and Gregory got away from him. As Bonnier finished his 37th lap the B.R.M. went "bang-bang-phut" for the throttle linkage had broken somewhere between the pedal and the Weber carburetters and he coasted to retirement, while on the next lap Trintignant lost second gear and had to give up battling with Schell.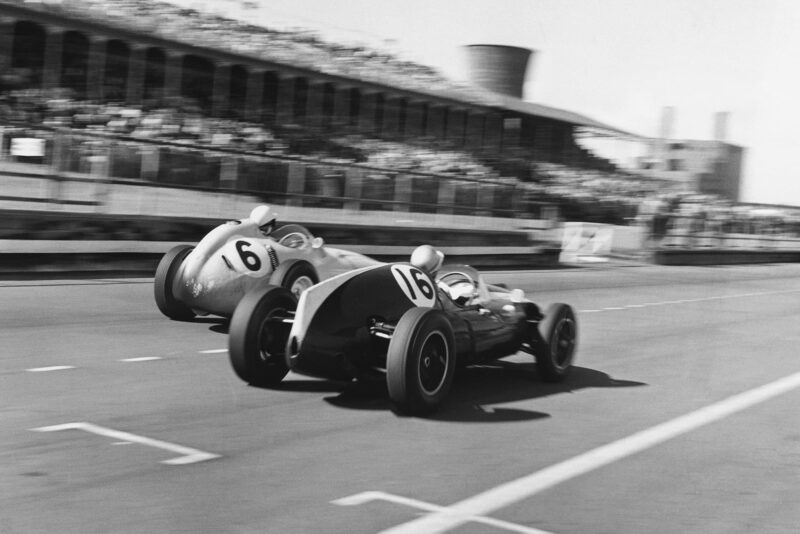 On lap 41 Brabham lapped Salvadori, and as the Aston Martin had spun at Anchor Crossing it was now way behind Gregory and the scene became more genteel. Moss was 12 seconds behind Brabham, but it was taking all his skill to reduce this distance by a few tenths of seconds, and he had the B.R.M. in some pretty wild looking full-lock slides through the corners in his efforts to gain precious yards. McLaren was firmly in third place, followed by Schell, Trintignant and Gregory, though the American was about to be lapped by his team-leader. Then followed Salvadori, Flockhart, Shelby, Hill and Stacey, with Bristow still leading the F.2 cars, while a lap behind him Bueb and Henry Taylor were still having a close race; to complete the list of those still running came d'Orey with the old Maserati and Ashdown in the Brown/Tyrell Cooper, their other F.2 car driven by Michael Taylor having retired long since with engine trouble.
At 45 laps Moss was 10½ seconds behind, and not really gaining, while Schell had lapped Shelby and this had incensed the Texan so that he woke up and hung on to the B,R.M. for a number of laps in spite of being down on r.p.m. As Moss completed his 50th lap he had reduced the gap to 10 seconds, but he then came into the pits and had the nearside rear wheel changed in 31 seconds and was away again before McLaren appeared. This had been quite unpremeditated and unrehearsed which put a heavy load on his mechanics, for Dunlops had estimated that the tyres would last the race, but had not allowed for Moss improving on his practice times by nearly 2 seconds. With slowing down and accelerating away from the pits this meant that the B.R.M. was now 51 seconds behind the Cooper, and Brabham's pit waved him to take it easy and keep an eye on his rear tyres, but all was well, for the Cooper was not using rubber at the same rate.
Shelby was still hanging on to Schell, while Bristow lapped his team-mate Bueb, who was having gearbox trouble and had had to let Henry Taylor get away. At 54 laps Brabham was 53 seconds ahead of Moss, but keeping a wary eye on the B.R.M. and 18 seconds behind came McLaren driving a beautifully regular and fast race. Schell was fourth, Trintignant fifth, Gregory sixth and Salvadori seventh, followed by Shelby who had given up trying to hold on to Schell, and Graham Hill was going slower and slower, in trouble with his Lotus. Just at this time Flockhart should have been in eighth place, but he spun at Village Corner, stalled the engine and went in a small ditch, all due to his cockpit being plastered in oil, as the oil pressure gauge had been reading zero for some time, the pressure having leaked out all over the floor. Even though he had stopped dicing hard Gregory was not happy about his water temperature and came in on lap 57 to take on more water, which dropped him down behind the two Aston Martins, and Hill was now going very slowly and just hoping to finish. On his 59th lap Moss recorded 1 min. 57.8 sec, to set up a new record and the gap had been reduced to 46 seconds and he continued at a steady reduction of 2 seconds a lap, but Coopers were well aware of this and were keeping Brabham informed, at the same time not being too happy about the state of his rear tyres, but nevertheless confident in leaving any decisions to their driver. With bolt-on wheels there was no question of stopping for new rear wheels, and providing Moss did not increase his two seconds a lap reduction the race was in the bag for the Surbiton team.
Schell was now given a signal to ease up and watch his tyres, and on lap 65 he stopped to have the left hand rear one changed, while Bristow, who was four laps behind the leader, but still the first F.2 car, went by the pits going "pop-bang" as he ran out of fuel. He was very lucky to limp round a whole lap and get to the pits to take on more fuel, and start off again still in the lead of his class. With the gap between Brabham and Moss now down to 32 seconds and nine laps to go the pale green B.R.M. came once more unexpectedly into its pit, this time for fuel, as the driver had felt the engine cut out and though he switched from rear tank to side tank, both left and right, the pump was not picking up. Five gallons were thrown in and the car was pushed off, but did not fire at once for the fuel tap was still on side tanks. Meanwhile McLaren was approaching fast and as the fuel tap was put over to "rear tank" and the engine fired, the Cooper went by into second place. Brabham had lapped Schell, so these two were the only ones on the same lap as the leader and it took Moss just one lap to get on the tail of McLaren, and the next lap he was by, but getting away from the young New Zealander was another story. On lap 68 the Cooper was right up the tail of the B.R.M. showing superior acceleration out of the corners, and on lap 69 Moss set a new lap record in 1 min. 57.0 sec. but as McLaren was seldom out of his slip-stream the whole way round he too he must have set a record, though it was not recorded by the timekeepers. Brabham was way out on his own now, and touring round to finish, but Moss was driving as hard as he could go, not to try and catch Brabham but to avoid being passed by McLaren. While this end of-race excitement was going on Shelby coasted silently into his pit to retire with no sparks, the other magneto drive having sheared. On lap 71 McLaren drew up level with Moss as they went past the pits, but there was no sufficient length of straight before Waterways Corner for him to get in front, and on the next lap they were still only a foot apart and took Trintignant on the right-hand side as they went into the same corner. Such was the excitement over this last-minute effort by McLaren, that Brabham was almost overlooked as he finished the 75 laps to win yet another major Grand Prix.
It seemed impossible that McLaren could stay with Moss as they weaved past slower cars, but stay he did and they took the last corner still with only a foot or two between them, and as they accelerated towards the line, which was now crowded with photographers and officials, leaving space for only one car Moss drove straight at the people on the right of the road, making them jump out of the way, and to leave room for McLaren to try and take him on the left. This was indeed a very sporting manoeuvre and though the New Zealand driver tried to draw up alongside, second place went to Moss and the B.R.M. The remaining runners were flagged off and, on the lawn in front of the main Grandstand, Brabham was acclaimed the winner, having led the race from start to finish. — D.S.J.
Results:
12th British Grand Prix – Formula 1 – 75 laps – 362 Kilometres – Warm & Dry.
1st: J. Brabham (Cooper-Climax) 2 hr. 30 min. 11.6 sec. – 144.65 k.p.h.
2nd: S. Moss (B.R.M.) 2 hr. 30 min. 33.8 sec.
3rd: B. McLaren (Cooper-Climax) 2 hr. 30 min. 34.0 sec.
4th: H. Schell (B.R.M.) 1 lap behind
5th: M. Trintignant (Cooper-Climax) 1 lap behind
6th: R. Salvadori (Aston Martin) 1 lap behind
*10th: C. Bristow (Cooper-Borgward F.2) 5 laps behind
*First Formula 2 car
Fastest lap: S. Moss (B.R.M.) on lap 69 and B McLaren (Cooper) on lap 75 in 1 min. 57.0 sec. – 148.55 k.p.h (new record)
*
As a curtain-raiser to the G.P. the B.A.R.C. put on a 17-lap 51-mile Sports-Car Race, which was a scratch contest in two classes — 1,400-2,000 c.c. and over-2,000 c.c. Competitors in this race were far less fortunate than the G.P. drivers, rain falling heavily towards the end, which made the course very treacherous and driving extremely unpleasant.
Out of 28 entrants eight failed to appear on the starting grid, these being a Lister-Chevrolet, Escott's D-type Jaguar, Salvadori's Cooper-Maserati, which had dropped a valve, Ireland's Lotus, Bramley's Lotus, Murray's J.B.W.-Maserati. Count Ouvaroff's Willment-Climax and Graham's Lotus.
Stirling Moss was driving a Cooper-Monaco with Colotti-designed five-speed gearbox entered by Keele Engineering Ltd., Ecurie Ecosse had Blond in a Lister-Jaguar and Flockhart in a Tojeiro-Jaguar, there were numerous D-type Jaguars and five more Lister-Jaguars, including works cars in the hands of Halford and Bueb.
It was evident from flag-fall that these 3.8-litre cars were no match for the 2½-litre Lotus and Cooper of Graham Hill and World Champion-leader Jack Brabham. There was also the excitement of seeing Moss hang on the line, with the result that his Cooper was rammed in the tail by the Hon. Greenall's Lotus, causing Greenall to retire and Stirling to come into his pit for hasty examination of the damage, which was confined to a stove-in tail of his Cooper. Although Moss really turned-on the power thereafter, setting a new sports-car lap record of 2 min. 32 sec. (87.66 m.p.h.) as he climbed back through the field, he was forced to stop at Anchor Crossing on the 13th lap when a broken oil-pipe sprayed oil on to the exhaust pipe, causing a minor fire. Graham Hill soon established a useful lead in the 2½-litre Team Lotus entry but, braking later for the corners, Brabham in Coombs' 2-litre Cooper whittled this down until these two drivers were engaging in a fierce duel, which left Stacey's 2-litre Lotus some way behind in third place.
This duel continued as torrential rain fell, becoming really fierce, so that on lap 12 Hill ran wide at Tutts Corner and Brabham snatched a brief advantage. In fact, Hill had had the gear lever come out of the box, which not only hampered his gear-changing as he had to press it into place, but caused the cockpit to fill with oil haze, so that visibility, already seriously reduced by the rain, was still further impaired. However, the irrepressible Graham fought back, regained his lead and, driving one of his finest races, won at 83.32 m.p.h. under atrocious conditions, leading the Cooper home by 1 min. 12 sec. In fact, the Lotus victory was complete, because Brabham spun at Bechers on the last lap, which caused him to limp in, Stacey's Team Lotus passing him into second place and victory in the 1,400 to 2,000-c.c. class. There was merely the consolation for Brabham that he had set a new up-to-2-litre sports-car lap record for Aintree of 2 min. 4.0 sec. (87.1 m.p.h.).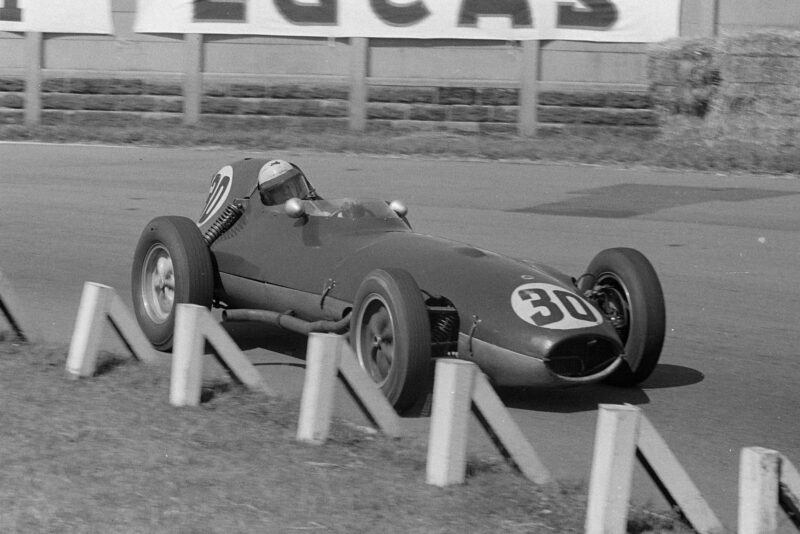 The rain had made the course very slippery. Bekaert lost control of his Lister-Jaguar on the 11th lap and it overturned between Village Corner and Bechers Bend. Then, on the 15th lap, Peter Blond failed to hold the Ecurie Ecosse Lister in a spin and it overturned at Melling Crossing, Flockhart in the other Ecurie Ecosse entry becoming involved, so that both the Scottish cars retired. In contrast to this calamity, Jimmy Clark in the Border Reivers' Lister-Jaguar drove really well on the wet track, coming home in fourth place after galloping past Halford and Bueb, in spite of haying only a 3½-litre engine; indeed, Clark and Halford were second and third in the over-2,000-c.c. section of the race. Fortunately, in all this involuntary panel-bashing none of the drivers were hurt but even hardened spectators were glad when this dicey race ended, along with Graham Hill, who, after his fine drive, was able to hand the Lotus gear lever to Colin Chapman before climbing from the car. Retirements involved Bristow, whose Cooper Monaco broke an oil pipe, Buxton, whose Lotus had valve trouble, Kerrison, with engine trouble in his Lotus, and M. Taylor, whose Lotus overheated its differential.
Results:
1st: G. Hill (2½-litre Lotus) 36 min. 43.4 sec. – 83.32 m.p.h.
2nd: A. Stacey (2-litre Lotus) 37 min. 39.4 sec.
3rd: J. Brabham (2-litre Cooper) 37 min. 55.4 sec.
1,400-2,000 c.c. class: A. Stacey (Lotus)
Over 2,000 c.c. class: G. Hill (Lotus)
New sports-car lap record: S. Moss (Cooper), 87.66 m.p.h.
New 2-litre sports-car lap record: J. Brabham (Cooper), 87.10 m.p.h.
*
Aintree asides
After the excellent practice times set up by the Aston Martins it was a pity they were both delayed soon after the start, preventing them joining in the race proper.
After the gaiety and colour of the pits at Reims, Rouen and Monza we find the corrugated iron and pipe affair at Aintree a bit of a shock, while we feel the three lonely looking flags above might at least have been washed before the meeting.
The Salvadori/Gregory dice was a wonderful illustration of extremes of cornering characteristics. In theory we would say the Aston Martin was right, but we cannot get away from the fact that Coopers keep winning races, in spite of rear-engines and violent oversteer.
It was nice to see a Vanwall making its first racing appearance in 1959, but it was dissappointing to see it running so badly.
Of the first six cars they used only the following things in common: Weber carburetters, Lucas ignition, Armstrong shock-absorbers and Hepolite pistons and rings.
Brabham now leads the Drivers Championship: with 27 points and Brooks is still second with 14 points and Phil Hill third with nine points.
Moss drove about Aintree in a Triumph Herald coupé. Brabham was in his Holden.